Connect With an Inmate at Cole Unit
Cole Unit or Buster Cole State Jail is located in Bonham, TX, under the supervision of the Texas Department of Criminal Justice. The facility shares premises with the C. Moore Unit and holds approximately 900 adult male inmates serving less than 2-year sentences. is a minimum-security facility, offering adult education and vocational classes. Select inmates can also work with the local parks and wildlife department or the Texas Department of Transportation. The facility was established in 1995 and is currently under the supervision of senior warden Elbert Holmes.
Where Is Cole Unit?
If you want to visit or contact the to speak with an inmate, you can send mail, call, or visit the facility. The following information will help you contact an inmate:
| | |
| --- | --- |
| Physical Address | Buster Cole State Jail, 3801 Silo Road, Bonham, TX 75418 |
| Mailing Address | Cole Unit, 3801 Silo Road, Bonham, TX 75418 (include inmate name and ID number to send to an inmate) |
| Phone Number | 903-583-1100 extension 102 |
| Website | https://www.tdcj.texas.gov/unit_directory/cl.html |
| Fax | N/A |
| General Email | N/A |
Visitation hours are limited to 1 PM to 5 PM, Monday, Wednesday, and Friday or 8 AM to 5 PM on weekends. Writing letters to inmates is one way to keep in contact if you cannot visit as often as you would like, prison pen pals can make the incarceration less stressful.
How Can You Ensure You Are Contacting the Right Prison?
There are thousands of correctional facilities in the United States. Contacting the wrong prison can be costly and a waste of time. How can you be sure your friend or family member is held at ? Ensure you are contacting the correct prison with help from DoNotPay.
Follow these simple steps to find out where your loved one is being held from your web browser or mobile phone:
Log in to DoNotPay and go to the "Connect With an Inmate tab".
Select the "Locate Someone" option.
Enter the inmate's name and state where they are in custody and click "Submit".
DoNotPay will pinpoint your loved one in seconds.
What Are Some Common Difficulties Contacting an Inmate at Cole Unit?
Contacting your incarcerated loved one at Cole Unit can be frustrating. It takes time to write a prisoner and can be hard to learn how to address a letter to an inmate. It is also difficult to see your loved one in person because inmate visitation hours are limited.
Distance. If you are not close to Cole Unit, you may not be able to visit your loved one often. The distance can also make it difficult to send mail and packages. It can take several days or weeks for an inmate to receive mail from across the country.
Cost. The cost of visiting and mailing an inmate can add up. You may need to take off of work to travel to the facility and spend some time with your loved one, not to mention the cost of gas, hotels, and other expenses. Even calling or mailing a prison in a different state can be expensive.
Cut the distance and costs of keeping in touch with your loved one with DoNotPay. We can mail letters and pictures on your behalf and send a digital copy of your loved one's reply.
Locate and Contact Your Loved One With DoNotPay
Not sure where your loved one is being held in custody? If your loved one is held in one of the thousands of US correctional facilities, it can be difficult to find them. DoNotPay can help you look up your loved one's location in seconds. We can also help you connect with a loved one to send and receive letters using our mobile app.
1. Locate the Connect With an Inmate service on DoNotPay.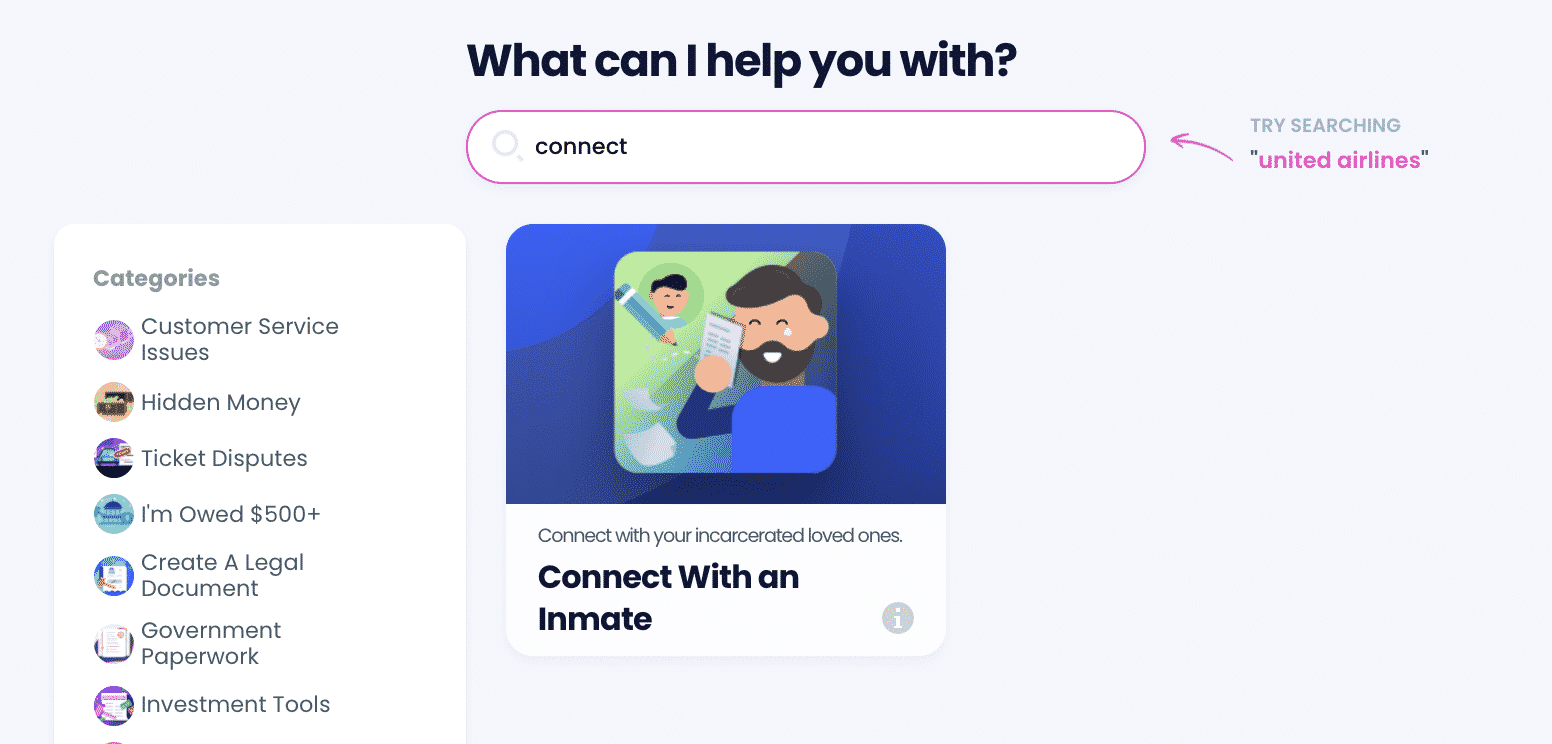 2. Choose whether you want to locate a loved one, create a virtual mailbox, or send a personalized letter.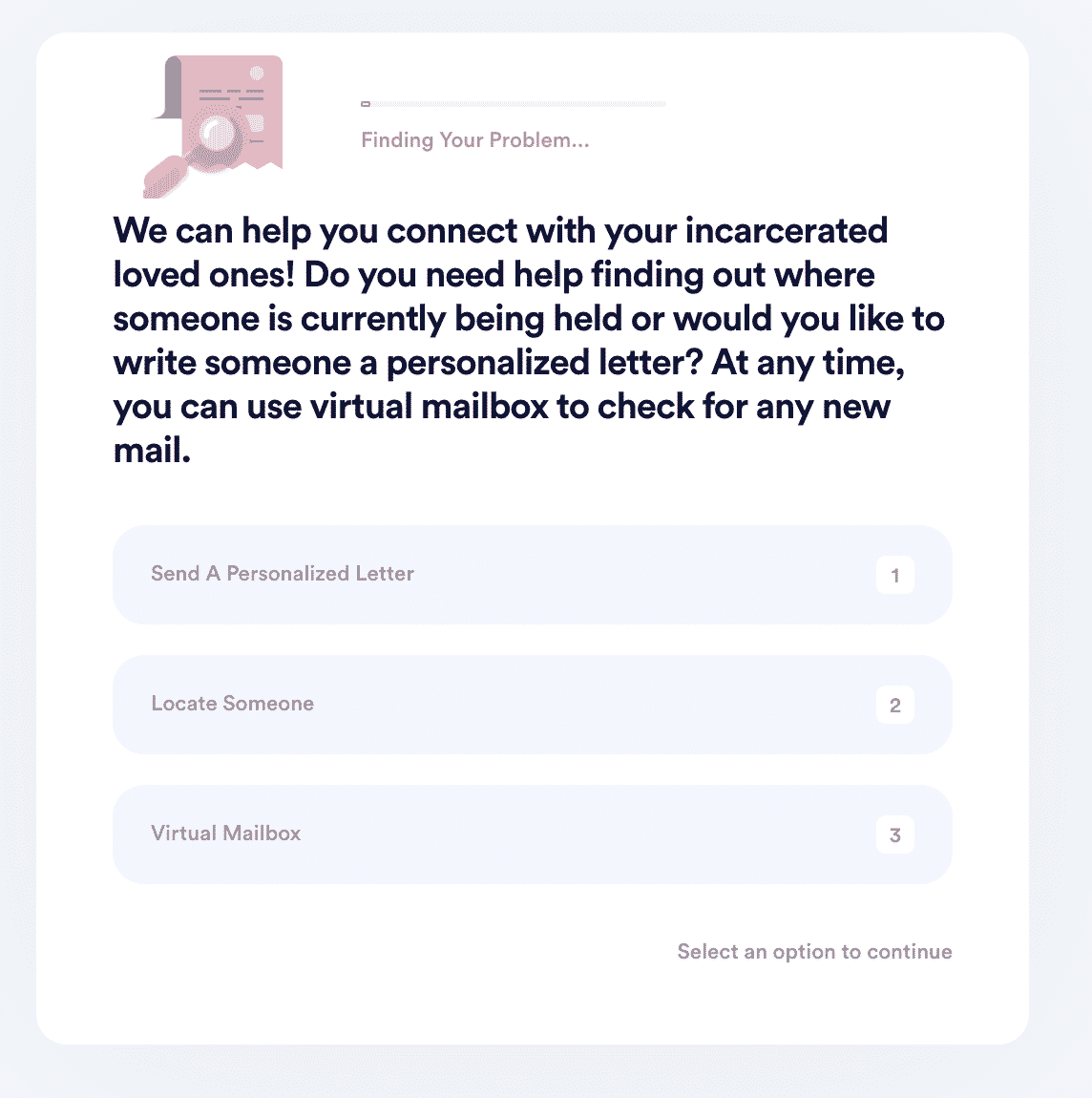 3. If you want us to find your loved one, provide his or her personal details and the state they are located in. We'll then conduct a search on the appropriate state database.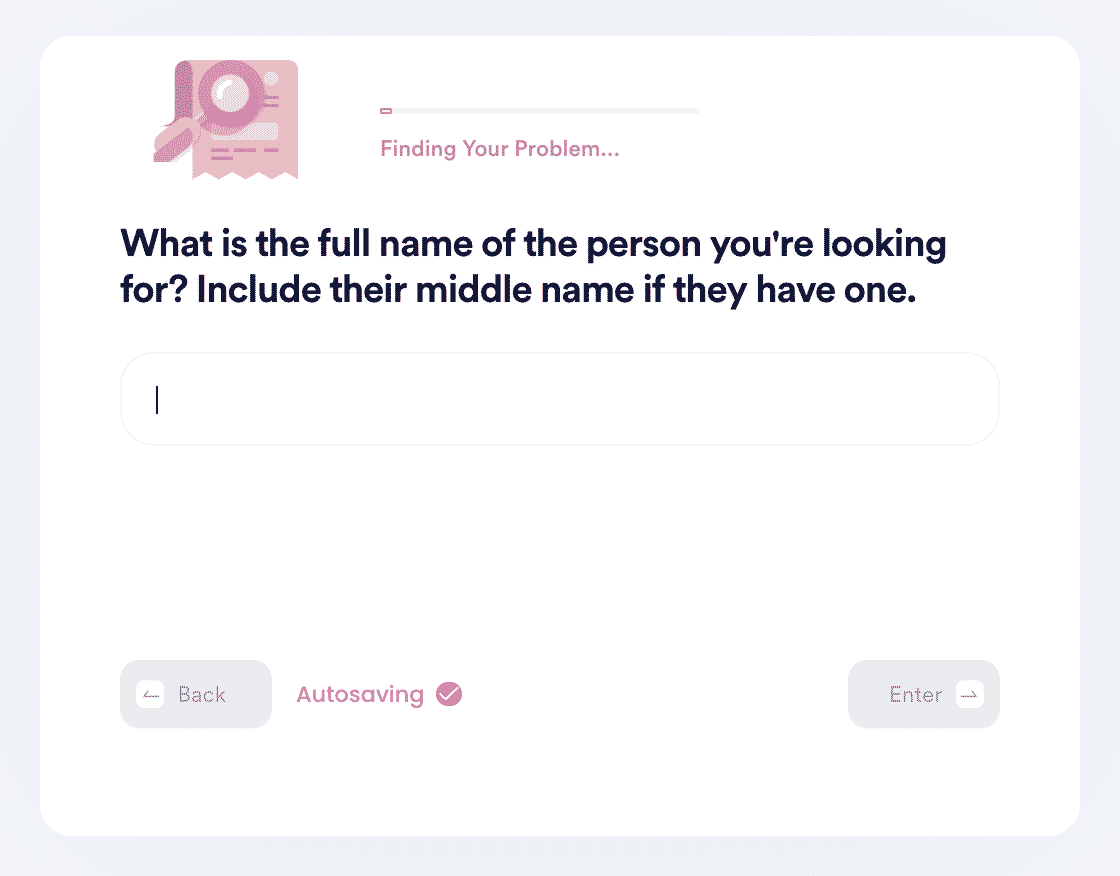 4. If you want to create a virtual mailbox, just provide your full name! We'll set one up for you so you can easily receive incoming mail from your loved one.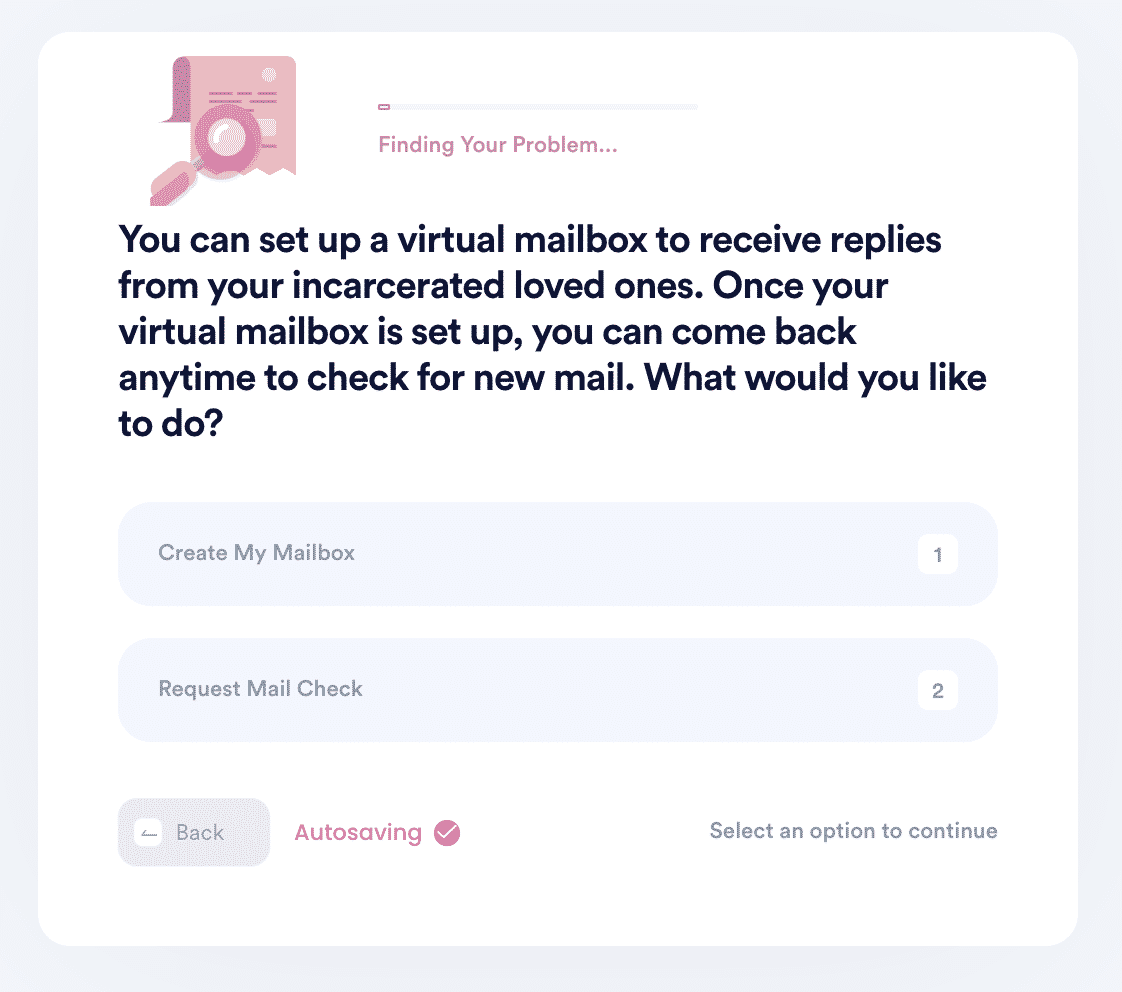 5. If sending a personalized letter, tell us which facility your loved one is located in and what you would like to say to them. You can even include a photo! Your letter will be delivered automatically - just wait 10 days for it to arrive to your loved one!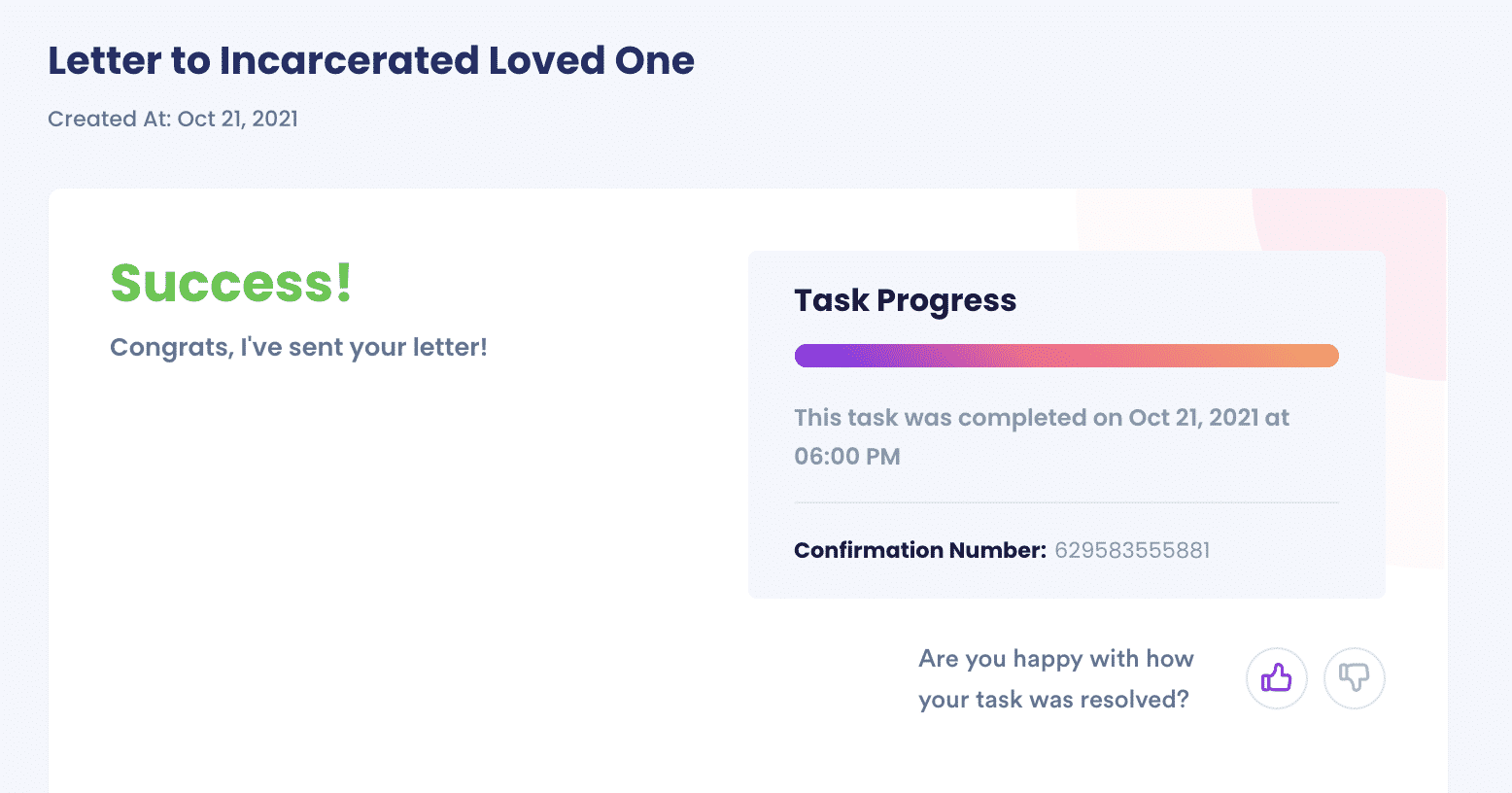 Find and contact your imprisoned loved one from your mobile phone or web browser with DoNotPay.
DoNotPay Offers a Host of Solutions to Life's Problems
DoNotPay is the world's first robot lawyer. DoNotPay helps users fight spam mail, deal with unresponsive customer service, get rental upgrades, and solve problems from our simple mobile app or website. We can help you with the following:
Try DoNotPay, and find your incarcerated loved one today.