How to Transfer Chase Freedom Unlimited Points to Sapphire
The Chase Freedom card is the perfect credit card for individuals looking to maximize their rewards on daily purchases without paying yearly fees. This card provides a hefty 5% cash back on rotating bonus categories. Currently, Chase Freedom is unavailable to new cardholders.
As a regular user, you are most likely conversant with the Chase Freedom and Chase Sapphire Chase Credit card combo, for example, the Chase Freedom Unlimited and Chase Sapphire Preferred Card. is possible, and it offers better redemption options.
You can transfer your Freedom Unlimited points to a Chase Sapphire Reserve or a Sapphire Preferred. Fortunately, in the case you want to apply for the Chase Sapphire Preferred, you can continuously accumulate Freedom Unlimited points then transfer them at a later date.
This article explores how to move Chase Freedom Unlimited points to Sapphire.
Can I Transfer Chase Freedom Points to Sapphire?
Yes, you can. DoNotPay provides an easy for all users.
Fortunately, you can also transfer your Chase Ultimate Reward points to someone in your household with an Ultimate Rewards card. You can transfer your Freedom rewards to your partner's Sapphire reserve or your Sapphire preferred card.
Reasons to Transfer Points
Transferring your Chase Ultimate Rewards points can be good for various reasons. For starters, if you want to book a trip via the portal, it is advisable to consolidate points in a single account. As such, you can easily maximize rewards and reduce airline ticket or hotel costs.
Transferring your points is also advisable if you want to close your account. If you want to close your card, ensure you transfer all points to avoid losing them. Moreover, you can take advantage of the fact that Ultimate Rewards transfers have no transfer fees between Chase accounts.
Here is a comparison of the different point values:
| | | | |
| --- | --- | --- | --- |
| | Chase Freedom | Chase Sapphire Preferred | Chase Sapphire Reserve |
| Point Value | 1 Cent | 1.25 Cents | 1.5 Cents |
How to Transfer Chase Freedom Unlimited Points by Yourself
Below is a step-by-step guide to transferring your Freedom Unlimited points to Sapphire.
Transferring Chase Freedom Unlimited Points by Yourself

Log in to your Chase Freedom Unlimited account using the Chase mobile app
Under the 'Earn/Use' button, click 'Combine Points' to begin the Chase Freedom unlimited points transfer to Sapphire process
Key in your Sapphire Preferred card information, including the cardholder's last name and card number
Complete the transfer after connecting your card accounts.
During the transfer process, you will be required to check a box proving that you are transferring your Unlimited points to a qualified credit card account.
Due to Chase's strict security protocol, transfer rules and guidelines are put in place to protect account details and assets. Therefore, violating any transfer rule may lead to immediate Freedom Unlimited credit card closure. You may also receive a temporary ban from earning more Ultimate Rewards. So be cautious.
There is an easier way.
How to Transfer Chase Freedom Unlimited Points to Sapphire with DoNotPay
DoNotPay can help you transfer Chase Freedom Unlimited points to Sapphire in three short and clear steps.
1. Search "points" or "rewards" on DoNotPay, and select the rewards program you're a part of / the type of points you have.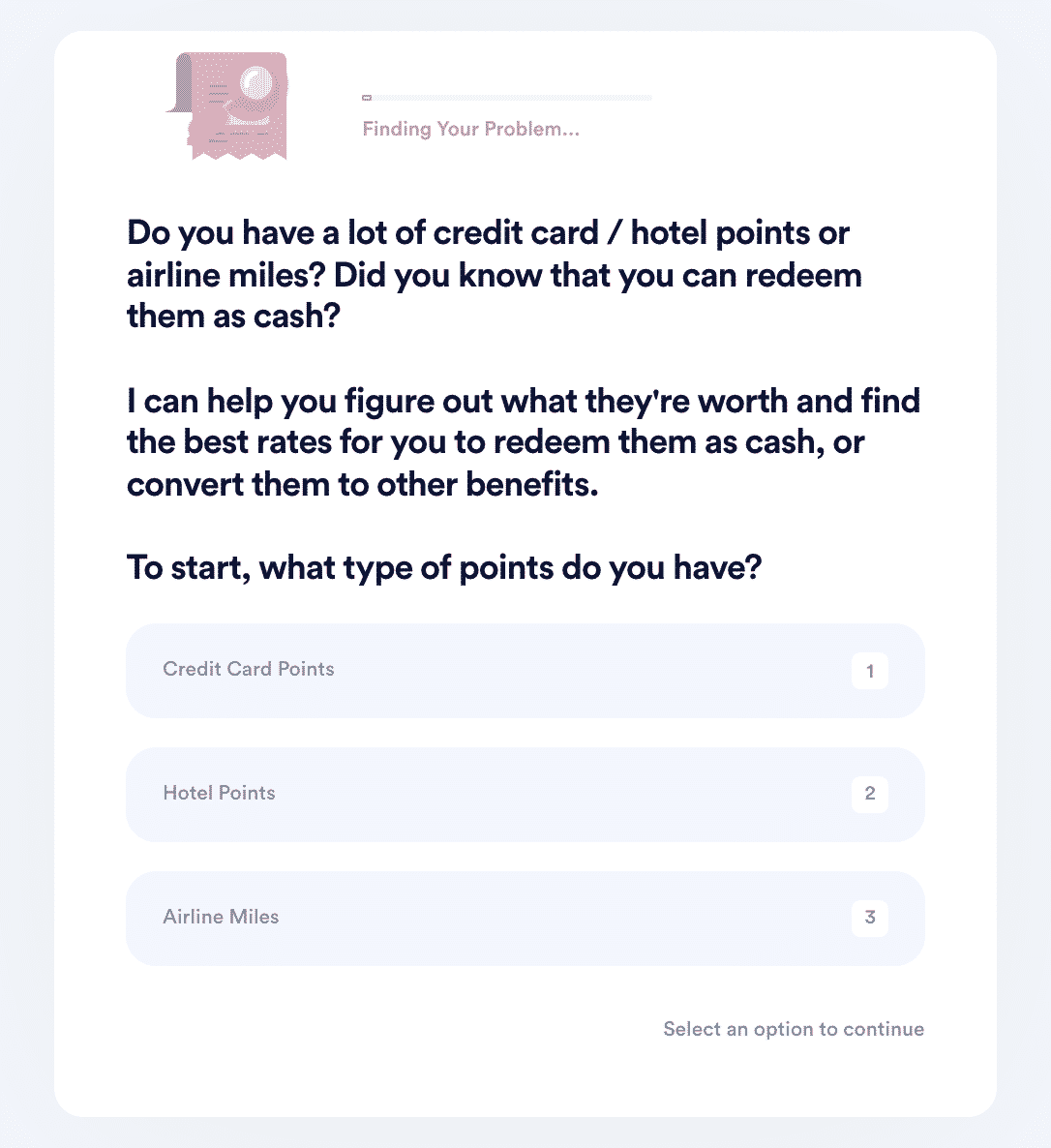 2. Choose whether you want to check your points balance, transfer your points, or sell them for cash.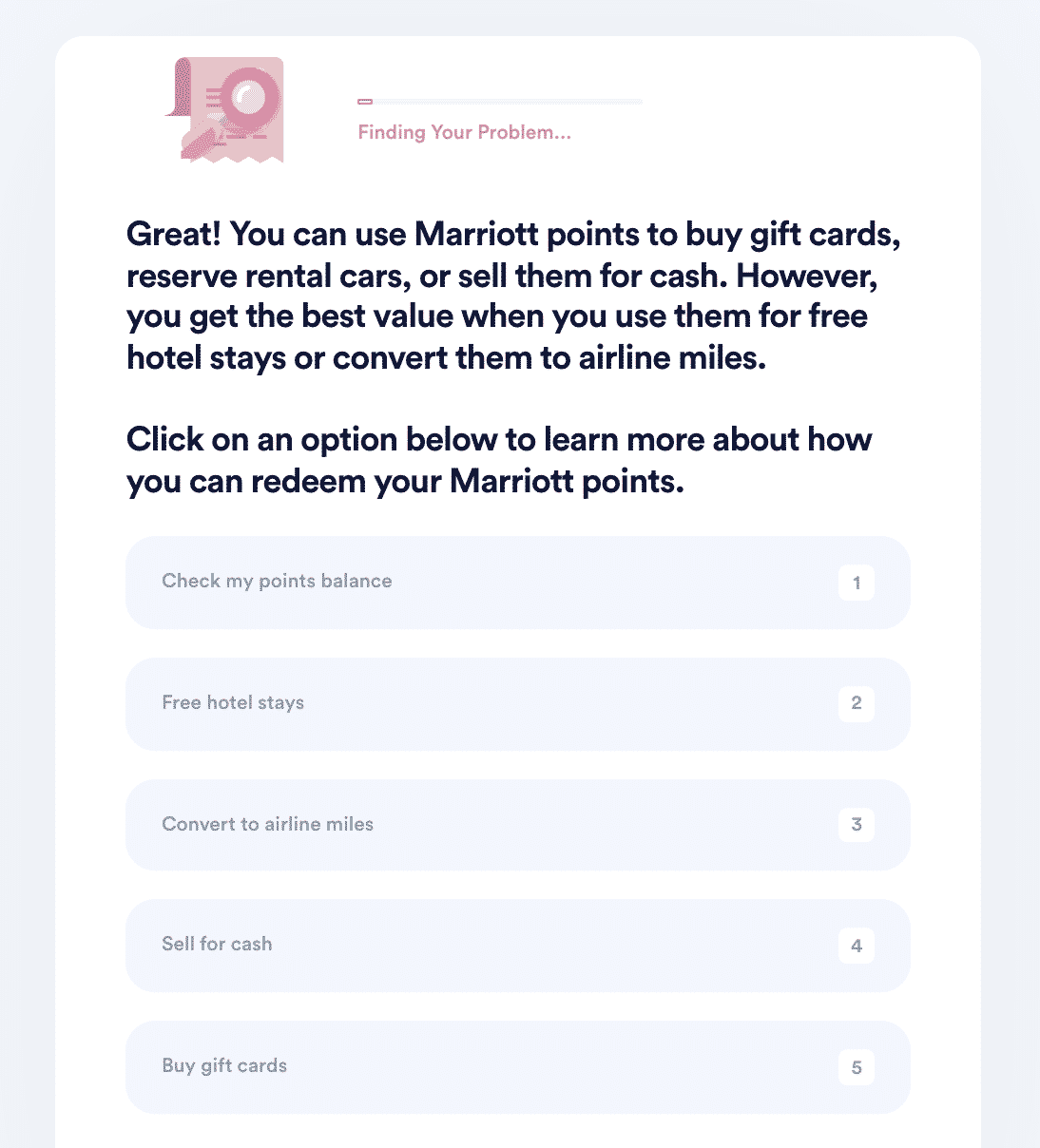 3. If you selected one of the first two options, DoNotPay can check your points balance or transfer your points for you. Otherwise, we can help you find the best deal through third-party vendors.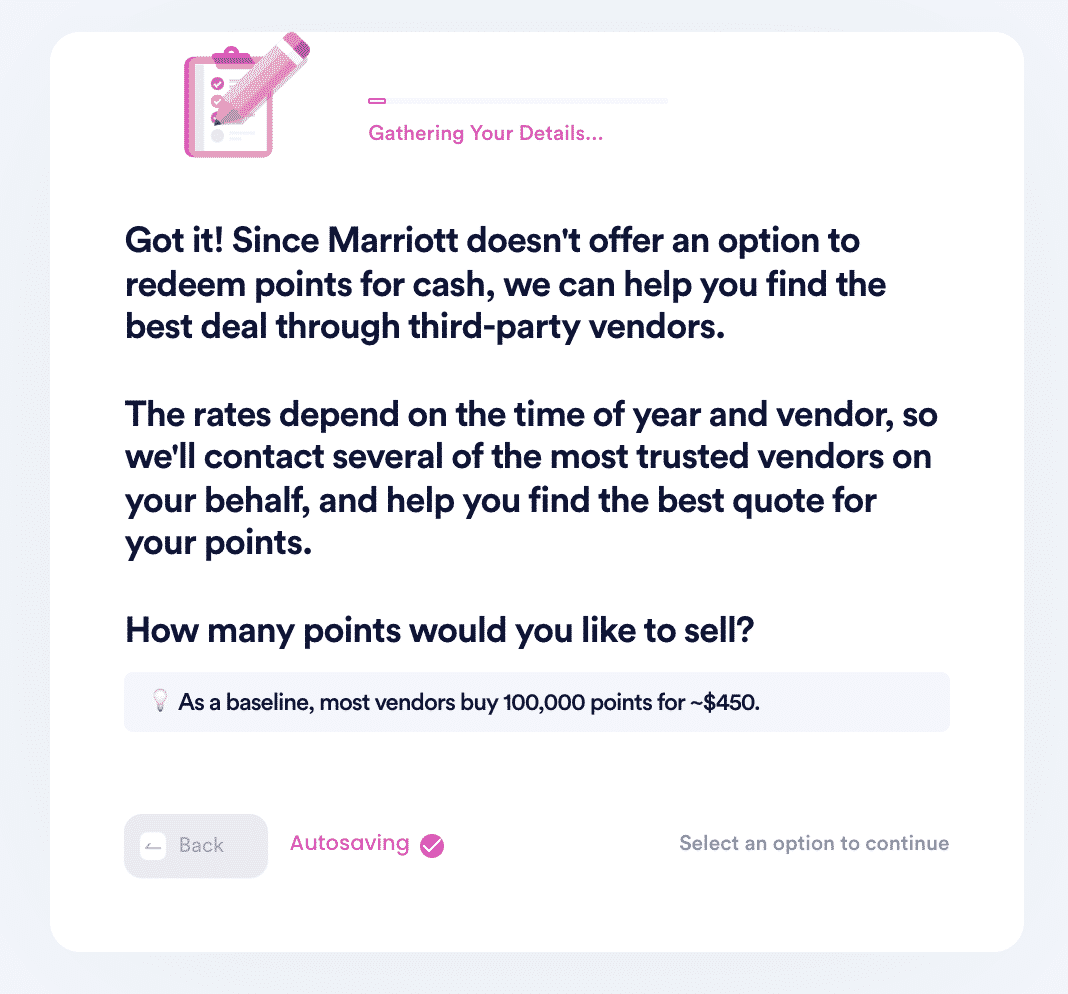 Sign up with DoNotPay to start the Chase Freedom Unlimited Points transfer to the Sapphire process.
Why Use DoNotPay to Transfer Chase Freedom Unlimited Points to Sapphire?
DoNotPay is an expert service provider that effectively helps you sell, transfer, or redeem points. It works for all kinds of credit cards and airlines. You can use it for Delta Skymiles and Marriott hotel points too. Below are reasons why the product is highly appealing when it comes to transferring Chase Freedom Unlimited Points to Sapphire:
It's an easy process. Though the traditional process is clear and easy, DoNotPay's transfer process doesn't require many details from you to transfer the points. There are no complicated steps with DoNotPay's points transferring product
DoNotPay is fast. Attempting to transfer the points yourself has higher chances of prolonged waiting time. DoNotPay's points transferring tool is prompt, allowing you to finish the process in a fraction of the time you take with DIY transfer.
It's always successful. DoNotPay makes a strong case on your behalf when transferring your points. In some cases, transferring your points may result in failure due to neglecting a few major steps. Fortunately, DoNotPay eliminates the chance of error when transferring your points.
DoNotPay Works Across All Companies
Any time you feel like a points program is not working out for you, or that a big company is taking advantage of your points, make DoNotPay your first resource.
Aside from helping you transfer your Chase Freedom Unlimited points to Sapphire, DoNotPay can also assist you to:
How Else Can DoNotPay Help?
DoNotPay is the world's first robot lawyer. It's like having an attorney on your side! Use it for:
Try it today!