Easy Steps on How to Change Your Mailing Address with USPS in Arizona
Moving is both exciting and stressful, whether you're moving across the country, across the state, or across town. There are so many tasks you need to take care of when you're relocating that it's easy to forget to do things. One of the things that people commonly overlook when moving is filing a .
It's important to change your address. Although you can submit a change of address form to the USPS yourself, you may run into snags through informed delivery that prevent the change from taking place. With DoNotPay, filing your change of address in Arizona with USPS is fast and easy.
How Much Time Do You Have to File a Change of Address With Arizona USPS?
The USPS doesn't have a requirement for when you should file for a change of address in Arizona. However, you're required by law to change your address on your driver's license within 10 days of moving. So, you might want to consider taking care of this important task sooner rather than later. The postal service will accept a change of address weeks in advance of your move if you can manage it.
How Much Does it Cost to File a Change of Address with Arizona's USPS?
If you go to a post office location to file a change of address, there is no charge for the service. But, you do need to drive there and wait in line to be served. It's best to call ahead to make sure the location you wish to visit is open and accepting walk-in customers. If you prefer to change your mailing address online with USPS, you'll need to pay a fee of $1.10 to verify your identity.
How to Do a Change of Address in Arizona on Your Own
As soon as you're settled into your new home, you can get back to your daily routines as you explore the neighborhood. One of those daily routines is getting your mail. If you don't want to miss anything, you'll need to change your mailing address with the post office one of two ways:
File for a Change of Address Online: The fastest way to change your address through the USPS is to go online and complete the change of address form. You'll have to make sure to note which family members are moving, and whether the move is permanent or temporary.
File for a Change of Address in Person: If you prefer, you can visit any local post office to request a change of address form. Fill out the form completely and drop it in a mailbox or hand it to a clerk at the post office for processing.
What if My Change of Address with Arizona's USPS Doesn't Work?
Not getting your important mail is more than frustrating - it can cause you serious issues. Don't let a delayed or incorrect change of address through USPS cause you undo stress and strain. If your USPS change of address doesn't go through or you're experiencing issues with your address change, it's time for professional help.
Get a Change of Address in Arizona Quickly with DoNotPay
Moving to a new home is exhausting, even if you have great friends, family, and movers to help. Don't let a little thing like changing your Arizona USPS mailing address add to the strain. DoNotPay can take care of this important task for you so you can focus on getting unpacked and settled in.
If you want to file a change of address but don't know where to start, DoNotPay has you covered in 5 easy steps:
1. Tell us the new address and when you want to start forwarding your mail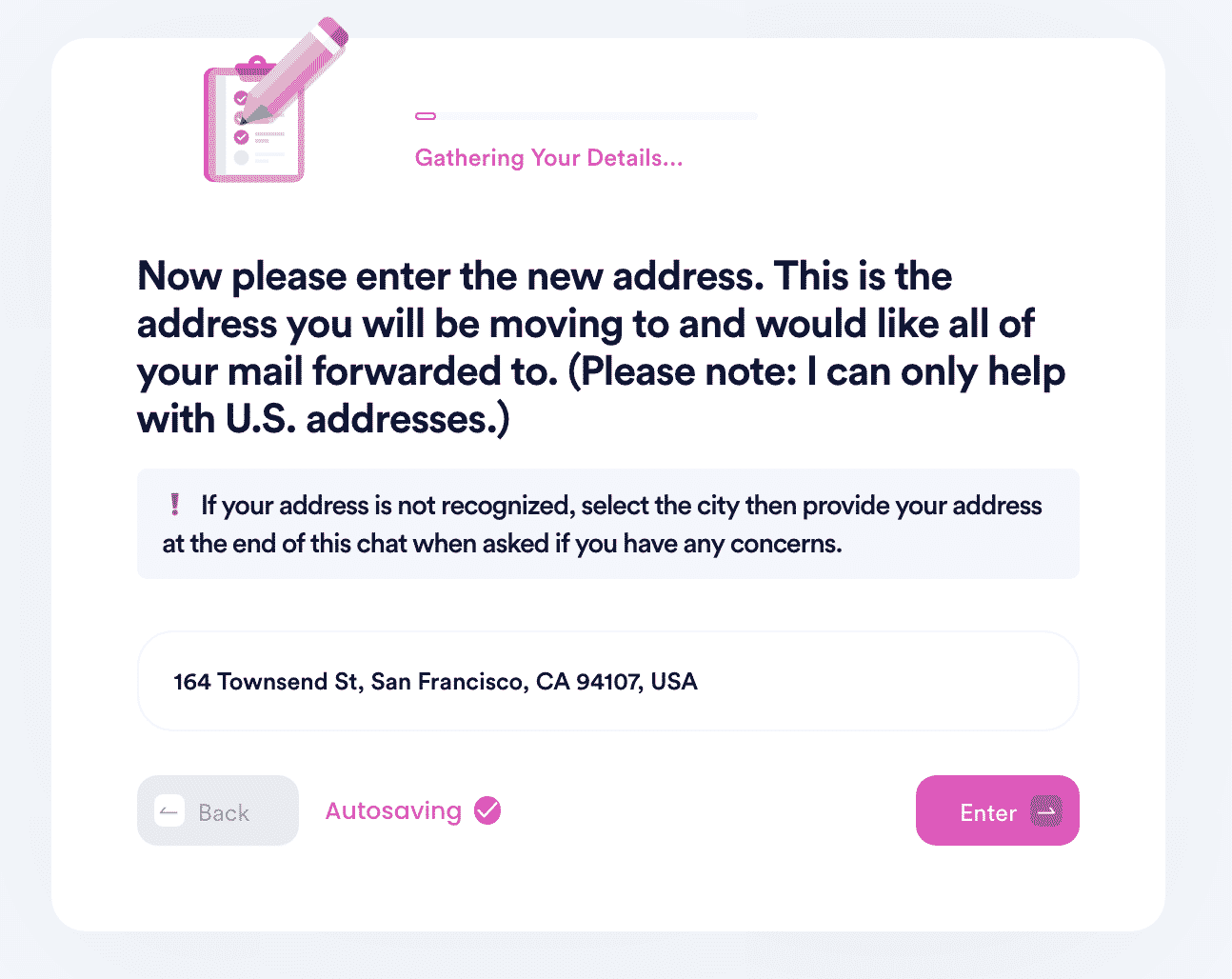 2. Tell us who is moving (is it just you, your family, or your business)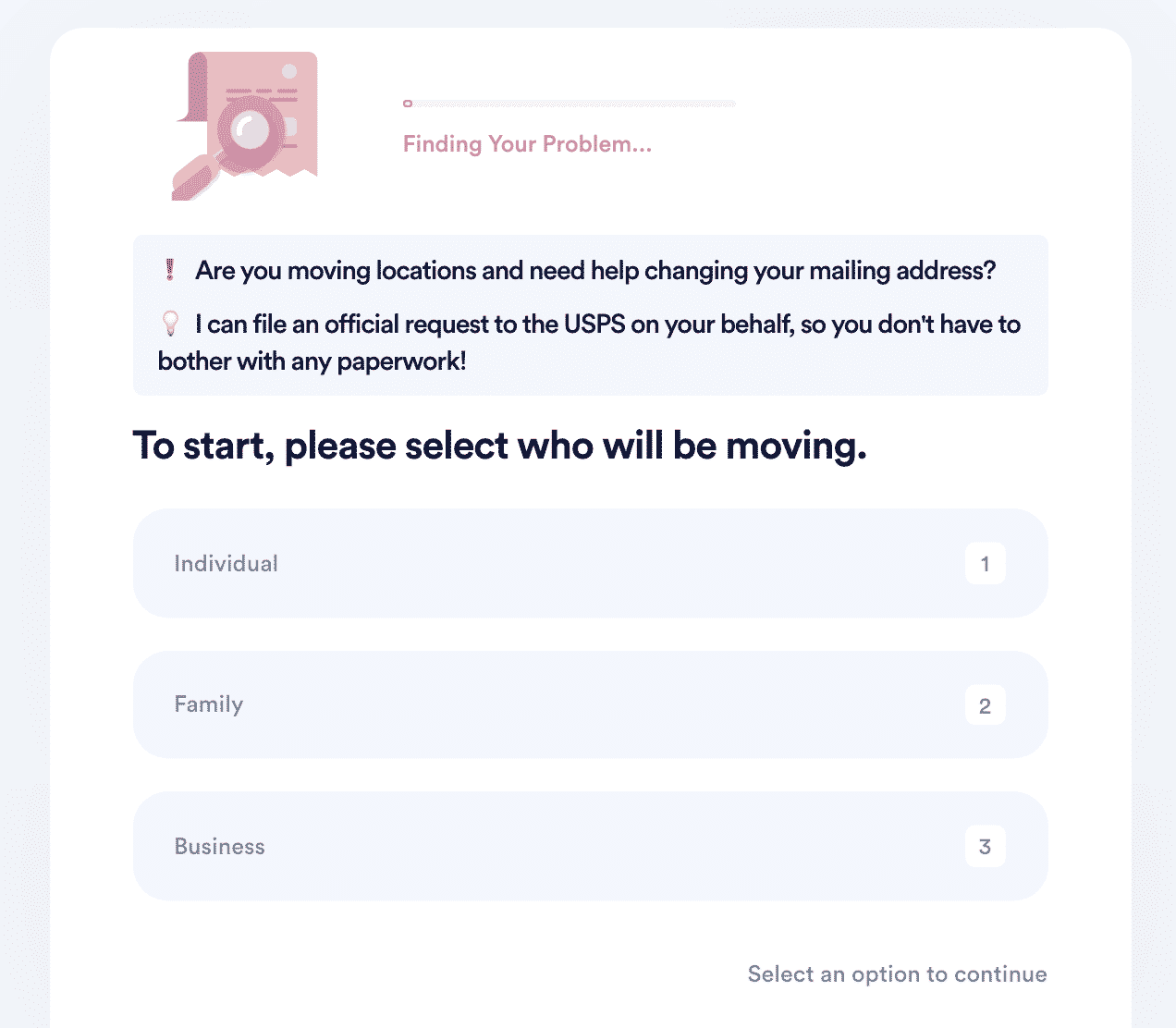 3. Select whether it's a temporary move or permanent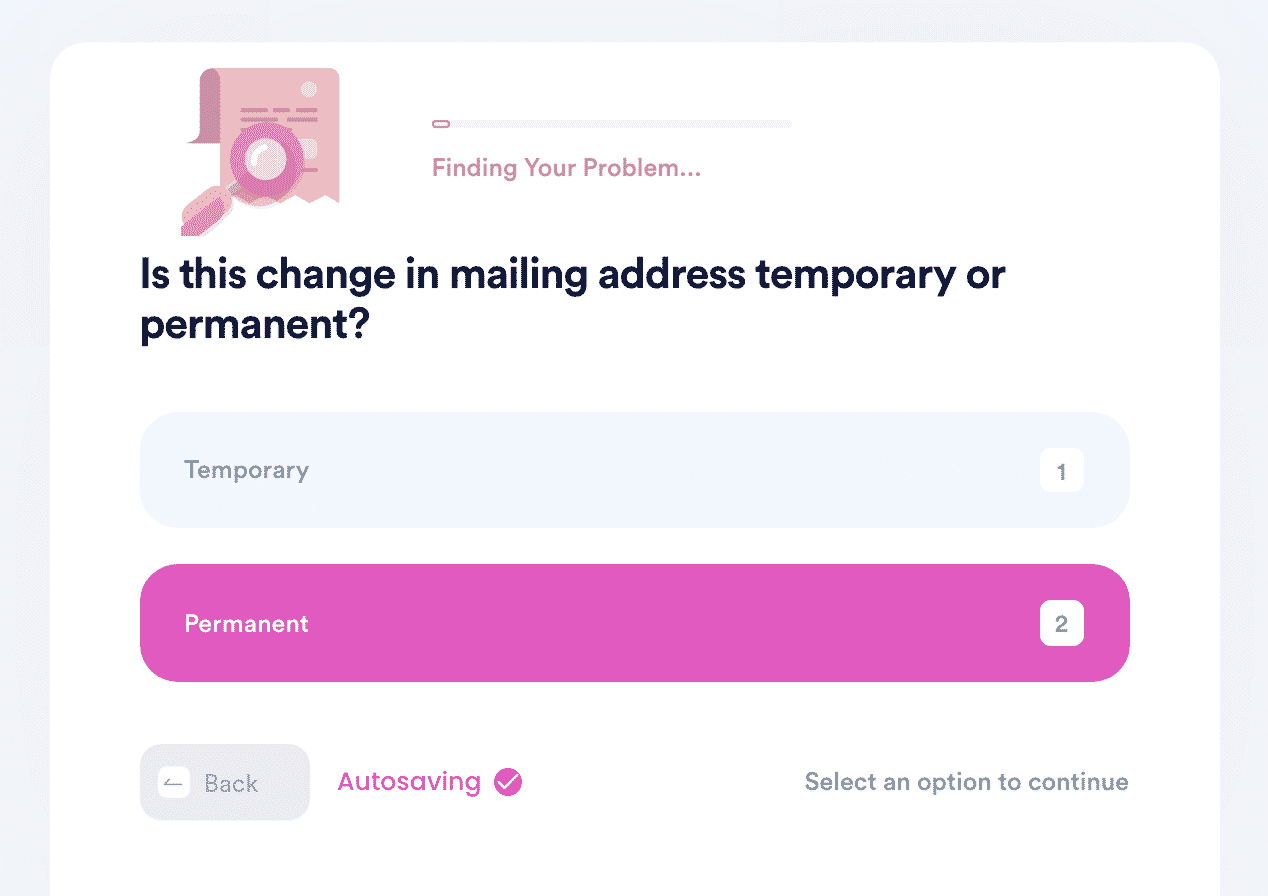 4. Add the option to extend your mail forwarding period beyond 12 months (you can get your mail delivered from your old address for up to 2.5 years)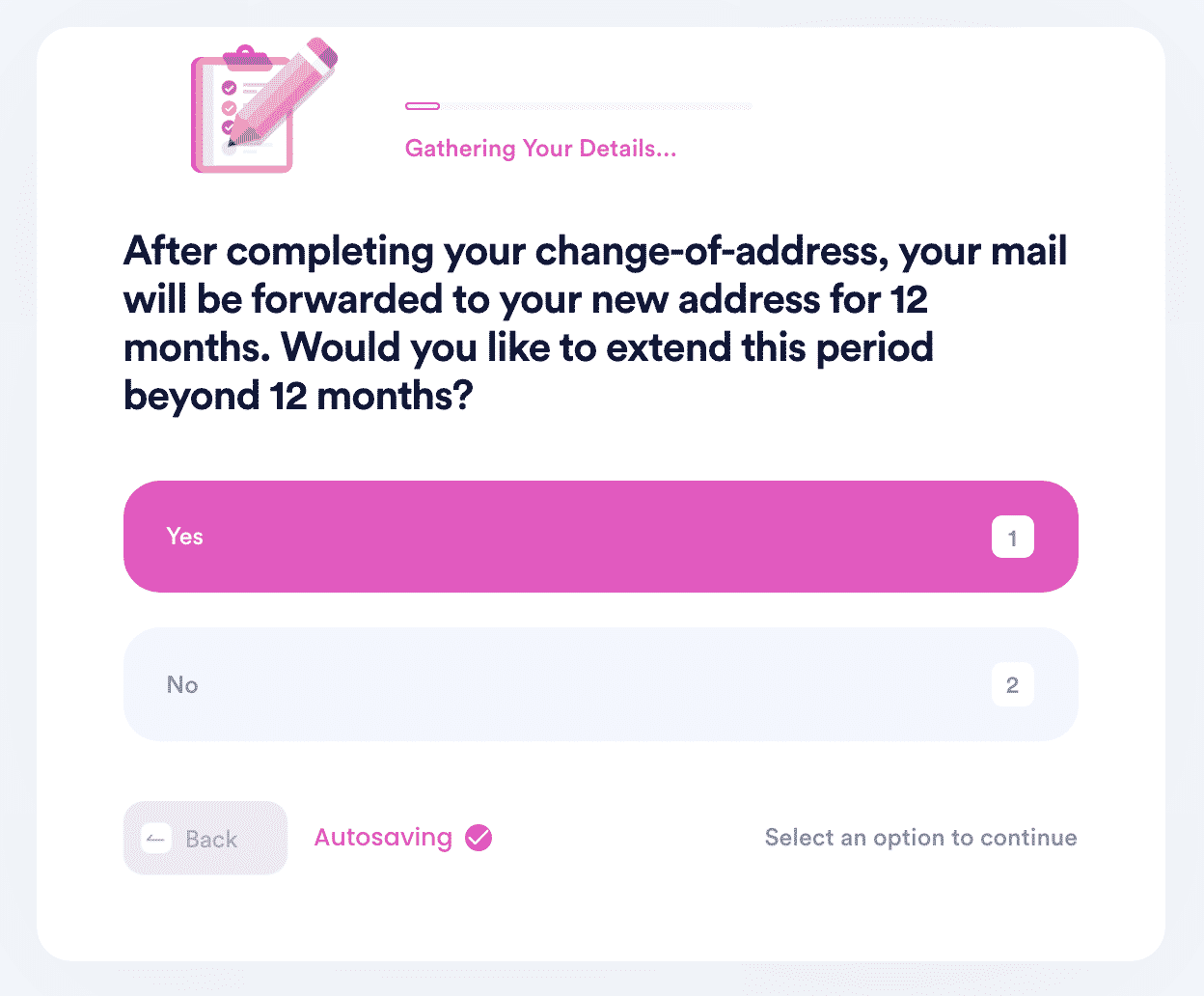 5. And that's it! DoNotPay will take care of the rest on your behalf. You should receive a confirmation email from USPS after your request is completed.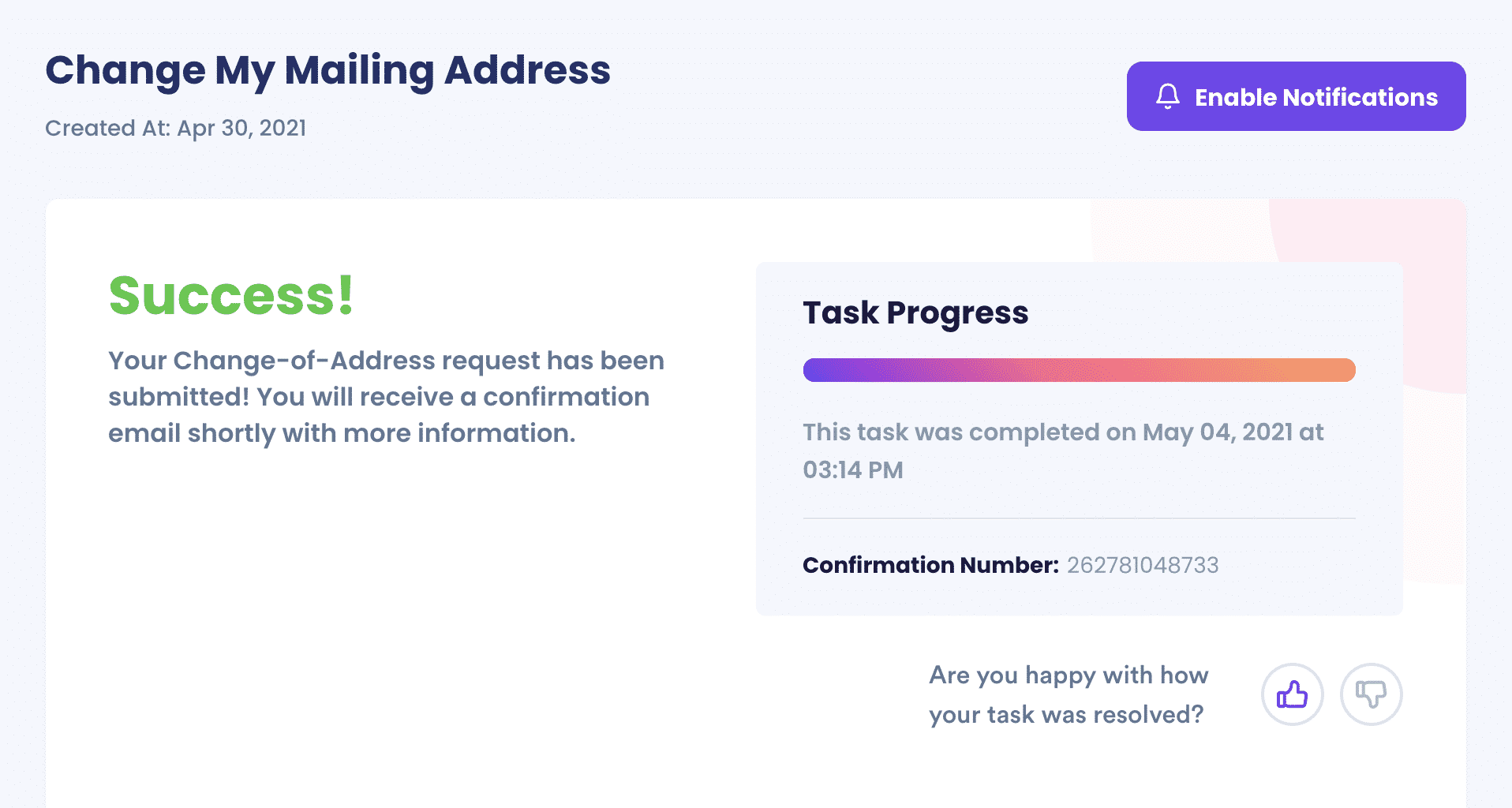 Why Use DoNotPay to Do a Change of Address with Arizona USPS
Even though the USPS offers ways to change your mailing address, they're not always effective. A mail-in change of address card can get lost. An online change of address request may not be accurately recorded. Either way, you're stuck. With DoNotPay, you don't have to worry about the hassles of changing your address.
| | |
| --- | --- |
| It's Fast. | In just a few minutes, your new address is recorded, and your mail will be forwarded right away to your new home. |
| It's Easy. | Packing your belongings, lifting boxes, and moving furniture is hard. Changing your address with DoNotPay takes just a click of a button, and it's all done. |
| It's Successful. | You can rest easy knowing that all your important mail, from the bills to your online shopping deliveries will arrive at your new home. |
DoNotPay Can Help You Change Your Arizona Address With a Click of a Button
It's not just the post office that needs to know your new mailing address. You also want to inform your personal contacts as well as companies you do business with. DoNotPay can help you make sure that your address change is up-to-date with all your important contacts including:
Insurance companies
Subscription services
Memberships
And more...
What Else Can DoNotPay do?
Being the world's first robot lawyer means that DoNotPay is fully capable of handling much more than just . In fact, this innovative product can handle a huge number of tasks for you including, but not limited to:
Deal with Neighbor Complaints
And Much, Much More...
If you want to learn more about how to change your USPS address in Arizona, visit DoNotPay today. You'll be amazed at how fast and easy the process is and how many things that DoNotPay can help you with.