Change Your Mailing Address in PA Fast
It's easy to get caught up in a move and forget to change your PA mailing address. The last thing you want is time-sensitive letters or necessary packages to be sent to your old place.
Changing your mailing address with the post office isn't always easy. Online address change pages can stop working, and the change of address form itself might frustrate first-time movers. If you'd rather skip all that hassle, there's an easier way.
When Should You Change My Mailing Address With USPS?
It is recommended that you notify the USPS of your address change at least two weeks before moving. Realistically, you probably have bigger things to worry about: hiring movers, packing, and buying essential move-in items.
Alternatively, you can wait up to two weeks after you move in to change your address. This can create many problems because your mail is still being sent to your old address. Now you're in a rush to change your address as quickly as possible, and you don't know where to start.
Does It Cost Money to File a Change of Address?
It only costs $1.10 to process a change of address with the USPS. If you're only moving temporarily, you aren't required to pay a fee for a mail-forwarding service.
Unfortunately, scammers also know that the change of address process can be confusing. Never change your address through third-party companies that charge outrageous fees.
How to Change Your PA Mailing Address by Yourself
Let's say you're one of the lucky few that have time to change their mailing address while juggling moving responsibilities.
Different Types of COA Forms You Can Use
Before anything else, you have to identify first what type of USPS Change of Address Form to use. Here is a quick guide to help you easily choose the right form for you:
| | |
| --- | --- |
| Individual USPS Change of Address Form | If you are going solo, use the form Single Individuals. If you live in one household with multiple people who have different last names, you'll have to file a Roommates form for each person. Each family member should fill out a form on Family Members on the Move if you're moving to different places, even if you share the same last name. |
| Family USPS Change of Address Form | If each household member shares the same last name and is moving to the same place, you only need to file one family form. This advises the USPS that you want mail forwarded for everyone in the household that shares the same last name. |
| Business USPS Change of Address Form | Use this form if you're authorized to forward mail on behalf of your business and if the entire business is changing its address, even if different people receive mail for the company. |
Where to Submit the COA Form
You can start the process of changing your mailing address yourself at the following:
The USPS Website
Go to the USPS website and fill out the form.
You'll be charged $1.10 for an identity verification fee, so you need to have a valid credit card.
You can only change your address online if you have at least one email address.
The Post Office
At the post office counter, you'll ask the clerk for a Mover's Guide packet. Inside is PS Form 3575, which you can complete at the post office or home.
After accomplishing the form, place it inside the mail slot inside the post office.
It doesn't cost anything to change your address with PS Form 3575. However, the form is so tiny that it's easy to lose among your other important moving documents.
The USPS outlines the process simple enough, but it can be more difficult in practice. You can't be expected to change your address online if you've already packed your computer away. Plus, not everyone has easy access to a computer or smartphone.
Your application can also be denied if you make mistakes in the identity check information. Imagine spending upwards of ten minutes on a form, only to have it be rejected due to a typo. At least at the post office, a clerk can help you fill out the form. However, the post office often has limited hours, so you'll have to find time in your schedule to visit.
Be prepared to wait. Once you get to the post office, a line of other people that need help will greet you. You'll probably waste minutes of valuable time that could be used for packing or unpacking your belongings.
Even if you successfully fill out the form, you still have to wait for a confirmation letter. That means your change of address isn't official until at least five days afterward, possibly up to two weeks.
DoNotPay Sets up a PA Mailing Address Change in Seconds
Moving is already a stressful and time-consuming process by itself. DoNotPay can handle several of the most tedious tasks, including .
If you want to file a change of address but don't know where to start, DoNotPay has you covered in 5 easy steps:
1. Tell us the new address and when you want to start forwarding your mail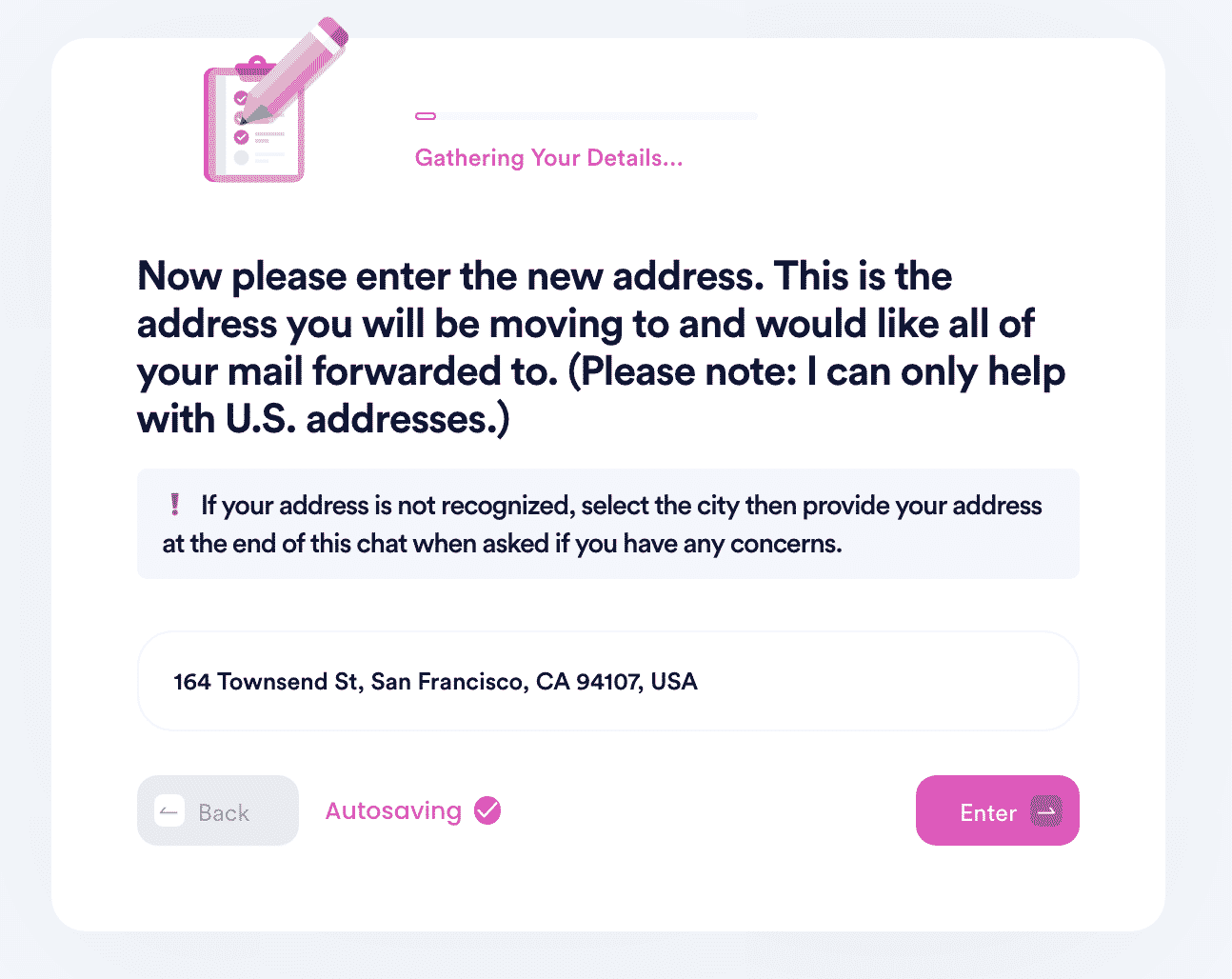 2. Tell us who is moving (is it just you, your family, or your business)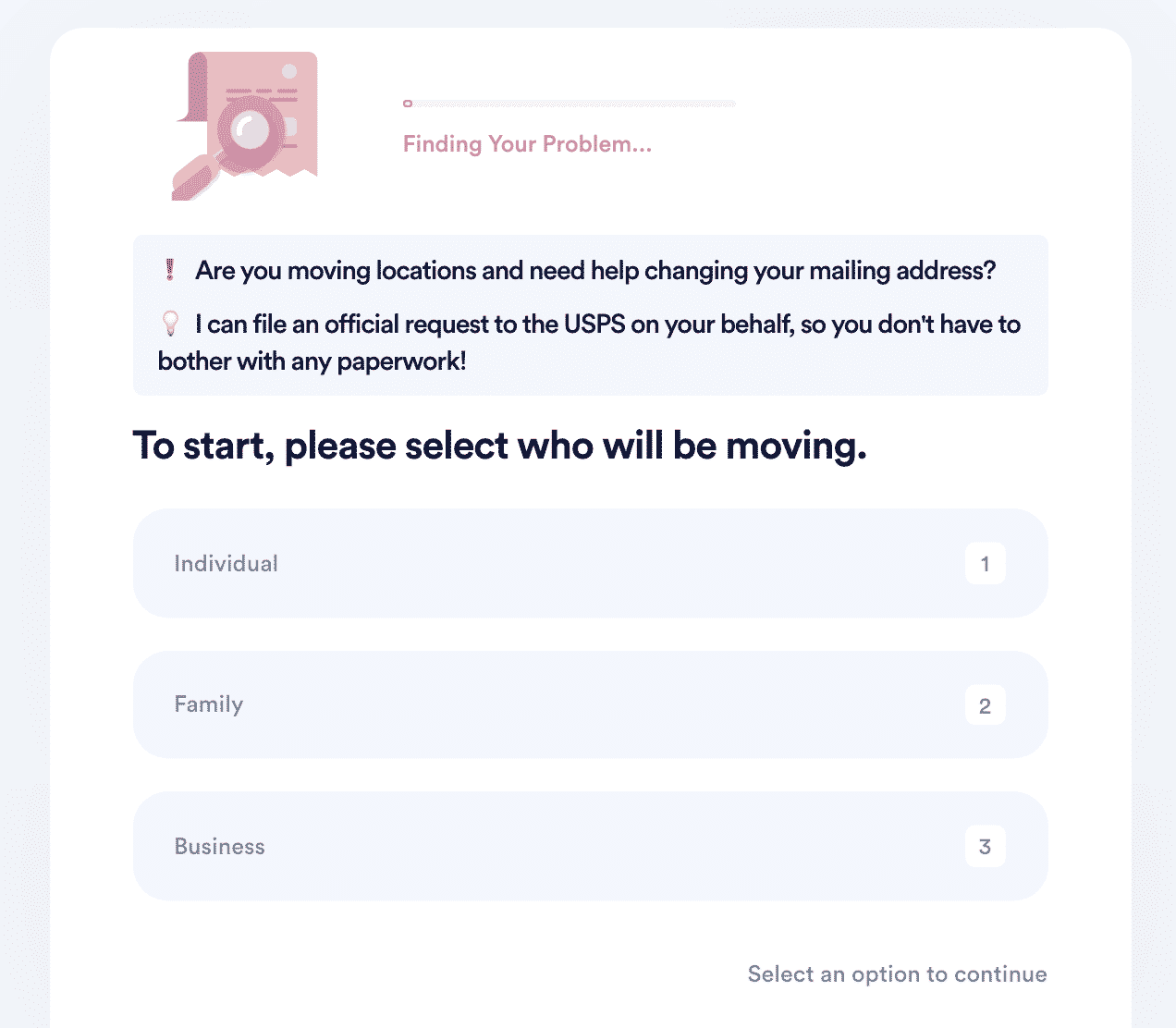 3. Select whether it's a temporary move or permanent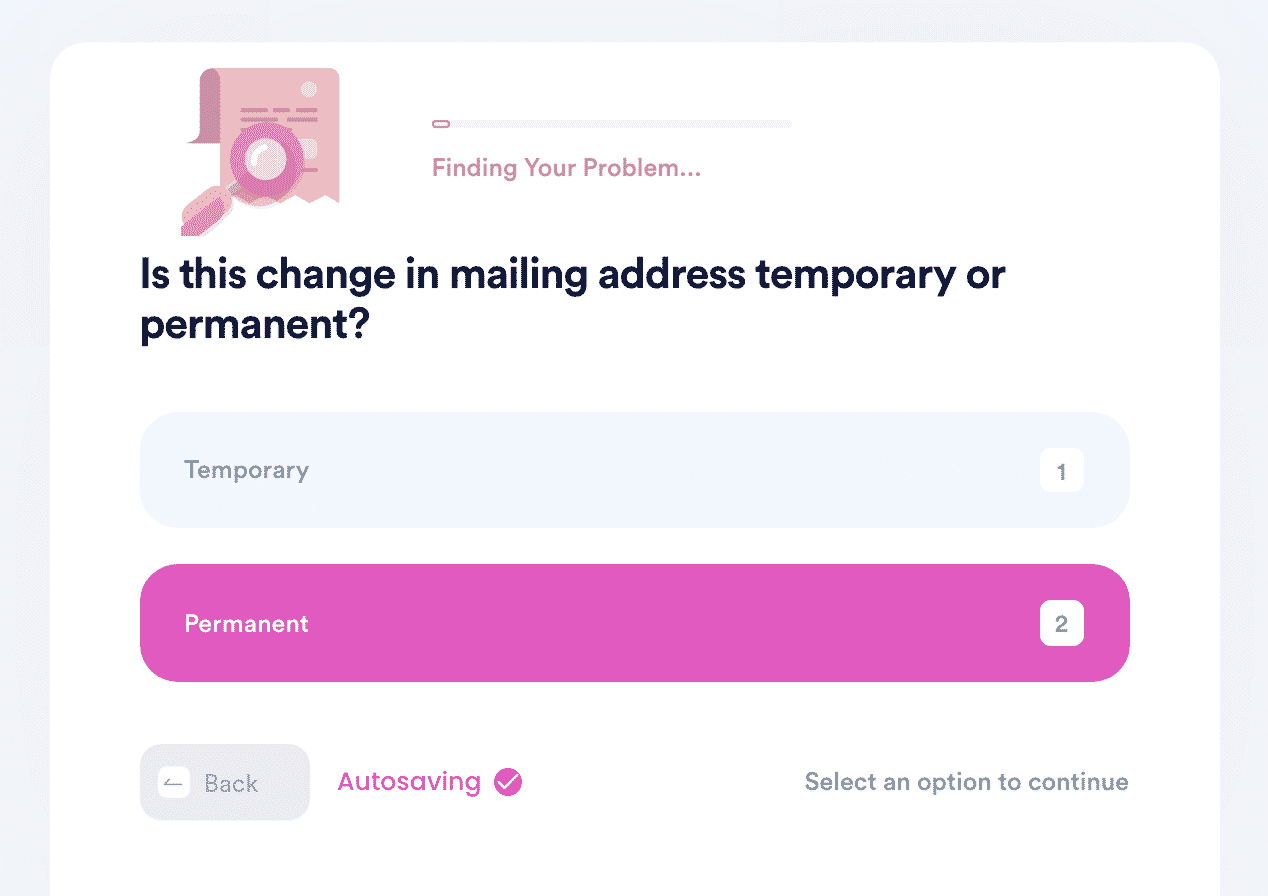 4. Add the option to extend your mail forwarding period beyond 12 months (you can get your mail delivered from your old address for up to 2.5 years)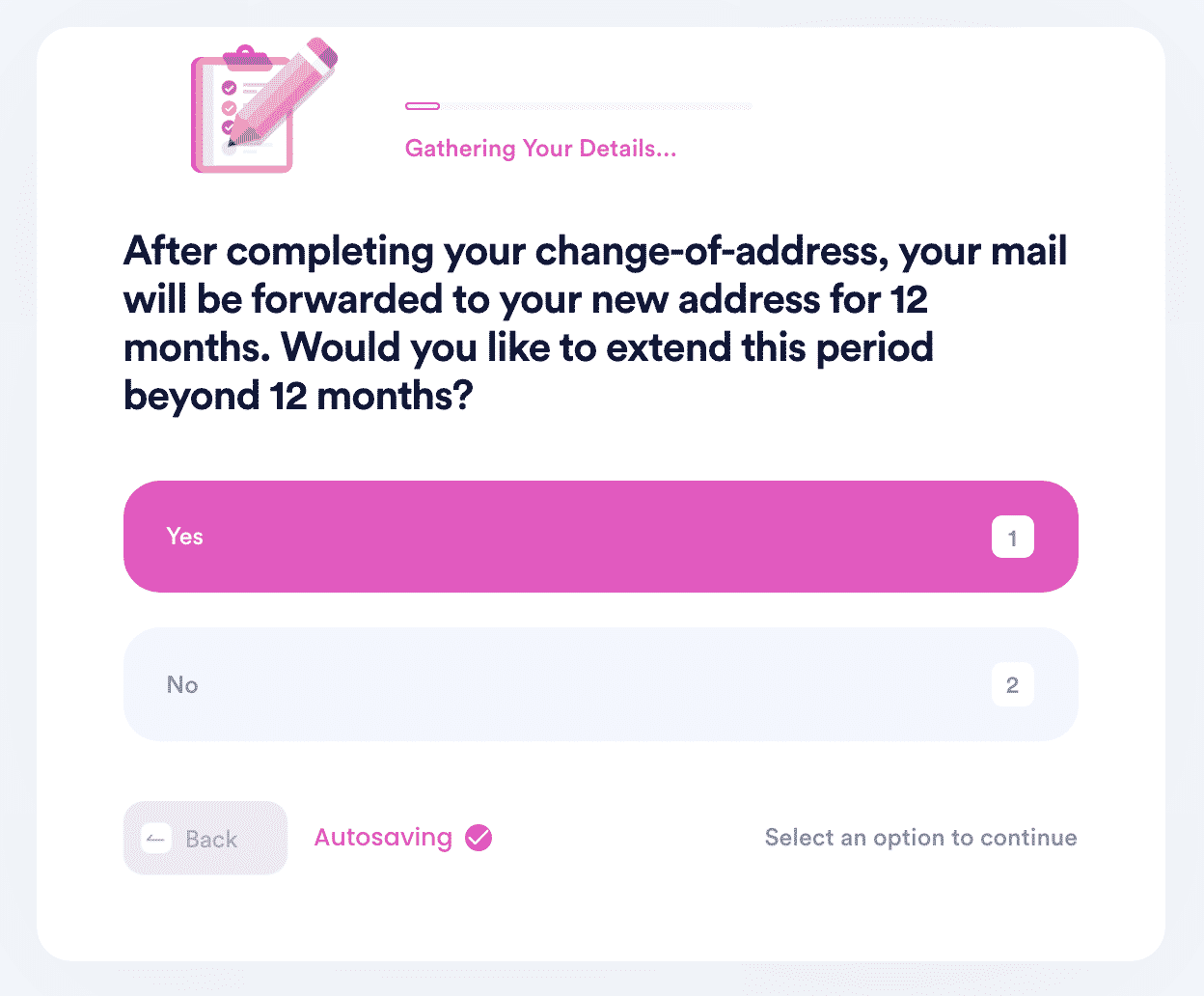 5. And that's it! DoNotPay will take care of the rest on your behalf. You should receive a confirmation email from USPS after your request is completed.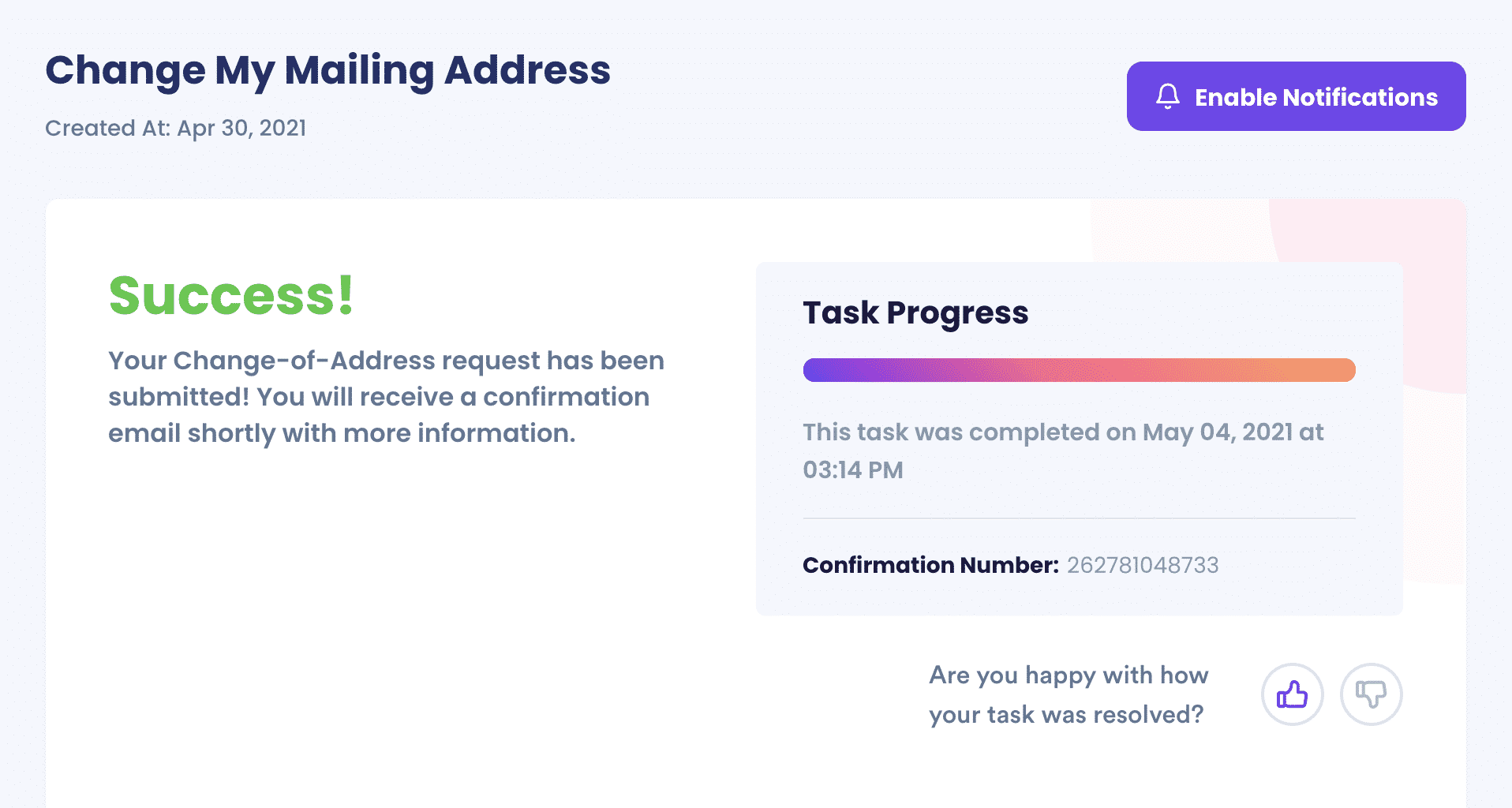 Why Using DoNotPay Is the Best Way to Change Your Mailing Address
We've got three reasons why :
You don't have to deal with crowded post offices or slow websites.
You'll have less mind-numbing paperwork and more time to focus on your move.
No worries about change of address rejections over minor mistakes. DoNotPay does it right every time.
DoNotPay Can Change Your Mailing Address Anywhere
DoNotPay will also quickly help you set up USPS Informed Delivery at your new residence. We also notify other important entities about your move, including:
Whatever the Problem, DoNotPay Can Help
We know that you might need help with other issues associated with moving, such as:
Whatever you need, DoNotPay provides the quickest and easiest solutions. Join