How to Change a Mailing Address in Oregon
It would be an excellent convenience if the logistics related to changing the address of a home or business in Oregon were automatically taken care of so you won't have to fill out as many forms as when you do it yourself. Remember, you also need to fill out other forms, such as the DMV and SSA forms. Unfortunately, that is not the case. If you forget to let the world know about your relocation, you run the risk of missing important mail and other deliveries.
So how do you change your mailing address when you move? Changing your mailing address in Oregon should be a piece of cake, but sometimes things simply do not go as planned. If you fail to receive a change of address confirmation letter after filing, you may have no idea if your change of address request was received and processed. Your mail may even continue to be delivered to the old address, and you have no way of knowing it.
Fortunately, you can get help.  offers a fast, convenient way to change your mailing address in Oregon that is automated and much less frustrating than if you try to handle the process yourself.
How Much Time Do You Have to File a Change of Address With USPS After a Move?
A Change of Address, referred to as a COA by the United States Postal Service, is a request telling the service to reroute all your mail, including letters and packages. You have 30 days to change your address online after you change locations. After that, you must go into a physical place of USPS to file a form in person.
If you fail to file a COA request after moving, your mail carrier will pick up your accumulated mail and leave a notice letting you know that your mail is available for pick-up at your local post office. Your mail will then be held for ten calendar days before being returned to the sender. Any unreturnable mail will be discarded.
The change of address form can be filed up to three months before the effective move date. You can expect mail to be delivered to the new address seven to ten business days from the date of your filing. 
What Is the Cost Associated With Filing a Change of Address?
If you file your COA online, a $1.10 fee associated with identity validation is required. Accepted forms of payment include:
Visa
Discover
MasterCard
American Express
Debit Cards
There is no fee required when you change your address at the post office.
How to Change a Mailing Address in Oregon on Your Own
To change your mailing address in the state of Oregon on your own, you have the following options:
| | |
| --- | --- |
| Online | You can access the COA form on the USPS website for online requests. |
| In-person | You can also file your change of address at the post office. There, you will be required to fill out and submit PS Form 3575. |
After filing your COA, USPS will mail a Move Validation Letter (MVL) to the address you are leaving to validate your upcoming move.
Change Your Mailing Address in Oregon With the Help of DoNotPay
Aside from the time and aggravation associated with changing your mailing address in Oregon, when you do it yourself, you must do a lot of the legwork to experience a smooth transition.
 provides an easy and fast way to change your mailing address in Oregon without additional hassle.
How to File a Change of Address Using DoNotPay:
If you want to file a change of address but don't know where to start, DoNotPay has you covered in 5 easy steps:
1. Tell us the new address and when you want to start forwarding your mail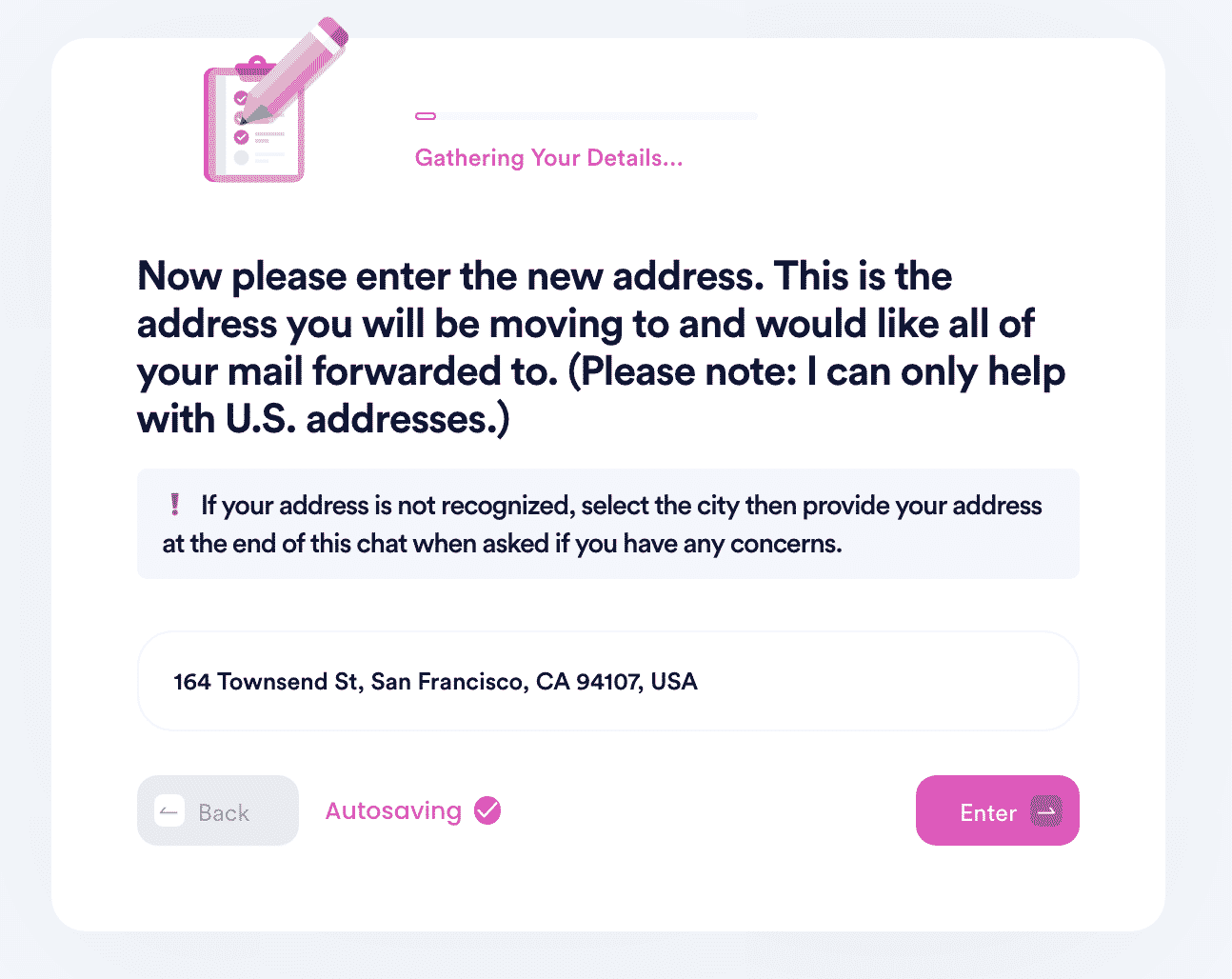 2. Tell us who is moving (is it just you, your family, or your business)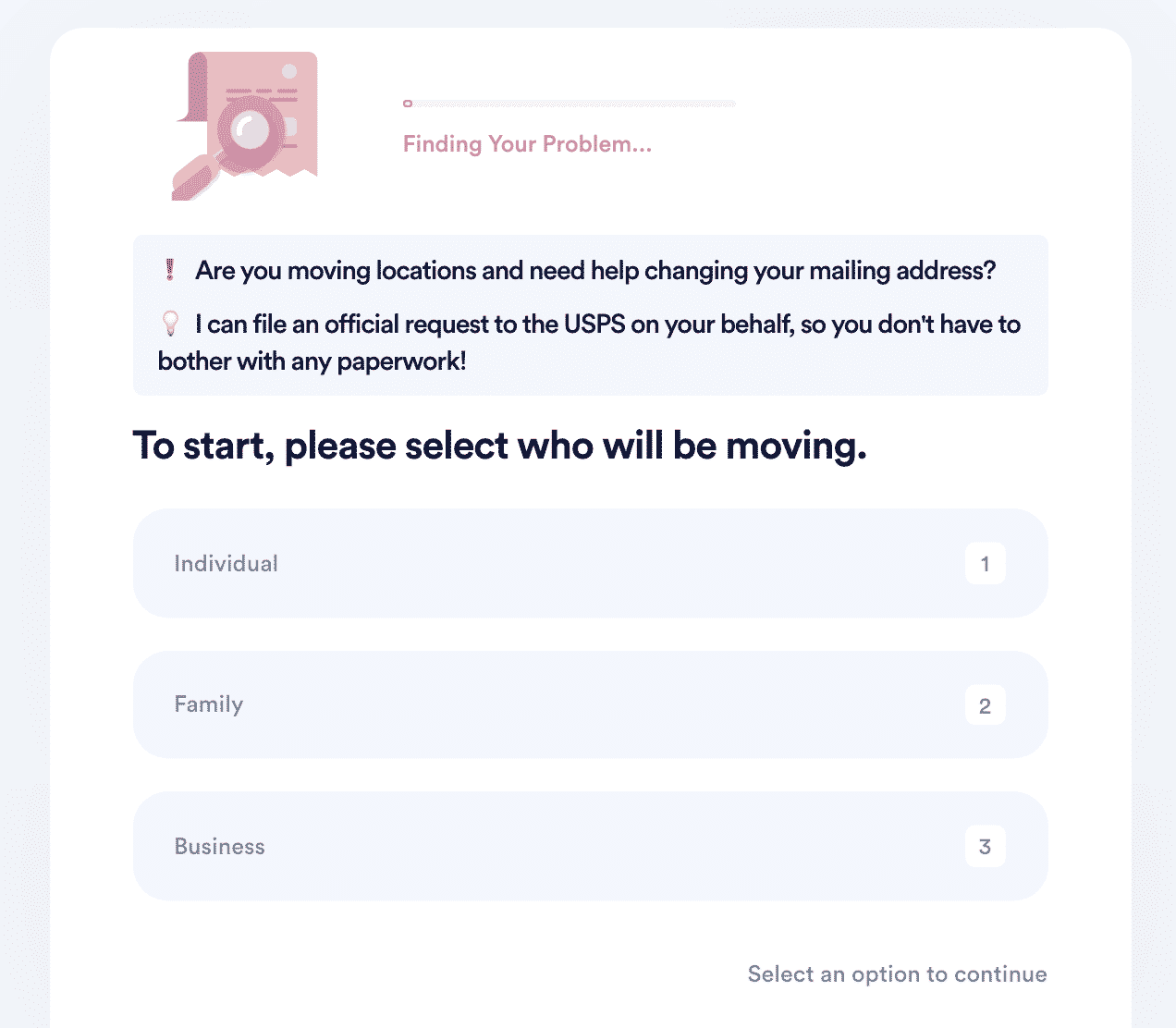 3. Select whether it's a temporary move or permanent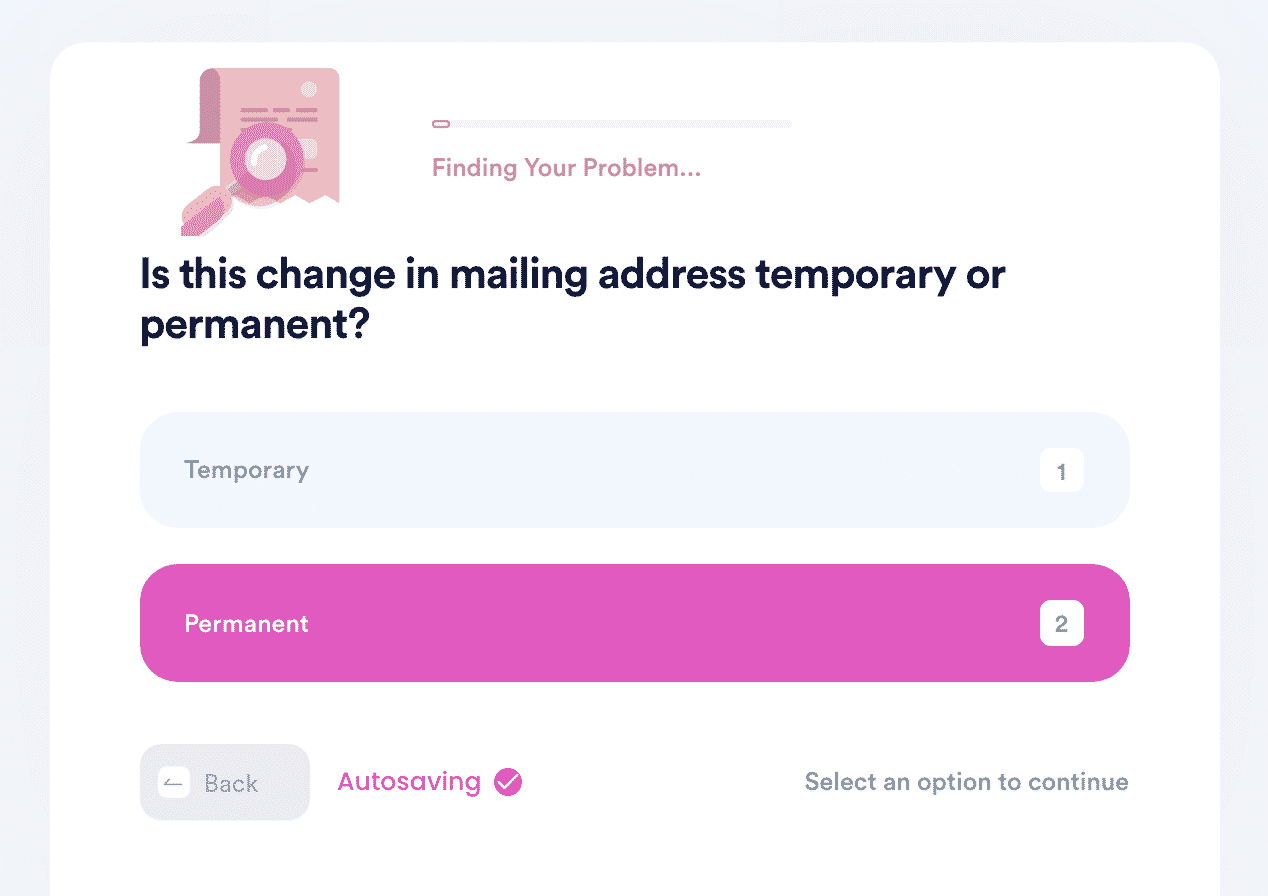 4. Add the option to extend your mail forwarding period beyond 12 months (you can get your mail delivered from your old address for up to 2.5 years)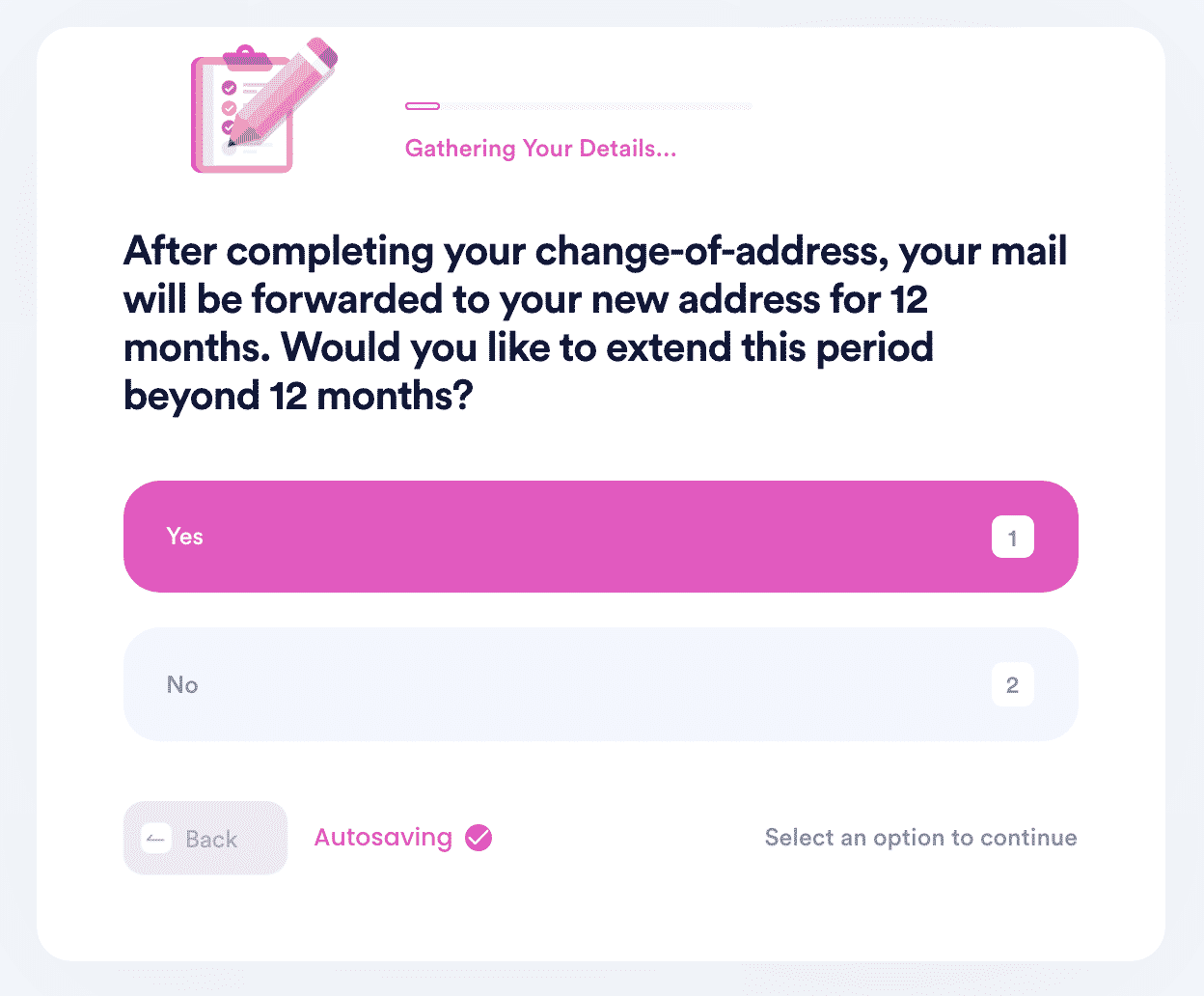 5. And that's it! DoNotPay will take care of the rest on your behalf. You should receive a confirmation email from USPS after your request is completed.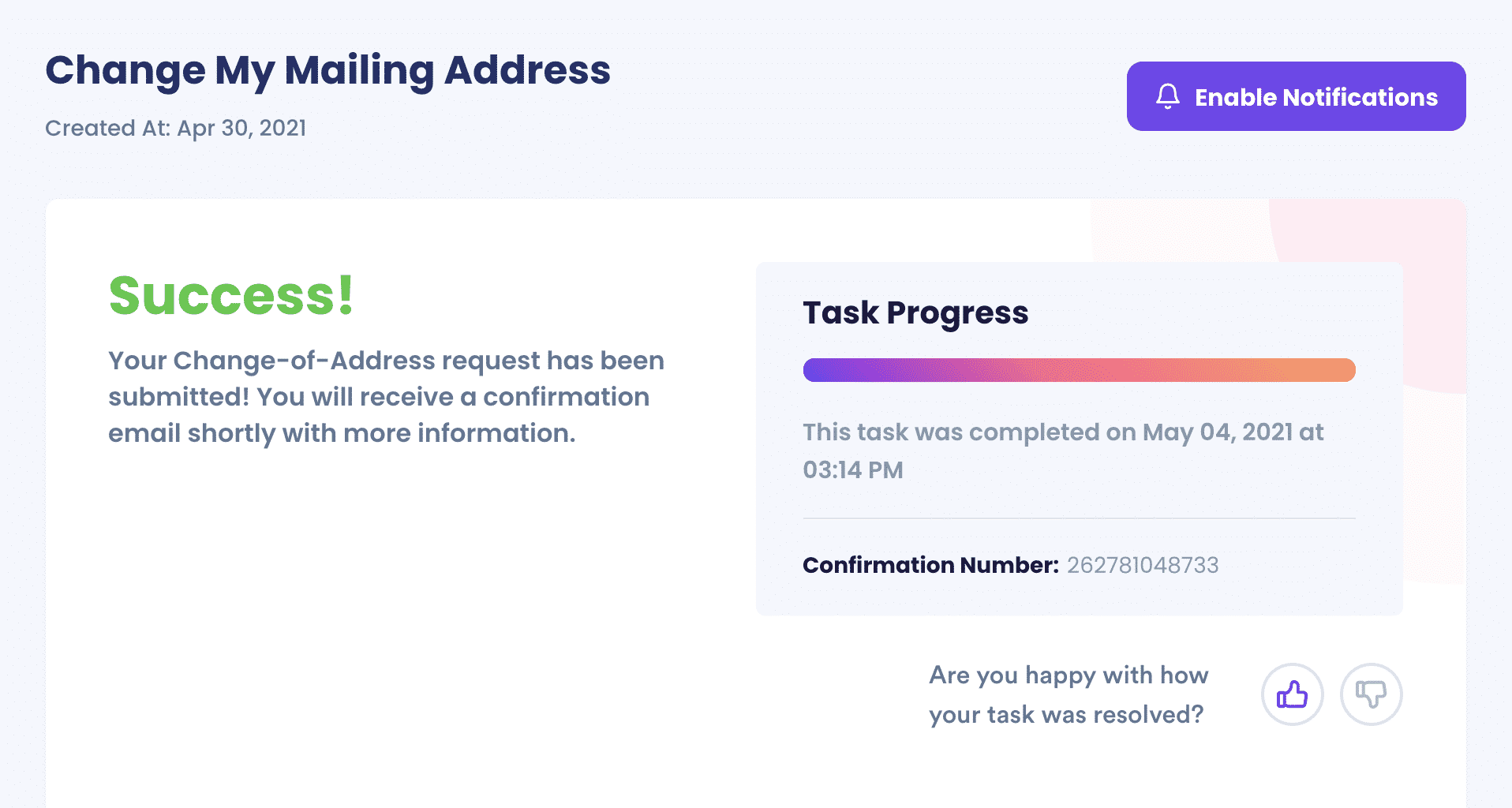 With DoNotPay, you can rest assured that your change of mailing address will be successful.
What Else Can DoNotPay Do?
DoNotPay works across all entities with the click of a button to help you with many issues.
Changing your mailing address in Oregon is time-consuming and can even cost you money. DoNotPay is a fast and easy solution that is successful every time.
DoNotPay is a hub for helping you take care of business. Join DoNotPay today!