How to Change Your Mailing Address in Michigan Fast
If you're moving and must , you need to start early. USPS address change maInitially, you have to identify what type of USPS Change of Address Form to use. Here is a guide to help you easily choose the proper form for you:
Individual USPS Change of Address Form
If you opt to forward mail for yourself alone, use the form Single Individuals.

If you live in one household with multiple people who have different last names and you want their mail to be included as well, you'll have to file a separate form for each person so use Roommates.

Each family member should fill out a form on Family Members on the Move if you're moving to different places, even if you share the same last name.

Family USPS Change of Address Form
If each household member shares the same last name and is moving to the same place, you only need to file one family form. This advises the USPS that you want mail forwarded to everyone in the household that shares the same last name.
Business USPS Change of Address Form
Use this form if you're authorized to forward mail on behalf of your business and if the entire business is changing its address, even if different people receive mail for the company.
y not work, and working with the DMV can be a nightmare. We'll cover how to take care of the entire process, from filling out the change of address form to updating your Social Security information in the following portions of this article.
How Long Do You Have to File a Change of Address With USPS?
You can do it as late as three business days before moving when you file a change of address. However, it can take up to two weeks to forward your mail to your new address. Generally, you'll want to change your address early as possible so that new mail is delivered to your address.
USPS change of address is only part of the process. You'll want to contact all utility companies, banks, and anyone you receive bills from to change your address individually.
It's crucial to note that a change of address is a "temporary forwarding" of your mail to a new address. The process empowers you by allotting enough time to update the address on any mail you receive. Ultimately, when you change a mailing address in Michigan, it's a tool to prevent fraud and allow you time to make address changes accordingly.
How Much Does It Cost to File a Change of Address?
Filing a change of address isn't free, but it's affordable and will only cost you $1.10 for an identity verification fee. The fee is waived if you decide to file the change in person. However, for most people, it's more convenient to file online.
How to File a Change of Address Yourself in Michigan
Over 90,000 address changes are made in the United States in a single day. Moving is an exciting time, but you need to update your address information. A few of the many items that you'll need to change over are:
Credit cards
Utilities
Subscriptions
Insurance
To allow yourself enough time to make these fundamental changes, USPS will enable you to . Standard address changes can be completed in just a few easy steps, outlined below:
Go to the official USPS website.
Choose the type of change you're making.
Pay the fee – it's $1.10.
Fill out the form in its entirety.
Once you've completed the steps above, you'll be given a confirmation code that allows you to change the request in the future if you wish.
If everything goes according to plan, you'll receive a welcome kit from USPS in the mail. After that, USPS will handle the rest of the process by rerouting all mail sent to your home piece by piece. You'll need to pay the fee using a credit or debit card in your name. The payment requirement helps verify your identity.
Changing Your Mailing Address in Michigan in Person
If you would instead change your mailing address in person, you can do so by following the guidelines below:
Visit your nearest post office.
Ask for the Mover's Guide packet.
Find Form 3575 in the packet.
Fill out the form and return it.
You won't be required to pay a fee when completing the form in person. If you're signed up for Informed Delivery, you can change your Informed Delivery at this time. 
Next Steps for Filing a Mailing Address Change in Michigan if You Can't Do It Yourself
USPS makes errors, and there are times when it takes too long for an address change to occur. In this case, your mail may still arrive at your old mailing address. You can contact USPS if there are any issues with a change. 
Since you're required to prove your identity, you can't have someone else in your household do the change for you.
If you don't have one of the following, you'll be required to make the change of address in person:
However, you'll still need to provide identification in person to verify that you're the actual person having their mail changed.
How DoNotPay Makes It Effortless to Change Mailing Addresses in Michigan
DoNotPay handles all potential issues of your address change, including not receiving your confirmation email, code, or verification of an address change. You don't want your address change to be verified and complete before moving out of your current address.
If you want to file a change of address but don't know where to start, DoNotPay has you covered in 5 easy steps:
1. Tell us the new address and when you want to start forwarding your mail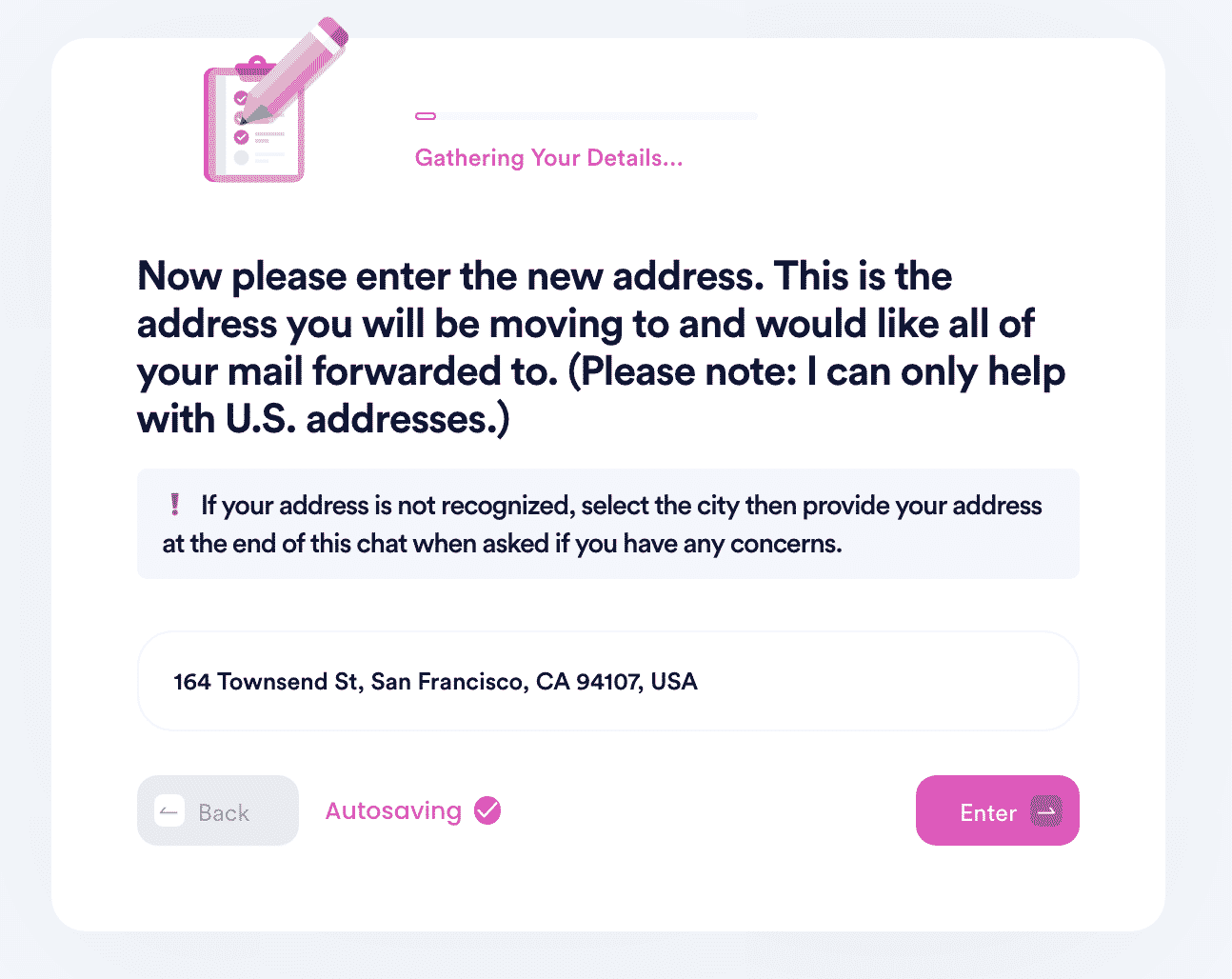 2. Tell us who is moving (is it just you, your family, or your business)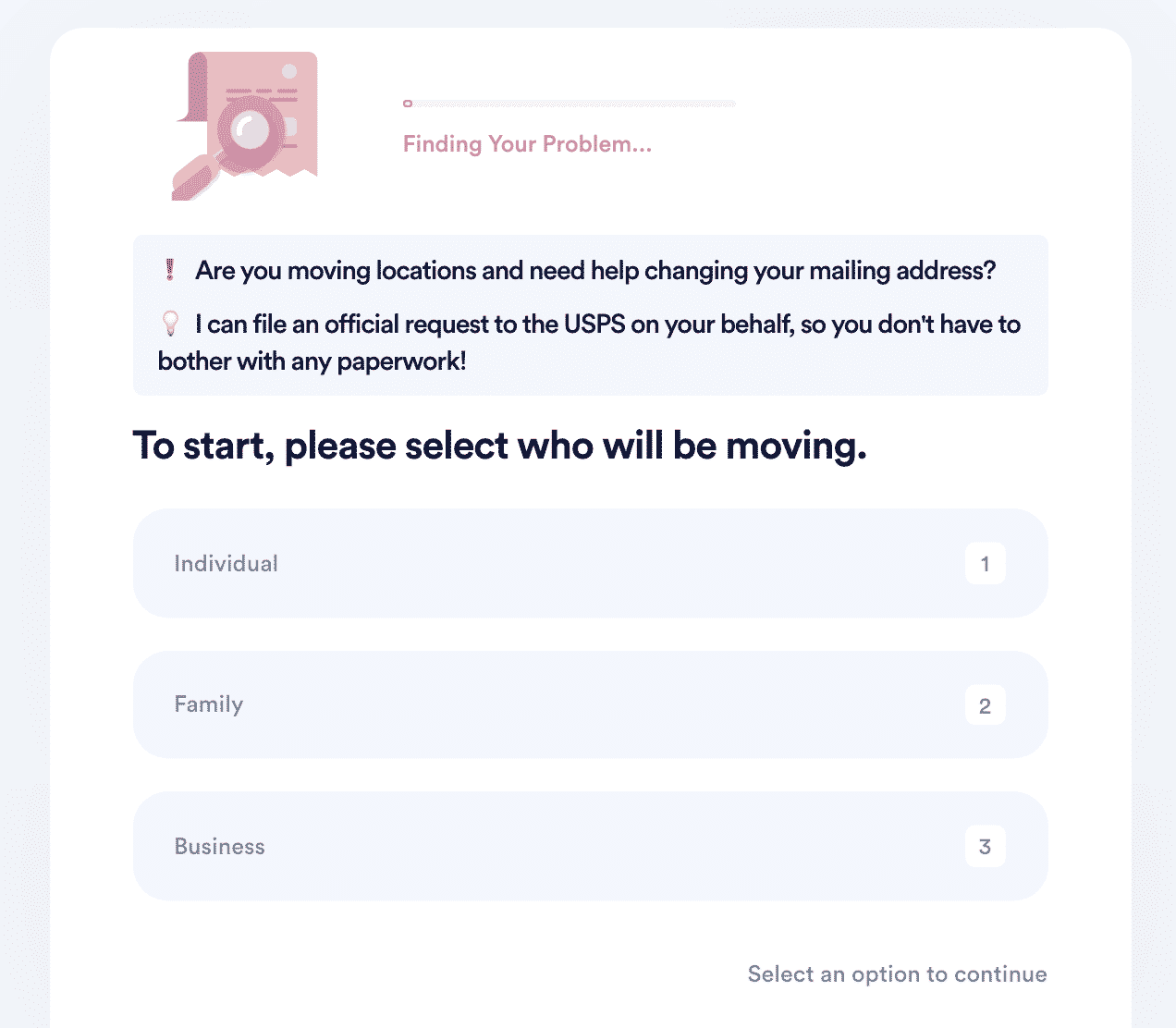 3. Select whether it's a temporary move or permanent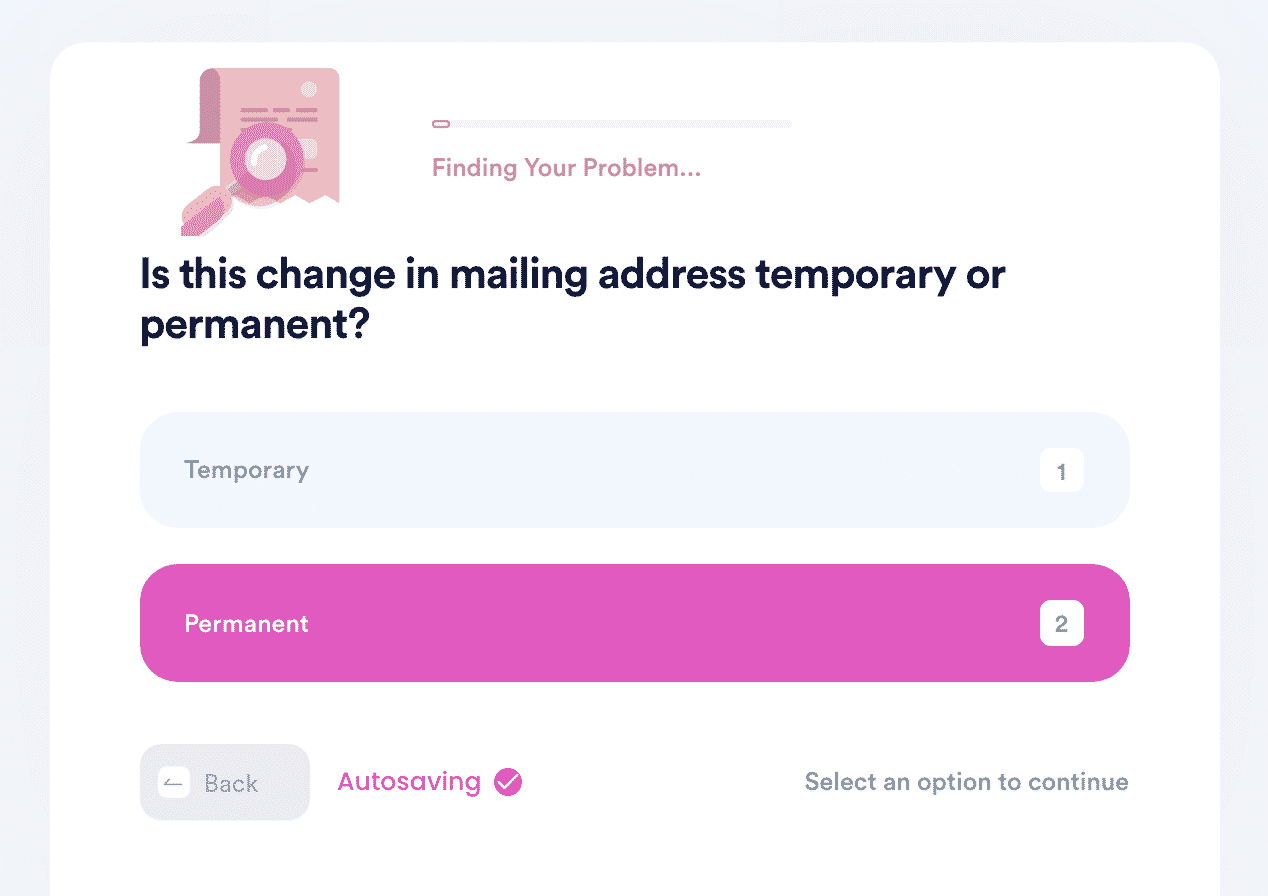 4. Add the option to extend your mail forwarding period beyond 12 months (you can get your mail delivered from your old address for up to 2.5 years)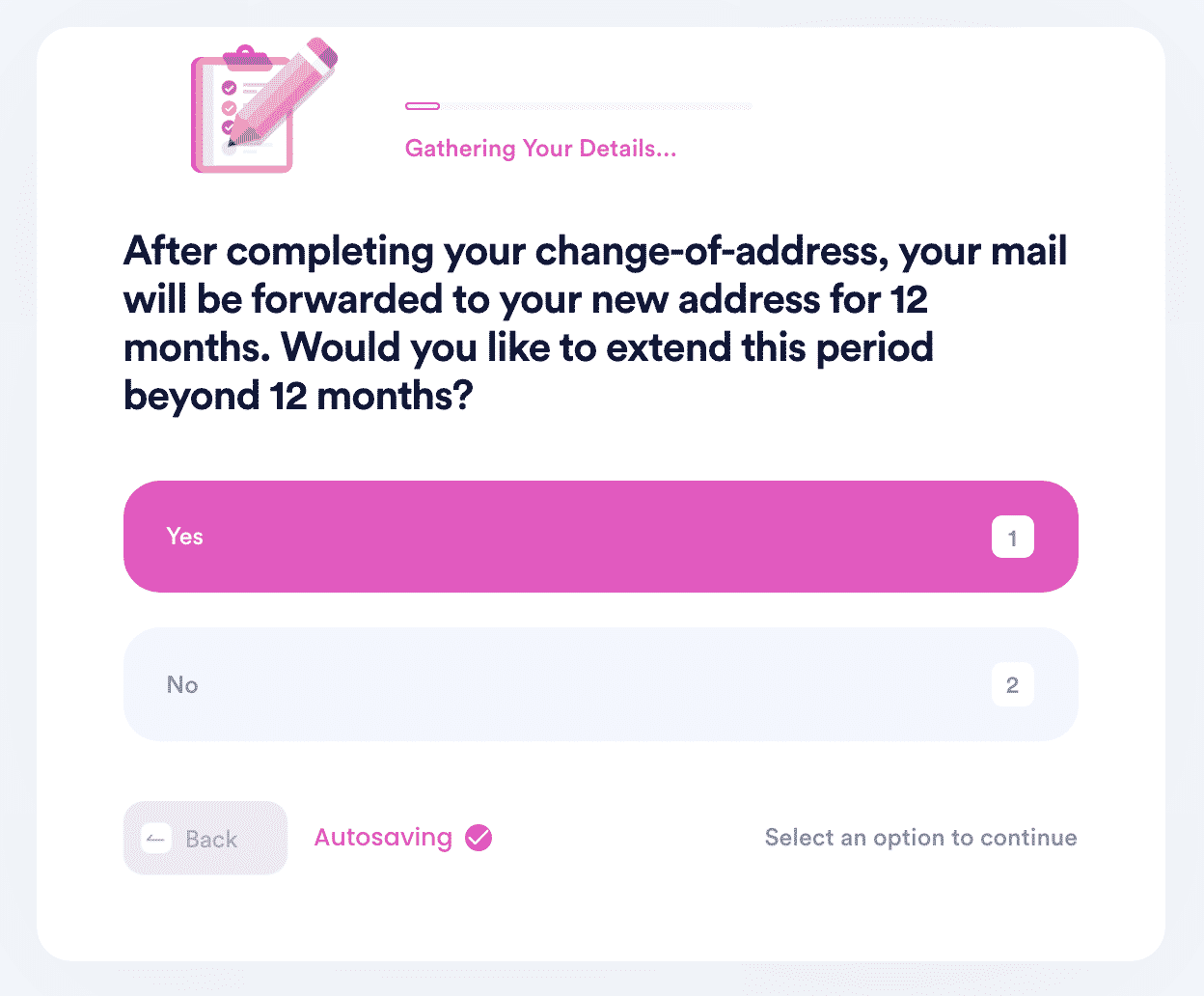 5. And that's it! DoNotPay will take care of the rest on your behalf. You should receive a confirmation email from USPS after your request is completed.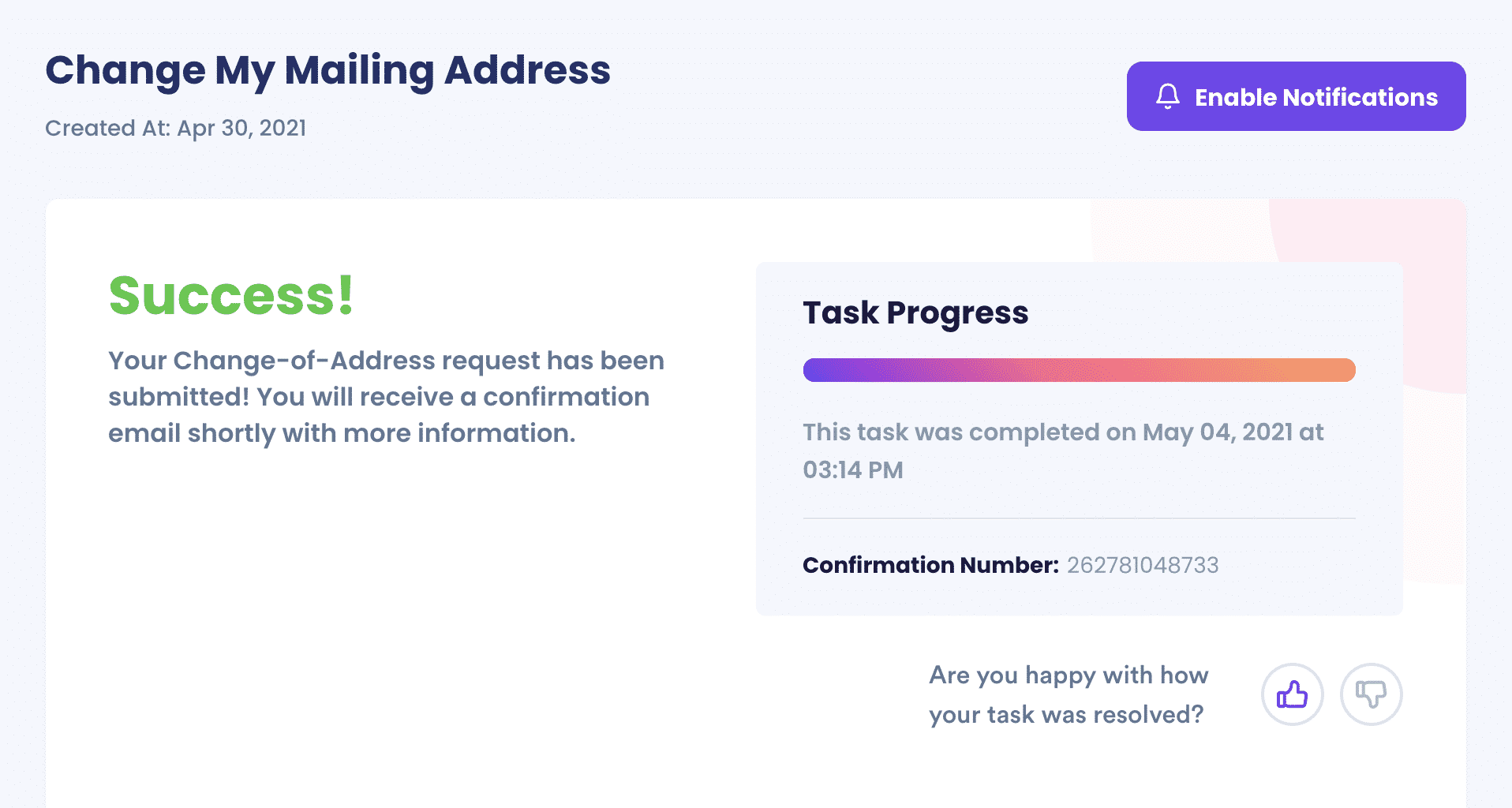 Why Use DoNotPay to Solve Your Change Mailing in Michigan Issues
Moving is tedious, and the last thing you want to do is have something go wrong with your address change. DoNotPay helps you solve these issues with AI that is:
Fast and efficient, saving you time
Easy to use and track
Successful and corrects any problems along the way
DoNotPay Works Across All States With the Click of a Button
Nationwide, DoNotPay helps residents update their addresses with a click of a button. DoNotPay can help you resolve issues with creditors, bills, and of course, the United States Postal Service. One platform can do it all. 
What Else Can DoNotPay Do?
DoNotPay can help you do so much more, including:
 to sign up for DoNotPay to automate your mailing address change in Michigan.