The Easy Way to Change Your Mailing Address in Maryland
If you suddenly needed to  would you even know where to start? With so many companies doing business both online and in traditional brick-and-mortar stores, our address changes encompass much more than a simple stop at the local post office.
If you could change your Maryland mailing address with an easy-to-use online platform that would successfully handle this issue, would you use it? Let's look now at trying to change your Maryland mailing address on your own and the trouble you may face when doing so.
Changing Your Maryland Address By Yourself Through USPS
The United States Postal Service, the single entity that will be handling all of your mail, says that changing your Maryland address through your local Maryland post office is the only way to handle your Maryland address change. Nothing could be further from the truth.
Simply because they handle all of your mail doesn't make them the foregone expert in address changes. Perhaps the biggest issue with using a local post office for this matter is making it to the office before they close. In recent years many post offices located in less metropolitan type areas have reduced their hours of operation and their personnel.
The USPS does, however, have a change of address kit that you can fill out at your local post office if their hours fit your busy schedule. This same form can be filled out online at usps.com. When using this route, be prepared to pay a fee using a credit or debit card that has your current mailing address as your billing address to prove your identity.
Problems Encountered at USPS When Changing Your Maryland Address
Let's take a look at the problems you might encounter when using your local Maryland post office to change your Maryland address.
| | |
| --- | --- |
| Hours of Operations | When using the local post office, it is their schedule you have to go by, not yours. Often you'll be busy during their hours of operation. |
| Proper Document Filing and Handling | Lack of personnel in key areas has caused misplaced or even lost change of address forms. |
| Identity Theft Issues | In San Francisco, a local CBS affiliate reported that identity thieves can re-route your mail to their address simply by filling out a change of address form and submitting it to the local post as if they were you. The post office requires proof of identity in online address changes but not when doing so in person! |
| Time Involvement | Using the USPS takes up to two weeks for the change to be effective, and longer in certain instances. Also, submitting just one Maryland change of address isn't sufficient for changing the location of all your address information. It could take as many as 6 to 12 separate forms to encompass all of your needed Maryland address change information. |
What if there was one single form to fill out using an online address change platform that works? Would you use it?
Problems Changing Your Maryland Address With the Maryland DMV
Just changing your Maryland address through the local post office does not encompass your Maryland address at the DMV. For this to happen, you again must make it to the DMV office during regular business hours.
But, that's not all. You must submit a completed Form VR-154.
You get this form by;
Requesting it through the mail at 661 Richard Hwy. NE Glen Burnie, MD 21062
Picking one up in person and then scheduling a DMV appointment
Calling the Maryland DMV at (410)768-7000 and request Form VR-154
It takes more time, energy, effort, and confusion to make this Maryland address change over all the others.
Let's show you a better way to go about your change of address in Maryland.
 How to Use DoNotPay to Change Your Maryland Address
DoNotPay was designed to level the playing field and make matters like changing your Maryland address as simple as filling out an online survey!
If you want to file a change of address but don't know where to start, DoNotPay has you covered in 5 easy steps:
1. Tell us the new address and when you want to start forwarding your mail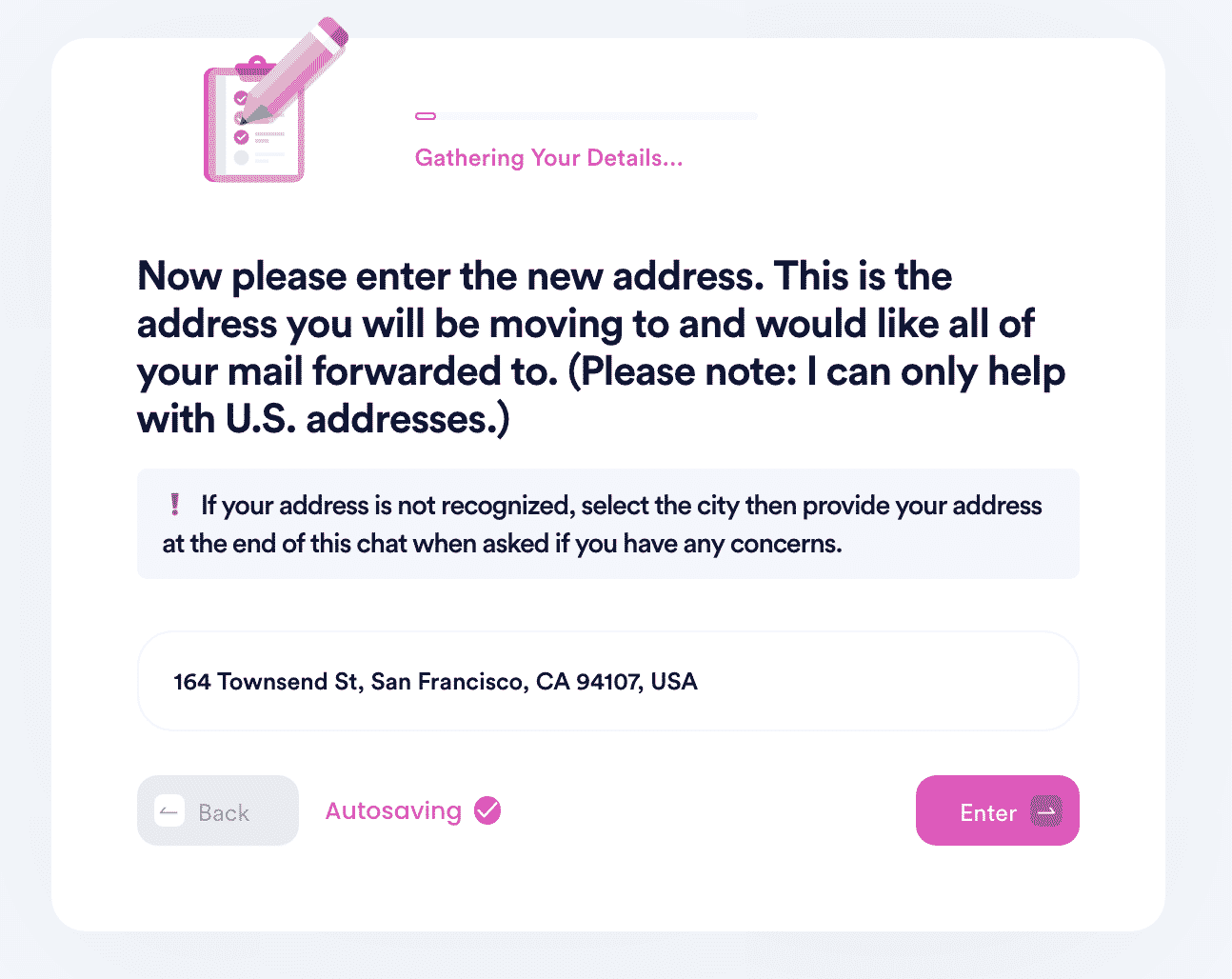 2. Tell us who is moving (is it just you, your family, or your business)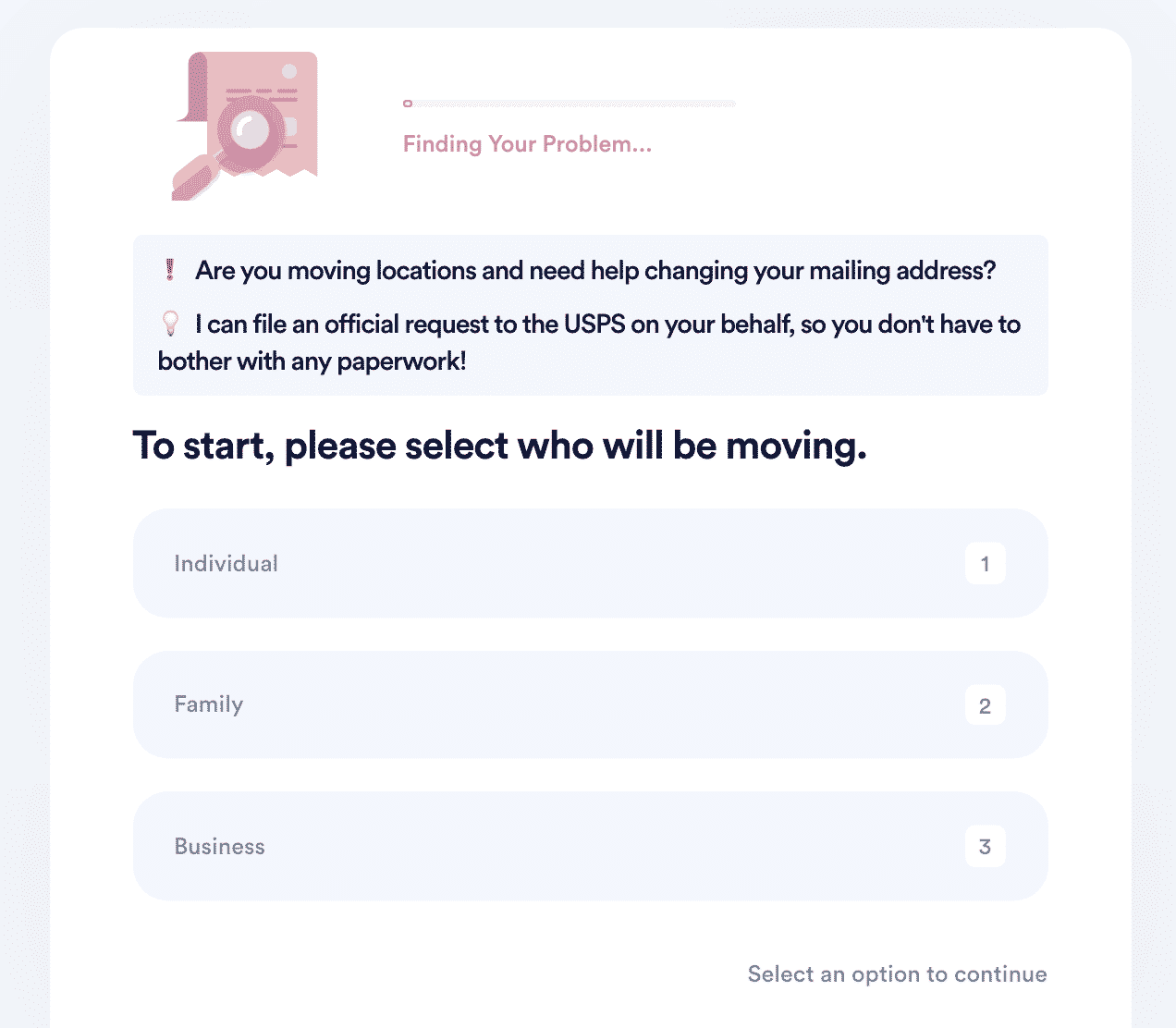 3. Select whether it's a temporary move or permanent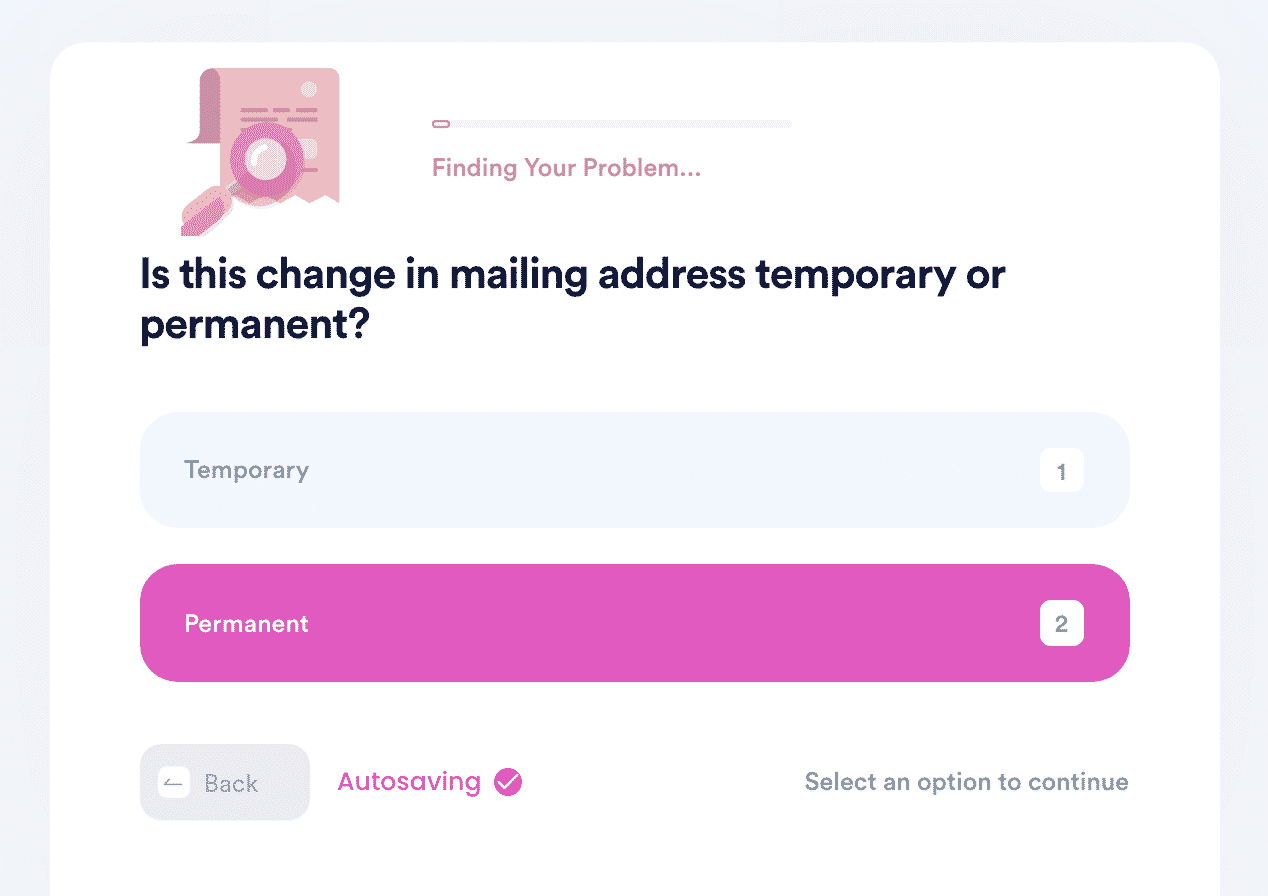 4. Add the option to extend your mail forwarding period beyond 12 months (you can get your mail delivered from your old address for up to 2.5 years)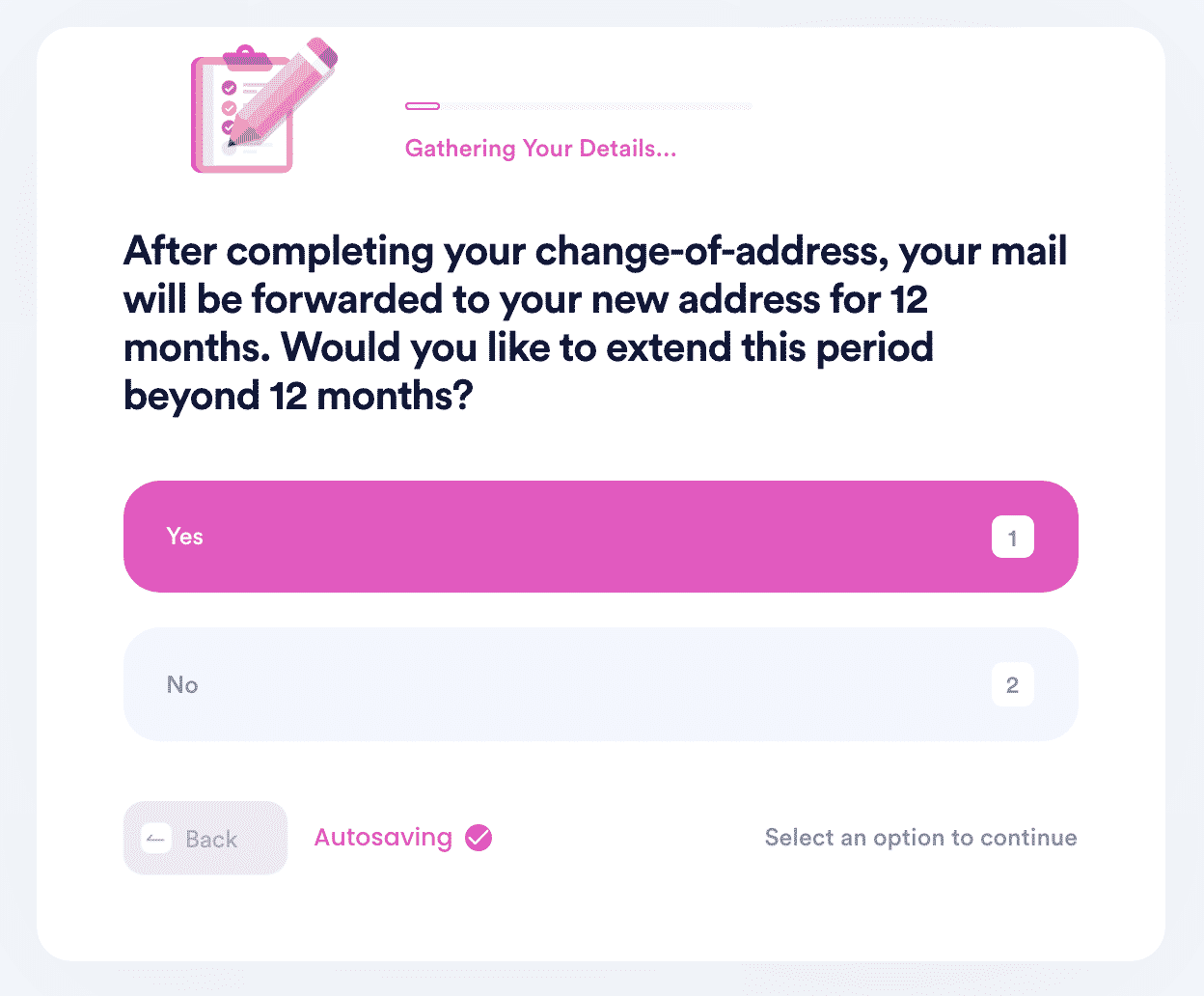 5. And that's it! DoNotPay will take care of the rest on your behalf. You should receive a confirmation email from USPS after your request is completed.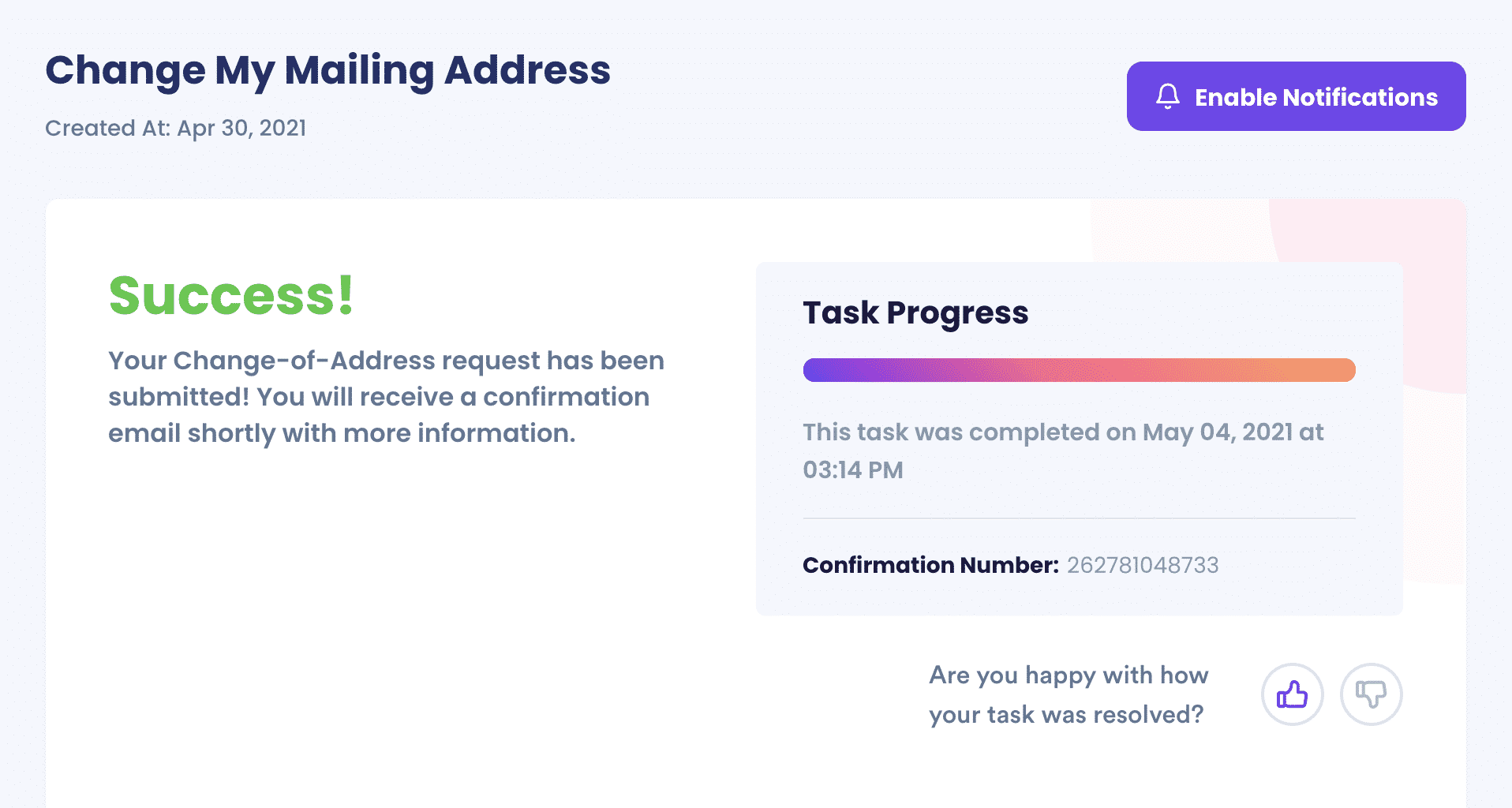 That's it! No schedule to go by, no confusion, no frustration, just a change of your Maryland address in the quickest most efficient manner you can use anywhere!
Why You Should Trust DoNotPay for Your Maryland Address Change
DoNotPay is your one-stop all-inclusive information hub regarding your Maryland address change. Just take a look at these three reasons you can trust DoNotPay!
DoNotPay is FAST! Answer a few basic questions, make a few clicks with your mouse, and you are done!
DoNotPay is EASY! DoNotPay is as easy as filling out an online survey. EASY!
DoNotPay is SUCCESSFUL! DoNotPay produces numerous success stories every day, and yours could be next!
Spend your time relaxing when you get DoNotPay to change your Maryland address. DoNotPay will be hard at work on your behalf while you do things besides wait and worry!
What Else Can DoNotPay Do?
DoNotPay can handle several other issues besides
Let DoNotPay show you just can be.