Easy Steps to Change a Mailing Address in Indiana
Are you moving or relocating to the Hoosier State and want to ? The seemingly obvious way is not the best way, because changing your USPS address isn't always an effective strategy. There are far better options you can consider to get the job done.
In this guide to Indiana mailing address requirements, we will cover how to change your mailing address in Indiana, fill out the USPS change of address form, and update your social security address. Plus, we'll reveal a faster and simpler way to do an Indiana mailing address change.
How to File to Change Your Mailing Address: Indiana Requirements
As much as moving can be an exciting time for most people, it can come with a few challenges, including changing your mailing information.
Some personal identifying information you may need to change:
Credit cards
Insurance
Subscriptions
Utilities
Fortunately, you can complete standard address changes in four steps:
Visit the official USPS website.
Select the type of mailing address change you want to make
Pay the standard fee of $1.10
Fill out the form by providing the necessary information for the change
After you've completed making your application for a mailing address change, you will receive a confirmation code for your change request. If everything goes as planned, USPS will route all future mail to your new mailing address. It's as simple as that.
How to Change a Mailing Address in Indiana on Your Own
There are two options you can use to change your mailing address in Indiana.
1. Online
You can access the Change of Address (COA) form to reroute your mail from the USPS website by:
Stating whether your request is for an individual, a business, or a household
Stating whether the move is temporary or permanent, and what the duration might be if temporary
Entering information about your old and new addresses, and when you want to start receiving mail at your new address
Entering payment information and submitting the application
2. In-Person
If you want to file the COA in person, you can visit your post office and fill out the PS Form 3575. After filling in and submitting the form, USPS will send a Move Validation Letter (MVL) to your new address to validate your move and ability to receive mail.
Change a Mailing Address in Indiana With the Help of DoNotPay
While using the above processes can help you change your mailing address when moving, they may not always be very effective. Here's where the DoNotPay app comes into play. Changing your mailing address can be time-consuming and quite aggravating, especially when doing it yourself. There's a lot of legwork involved that can prevent you from handling more important matters.
DoNotPay provides you with an easier and faster way to  without the additional hassle.
How to Use DoNotPay to Change Your Indiana Address
The DoNotPay app is designed to level the playing field and help you change your Indiana mailing address in a few easy steps. If you want to file a change of address but don't know where to start, DoNotPay has you covered in 5 easy steps:
1. Tell us the new address and when you want to start forwarding your mail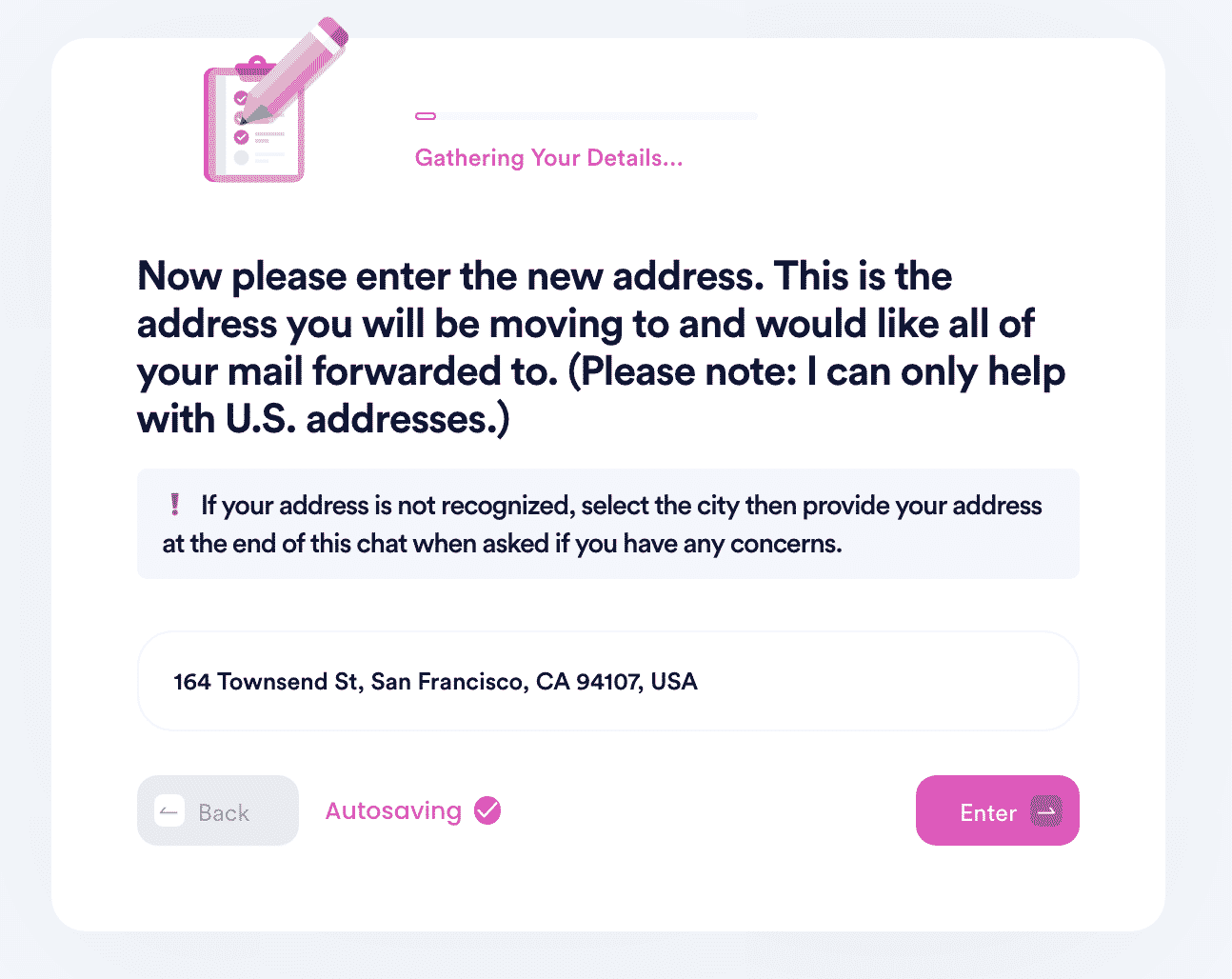 2. Tell us who is moving (is it just you, your family, or your business)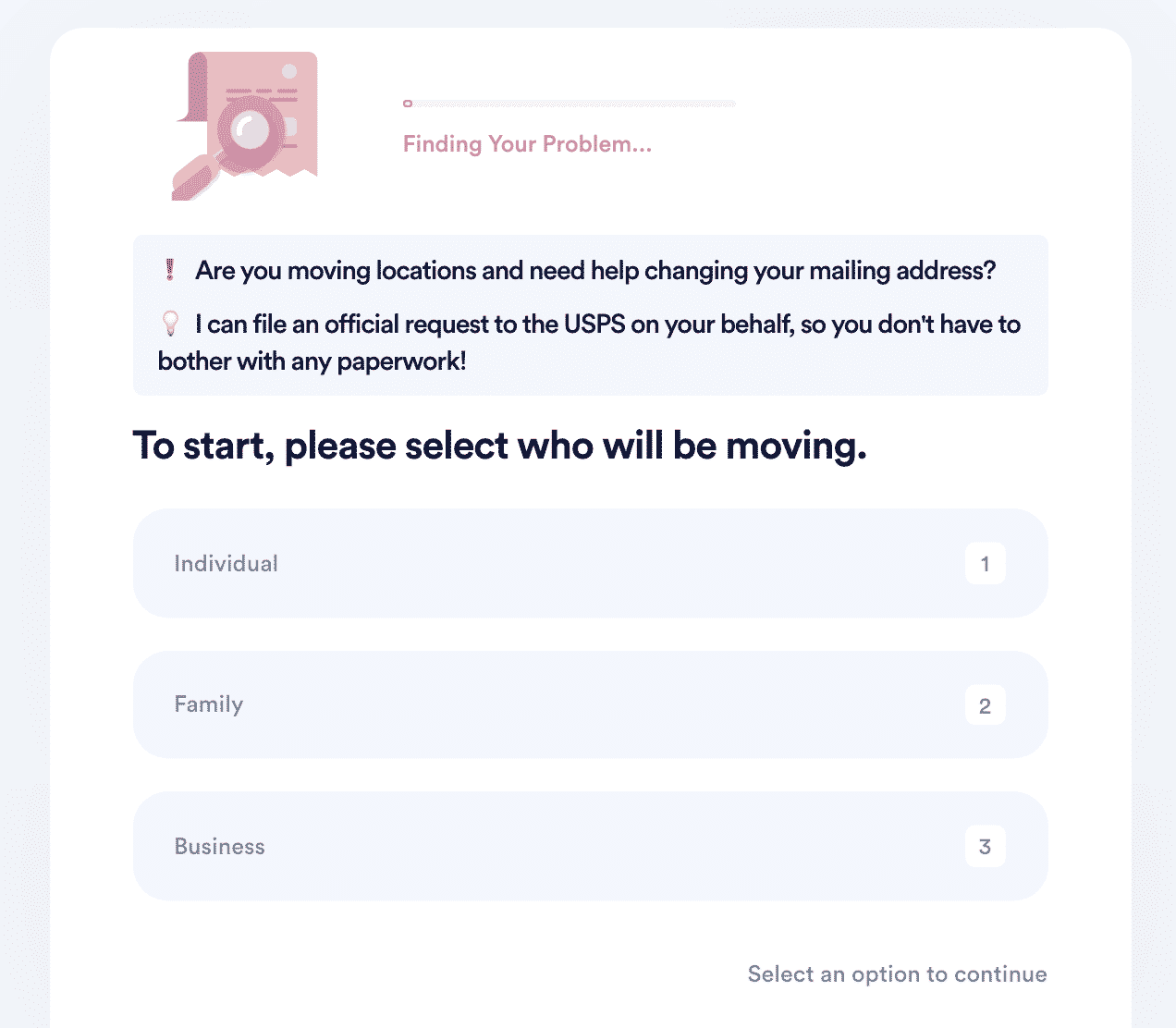 3. Select whether it's a temporary move or permanent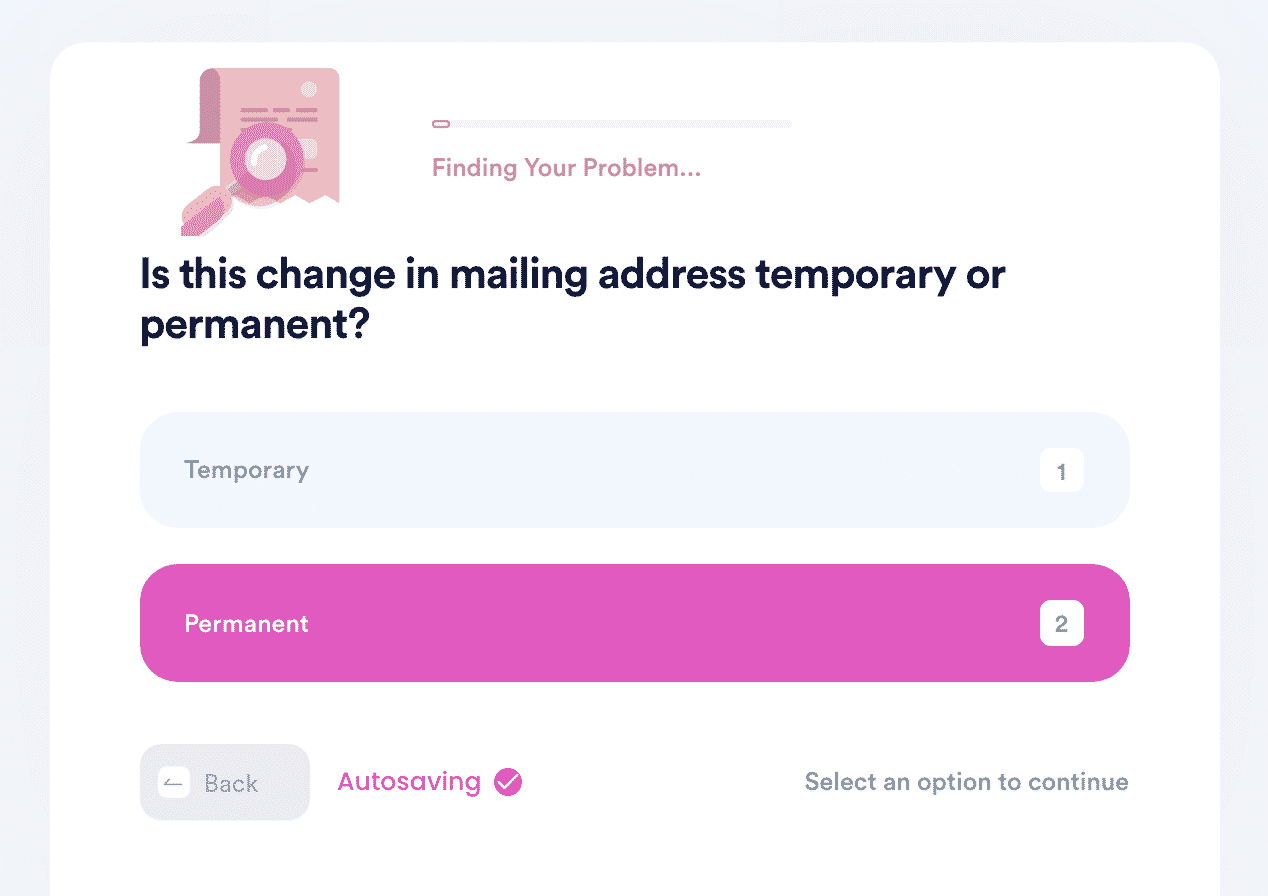 4. Add the option to extend your mail forwarding period beyond 12 months (you can get your mail delivered from your old address for up to 2.5 years)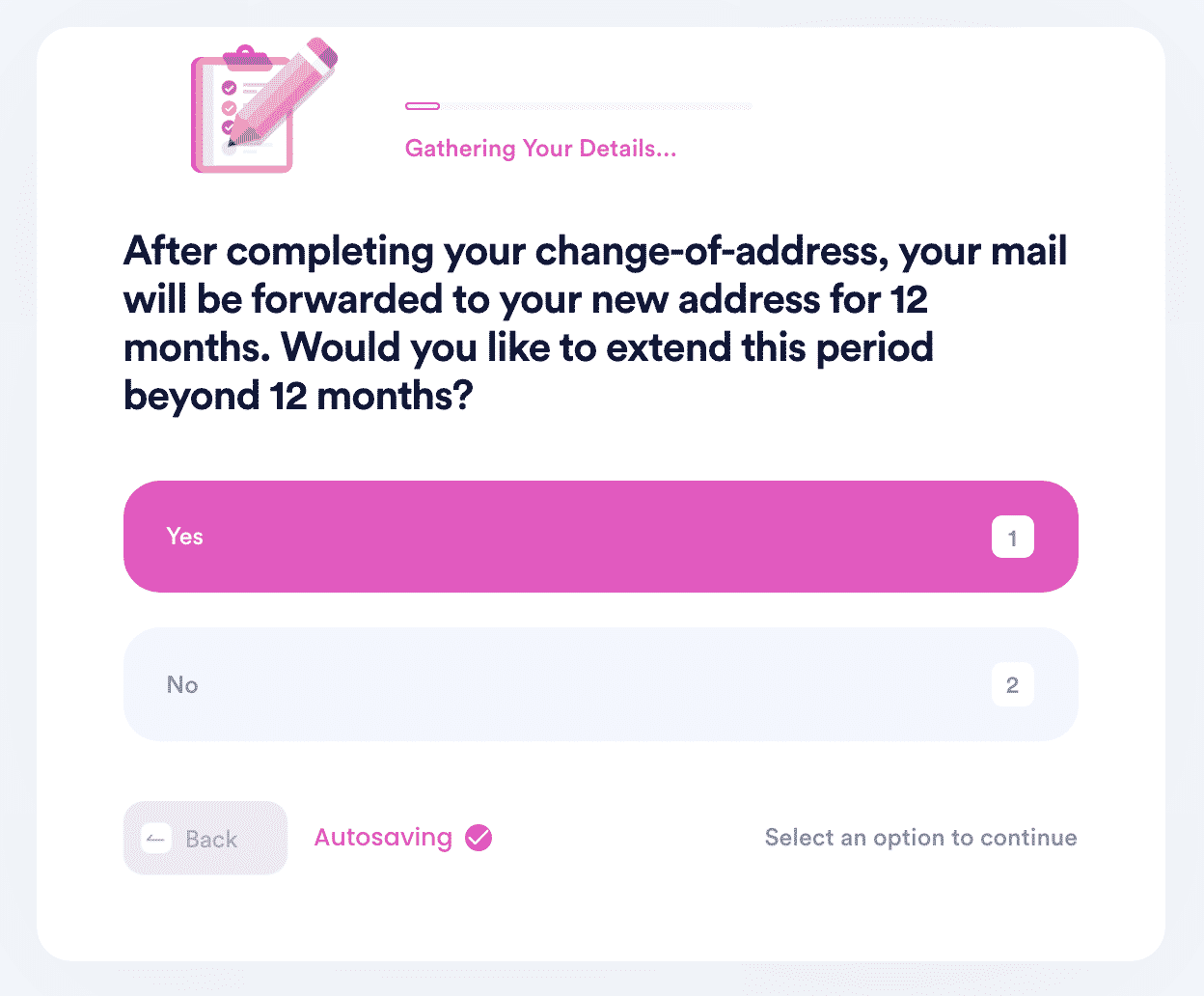 5. And that's it! DoNotPay will take care of the rest on your behalf. You should receive a confirmation email from USPS after your request is completed.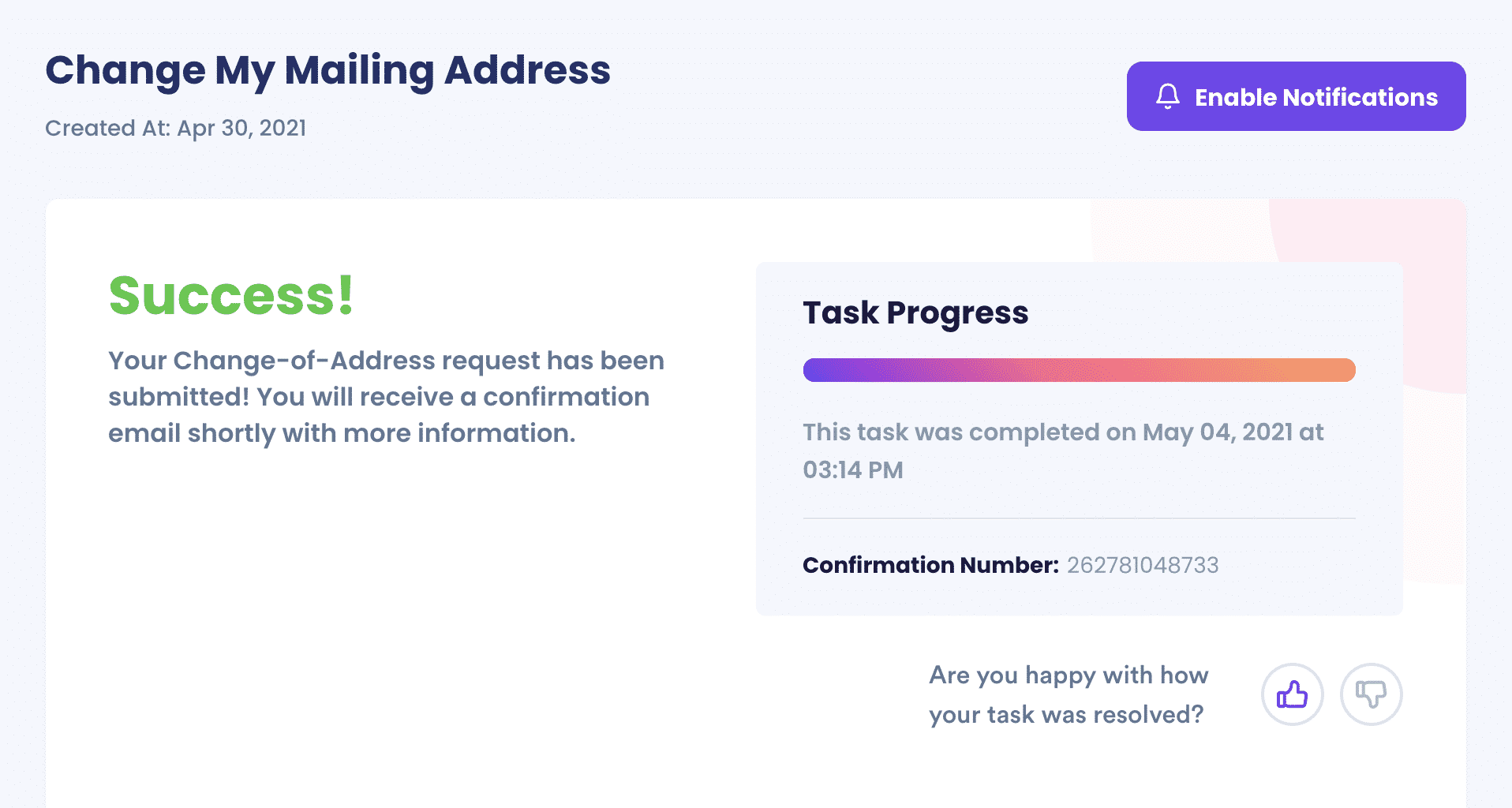 As you will quickly realize, there's no schedule to go by, no frustrations, and no confusion. DoNotPay provides you with a quicker and more efficient way to change your mailing address.
Why Use DoNotPay to Change a Mailing Address in Indiana
The DoNotPay app is your one-stop-shop with the necessary systems and processes to change your mailing address. There are three important reasons why you should use DoNotPay to handle your mailing address change.
| | |
| --- | --- |
| It's Fast. | All it takes is a few minutes or less to complete the process |
| It's Easy. | No hunting down forms or returning them to the post office; just complete the simple process right in the app |
| It's Successful. | Receive a confirmation right away and begin receiving your forwarded mail in as little as seven days |
You can trust DoNotPay to help change your mailing address as you handle more important tasks.
What Else Can DoNotPay Do?
The DoNotPay app works across multiple entities and can help with many issues you may have, including:
DoNotPay can take care of your mail-changing business. It is the fastest and easiest solution that will help you with your mailing address woes. Contact DoNotPay today to learn just how simple and easy changing your mailing address in Indiana can be!