Central California Women's Facility Inmate Connection
Incarceration is not easy, not for the inmate or their family and friends. With our busy schedules on the outside, it is easy to forget to write or visit. With the quality of life on the inside, it is common for inmates to become depressed or feel abandoned. If you know an inmate at , CCWF, you should know that inmates who maintain connections with friends and family while serving their time are far more likely to successfully re-enter society when released. This article identifies the forms of communication allowed at CCWF and introduces you to a product that aims to make connecting with inmates as easy as sending an email. Here are some of the other product series from DoNotPay.
Where is CCWF Located?
As the name suggests, is located in central California. More specifically, it is located in Chowchilla, CA. The facility opened in 1990 and houses more than 2,640 female inmates at every security level. This is the largest female correctional facility in California and the only facility in the state to house female death row inmates.
| | |
| --- | --- |
| Physical Address | 23370 Road 22, Chowchilla, CA 93610 |
| Phone Number | (559) 665-5531 |
| Website | https://www.cdcr.ca.gov/facility-locator/ciw/ |
| Facility Mail | PO Box 1501, Chowchilla, CA 93610 |
How to Connect With Inmates At CCWF
Before connecting with an inmate, you will need to make sure that the inmate is housed at Central California Women's Facility. You will also need to know the inmate's California Department of Corrections and Rehabilitation, or CDCR, number. Here are the steps to finding that information.
Go to the California inmate locator website.
You will need to enter the inmate's first and last name.
If the inmate is located at one of the state-owned and operated facilities, the website will tell you which one and the inmate's CDCR number.
If the inmate is not found, you may need to check the federal inmate search website.
Do not forget to make note of the CDCR number.
Phone
Inmates are allowed to make phone calls but not receive them. All calls must be paid for through a prepaid calling account or by calling collect. Inmates are allowed 15 minutes per call and all calls will be monitored and recorded. If you wish to set up a prepaid account, you can go online to the GTL Connect Network website or call 1(888)415-0377.
Mail
All inmate mail is opened, inspected, and read if necessary to prevent contraband from entering the facility. Inmates can receive mail from anyone who is not incarcerated now, or who hasn't been released within the last year. Inmates should never be sent stamps, envelopes, food, cash, or other items in the mail. Envelopes must have the inmate's full name and CDCR number and be labeled with the full return address to be accepted. Envelopes cannot contain any substance such as glitter, stickers, lipstick, or perfume.
Inmate Mail: Inmate Name, CDCR number, housing assignment, Central California Women's Facility, PO Box 1508 Chowchilla, CA.9375
Visitation
If you wish to visit an inmate at the CCWF, you will need to schedule your visit online. The Center For Restorative Justice Family Express (CRJW) program will provide transportation for family members who wish to visit. CRJW picks up in major California cities and provides the service to encourage family connections.
Visiting Hours: Saturday and Sunday 9 AM until 3 PM by appointment only.
Sending Money
Inmates cannot receive cash, but you can make a deposit on their trust account. If the offender owes fees, up to half of the deposit could be taken to satisfy the debt.
By Mail
Making an inmate deposit by mail requires that you obtain a deposit slip, available online. The deposit slip must be sent along with a certified check, money order, personal, or cashier's check made payable to the offender. Be sure to include the offender's CDCR number as well.
Online
Inmate deposits can be made online through the Access Secure Deposits website or the JPay website.
Connect With An Inmate At CCWF Using DoNotPay
One product can help you locate, connect with, and maintain a connection with an inmate at this facility or any other facility nationwide.
1. Locate the Connect With an Inmate service on DoNotPay.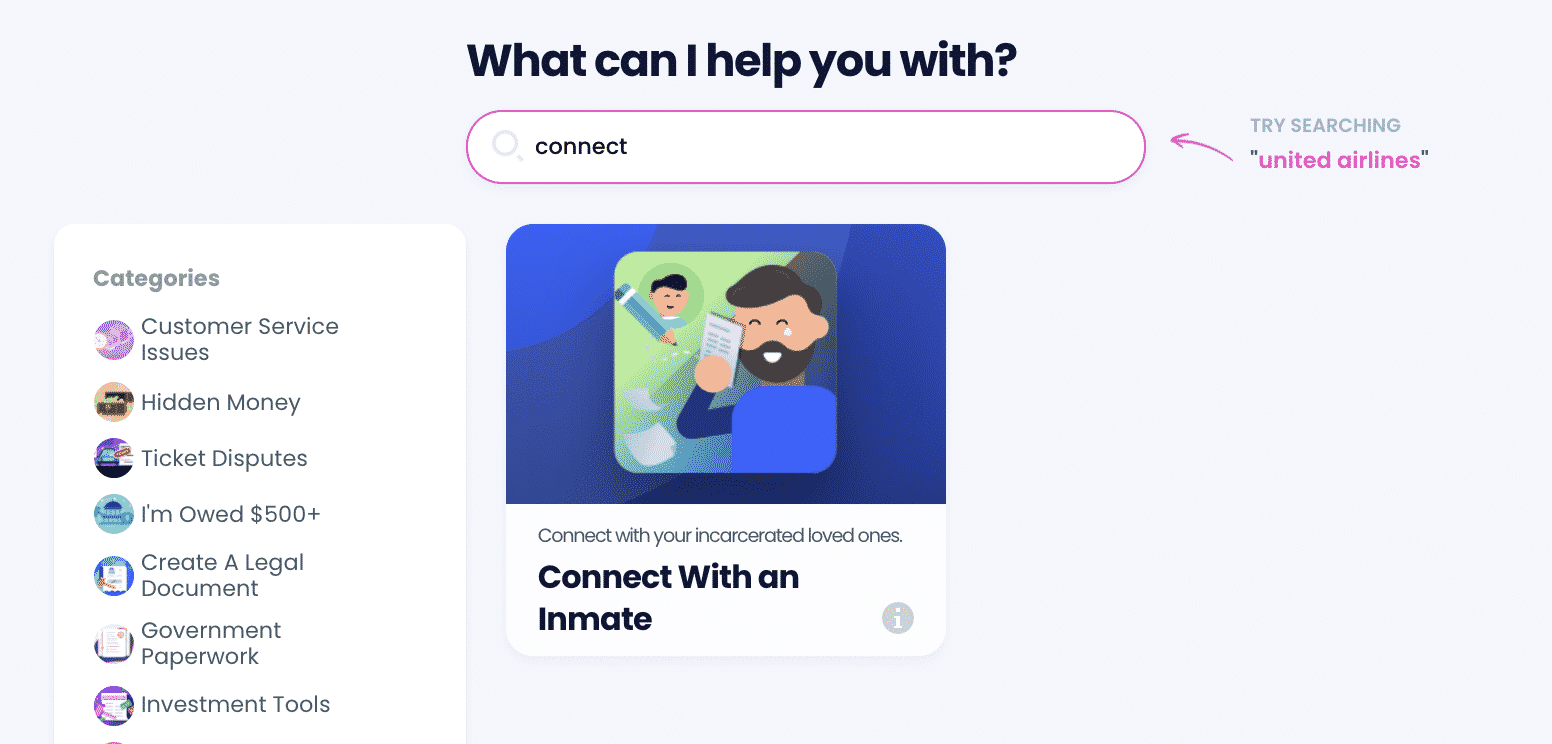 2. Choose whether you want to locate a loved one, create a virtual mailbox, or send a personalized letter.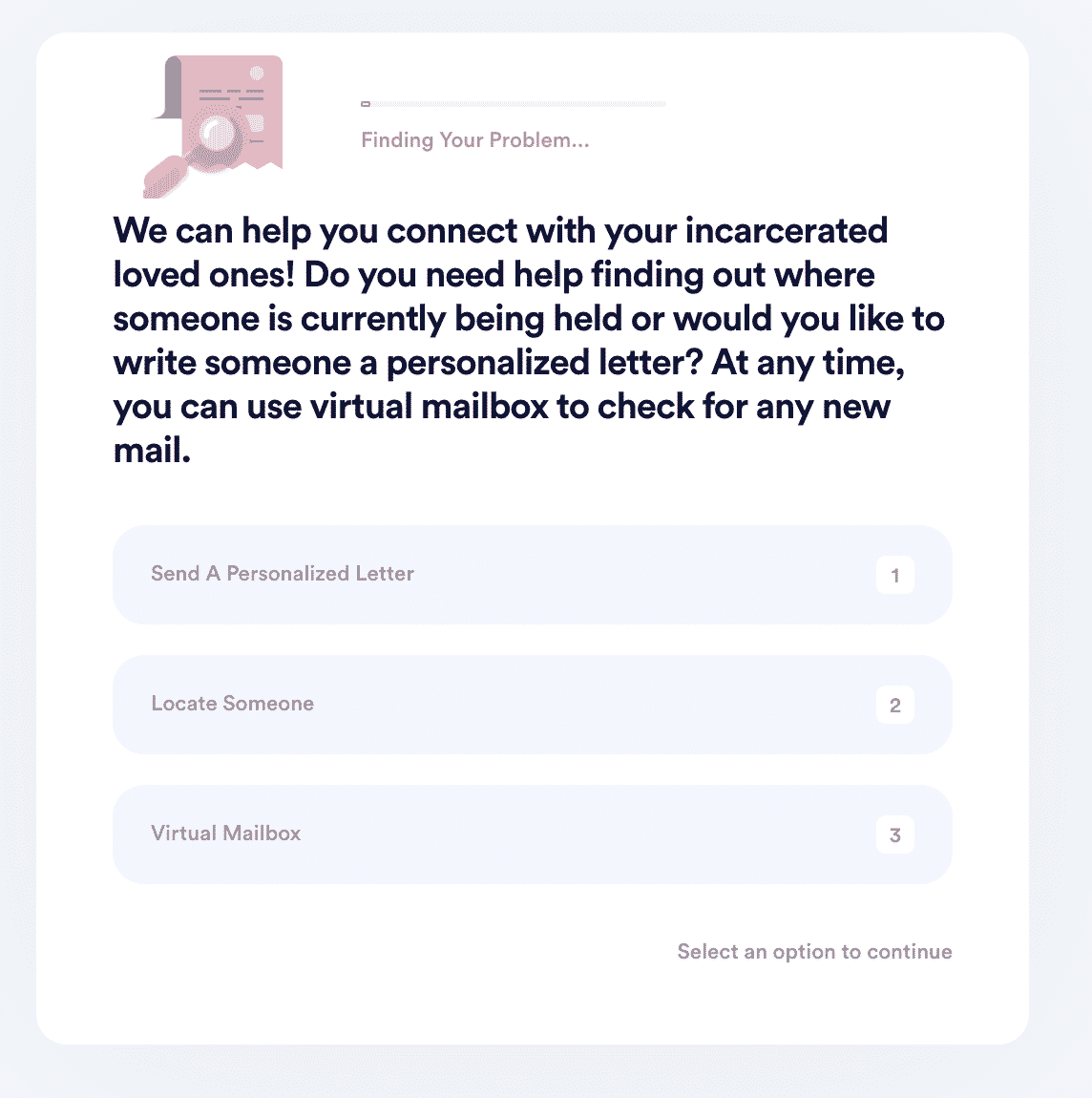 3. If you want us to find your loved one, provide his or her personal details and the state they are located in. We'll then conduct a search on the appropriate state database.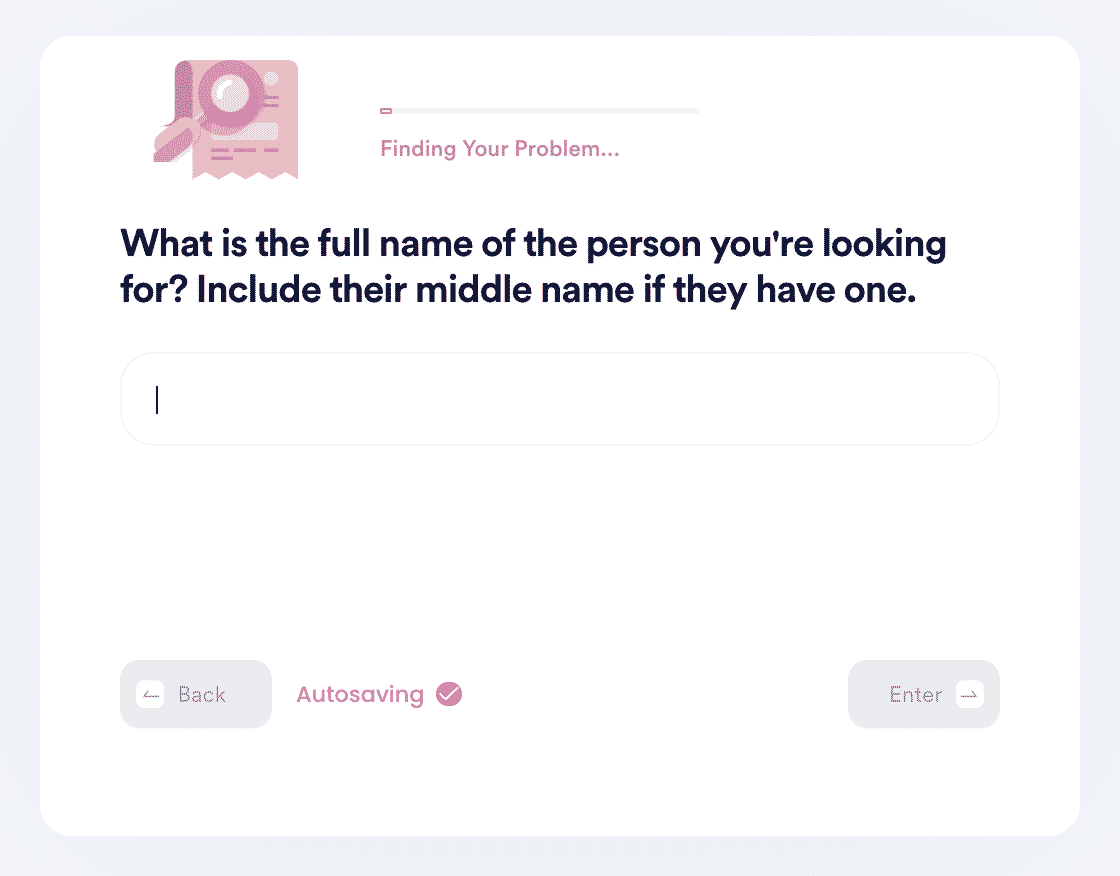 4. If you want to create a virtual mailbox, just provide your full name! We'll set one up for you so you can easily receive incoming mail from your loved one.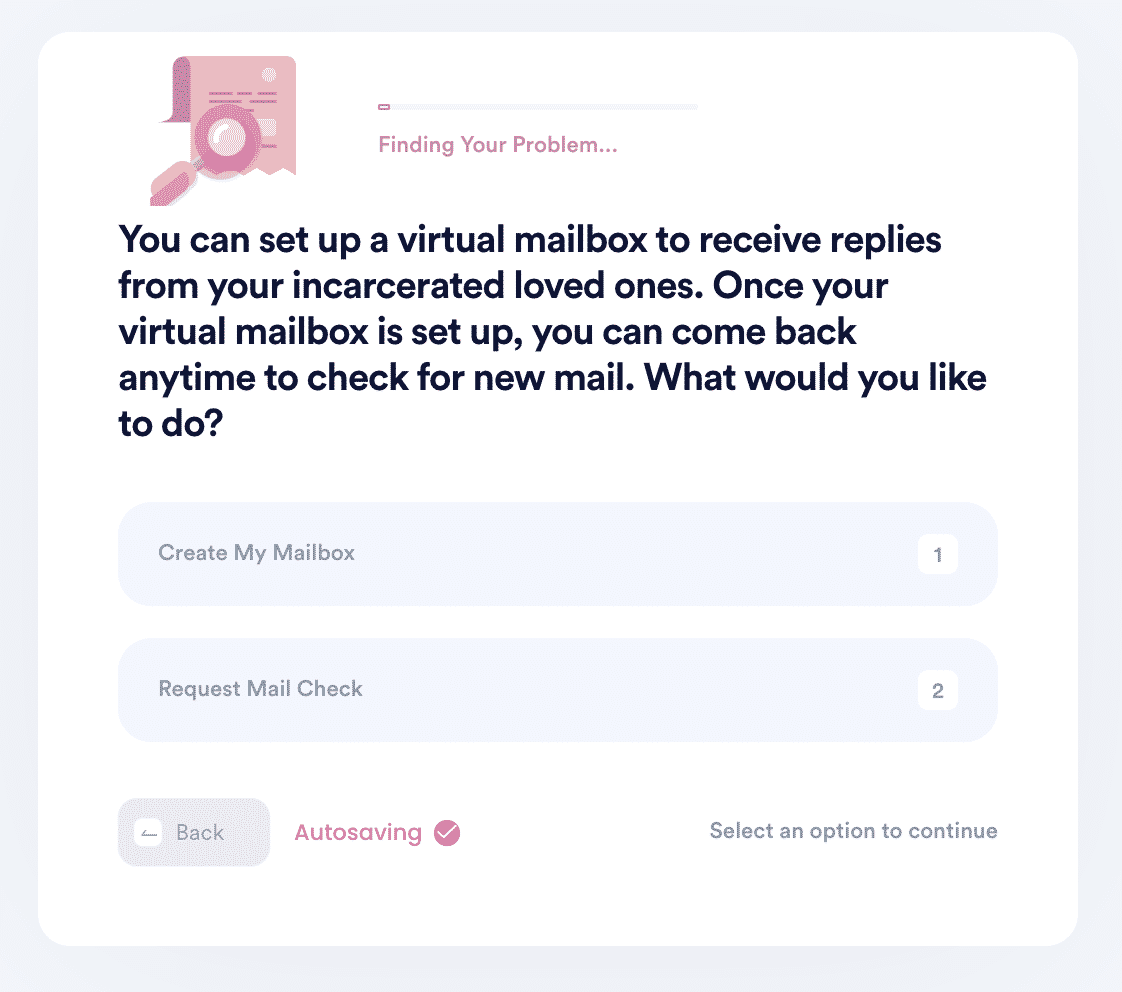 5. If sending a personalized letter, tell us which facility your loved one is located in and what you would like to say to them. You can even include a photo! Your letter will be delivered automatically - just wait 10 days for it to arrive for your loved one!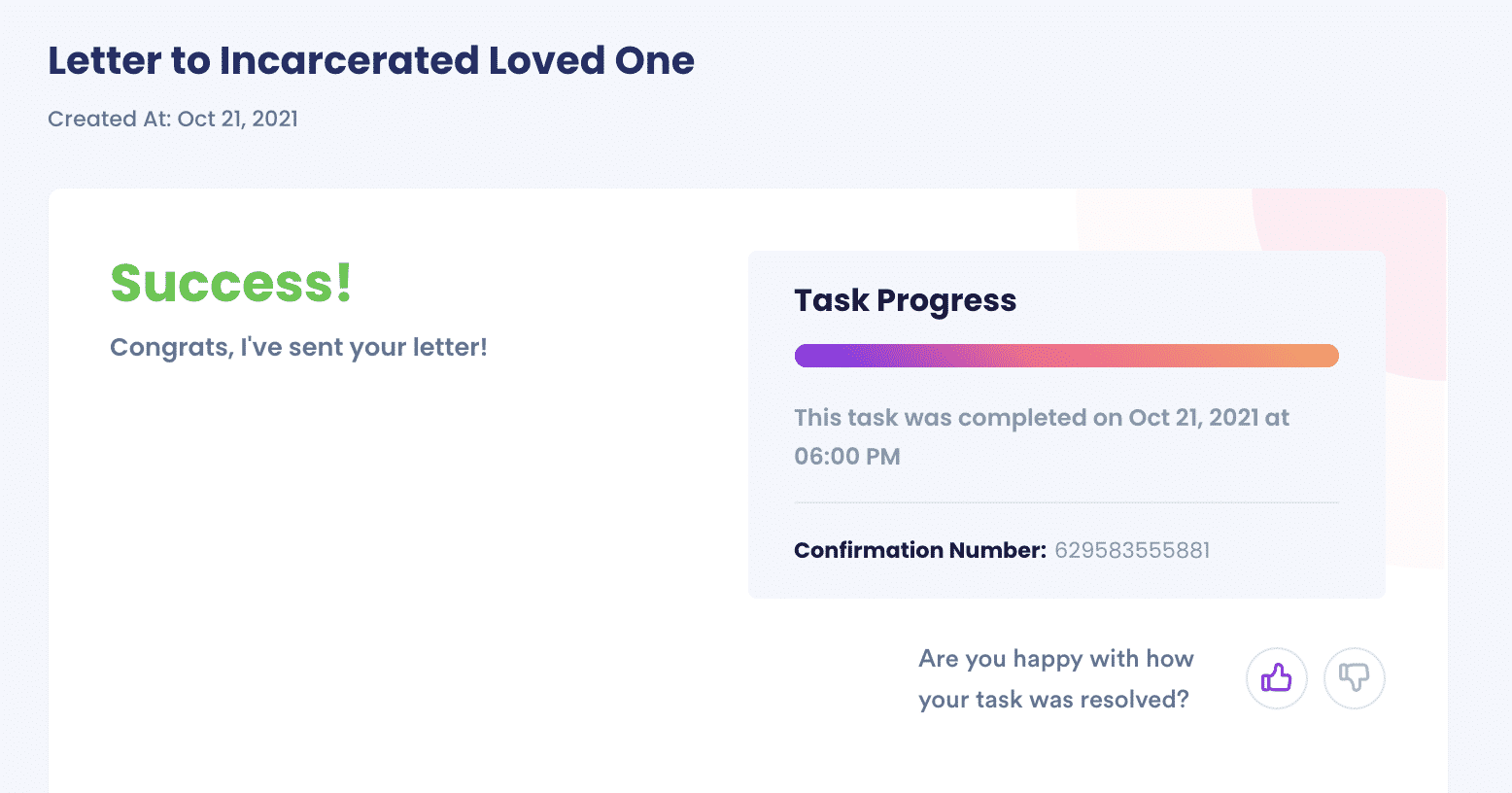 Why Use DoNotPay to Connect With Inmates?
The Connect With An Inmate product works three ways; helping you to locate an inmate, contact the inmate, and even maintain contact with the inmate. Do not let your busy schedule get in the way of maintaining a connection with an inmate. Maintain contact quickly, easily, and successfully with DoNotPay. Here are some of the other articles in the Connect With An Inmate product series.
What Else DoNotPay Can Do?
Locating and connecting with inmates are just two of the many things the products of DoNotPay handle quickly, easily, and successfully. If you have time-consuming tasks or tasks you are unsure how to complete, clogging up your to-do list, chances are good that DoNotPay has a product for that. Check out some of the other product series offered and find even more ways to save.
Traffic Tickets

Speeding Tickets