How to Cancel SimpliSafe Subscription Quick and Easy?
SimpliSafe is an American home security company that produces and sells self-installed wireless security systems. The company offers protection against fires, intruders, water damage, medical emergencies, and other events. Over 3 million customers are all monitored continuously by professionals prepared to dispatch emergency services when needed.
Dropping the SimpliSafe Subscription
Canceling SimpliSafe can be easy if you consider that you own the equipment and don't have to return it. But, since the only way to cancel the account is over the phone—it can be a bit tricky if you are not in the same time zone as the company, and you have to call during the east coast working hours.
Here are the steps to try and cancel the subscription over the phone:
Prepare your account info

Call 1-888-957-4675

Explain the purpose of the call to the SimpliSafe representative

When asked why explain the reason—you can cancel it for whatever reason, so you don't have to think too much about it

Answer any additional questions

Confirm your cancelation with the representative
Cancel SimpliSafe Anytime With DoNotPay

Don't spend hours trying to convince SimpliSafe representatives that you really want to cancel the subscription. No need for phone calls, just use DoNotPay and cancel your subscription quickly.
Here is how:
Access DoNotPay from your

Tap the Find Hidden Money option

Enter SimpliSafe as the name of the subscription

Wait for DoNotPay to inform you when your subscription gets canceled
| | |
| --- | --- |
| Can You Cancel With | Yes / No |
| DoNotPay | Yes |
| Email | No |
| Phone | Yes |
| Letter | No |
| In-person | No |
| Online | No |
Cancel Any Subscription With DoNotPay!

We often don't even know how many services we subscribe to until we get charged. With DoNotPay, you don't have to wait for this to happen. Connect your bank account and email address with the app, and we will identify all your active subscriptions. You can then use the app to cancel the ones you don't need.
Can You Get a Prorated Refund From SimpliSafe?
The subscription is not refundable, but there are some options to consider:
If you choose to reactivate your account later any unused time will still be available

If you return a product within 60 days of purchase, the company offers a money-back guarantee. This only covers returned products, not the subscription time
Does SimpliSafe Subscription Renew?
This is a month-to-month subscription, meaning your service doesn't end as long as you regularly pay your bills. The subscription will renew, but your card isn't charged each month automatically.
Are There Any Free Trials Available for SimpliSafe?
There is no free trial, but the company does offer a 60-days money-back guarantee for all purchased products. This means that you can request a refund and get your money back in total.
Can I Suspend My SimpliSafe Subscription?
Depending on the type of subscription you chose, you might be able to suspend the service temporarily.
How Do the SimpliSafe Charges Look on a Bank Statement?
The charges can take on many different forms. Here are some of the examples.
| | | |
| --- | --- | --- |
| SIMPLISAFE.COM 888-957-4675 MA | SIMPLISAFE.COM XXX-XXX-4675 MA | Payment to SimpliSafe, Inc. |
| DEBIT CARD PURCHASE - SIMPLISAFE.COM xxx-xxx-4675 MA | WWW.SIMPLISAFE.COM 617-336-0100 MA | SIMPLISAFE |
| SIMPLISAFE.COM 54292BOSTON MA | : SIMPLISAFE.COM 888-957-4675 MA | SIMPLISAFE.COM 888-957-4675 MA 02108 US |
| SimpliSafe, Inc. | SIMPLISAFE.COM BOSTON MA | SIMPLISAFE.COM 617-336-0100 MA |
| SIMPLISAFE.COM | SIMPLISAFE, INC. | |
DoNotPay Enables No-Risk Sign Up for Free Trials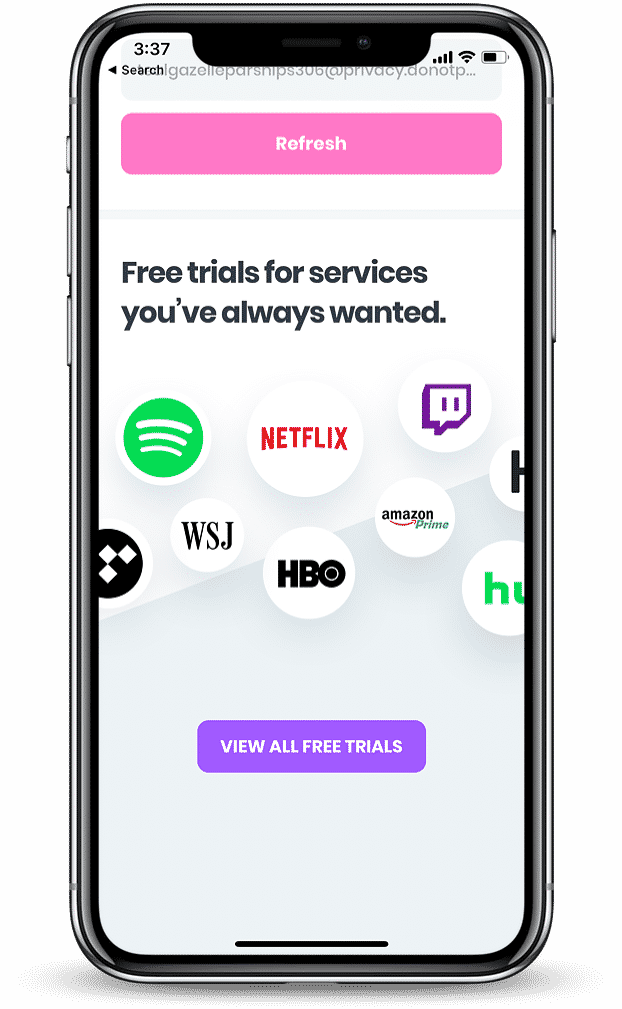 If you are changing your security system, you will likely encounter one with a free trial period. Free trials are a great way to test out a new product or service, but they can also create problems for you. Most free trials auto-switch to a full pricing plan after a certain time.
This is often done without warning the subscriber. To avoid this, use DoNotPay's virtual credit card. You can provide any company with the virtual credit card details to sign up for a free trial.
The app will greenlight the free trial but will reject any attempt of a real transaction.
Access DoNotPay from your and get your free virtual credit card.
Don't Get Stuck in the Paperwork! Use DoNotPay as a Shortcut!

DoNotPay is the first robot lawyer in the world. The app can guide you through any administrative process and simplify complex bureaucratic procedures.
We do all the hard work and present you with relevant info, necessary paperwork, and scenarios for different situations.
Are you wondering how to get an Audible Refund? Want to skip the research on the consequences of not paying your medical bills? Don't have the patience for Amazon customer service?
Open DoNotPay in your to check out what we can help you with:
Fighting speeding tickets

Disputing traffic tickets