Cancel Live Fit Gym in No Time!
Live Fit Gym is a fitness chain with multiple locations in San Francisco focused on chiropractic care and customized fitness routines at affordable prices.
Do you think it's wonderful but want to take a break from exercising and enjoy the couch potato life? Or did you find a better gym? Whatever the reason, DoNotPay can help you cancel your Live Fit Gym membership within minutes!
How To Terminate Live Fit Gym SF Yourself
You have two options to terminate your Love Fit Gym membership:
Via email

Over the phone
Cancel Your Membership via Email
Here's how to cancel your Live Fit Gym membership via email:
Send an email to

info@livefitgym.com

Add the request for the cancellation of your account

Include your details, membership number, and the location of your gym

Wait for a customer support representative to get back to you
How To Terminate Your Membership Over the Phone
You can contact the customer support team to terminate your membership over the phone. Check the contact details for various Live Fit Gym locations in the table below:
| | | | |
| --- | --- | --- | --- |
| Location | Address | Phone Number | Staff Hours |
| Hayes Valley | 301 Fell St. at Gough | 415-525-4364 | Mon-Thur 9 a.m. to 7 p.m., Sat-Sun 10 a.m. to 5 p.m. |
| Nob Hill | 1094 Bush St | 415-525-3454 | Mon-Thur 10 a.m. to 8 p.m., Sat-Sun 10 a.m. to 4 p.m. |
| Polk St | 1630 Polk St. at Clay | 415-923-5853 | Mon-Wed 10 a.m. to 8 p.m., Thur 1 p.m. to 8 p.m., Fri 1 p.m. to 7 p.m., Sat-Sun 10 a.m. to 4 p.m. |
| Inner Richmond | 403 Arguello Blvd. at Clement | 415-682-4623 | Mon-Thur 10 a.m. to 8 p.m., Fri 10 a.m. to 7 p.m., Sat-Sun 9 a.m. to 4 p.m. |
| Fairmont Nob Hill | 950 California St. inside The Fairmont SF | 415-834-1010 | Mon-Fri 5 a.m. to 10 p.m., Sat-Sun 7 a.m. to 7 p.m. |
| Valencia Street | 675 Valencia St. at 18th | 415-641-4200 | Mon-Thur 3 p.m. to 8 p.m., Fri 3 p.m. to 7 p.m., Sat 10 a.m. to 4 p.m., Sun 10 a.m. to 3 p.m. |
DoNotPay Can Help You Cancel Your Live Fit Gym SF Membership

Do you want to terminate your Live Fit Gym membership without a customer support agent trying to convince you otherwise? DoNotPay can help you cancel it! In only three quick steps, your membership will be a thing of the past:
Opt for the

Find Hidden Money

feature

Select the service you want to cancel – that is,

Live Fit Gym
Relax at home in your PJs while we handle the cancellation process. DoNotPay will send you a confirmation email within 48 hours.
Here's a summary of different methods to cancel your Live Fit Gym subscription:
| | |
| --- | --- |
| Can You Cancel Via? | Yes/No |
| DoNotPay | Yes |
| Phone | Yes |
| Email | Yes |
| Letter | No |
| Website | No |
| Support Ticket | No |
Use DoNotPay To Manage Your Subscriptions
Do you know how much you pay for memberships every month? Or are you a part of the 84% of Americans who underestimate the number of subscriptions they pay per month? Don't be a part of the negative statistics and remove unnecessary expenses in an instant. All you have to do is and link your bank account or email address to our app. We will scan your active subscriptions. You can select the ones you want to terminate, and we'll remove them for you.
Do you want to stop wasting money on Noom, It Works, Family Fitness, NatureBox, Retro Fitness, Fitness SF, or any other service? Use DoNotPay!
Does Live Fit Gym Have a Free Trial?
Live Fit Gym offers you a free pass for one day to try out their facilities before signing up. You can apply for the free pass on the company's website. If you opt for a service not included in the free trial, you will have to pay for it even on your first day.
Live Fit Gym auto-renews their subscription. If you add your credit card number when you register, you will be automatically charged every month until you cancel your membership.
Use DoNotPay's Free Trial Card To Sign Up for Free Trials!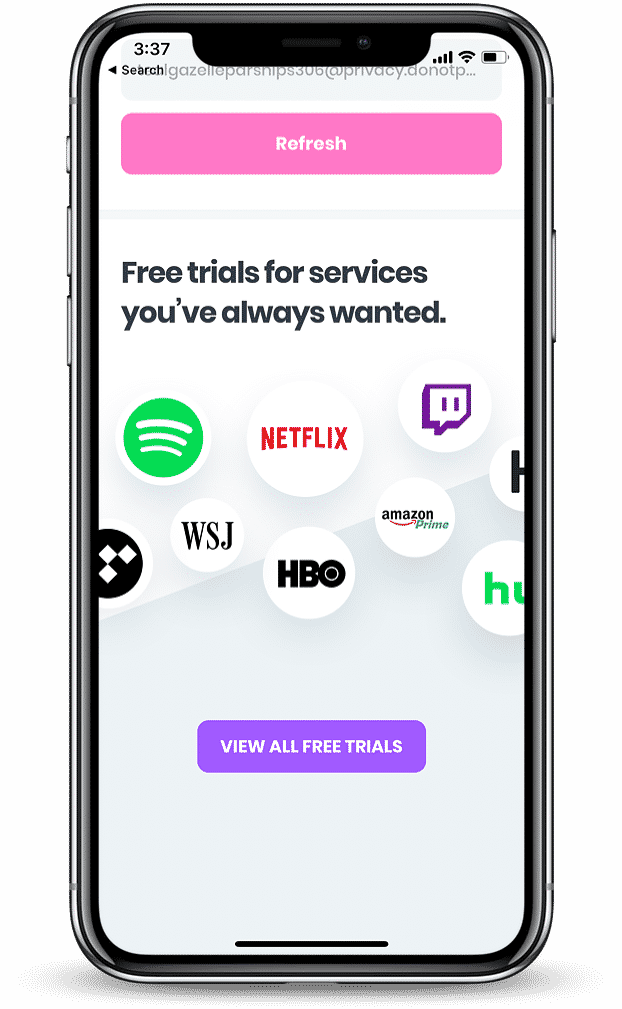 Do you sign up for free trials and end up paying for services you've never used? DoNotPay's free trial card allows you to try various services without the risk of automated charges.
Our virtual credit card acts as a burner card with a randomly generated number and expiration date you can use to test new services. Don't worry about being charged when the free trial ends. Our VCC does not require any funds to be deposited, so the service will automatically unsubscribe you after the trial period is over.
Looking for a Substitute to Live Fit Gym?
If you're on the lookout for a gym in San Francisco, here are a few options:
Company
Pricing
Benefits

Studiomix

$145 per month

Unlimited class access

Customized coached classes

Equinox

$168 per month

Unlimited classes

Equinox app to book sessions and track your progress

Bay Club San Francisco

$171 per month

Different exercise options

Social events
More Nifty Solutions to Annoying Problems
If you're dealing with problematic coworkers, you're not alone—our app can help you handle these issues with our Fight Workplace Discrimination product.
No problem is too big or too small for DoNotPay! Check out the best time- and money-saving solutions to different nuisances:
An Array of Hacks To Help You Deal With Greedy Companies
Nobody likes to spend more money than they have to. DoNotPay is here to offer many penny-pinching hacks and also stop companies from taking advantage of you.
Almost every free trial nowadays isn't really free. Companies request your credit card info and auto-renew subscriptions. Fight this sneaky practice by using DoNotPay's virtual credit card next time you want to snatch a free trial. We'll also uncover any unwanted memberships you have mooching off of you and help you cancel them in a few clicks.
If you need to contact a company's customer service, avoid wasting your time and money on hold and count on our app to wait in your stead.
Do you need to get your money back, but you don't know how? Use DoNotPay to: