How To Cancel Goglia Nutrition in a Tick
The idea of Goglia Nutrition's healthy meal plans arose from methods used by Dr. Philip Goglia. His G-Plans are custom-made and based on each user's metabolic type. If you use G-Plans but are not pleased with what you got, DoNotPay offers a quick way to cancel Goglia Nutrition!
Part Ways With Goglia Nutrition Using DoNotPay
Canceling Goglia Nutrition can be time-consuming if you do it the traditional way. Our awesome app offers a quick membership termination option that will take you only a few minutes to complete! Not only does DoNotPay save your time, but we also save you money that would otherwise be locked in an unwanted subscription!
Here is what you need to do to have us handle the cancellation:
in your web browser
Select the Hidden Money feature
Click on Manage Subscription
Enter Goglia Nutrition as the service you want to cancel
Submit the request
After following these steps, all you have to do is wait for DoNotPay to notify you that the Goglia Nutrition membership has been canceled.
Use DoNotPay To Cancel Your Unused Active Subscriptions
Americans unknowingly spend nearly $240 on subscriptions every month! DoNotPay lowers your expenses by avoiding these charges. When you and connect your email, DoNotPay can identify and manage all of your subscriptions!
How To Cancel Goglia Nutrition by Yourself
Canceling your Goglia Nutrition account properly depends on where you purchased it—on the website, App Store, or Google Play. To cancel Goglia Nutrition the traditional way, you need to take some extra steps.
Cancel Goglia Plans via the Website
If you subscribed using the official G-Plans website, here's how you can cancel your membership:
Go to Settings
Look for the Your Membership section
Click the Cancel Account button
According to the official website, that should be it!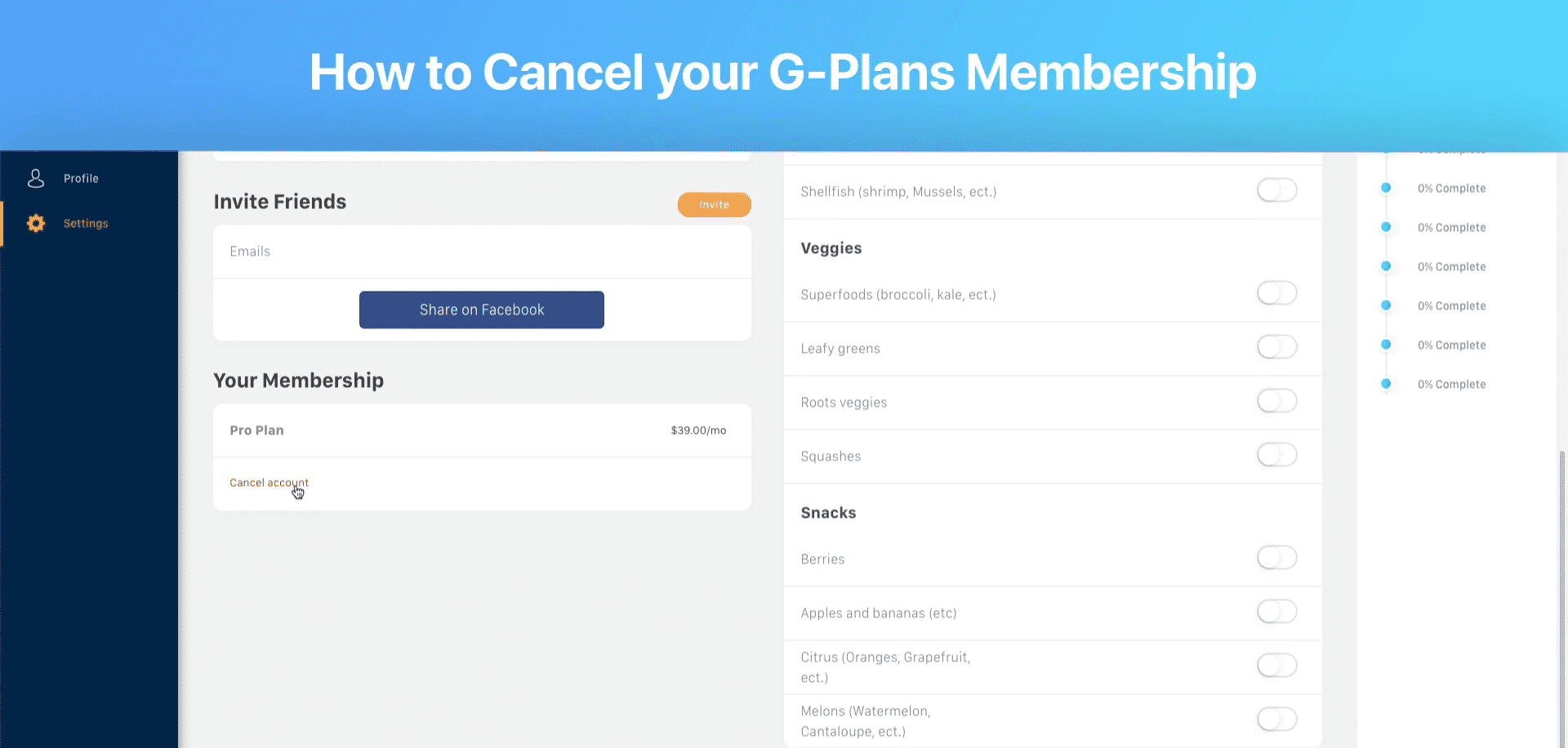 Image source: G-Plans
Cancel Goglia Nutrition on the App Store
If you used Apple Pay, the process is different. Use your iPhone/iPad and follow the instructions:
Go to Settings
Look for iTunes & App Store
Click on your Apple ID and view Apple ID
Tap Subscriptions
Find the Goglia Nutrition subscription
Use the available options to manage it
Cancel Goglia Nutrition on the Google Play Store
You cannot cancel your G-Plans subscription by uninstalling the app from your Android device. Open the Google Play Store and take the following steps:
Tap Menu and look for Subscriptions
Find the subscription you wish to cancel
Tap Cancel Subscription and follow the instructions
| | |
| --- | --- |
| Can You Cancel Goglia Nutrition Via | Yes/No |
| DoNotPay | Yes |
| Phone | No |
| Letter | No |
| In Person | No |
| Company Website | Yes |
| Google Play/App Store | Yes |
Potential Problems When Canceling Goglia Nutrition
Based on customer reviews, canceling the Goglia Nutrition subscription can be quite an issue. Goglia Nutrition claims to operate a 30-day money-back cancellation policy, but its users have had recurring issues, including:
Contacting customer support and getting no answer
Not receiving refunds
Being charged every month despite trying to cancel the subscription or free trial
If this happens to you, email Goglia Nutrition at support@g-plans.com. To completely avoid all the hassle, use DoNotPay's services! DoNotPay can reach out to any company's customer service and save you a lot of time—see how we got in touch with Amazon's support!
Use Free Trials Without Getting Charged With DoNotPay's Virtual Credit Card
Use DoNotPay's virtual credit card to start a free trial worry-free! Our virtual credit card is a series of randomly generated numbers that you can use for free trial registrations. It does not contain or disclose your information to a third party since it is not linked to an actual credit card or your personal details.
Our Free Trial Card helps you avoid unwanted charges after your trial period. Once the trial expires and the company tries to withdraw funds from your payment method, it will fail and unsubscribe you automatically.
Is Goglia Nutrition Being Difficult? Get Justice With DoNotPay
Has the company ill-treated you or charged you more than it should? Dealing with bureaucracy can be exhausting without DoNotPay.
If you are asking for justice, the world's first robot lawyer can help you sue companies in small claims court. Our efforts have been recognized by the ABA Standing Committee, which selected DoNotPay to receive the Louis M. Brown Award for Legal Access.
Not Pleased With the Service? Cancel Goglia Nutrition Using DoNotPay and Look for Alternatives
You can continue to take care of your body by choosing another way to keep yourself healthy. Check out the best alternatives:
Company
Pricing
Benefits
Beachbody on Demand
$59.85–$160

Access to 75 workout programs

HUM Nutrition
$10–$60

Personalized solutions and nutrition advice
Clinically proven ingredients

Daily Burn
$14.95–$26.95

Tailored programs for any level
Workout videos and nutrition plans

SkinnyFit
$55.96–$119.93

Cost-effective product bundles
The option of pausing a subscription
If you choose an alternative and then change your mind, use DoNotPay to cancel SkinnyFit or Daily Burn in a few steps!
Shortcuts and Solutions at Your Fingertips
DoNotPay provides both the easy way out and the easy way in. Use our app to get rid of spam emails, text spam, unwanted services, and unpaid parking tickets. We can also assist you in signing up for services without revealing your real number and getting free trials using our virtual credit card.
Our app is all about saving you time and money. Forget about the obsolete fax machine and post office—you can use DoNotPay to send faxes, mail letters, and connect with your incarcerated loved one.
DoNotPay Goes Above and Beyond To Help
We understand how bureaucratic hurdles get too much to handle. This is why so many of our products deal with these types of issues. From getting a document notarized, filing a warranty claim, and skipping the phone line when calling customer service to requesting a refund, booking a DMV appointment, and drawing up legal documents—there's not much we can't do for you.
Dealing with the never-ending paperwork is a thing of the past for DoNotPay users! Our app makes it easy to: