Learn How to Cancel Audiobooks in One Minute or Less
Audiobooks.com, sometimes shortened to Audiobooks, is a popular subscription service in the community of book lovers. You can buy audiobooks to stream offline or listen to your chosen titles with your paid membership without downloading them. If you've given Audiobooks.com a try and discovered the service doesn't suit you, here's the way you can cancel your subscription quickly and painlessly.
What Is the Fastest Way to an Audiobooks.com Cancelation?

Your best bet to cancel Audiobooks.com quickly and with minimum effort on your part is with the help of DoNotPay. Here are the incredibly easy steps you need to take:
Access DoNotPay from your

Click on Find Hidden Money

Type in Audiobooks.com
Voilà! Our robot lawyer unsubscribed you from Audiobooks.com like that. We'll also notify you by email to confirm your cancelation.
Are You Subscribed to Services You're Not Even Using That Much?
Audiobooks.com, like many subscription services, offers its users a monthly free trial. Usually, when we see a free trial, our first instinct is to sign up for it. If you've subscribed to numerous such offers because of this, or any other reason, only to then forget all about them—worry not!
If you connect your email or bank account to your DoNotPay one, we can keep track of all the paid memberships you don't use often. On your request, we'll cancel each of them automatically and help you have more money in your account the next month.
How to Cancel Audiobooks.com on Your Own
You can cancel your Audiobooks.com membership using the manual approach in two ways:
Going to the Audiobooks.com website

Dialing the company's customer service
Cancel Audiobooks.com Membership on the Website
Take the following steps to terminate your Audiobooks.com subscription using the company's website:
Log in to your

Audiobooks.com account

Go to My Account

Click the link to cancel your membership
You should receive an email confirmation that you have successfully unsubscribed from Audiobooks.com. Whenever you want to, you can reactivate your account with your data and search history intact.
Cancel Audiobooks.com Membership With a Phone Call

Alternatively, you can call the Audiobook.com customer service and have the company cancel your membership for you. Here's how:
Dial +1 (855) 876-6195

Sit through the phone queue

Ask the Audiobooks.com agent to cancel your subscription when they pick up
If you can't reach the customer support, DoNotPay can contact any company for you. Our robot lawyer takes the task of waiting out the phone queues off your back and passes you the call when a real person answers.
| | |
| --- | --- |
| Can You Cancel With | Yes/No |
| DoNotPay | Yes |
| Email | No |
| Phone | Yes |
| Letter | No |
| In Person | No |
| Company Website | Yes |
Use Our Virtual Credit Card Instead of Your Regular One to Sign Up for Free Trials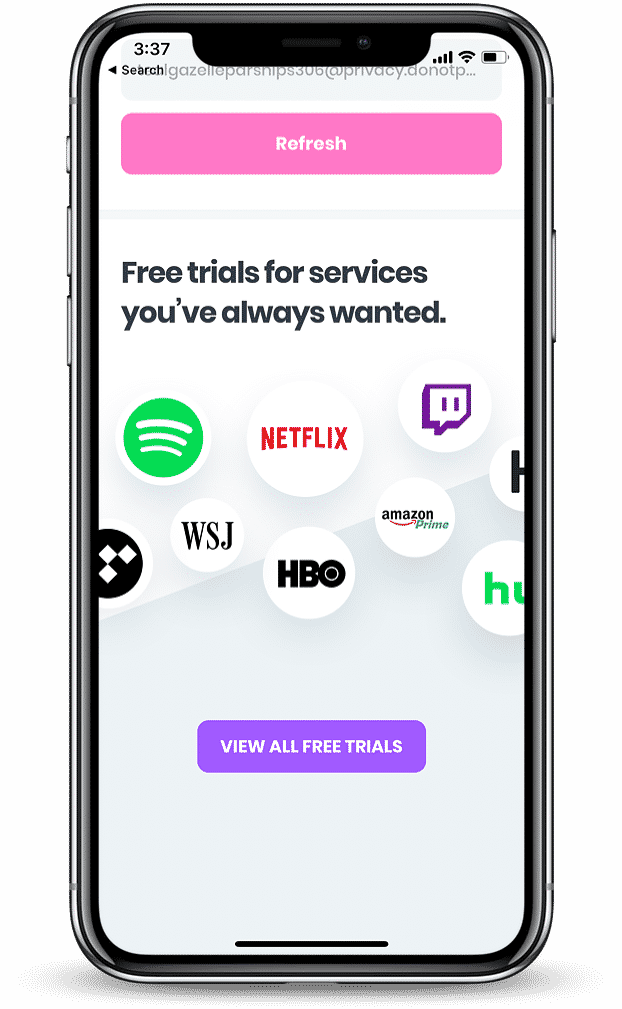 As noted, free trials are all over the Internet, and they are often too tempting to resist. With DoNotPay's virtual credit card, you can make full use of the phenomenon without having to worry about automated charges ever again.
Companies, without exception, process our virtual credit card just like a regular one, but cannot pull funds from it since there aren't any in there to begin with!
Audiobooks.com Isn't the Only Service to Listen to Your Favorite Books
Perhaps you love nothing more than to listen to audiobooks while doing something else and kill two birds with one stone, but Audiobooks.com just wasn't for you. Maybe the company doesn't offer enough titles to choose from or puts too high a price tag on certain novels.
Here are several popular alternatives to Audiobooks.com if you're looking to switch:
Services Offering Audio Books

Cost

With These Services, You Can:

$14.95 per month (Gold)

$22.95 per month (Platinum)

Access 200,000+ titles

Listen to news and radio

$9.99 per month

Store a huge number of titles on your device

Switch from reading to listening to your books easily

$9.99 per month

Enjoy personalized search features

Read or listen to academic papers
Audiobooks.com Charges on Your Bank Statement
Here is a look at how Audiobooks.com charges can look on your account statement:
| | | |
| --- | --- | --- |
| AUDIOBOOKS.COM 8558766195 /MD US | Recurring Audiobooks.com | AUDIOBOOKS.COM 8558766195 US USD 14.95VFGN PUR FEE 1.00 |
| AUDIOBOOKS.COM US | BT*AUDIOBOOKS.COM PRINCE FREDERCK | AUDIOBOOKS.COM MD |
| AUDIOBOOKS.COM 8558766195 | AUDIOBOOKS.COM USA | AUDIOBOOKS.COM |
| AUDIOBOOKS.COM 8558766195 MD USA 9167 | AUDIOBOOKS.COM PRINCE FREDER MD | AUDIOBOOKS.COM 8558766195 MD |
| AUDIOBOOKS.COM 8558766195 US | AUDIOBOOKS.COM, 8558766195 US | AUDIOBOOKS.COM M |
Examine All DoNotPay's Neat Features

If you believe canceling services is all DoNotPay can do for you, you're in for a big discovery. Our robot lawyer takes countless tedious and administrative issues off your back with just a click. You can, for example, see how easy it is to request an Audible refund with DoNotPay.
Here is a useful list of nuisances and some more serious matters DoNotPay helps you deal with:
Traffic ticket disputes

Speeding ticket appeals
To start exploiting these features, sign up to DoNotPay today from any .