Can You Transfer Chase Points to Delta
If you have a Chase card, such as the Ink Plus or Sapphire Preferred, you may use your rewards points to book travel. It has nine flight partnerships, including some fantastic non-alliance options. Although Delta is not a Rewards Points airline partner, it is a member of the alliance. So, can you transfer Chase points to Delta?
How Can You Transfer Your Chase Points to Delta?
Virgin Atlantic, British Airways, Korean Air, United, and Southwest are Rewards Points airline partners. If you intend to take a flight with one of those airlines, you should transfer your points to their frequent flyer clubs and book directly with them. Two of the travel partners, Korean Air and Virgin Atlantic, are members of the SkyTeam Alliance, which also includes Delta Airlines. If you transfer your points to these partners, they can convert them to Delta SkyMiles.
Reference this chart below for more information on Chase travel partners and point conversions:
| | | | |
| --- | --- | --- | --- |
| Transfer Partners | Ratio | Transfer Increment | Timing |
| Aer Lingus AerClub | 1:1 | 1,000 | Immediate |
| Air Canada Aeroplan | 1:1 | 1,000 | Immediate |
| Air France-KLM Flying Blue | 1:1 | 1,000 | Immediate |
| British Airways Executive Club | 1:1 | 1,000 | Immediate |
| Emirates Skywards | 1:1 | 1,000 | Immediate |
| Iberia Plus | 1:1 | 1,000 | Immediate |
| JetBlue TrueBlue | 1:1 | 1,000 | Immediate |
| Singapore Airlines KrisFlyer | 1:1 | 1,000 | About Two Business Days |
| Southwest Airlines Rapid Rewards | 1:1 | 1,000 | Immediate |
| United MileagePlus | 1:1 | 1,000 | Immediate |
| Virgin Atlantic Flying Club | 1:1 | 1,000 | Immediate |
| IHG Rewards Club | 1:1 | 1,000 | Immediate |
| Marriott Bonvoy | 1:1 | 1,000 | About One Business Day |
| World of Hyatt | 1:1 | 1,000 | Immediate |
Your trip destination will influence the partner you choose to transfer your points to. For trips to North and South America, including Hawaii, Korean Air is the best airline. Virgin Atlantic is the best airline for international travel, such as in Europe. Let's imagine you wish to go from Atlanta to Hawaii on Delta. Here's a quick breakdown of how you can transfer your Chase points to Delta:
Verify Availability
Follow these steps to verify availability:

For further information, visit the Korean Air Skypass website. If you don't have an online profile, you can sign up for one for free right now.
Go to Award Booking and then SkyTeam Awards to find Delta flights. You'll be given a list of venues to visit as well as essential information.
Make a flight reservation.

You can book the flight you want if you've previously transferred your points from Ultimate Rewards. All flights must be booked in a round-trip configuration. You can put your reservation on hold until you move your points if you haven't already done so. It's a good idea to notify a Skypass booking agent that you're in the process of transferring points.

Make a Flight Reservation
After transferring your points, you can phone a Skypass booking agent to finish your booking and issue your ticket. A single point is worth 1.25 cents, which means 100,000 points are worth $1,250 in travel value. You may also use your points to reduce the price of a ticket before paying the remaining balance.

Compare the price of a ticket on the Chase website to the alternatives available on one of the partner websites.

Consider Alternatives
As an alternative, if you have a lot of credit card, hotel, or airline points, DoNotPay can help you figure out what your best options are based on your rewards program and how much each point is worth in terms of money.

For example, if you're a Marriott Rewards member, you may convert your points to airline miles or locate cheap hotel rates to get the most bang for your buck. We may help you find the most excellent price for your points through third-party sellers if you wish to sell them. Finally, we can help you instantly check your current point balance!
Solve the Transfer of Chase Points With the Help of DoNotPay
Use DoNotPay to transfer your Chase points quickly with these steps. Here's how to get started:
1. Search for "points," or "rewards" on DoNotPay, and select the rewards program you're a part of / the type of points you have.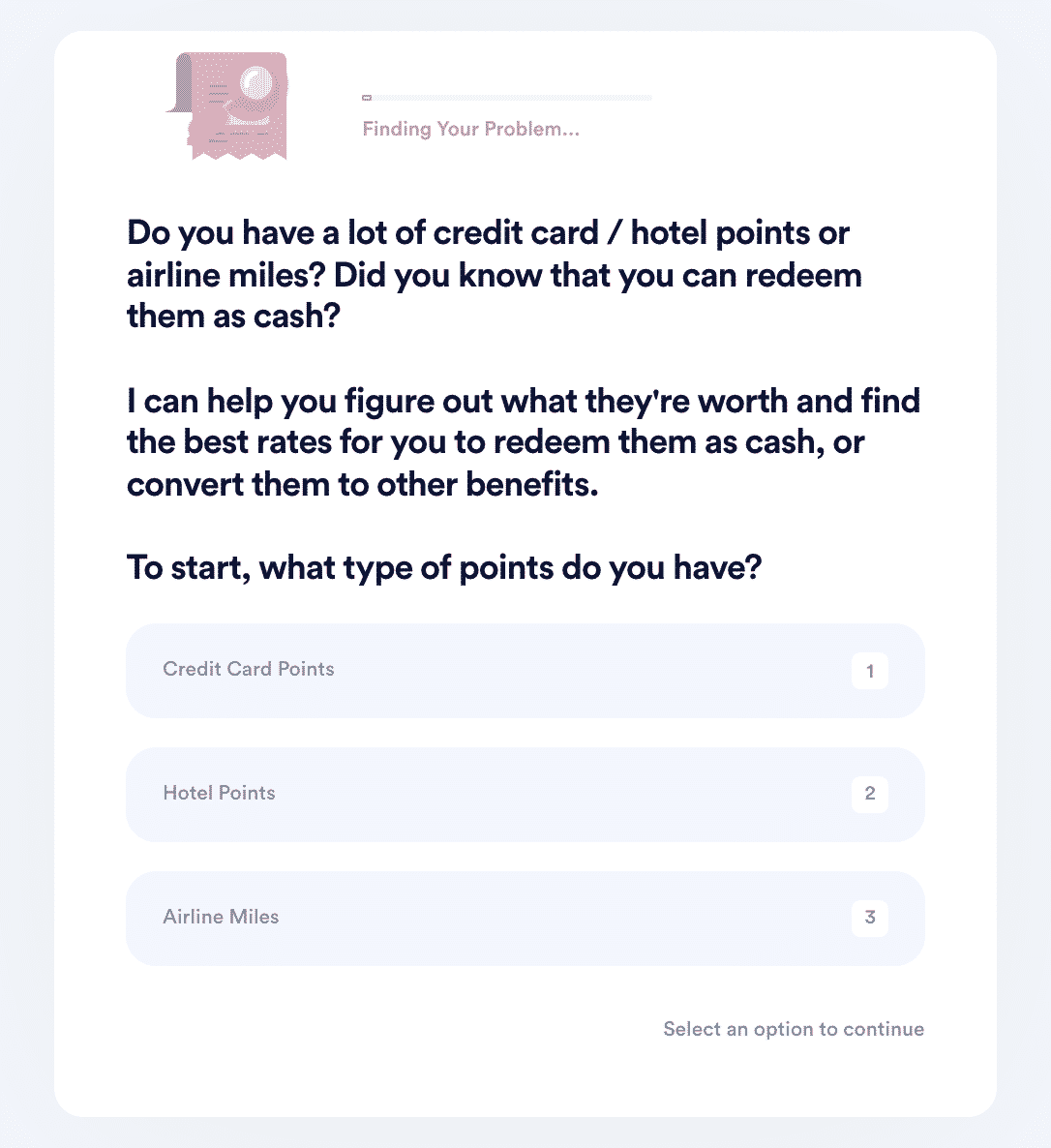 2. Choose whether you want to check your points balance, transfer your points, or sell them for cash.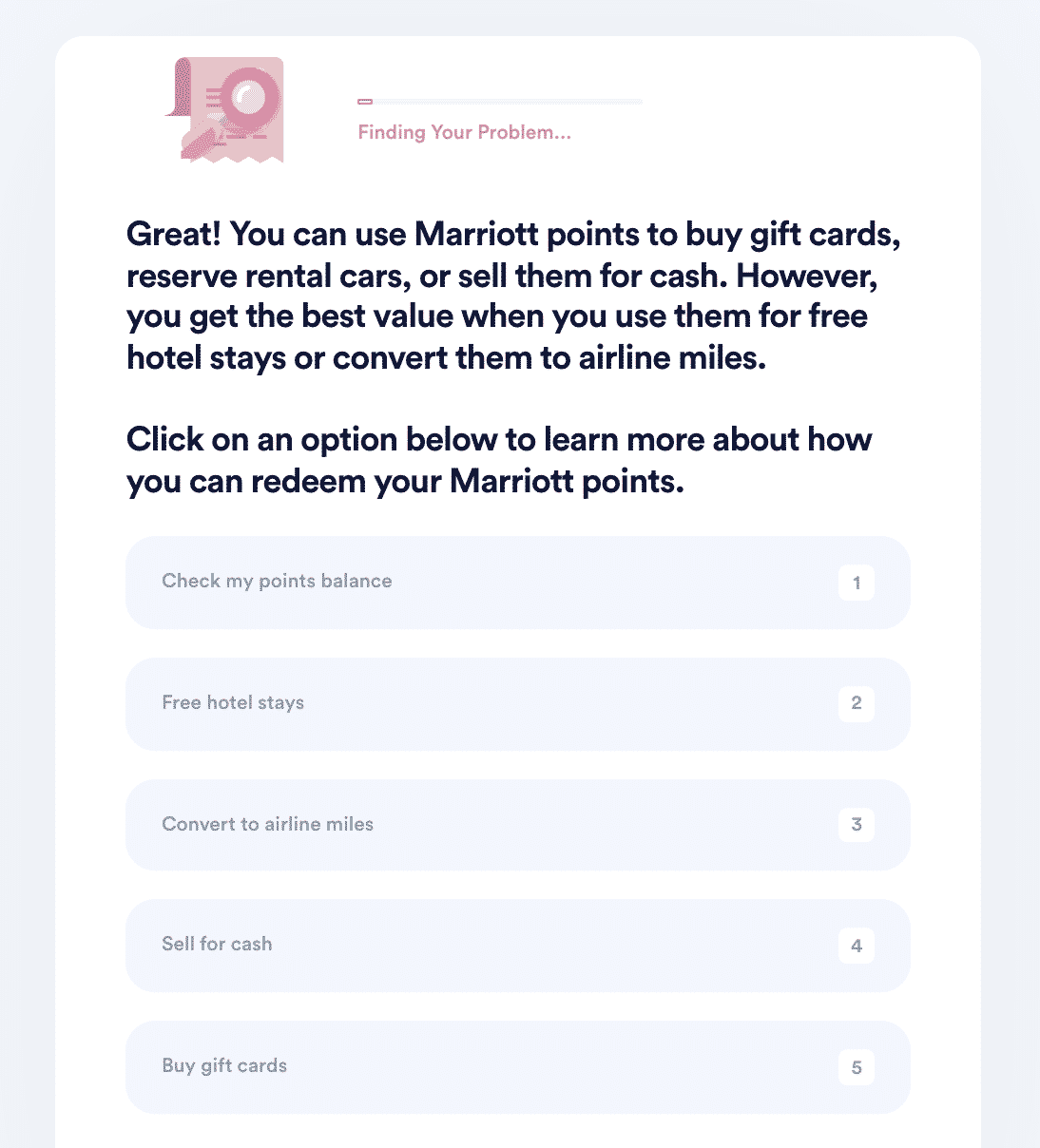 3. When you pick one of the first two options, DoNotPay can check your points balance or transfer your points to you. Otherwise, we can help you find the best deal through third-party vendors.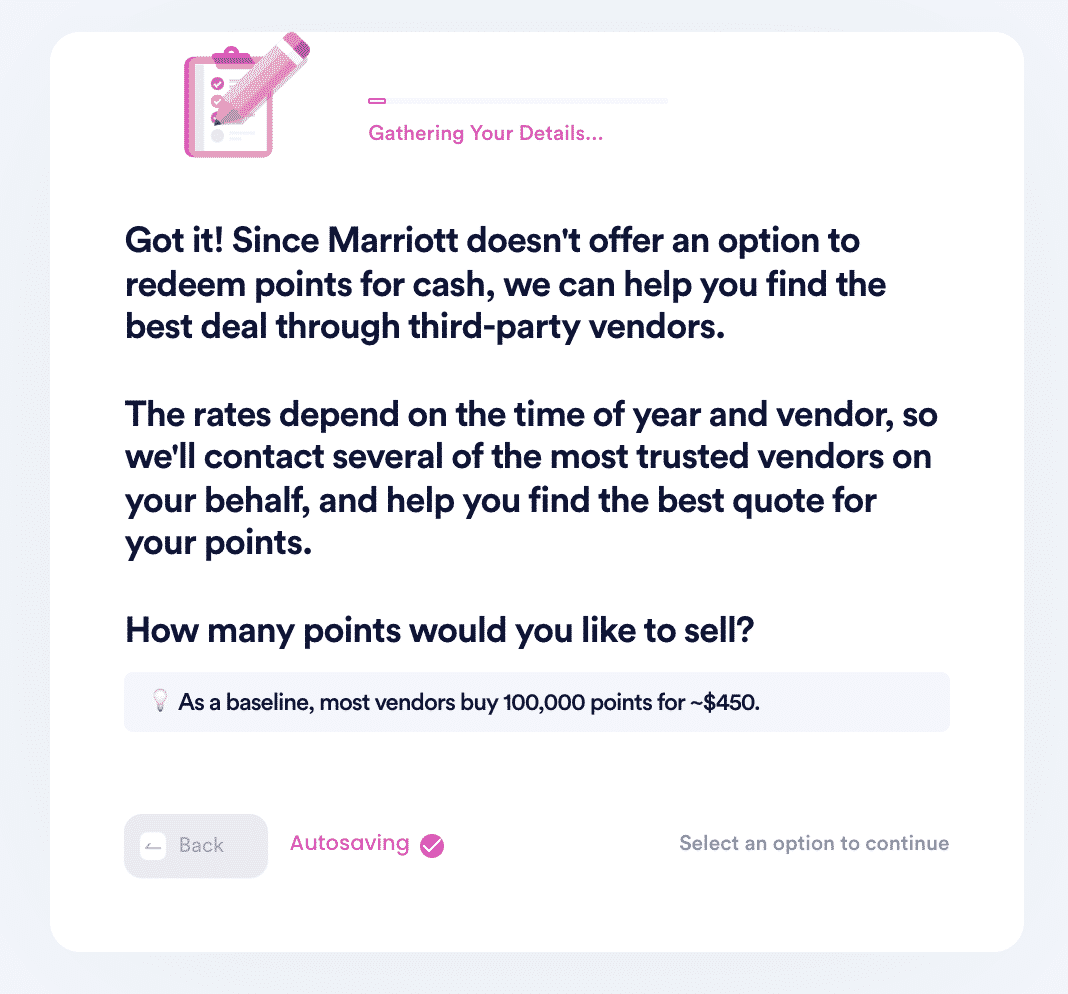 We can also help you check your latest points balance automatically.
DoNotPay Works Across All Companies and Groups
Fortunately, it's not just transferring Chase points to Delta that DoNotPay can help you with. It can help you resolve the issue with many different entities or companies. For instance, DoNotPay can help with finding the best rates to sell your points!
See how we can help you:
What Else Can DoNotPay Do?
Transferring reward points is just one of many things DoNotPay can help you with. Here are some other services that DoNotPay offers:
Are you fed up with the time-consuming and inconvenient methods of converting Chase points to Delta? For a quick and painless transaction, contact DoNotPay.