How to Fight Varo ATM Fees in 3 Easy Steps
The Automated Teller Machine (ATM) was invented in 1969 and has changed the course of banking. Varo Bank is an all-digital bank that provides FDIC-insured, full-service banking with checking and savings accounts, as well as other services. With an all-online bank, you may be wondering about how to access your money through ATMs. If you are curious about ATM services, what  you might incur, and how to fight fees, DoNotPay can help. 
How to Avoid and Appeal Varo ATM Fees
There are a few easy ways you can avoid . It is also possible to have fees waived or reversed if you know how to get in touch with the right people. Consider these different approaches:
Use an Allpoint ATM. You can find the nearest Allpoint ATM by:
Opening the Varo Bank app, going to Move Money, and  going to Find ATM
Using the Allpoint ATM Locator on the website
Withdraw cash at the store. If a merchant offers cashback deals when using a debit card, follow the on-screen prompts to request that cash back. You can withdraw up to $500 per calendar day.
Do an over-the-counter cash withdrawal. Many major banks or credit unions will allow you to withdraw cash. You will need your Varo Bank debit card and a valid government ID. Be aware that some banks may charge fees for this service.
Appeal the fee. If you are accidentally charged a fee at an Allpoint ATM, you can contact the Varo Bank Customer Service Team in one of the following ways to request that the fee be credited back to your account:
Email: support@varomoney.com
Phone: 1-877-377-8276
Request for a waiver. If you accidentally used a non-Allpoint ATM or it was an emergency, you may be able to request a waiver or reversal for the Varo fee. Some banks will offer a one-time waiver of fees as a courtesy, particularly for customers with a good track record. Fees charged by the operating ATM would have to be addressed to that bank. 
An easy way to proactively avoid Varo ATM fees is to use a different ATM. Consider these differences between various ATMs:
| | |
| --- | --- |
| Allpoint Partner ATMs | Varo Bank partners with more than 55,000 fee-free Allpoint locations worldwide. These ATMs are located in stores like Target, Walgreens, and CVS, so they are easily accessible. If you use an Allpoint branded ATM, you will not be charged any fees.  |
| Non-Partner ATMs | If you choose to use an ATM that is not on the Allpoint Network, you will be charged an ATM Withdrawal Fee of $2.50 by Varo Bank. It is important to locate the Allpoint branding on the machine before using it, to verify that it is indeed an Allpoint machine. If you do not see the branding, be aware that you will likely incur a fee from Varo. You may also incur a fee charged by the bank of the ATM you used.  |
Let DoNotPay Appeal Your Varo ATM Fees
DoNotPay recognizes that it can be tedious to deal with customer service. We know that your time is as valuable as your money, so if you are having trouble getting a  waived, DoNotPay can help! 
Here's how you can use DoNotPay to appeal fees:
1. Search "appeal fees" on DoNotPay, choose the Fight and Waive Fees product, and select the type of fee you want to appeal.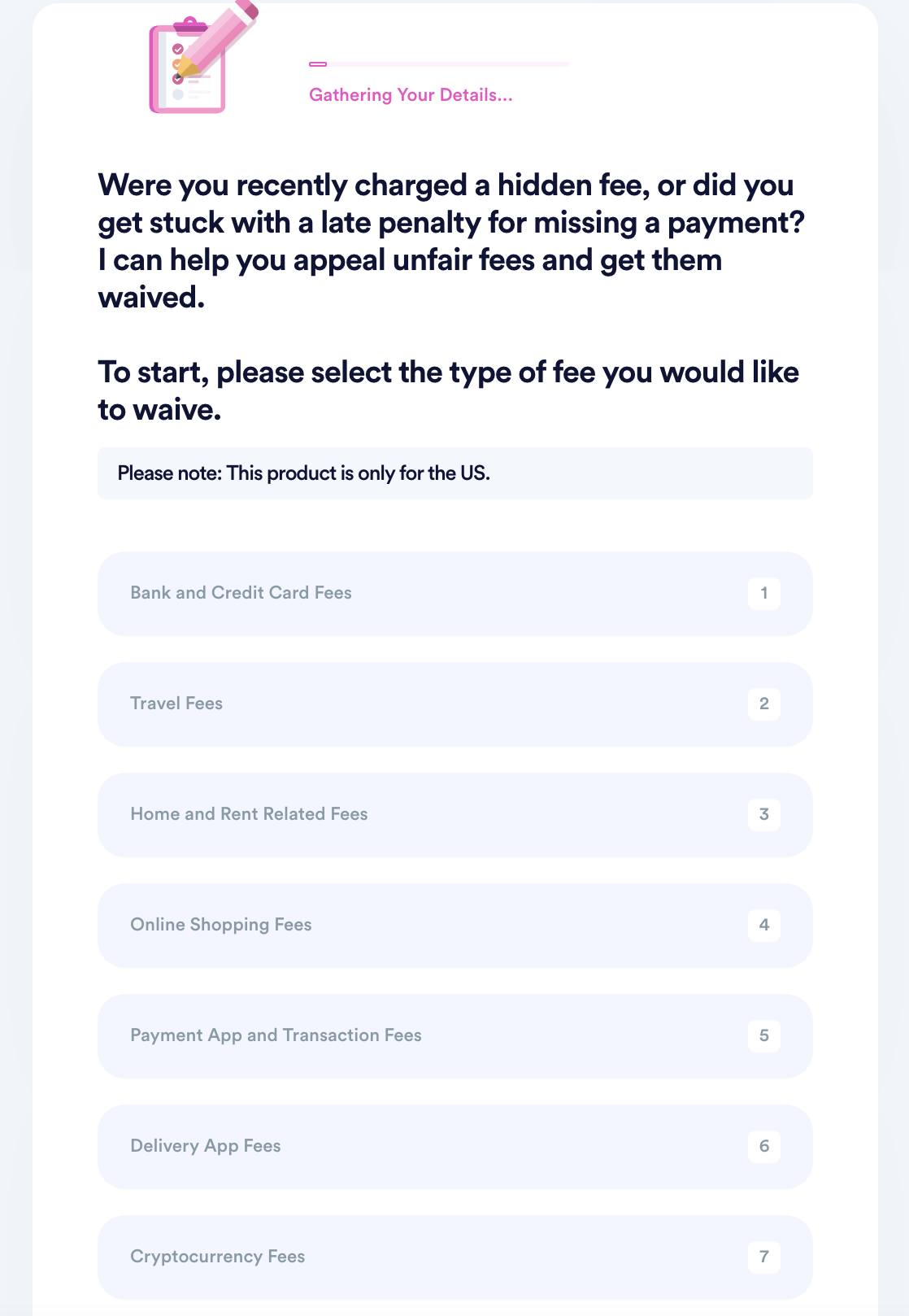 2. Select the merchant you want to appeal fees for and enter the details of your transaction, including an associated account if you have one.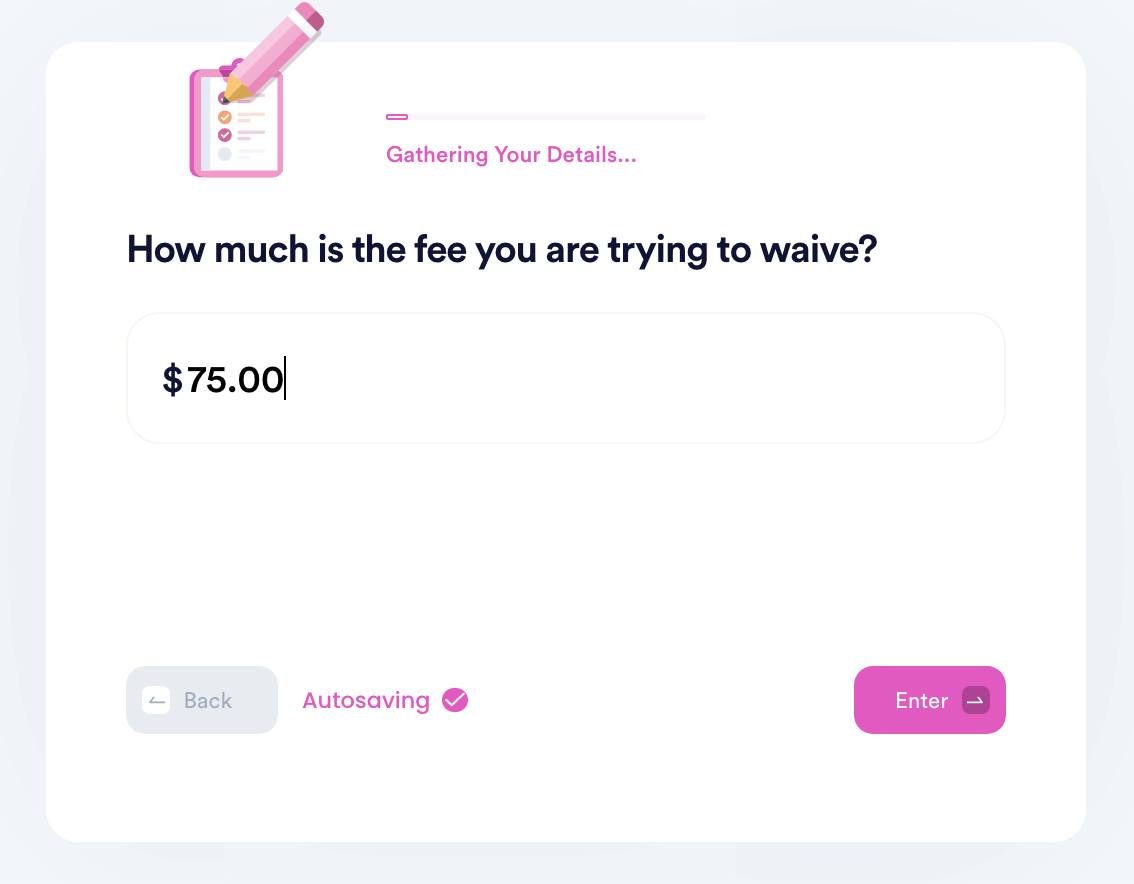 3. Submit your case! DoNotPay will generate the best argument for your case and make sure your fee waiver request gets sent to the merchant for processing.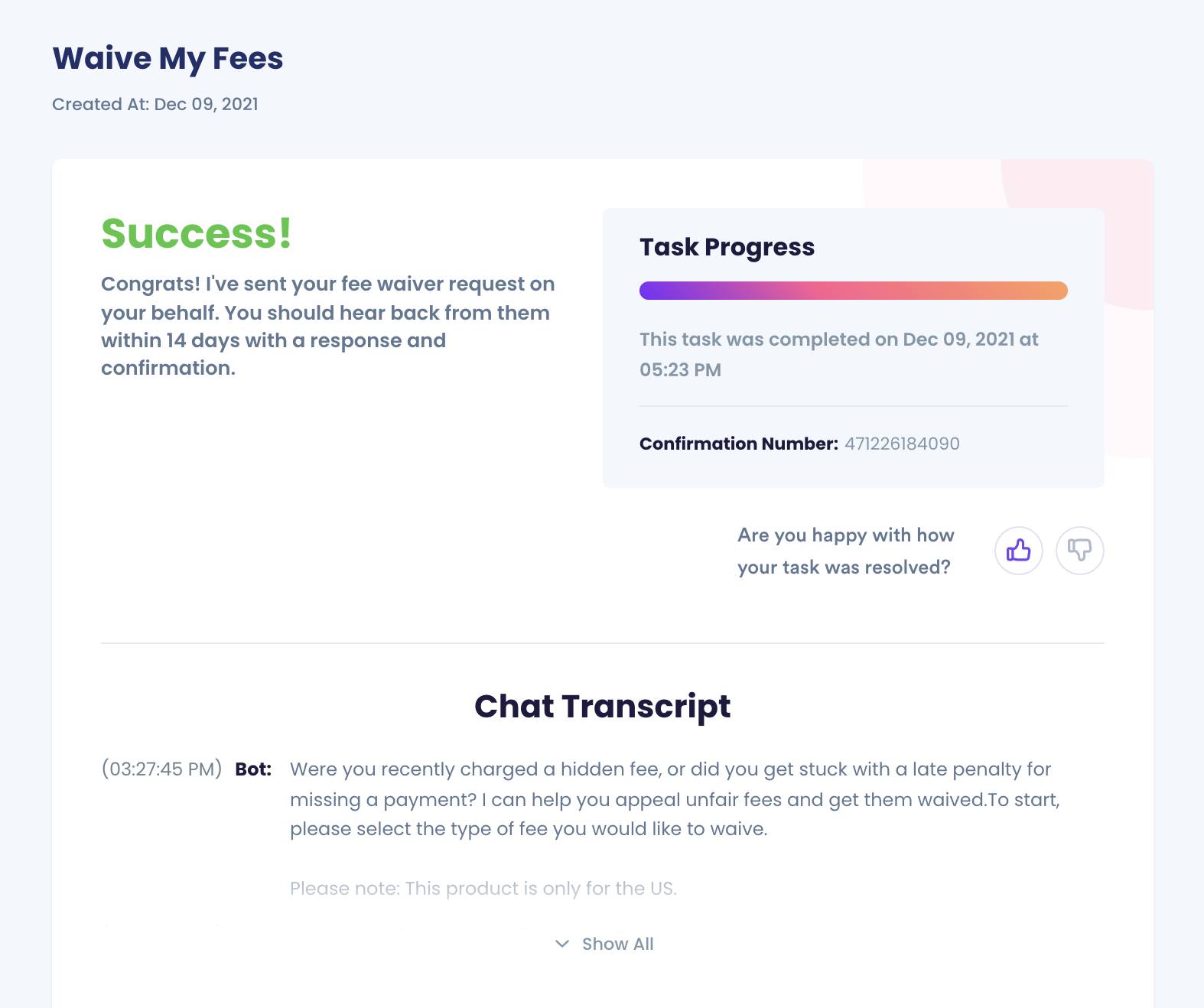 Why Use DoNotPay?
DoNotPay knows that your time is valuable, and you are probably busy with work, family, and life in general. We can help you start the process of requesting a fee waiver right here, right now. In fact, we can also help you with handling a chargeback, closing a bank account, or requesting a fee waiver with any business for any transaction, such as:
Robinhood Fees

Shopify Fees
We will file all of the necessary appeals and make the best case for you. The whole process of fighting fees is simplified with DoNotPay because we make it fast, easy, and successful
What Else Can DoNotPay Do?
Helping you fight fees and manage purchases are just a few of the many services that DoNotPay provides. We want to save you time, money, and stress, which is why we can help you resolve all types of problems, including:
DoNotPay can assist you with any issue or concern, so let us help today.