How to Fight Etsy Fees with DoNotPay
Etsy is a popular platform where artisans can sell their art, handicrafts, craft supplies, or vintage items. Buyers may find anything from jewelry, bags, home decor, toys, art, tools, clothing, and more. If you are an Etsy seller or are considering selling your goods there, it's important to understand the different types of Etsy fees. Fortunately, DoNotPay can help.
Etsy Fees Overview
Etsy has a detailed Fees & Payment Policy that explains the various types of fees and taxes, as well as how you are to pay them. It is part of the Terms of Use. When you open an Etsy shop, you agree to both the Terms of Use and the Fees & Payment Policy, which went into effect on June 23, 2021. Here are a few common Etsy fees explained:
Listing Fees
Listing fees are $0.20 USD for each listed item. Multiple quantities do not incur separate listing fees, but if less than the full quantity sells, the listing automatically renews for $0.20. You are charged for creating or renewing any listing, but not for editing the listing. You will be charged the listing fee whether the item sells or not, except for private listings, where you will be charged only when the item sells.
Transaction Fees
Etsy charges 5% of the displayed price for each listing, plus the amount you charge for shipping and gift wrapping. Taxes depend on how the item is listed and the country from which you are listing/selling.
Offside Ads Fee
If a customer clicks through an offsite advert with your listing and places an order from your shop within 30 days, you will incur an advertising fee.

The fee will be either 12% or 15%, depending on your shop's overall sales for the previous 365 days.

Etsy Plus Subscription Fee
Etsy Plus is $10 USD/month and is a package that offers tools for growing/expanding brands. You will be charged tax if you are located in the US. You do receive Listing and Etsy Ads credits as part of the package.
How to Reduce and Appeal Etsy Fees on Your Own
Etsy has a subsection in their Policy about Fee Avoidance. It is important that you do not intentionally try to avoid paying fees. However, you can make sound business decisions that can help you maximize your income and profits and offset the cost of the fees. 
Poll your customers on social media about new items and pricing before listing, to get an idea of how much you can expect customers to pay, the best time of year to list, etc. Questions you might ask include:
Would you buy this item?
How much would you pay for this item?
How much would you pay for personalization?
Adjust your prices accordingly. If your customers are letting you know they'll pay more, don't be afraid to raise your prices.
Evaluate your shipping options. You may be able to save money by changing shipping providers or altering your shipping services.
Experiment with marketing. Find the right venues and tools to drive traffic and increase sales, which can help offset fees.
Do the math. You may find that focusing on a few best-sellers is more profitable than having a large variety of items in your shop. It may be more profitable to pay for Etsy Plus for the tools and perks. It may take time to find the best strategies, but doing your research will pay off in the long run.
Opt-Out of auto-renewals, offsite ads, etc. It may be better to opt-out, particularly if certain types of items aren't selling well. This is another area where you need to research and perhaps experiment with different strategies.
Request an Appeal. If you believe you were overcharged or charged for services you didn't receive, you should appeal to Etsy to reverse the charges.
Let DoNotPay Appeal Etsy Fees on Your Behalf
If you have been charged incorrect fees, it may take time and persistence to contact Etsy and successfully get the fees reversed. DoNotPay knows that time is money, and both are valuable, which is why we are prepared to make appeals for you.
Here's how you can use DoNotPay to appeal fees:
1. Search "appeal fees" on DoNotPay, choose the Fight and Waive Fees product, and select the type of fee you want to appeal.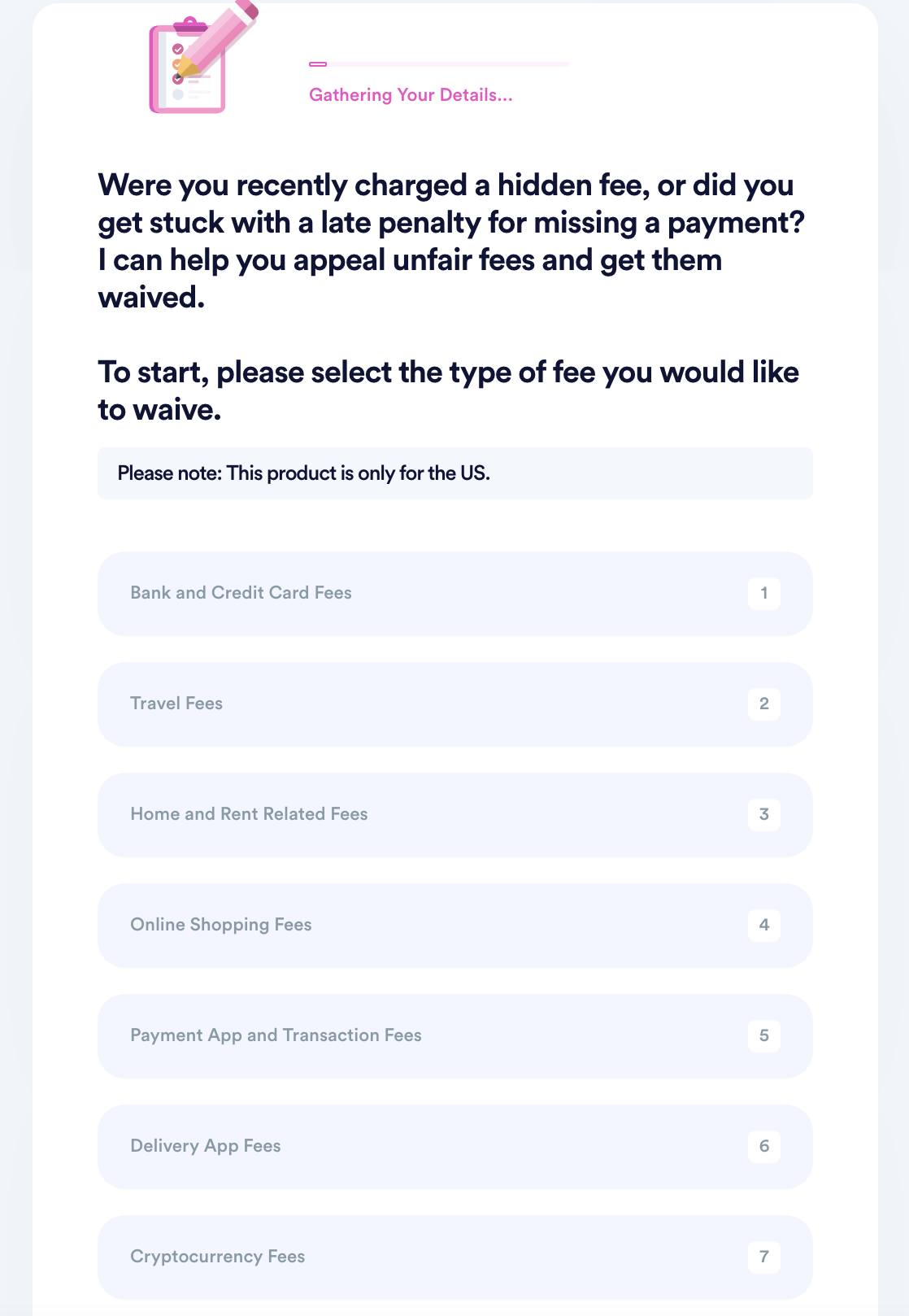 2. Select the merchant you want to appeal fees for and enter the details of your transaction, including an associated account if you have one.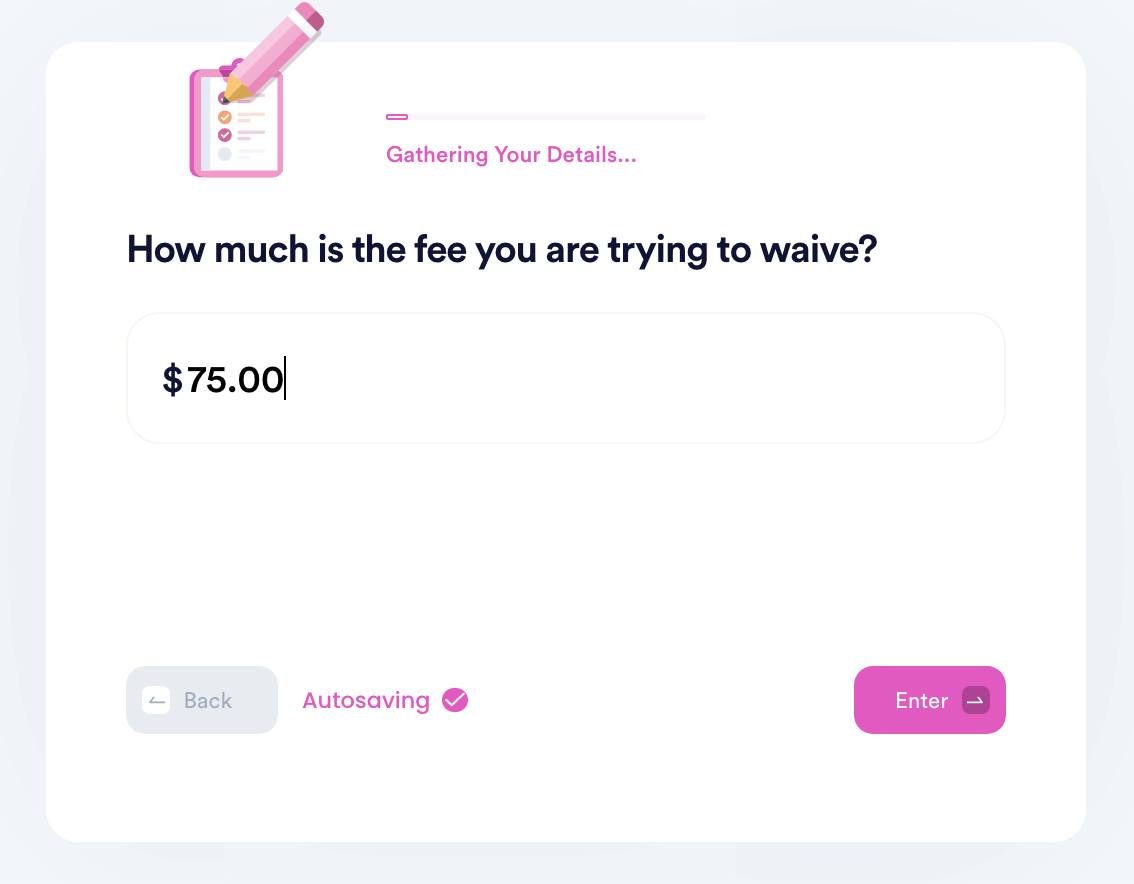 3. Submit your case! DoNotPay will generate the best argument for your case and make sure your fee waiver request gets sent to the merchant for processing.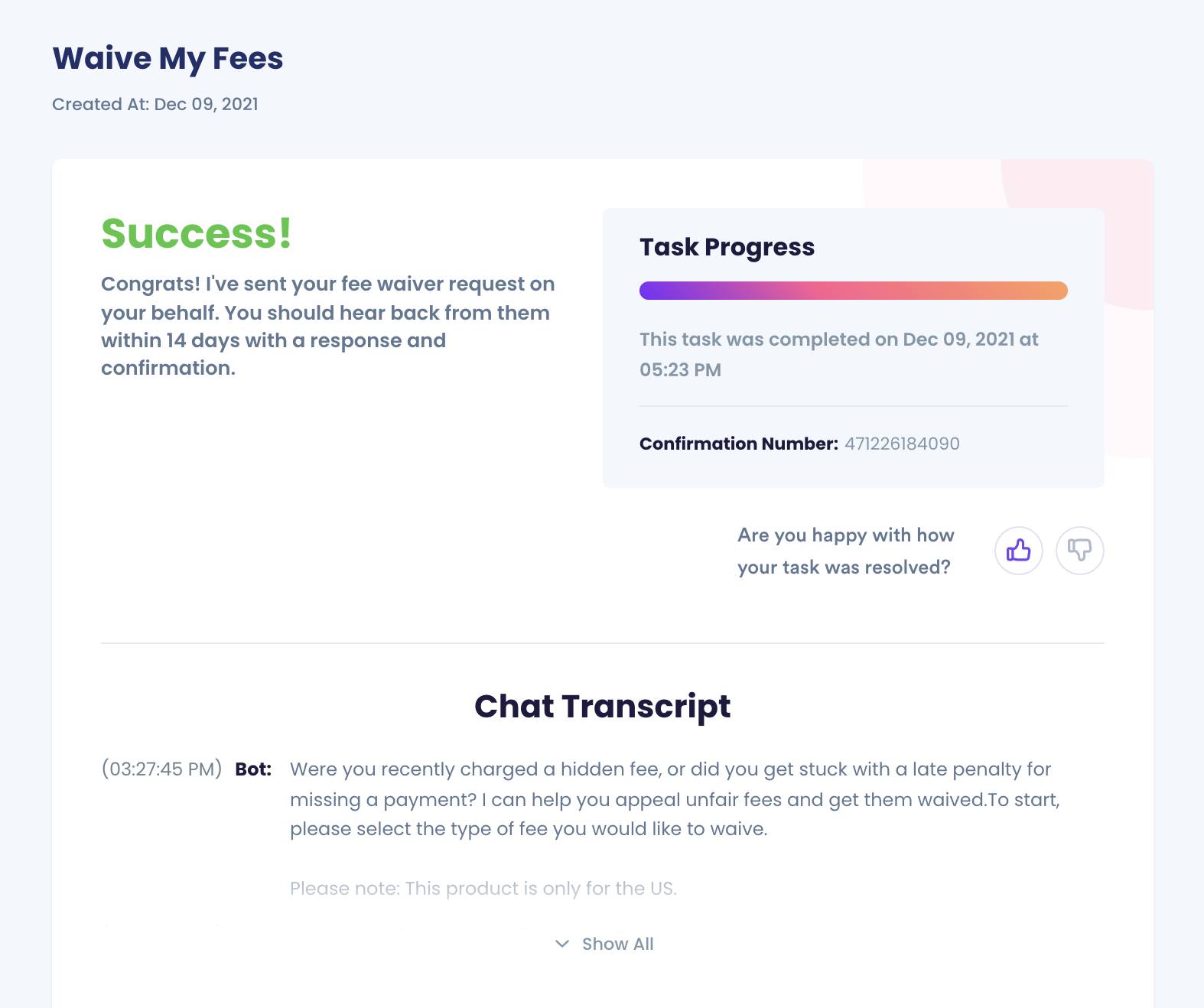 Why Use DoNotPay?
DoNotPay is designed to help you handle problems efficiently by saving time, money, and stress. We are prepared to help you fight unfair fees or request fee waivers quickly. Our process is fast, easy, and successful, because you only need to give us the information and we handle the rest on your behalf. You can rest assured that we will make the case for your appeal!
In fact, we can also help you with chargebacks or negotiating bills, and we can request fee waivers for any business or entity, such as:
What Else Can DoNotPay Do?
DoNotPay has many services to help make things easier for you:
Whatever your concern, DoNotPay is here to help!