Dealing with HOA Fees Doesn't Have to Be a Pain
Everyone has financial hardships at one time or another. In an effort to reduce household costs, you may have considered not paying your Homeowners Association (HOA) fees. In this article, we will discuss why that may not be the best option, and we will talk about some other options that might help reduce your payment, making it more manageable.
Then, keep reading to discover how DoNotPay can save you time and money, with the Fight And Waive Fees product.
What Is An HOA?
A Homeowner's Association, HOA, sets rules and regulations within a community, generally with the aim of maintaining a nice appearance and often with a more specific goal of maintaining property values. HOAs have become more prevalent as it is estimated there are around 355,000 in the United States. The communities they are often found in include condominiums, apartment buildings where the apartments are purchased, and single-family dwelling communities. When you purchase your property within the community, you are required to become a member.  The HOA is run by a board of directors which is made up of community members.
What Are HOA Fees?
As an HOA member, your responsibilities are to comply with the Declaration of Covenants, Conditions, and Restrictions (CCR) laid out by the Association and pay your monthly, sometimes annual, dues. The amount of dues that you will pay is determined by the board of directors and can range from $100 to over $1,000 in luxury communities. Dues are paid to fund the upkeep and maintenance of common areas of the community which could include:
Common use areas

Sidewalks
Parking lots
Swimming pools
Laundry rooms

Amenities

Landscaping
Trash removal
Snow removal
Gym access
What Happens If You Don't Pay HOA Fees?
Penalties for failure to comply, like the rules, are determined by the board of directors and are generally listed in the CCR. They also can be wildly different from one community to the next. The penalty for failure to pay dues can range anywhere between a late fee and litigation. In many communities, the HOA can put a lien on your property, making it very difficult to even sell your property.
How To Appeal HOA Fees On Your Own
When you have financial difficulty, the most helpful thing that you can do is communicate with the board of directors. This should be done in writing and you should keep copies for later reference. Here is what you should know about writing a hardship letter.
Find a Specific Person to Write to–Do not address your letter generically, identify a person who handles situations like yours and address the letter to them directly.
Be Honest–People go through rough times if you are open and honest about the events that lead to your difficulties, people are more likely to be receptive to you.
Be specific–Tell them about specific occurrences that are unique to you and your situation. Do not dwell on circumstances that the general public is dealing with, like COVID.
Explain–The purpose is to explain your situation, not complain to the board of directors.
Sample Hardship Letter For HOA Fees
Here is an idea of what a hardship letter should look and sound like. It is strongly encouraged that you write your own personal letter as it will not sound as genuine if you use a template.
Date
HOA label
HOA Address
RE: Hardship letter for (account number, name)
Dear (Mr./Mrs.) (identified contact),
I have been a good standing member of the HOA for X years. The economic decline we all have experienced over the last year led to me being (laid off/ fired/ hours cut). This occurred (on this date).
Since then, I have been doing (odd jobs/ looking for work) and have barely managed to keep my family afloat. Unfortunately, last week we were informed of ( parent's illness/ child's injury/ unforeseen critical need). While headed home from receiving that news, our only car broke down, severely limiting my ability to gain employment.
I regret to inform you that I am not able, at this time, to maintain my financial responsibility agreed to at the purchase. I have managed to secure X amount of reliable income from ( unemployment/ part-time job) and I am diligent in my effort to regain full employment as quickly as possible. Currently, the most I can possibly commit to paying is X.
My family and I do not wish to lose our home and we ask that you consider reducing or delaying payment for a short period of time to ensure we are not faced with foreclosure on top of everything we have been through already. If you wish to discuss the matter further or need more information please contact me at (phone number).
We are truly grateful for your time and consideration in this matter and we look forward to hearing from you.
Sincerely,
(name)
Let DoNotPay Help You Appeal HOA Fees
Using a template letter will come across as generic and fake, but not everyone is able to clearly communicate in writing. DoNotPay has a product that will craft letters like this on your behalf or you can also try to have HOA fees waived using DoNotPay's Fight And Waive Fees product.
Here's how you can use DoNotPay to appeal fees:
1. Search "appeal fees" on DoNotPay, choose the Fight and Waive Fees product, and select the type of fee you want to appeal.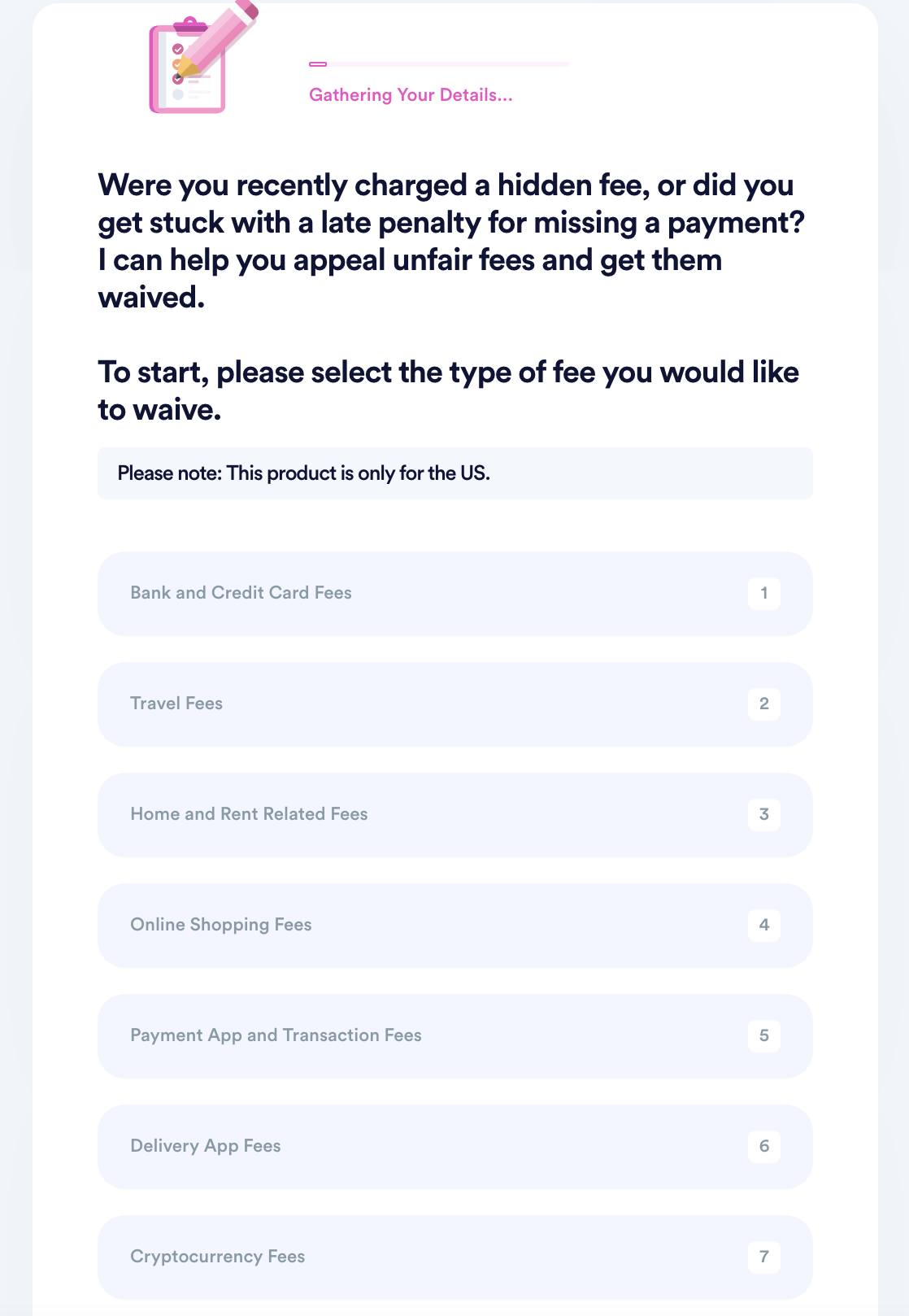 2. Select the merchant you want to appeal fees for and enter the details of your transaction, including an associated account if you have one.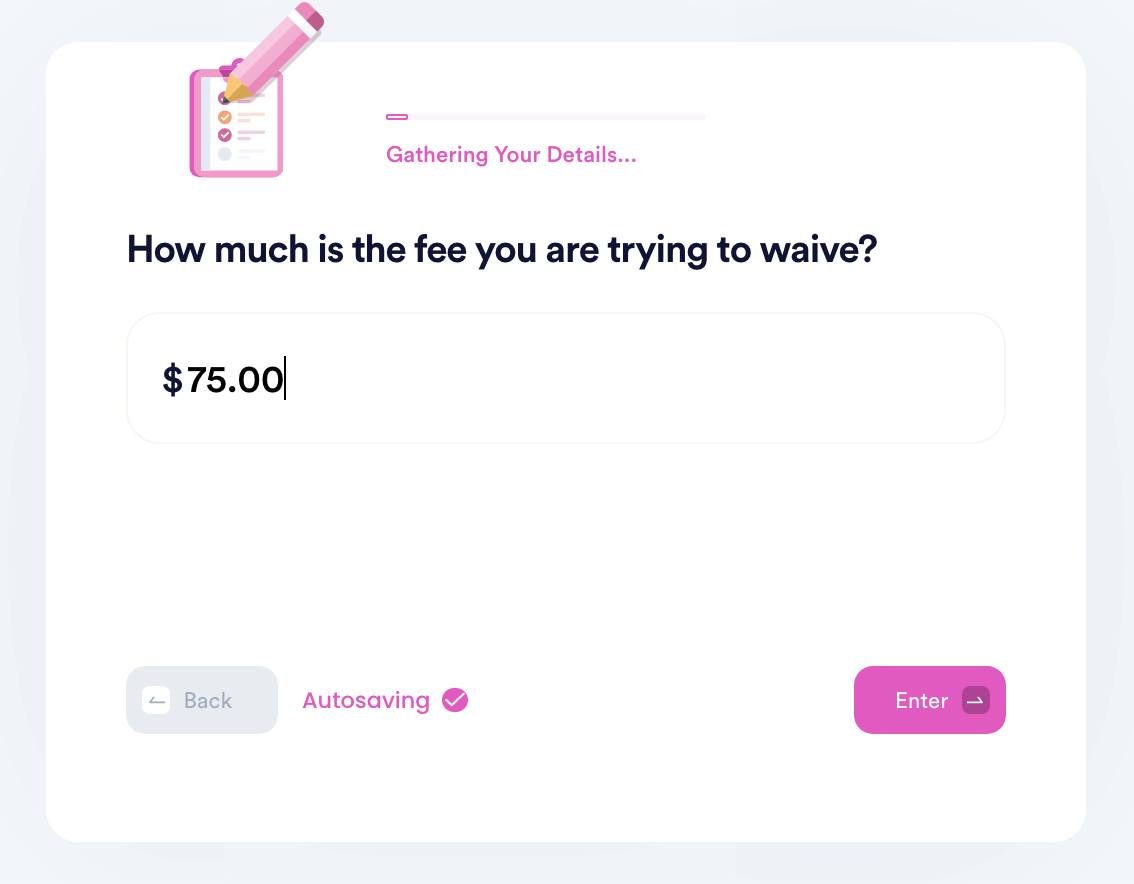 3. Submit your case! DoNotPay will generate the best argument for your case and make sure your fee waiver request gets sent to the merchant for processing.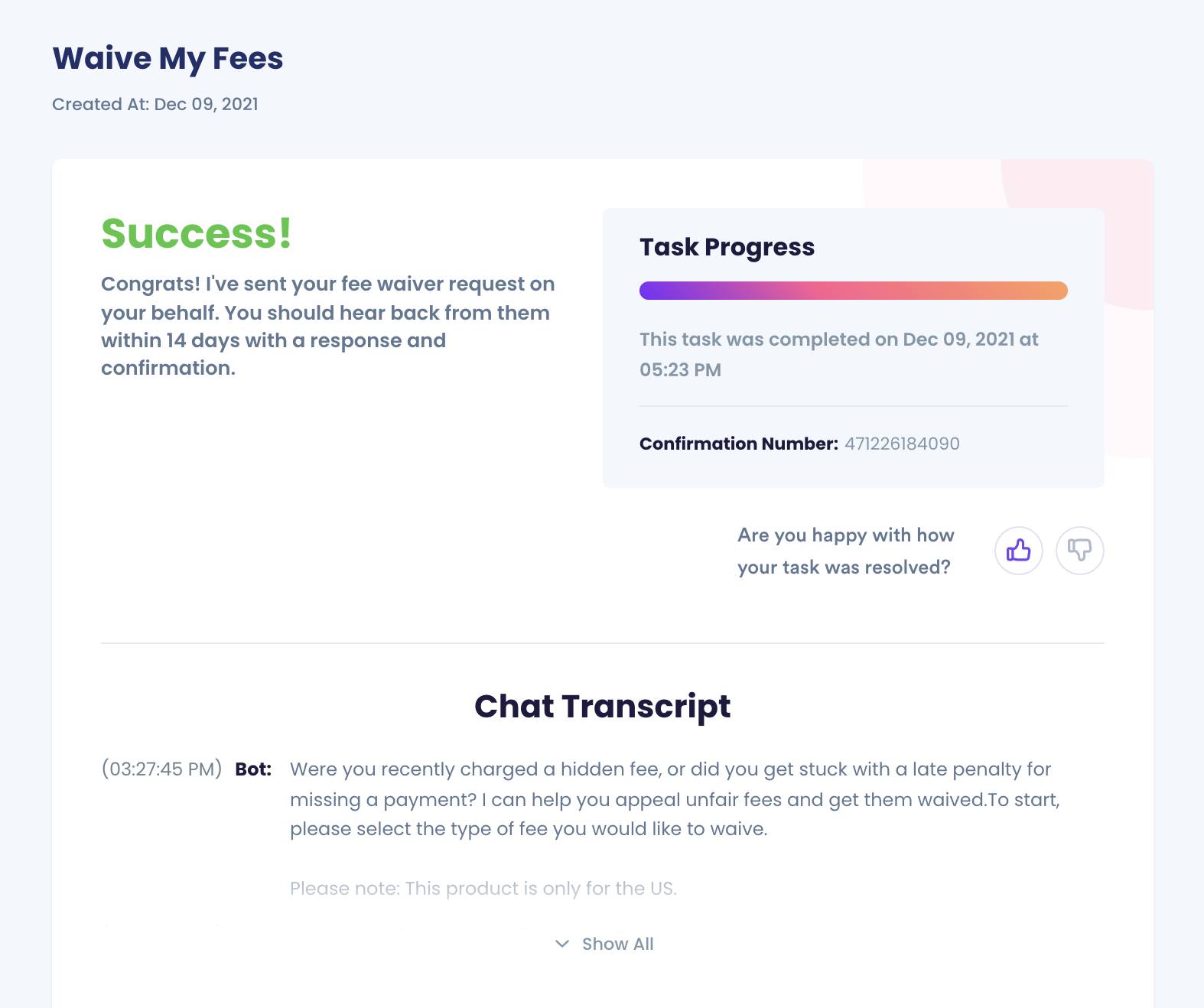 Why Use DoNotPay To Appeal Your HOA Fees
With DoNotPay, any task can be completed quickly, easily, and successfully while saving you time and money. When you are ready to save even more money, check out the Lower Property Tax product. With the range of products available, you can handle many tasks that you may have had a difficult time figuring out how to complete on your own. Life is hard enough, don't let tasks like these make it even harder. Here are some more of the Fight And Waive Fees product series.
Products That Work For Any Company Anywhere
Don't pay HOA fees? Not a problem. The Fight And Waive Fees product will work for you wherever you do business. Here are some of the other fees the product can appeal on your behalf.
What Else DoNotPay Can Do
Fight And Waive Fees is just one of many products from DoNotPay that you can use to save time and money quickly, easily, and successfully. Check off all of those complex and time-consuming tasks on your to-do list that you never have time to handle. Check out some of the other product series and find even more ways that DoNotPay can work for you.