Waive eBay Fees Today With DoNotPay
eBay is the top-recommended marketplace for online sellers, and with good reason. Boasting more than 150 million active buyers, billions of listings, and over 400 thousand downloads per month, eBay is a popular site. However, getting access to that kind of traffic comes at a price, which is eBay fees.
To make the most of the marketplace, you must understand all applicable fees. But eBay fees can be complicated. Some fees are charged pre-sale, others post-sale, and there are charges for optional extras. On top of that, fees differ for business sellers and private sellers.
This article explains the different types of eBay fees and how DoNotPay can help you waive them to ensure you make a healthy profit.
What Are the Types of eBay Fees?
The type of eBay fees you pay depends on the number of listings you have, the product category of the item you're selling, and whether you have an eBay Store Subscription.
Monthly Fee
eBay offers sellers six different subscription options that each come with their own monthly fee and seller benefits:
| | | |
| --- | --- | --- |
| | Annual Subscription | Monthly Renewal |
| Standard (no store) | Free | |
| Starter | $4.95 | $7.95 |
| Basic | $21.95 | $27.95 |
| Premium | $59.95 | $74.95 |
| Anchor | $299.95 | $349.95 |
| Enterprise | $2,99.95 | $349.95 |
eBay Insertion Fees
Also known as a listing fee, an insertion fee is the upfront fee that eBay charges a seller to place an item for sale. The insertion fee varies depending on:
The type of listing
The prices set by the seller
The number of categories in which the item was listed
And the listing duration of the item
Private sellers and business sellers without an eBay store subscription receive 50 free listings per month. After this, they are usually charged a flat fee of $0.35 per listing.
For store subscribers, here are their insertion fees:
| | |
| --- | --- |
| Starter | 100 free and $0.30 per listing after that for auction-style listings |
| Basic | 250 free and $0.25 after that for auction listings and 250 free and $0.25 after that for fixed-price listings |
| Premium | 500 free and $0.15 after that for auction listings and 1,000 free and $0.10 after that for fixed-price listings |
| Anchor | 1,000 free and $0.10 after that for auction listings and 10,000 free and $0.5 after that for fixed-price listings |
| Enterprise | 2,500 free and $0.10 after that for auction listings and 100,00 free and $0.5 after that for fixed-price listings |
Final Value Fees
If your item sells, eBay keeps a portion of the sale. The total amount of the sale includes:
The item price
Handling charges
The shipping service selected by the buyer
Sales tax
And any other applicable fees.
Final value fees cover payment processing and come with a $0.30 charge on each order.
These are the final value fees for the first $7,500:
| | |
| --- | --- |
| Most categories | 12.35% |
| Books, DVDs & Movies, Music (except Records) | 14.35% |
| Jewelry & watches | 6.5% |
| Business & Industrial categories | 4.35% |
| Musical Instruments | 5.85% |
For any products which cost more than $7,500, eBay only charges 2.35%. Sellers using eBay-managed payments must now include sales tax in the final order price when calculating their final value fee.
Listing Upgrade Fees
Upgrading your listing to "buy it now" status, adding a bold title or more pictures, or sponsoring it can cause your listing to be more expensive. Here are the starting listing upgrade fees:
| | | |
| --- | --- | --- |
| | Auction-style Listings | Fixed-price Listings |
| Bold text | $2 | $4 |
| Gallery plus (enhanced image) | $0.35 | $1 |
| International visibility | $0.10 | $0.50 |
| Subtitle | $1 | $1.50 |
| Listing designer (customer entries) | $0.10 | $0.30 |
Does eBay Have Hidden Fees?
There are a few less obvious eBay fees worth keeping in mind:
Inaccurate item description fee
eBay runs service metrics to assess how sellers describe their listed goods accurately.

When a seller's service metrics are shown as Very High (on the scale of inaccurate-item description), they will be charged an extra 5% on top of the regular final value fee rate.

International fee
If you're registered in the US, you'll be charged an international fee of 1.65% to work with a customer in another country.
Low-performance seller fee
eBay expects sellers to meet the minimum Seller Performance Standards.

These vary from one country to the next, but for US sellers, you'll be charged an additional 5% on top of your usual eBay final value fees when your listed item sells.

Above Standard and eBay Top Rated Sellers are exempt from these extra fees.

Dispute fee
If you are found responsible for a disputed amount as per eBay policies, such as chargeback, eBay will charge a $20.00 dispute fee, excluding sales tax, for each dispute.
Seller currency conversion charge
If your registered address is in the US, the seller currency conversion charge applied and retained by eBay is 3%.
How to Avoid eBay Fees on Your Own
Here are a few steps you can take to trim down costs and avoid eBay fees yourself:
Avoid unnecessary listing upgrades: Use eBay's listing software and tools to optimize your store and avoid unnecessary listing upgrades.
Become a top-rated eBay seller: Sellers who meet the required conditions can earn a 10 % discount on final value charges.
Choose an annual subscription: You will automatically lower your monthly fee by opting for an annual subscription. Also, choose a better store-level offering better perks, like more free listings, which cuts insertion fees.'
Appeal eBay Fees With Donotpay
Here's how you can use DoNotPay to appeal eBay fees:
1. Search "appeal fees" on DoNotPay, choose the Fight and Waive Fees product, and select the type of fee you want to appeal.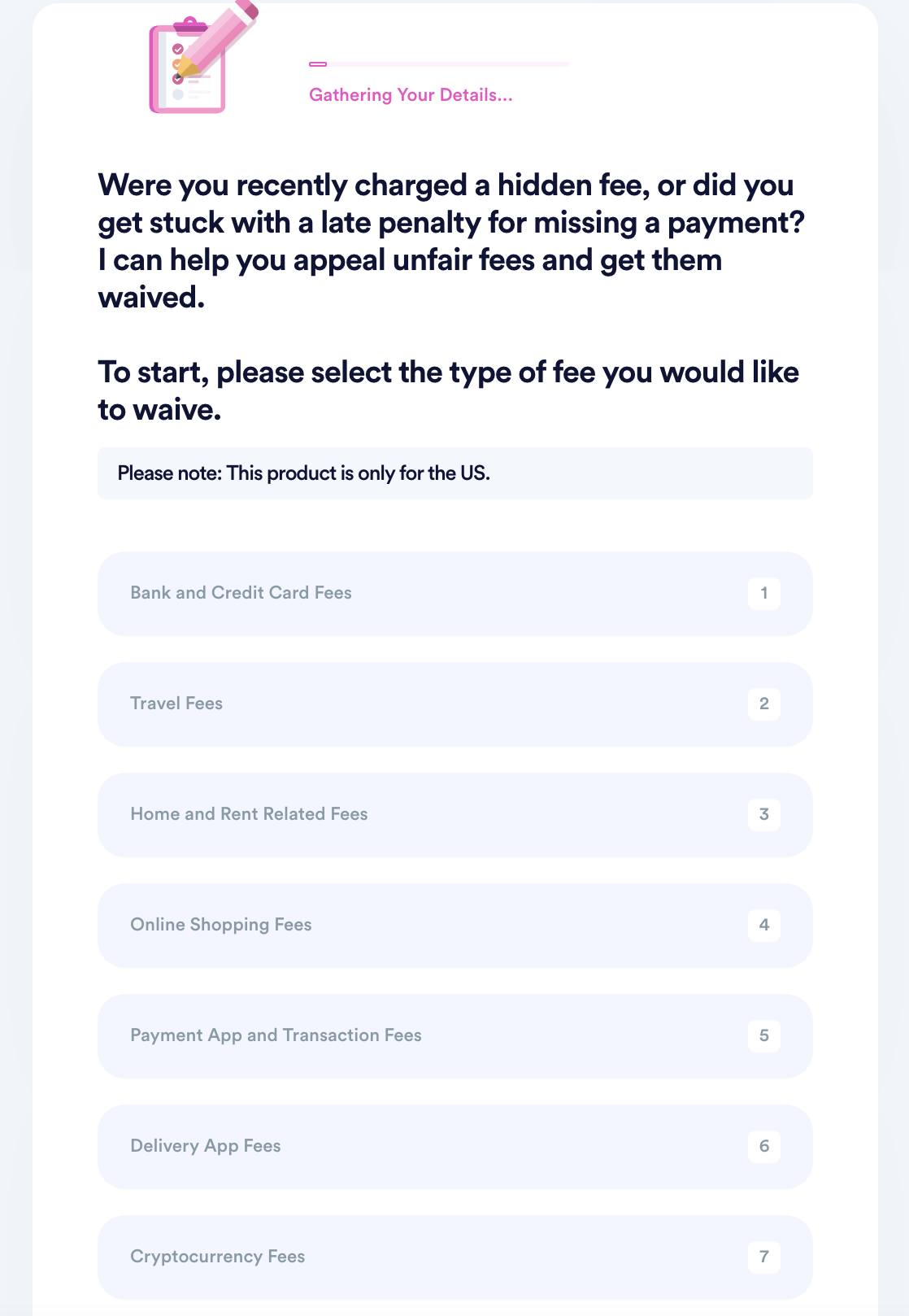 2. Select the merchant you want to appeal fees for and enter the details of your transaction, including an associated account if you have one.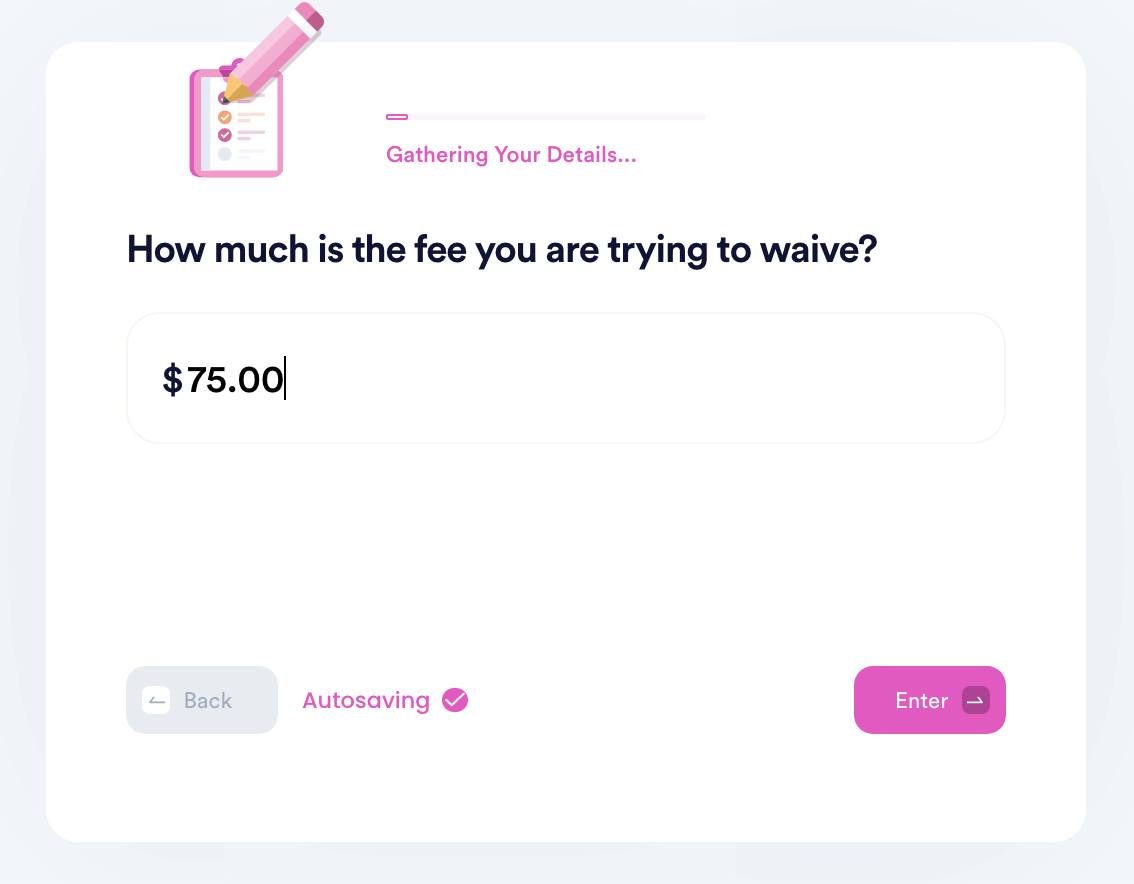 3. Submit your case! DoNotPay will generate the best argument for your case and make sure your fee waiver request gets sent to the merchant for processing.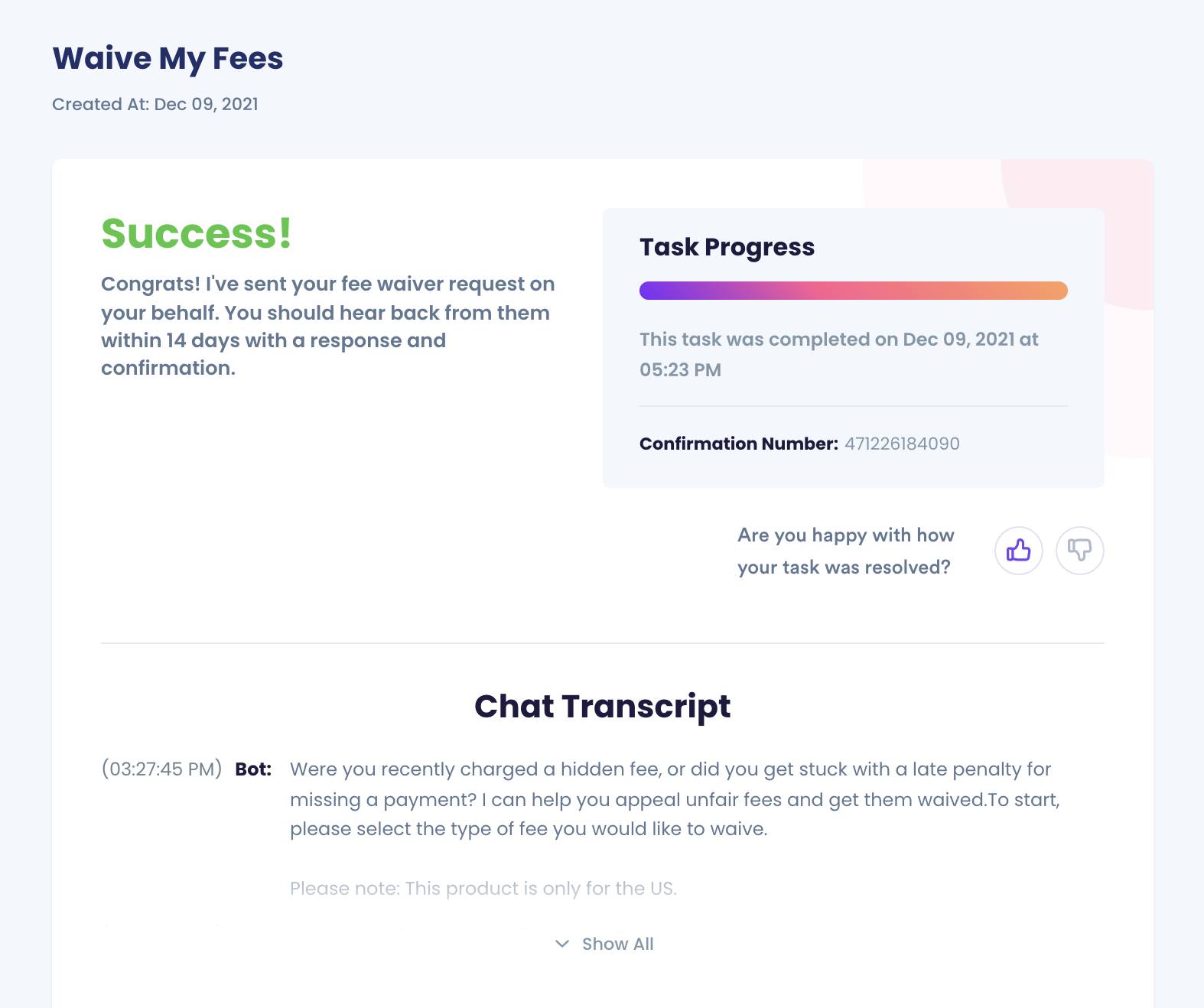 DoNotPay Works Across All Companies With the Click of a Button
DoNotPay can also help you waive other fees, like:
DoNotPay can also help you with other issues such as:
Ultimately, eBay charges fees that pile up if you're not careful. At DoNotPay, we can help you avoid and appeal eBay fees so you can cut down on costs and make a decent profit from your listings. Try it today!