All You Need to Know About Coinbase Fees
Coinbase is a global cryptocurrency company that allows users to engage in cryptocurrency exchange. Coinbase users can buy, sell, transfer, and store cryptocurrency online.
High coinbase fees and other additional charges that may be hidden may hamper your online trading experience. It would help to appeal for a waiver whenever you notice such high costs while trading.
Alternatively, you could contact us at DoNotPay, and we will help fight for you to waive the fees and improve your trading experience. At DoNotPay, we prioritize our clients and ensure that you always get your money's worth.
Coinbase Fees Explained
This table will give you an idea of what the coinbase fees are:
| | |
| --- | --- |
| Fees | Description |
| Coinbase Wallet Service | A digital service that allows you to store and transfer your digital currency. |
| Cryptocurrency Transactions | Fees charged when you buy, sell, or convert cryptocurrencies. |
| Credit Transactions | Charges that Coinbase imposes when you borrow money from them. |
| Coinbase Card | Charges on transactions involving withdrawals and deposits using the Coinbase card. These also include charges on ATM withdrawals. |
| Staking Services | Cryptocurrency staked as assets a third-party proof-of-stake network via staking services provided by Coinbase. |
How Much Does Coinbase Charge per Transaction?
Coinbase fees depend on several market factors. Therefore, it is challenging to provide standard transaction rates considering that the prices fluctuate from time to time. However, DoNotPay directs you by clicking here to access the transaction rates.
Does Coinbase Have Any Hidden Transactions?
Coinbase does not have any hidden transactions. Once you have paid everything up front, you are good to trade. If you notice any hidden charges not mentioned on the Coinbase website or app, you should appeal for a waiver or seek our help at DoNotPay, and we will help you out.
How to Avoid Coinbase Fees
If you are having trouble with high Coinbase fees, you could avoid them by doing the following:
Opt for decentralized charges that allow peer-to-peer transactions, thereby cutting out any middlemen. Coinbase provides you with these options when transferring cryptocurrency from your wallet to another user.
Sign up for the Coinbase pro account. The Coinbase Pro account pays relatively lower transaction fees than those using the standard Coinbase accounts.
Stake coins that offer a trading discount. The Coinbase staking service offers you a 25% discount on spot trades if you hold the company's Binance coin in their account.
How to Appeal for a Waiver for Coinbase Fees on Your Own
For every transaction that incurs high charges on Etrade, you should do the following:
Contact Coinbase customer care service and inform them that you would like to appeal to the particular Coinbase fees you incur.
Fill out forms that customer care will forward to you. It is important to note that these forms may be many, and sometimes it may be challenging to fill them out with expert advice.
Keep in touch with Coinbase for responses on approval or denial of the appeal request. This step may take a while and requires constant alertness to ensure you do not lose any more money to transactional charges.
You should also lookout for any discounts and promotional codes that Etrade may have regarding waived fees and appeal charges.
Appealing for Coinbase to waive your fees is a tiresome and lengthy process. Therefore, you should contact us at DoNotPay, and we will help you through the process.
How Can DoNotPay Help You Waive Coinbase Fees?
DoNotPay has years of experience when it comes to dealing with customer support issues and helping people waive fees and get refunds. After helping thousands of users appeal their online trading in the past, we realized that high transactional charges and hidden costs were even more significant than anticipated, especially since most people were unaware of them until the last checkout stage. This is why we are excited to announce our new product: Appealing any fee with a few clicks of a button. 
The service enables our esteemed users to appeal, fight and waive any Coinbase fees that they feel hampers their trading experience.
Here's how you can use DoNotPay to appeal fees:
1. Search "appeal fees" on DoNotPay, choose the Fight and Waive Fees product, and select the type of fee you want to appeal.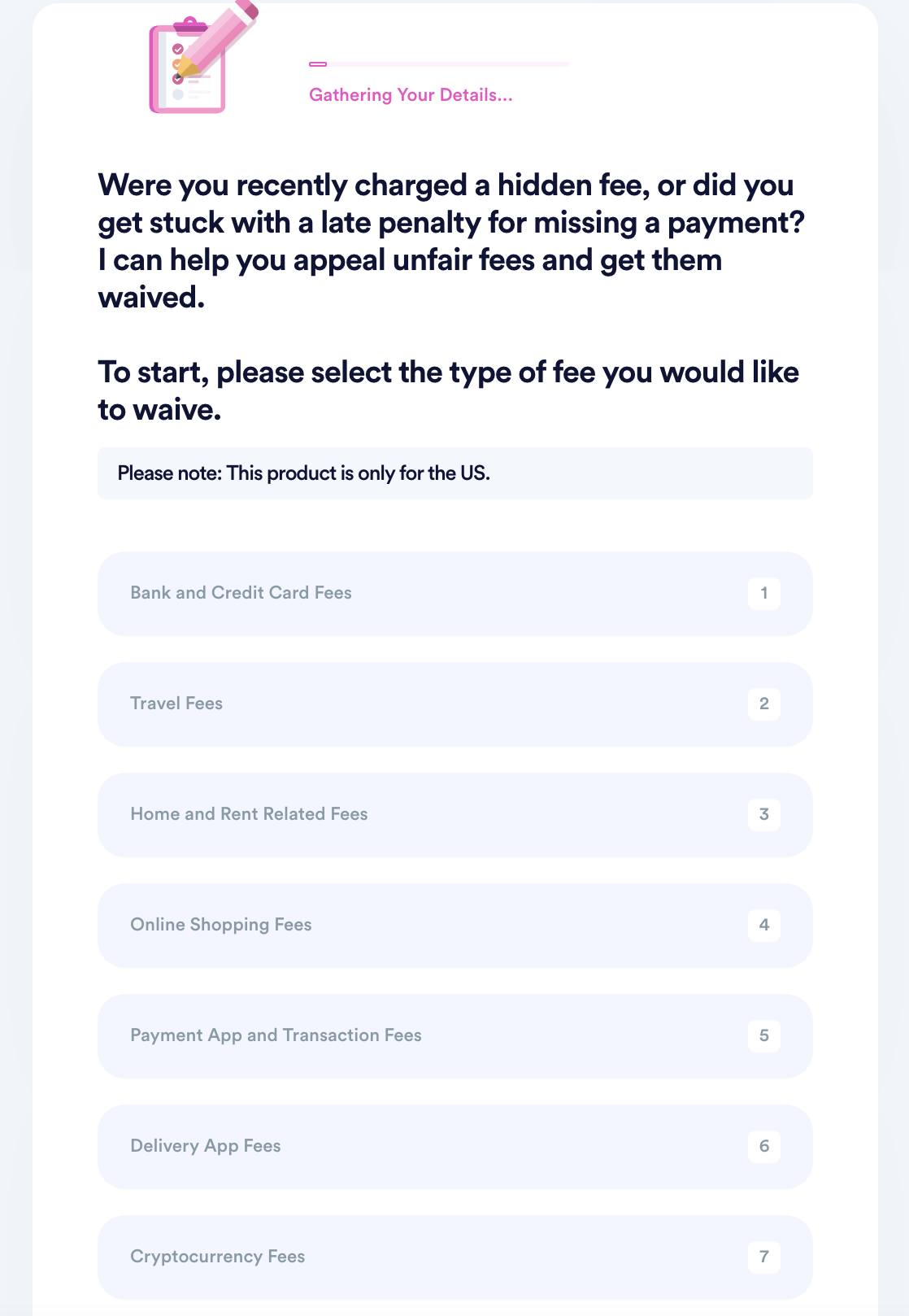 2. Select the merchant you want to appeal fees for and enter the details of your transaction, including an associated account if you have one.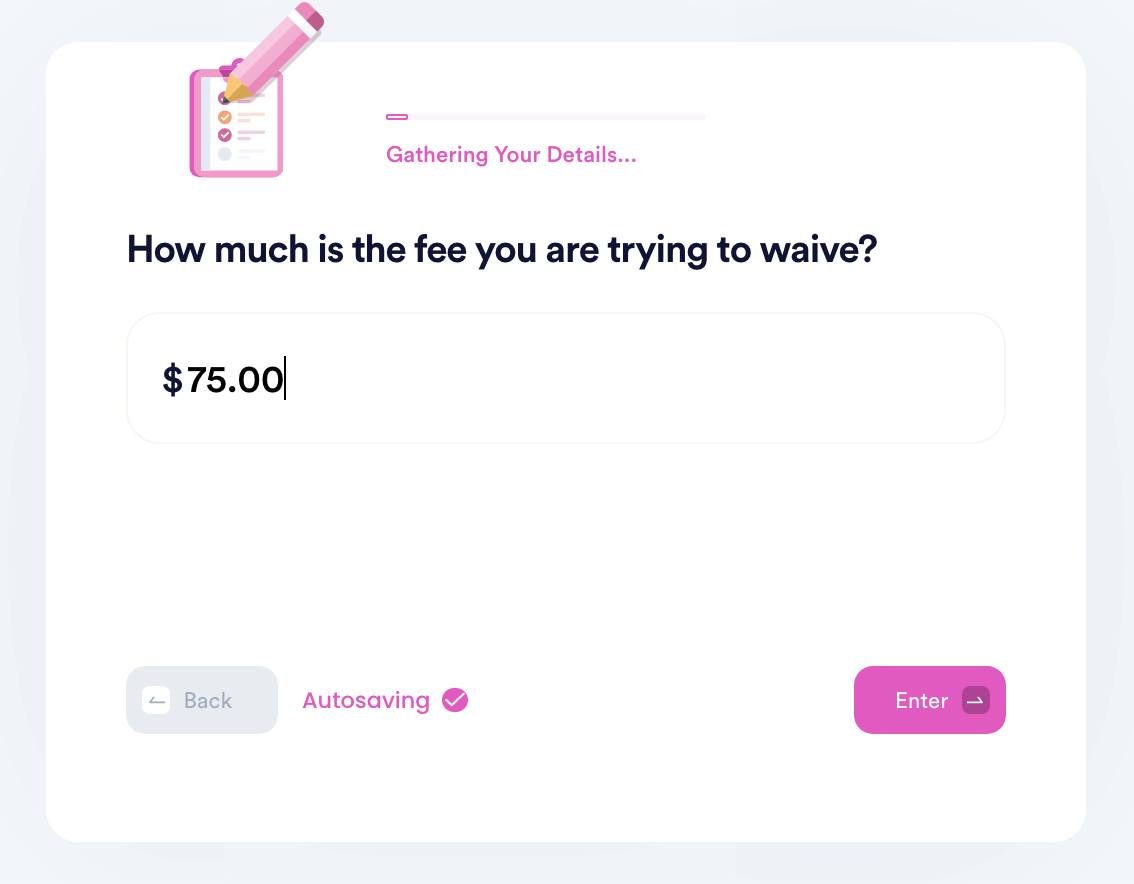 3. Submit your case! DoNotPay will generate the best argument for your case and make sure your fee waiver request gets sent to the merchant for processing.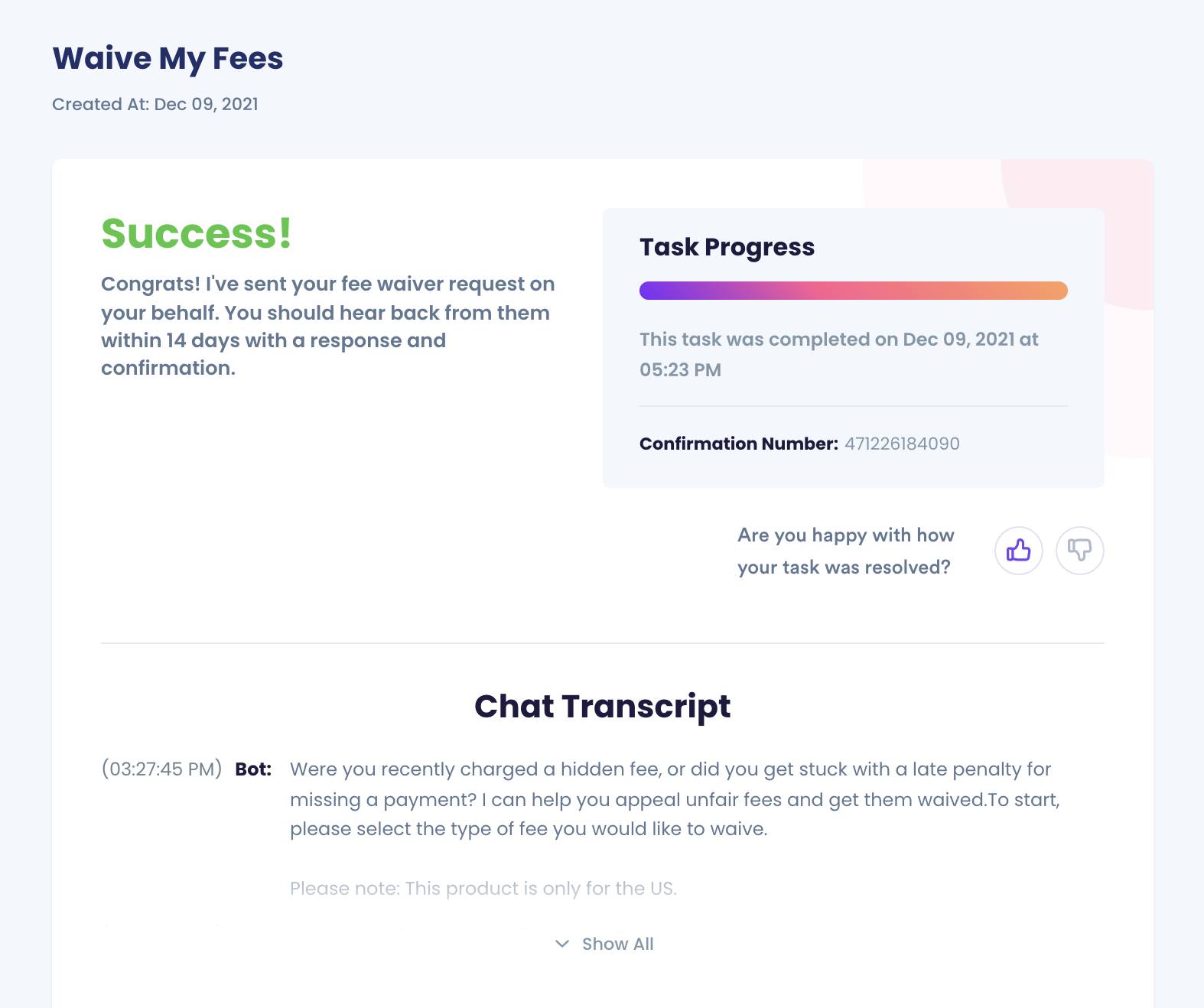 At DoNotPay, we are committed to making your trading experience worthwhile, which is why we advise you to reach out to us when experiencing any difficulties!
DoNotPay Works Across All Entities With the Click of a Button
At DoNotPay, we understand that you may have other challenges beyond waiving Coinbase fees. We also offer other services regarding fighting and waiving fees. For more information, click on the links below:
What Else Can DoNotPay Do?
Our services at DoNotPay extend beyond fee waivers. We have experience with fighting many of your legal battles. For more information, click on the links below: