How to Appeal American Airlines Baggage Fees
It's a widespread complaint that American airline baggage fees are high. American Airlines recently raised checked baggage taxes for basic economy passengers flying between the United States, Europe, or Africa from $60 to $75 per bag each trip. Apart from airline being expensive, your baggage may be delayed or lost in the process, but you can for lost luggage.
Refunds are only required if baggage is lost. However, according to current laws, airlines must pay you for "fair" incidental charges suffered while your bags are delayed. Even when luggage is considerably delayed, the government has no idea how often airlines keep your refund.
Appealing for baggage fees refunds can be a tedious process. Do not worry anymore, as DoNotPay will help appeal your baggage fees, saving you the frustration of following up with the airline.
How Much Does American Airlines Charge for Baggages
has increased its luggage fees, making it more costly. Even if you purchase or receive an upgrade that includes free checked baggage, all American Airlines bag costs are non-refundable and apply per passenger at each check-in site, each trip. If you are charged incorrectly for bag fees, you have 45 days to contact an American representative for assistance or make a refund claim.
When flying on American Airlines-marketed and operated itineraries, you may be exempt from paying fees for up to three bags if you qualify for free baggage due to your elite status. The perks are determined by your highest status level at the time of booking or check-in.
American Airlines baggage fees are charged according to your travel destinations.
| | | | |
| --- | --- | --- | --- |
| | Domestic | Transatlantic | Transpacific |
| 1 Bag | $ 30 | $ 0 - $ 75 | $ 0 |
| 2 Bags | $ 40 | $ 100 | $ 100 |
| 3 Bags | $ 150 | $ 200 | $ 200 |
| More than 4 bags | $ 200 | $ 200 | $ 200 |
Note that charges are different for all other regions.
How to Avoid American Airlines Baggage Fees
Flying is expensive and fees for checked baggage may quickly spiral out of hand. This is especially true if you're traveling with a spouse and children, and also because checked baggage costs apply at both ends of the journey—to and from your destination.
Because many airlines charge $30 for a checked bag, a family of four will spend $120 on each leg of their trip. This is a significant additional cost that does not improve your travel experience, and these fees regularly catch you and your family off guard.
Fortunately, if you do some basic research and have a strategy in mind, you may avoid paying baggage fees. The following information can assist you in avoiding baggage fees.
Book Flights with Airlines that Don't Charge Extra for Checked Baggage
Keep in mind that certain airlines don't charge extra for checked baggage up to a particular limit while planning your travel arrangements for the year. Southwest Airlines is the most popular option in this niche, offering you two free checked pieces of baggage whether you pay in cash or Southwest Airline Rewards points.
Achieve Airline Prestige Status
It is not feasible for everyone to achieve elite status with an airline. However, if you frequently fly for business or pleasure and can group all of your tickets with one large airline, it may not be as challenging. If you fly enough to qualify, you'll receive benefits like priority boarding, instant upgrades, and free checked baggage.
Select the Appropriate Airline Credit Card
The top airline credit cards provide free checked luggage, and some even extend that benefit to other passengers on your route. You must apply for one of these cards to be eligible. Some airlines demand that you pay for your flight using the card to qualify for the free checked bag bonus.
Avoid Economy Class
A carry-on bag, let alone a checked bag, is not usually included in basic economy rates. This implies that if you wish to check a bag or take anything larger than a backpack or a purse on the airline, you'll have to pay baggage costs.
With these considerations in mind, you should avoid basic economy if you wish to select a seat and bring a carry-on bag without paying extra.
Don't Over Pack
Regardless of the airline you choose, you should be able to bring a carry-on bag and a personal item on your journey if you don't choose a Basic Economy rate or a flight with a cheap carrier.
How to Appeal for American Airlines Baggage Fees by Yourself
To appeal American Airlines baggage fees, American Airlines requires you to file claims by reaching out to the Airlines's customer support within 45 days.
How to Appeal American Airlines Baggage Fees If You Can't Do It Alone
If appealing for American Airlines baggage fees becomes tedious for you, DoNotPay can help you in 3 easy steps:
1. Search "appeal fees" on DoNotPay, choose the Fight and Waive Fees product, and select the type of fee you want to appeal.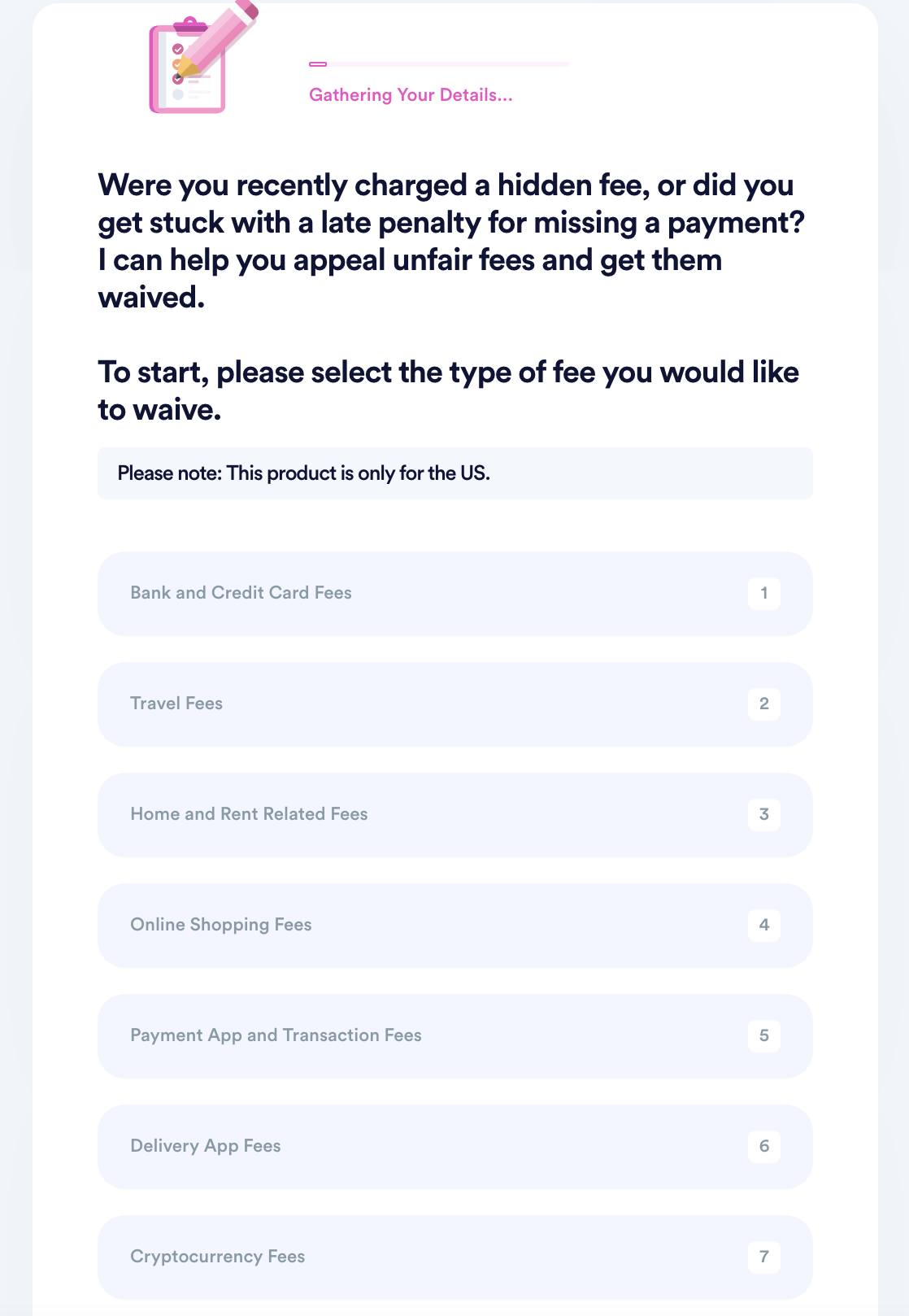 2. Select the merchant you want to appeal fees for and enter your transaction details, including an associated account if you have one.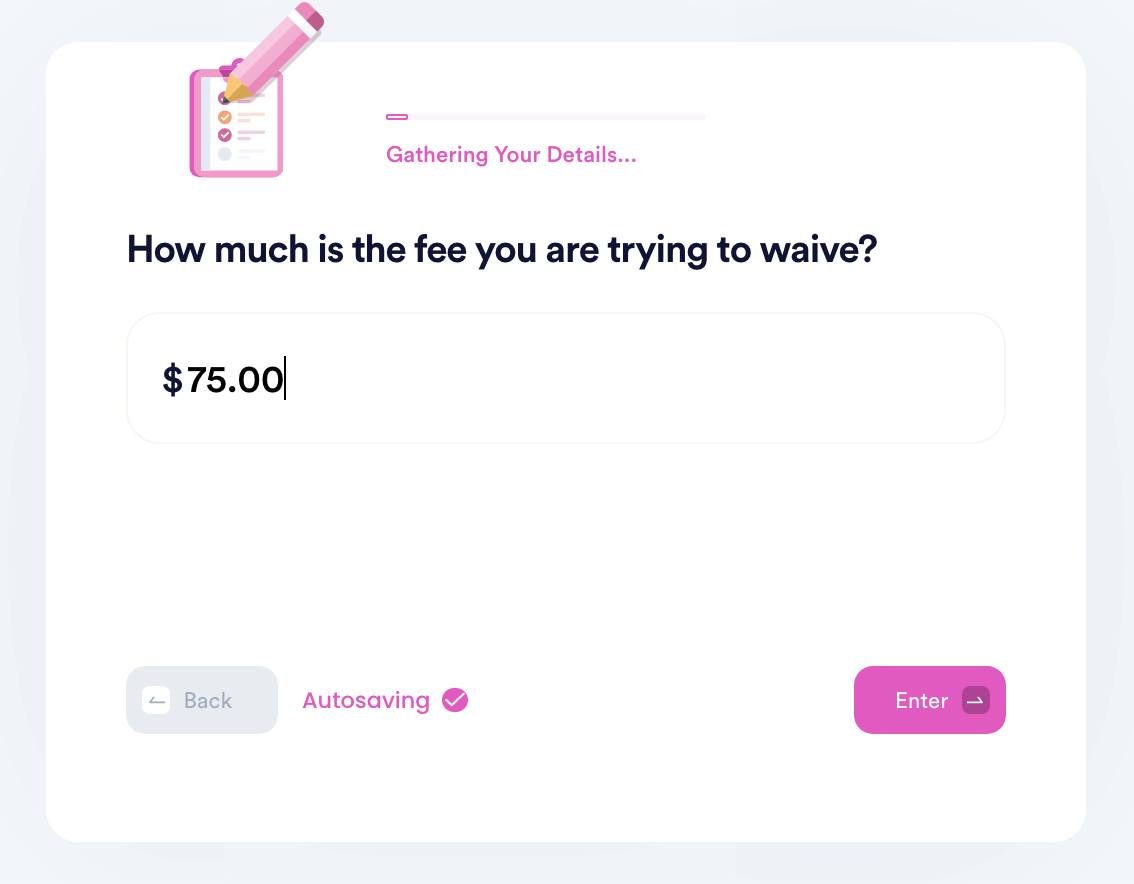 3. Submit your case! DoNotPay will generate the best argument for your case and make sure your fee waiver request gets sent to the merchant for processing.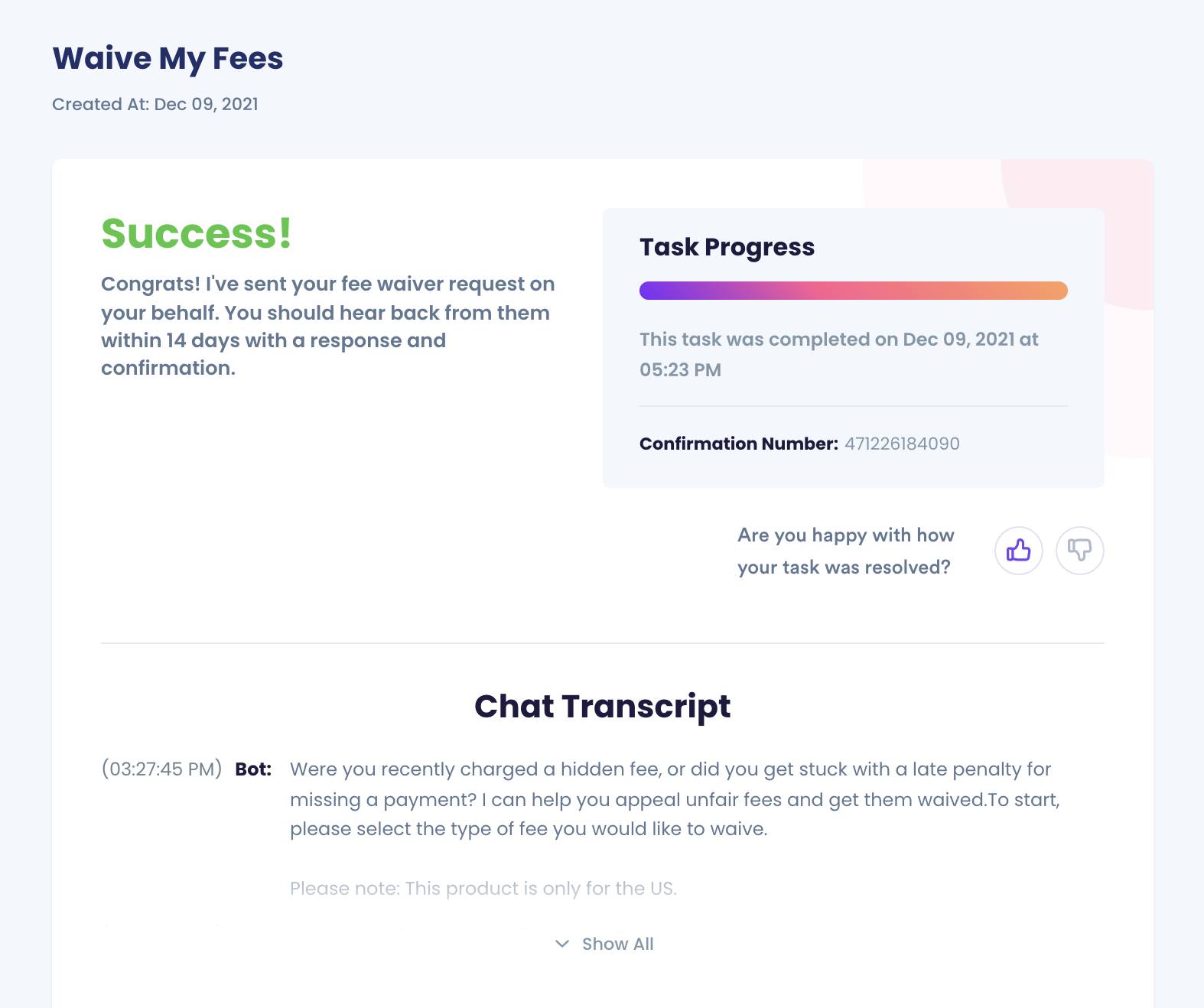 Why Use DoNotPay to Appeal American Airlines Baggage Fees
DoNotPay is:
Fast - DoNotPay will appeal your baggage fees promptly.
Easy - We will find ways to get through to the American Airlines support teams and honor your appeal.
Successful - You can rest assured knowing we'll make the best case for you.
DoNotPay Works Across All Companies with the Click of a Button
DoNotPay not only helps you but other fees including:
Robinhood

Shopify

Paypal Seller
What else can DoNotPay do?
DoNotPay not only appeals fees, but we also help:
Reduce your property tax
Contact us today at DoNotPay. We have your interests at heart!