How to Deal with Valet Parking Tickets In Two Minutes

The only thing worse than getting a ticket is getting a valet parking ticket. It's even worse if you got the ticket while driving a rental car.
Here's a clear guide to understanding valet services, how to deal with a valet parking ticket, and a stress-free way to contest your citation using
Valet Parking Services Explained
You may know them as the workers who smile at you and politely request your keys at a parking lot, but in fact, they are much more. Valet parking services are commonly known in the US as a hospitality service offered by most parking companies to ease the burden of parking for customers visiting a facility.
A valet service is a type of private parking service that employs drivers to safely park your car at the point of arrival and during departure. Valets are trained, courteous drivers who receive your vehicle at an entrance and help you park in a designated lot for a fee. The biggest advantage of valet services is in helping you save the time and energy of driving down to the parking lot and walking back to the entrance.
Dealing With a Valet Parking Ticket
When you pay for a valet parking ticket and hand over your vehicle to a valet service person, you enter into a contract to ensure the safety of your vehicle throughout parking. In some unique cases, the valet parking service company is supposed to be held responsible for any dent or damage that happened to the car while it was in their care.
If you got served a citation by the state authorities while your vehicle was under the custody of a valet service, it is their responsibility to refund you whatever expenses you may incur in your quest to clear your infringement. Typically, you have the option to pay or to contest your ticket depending on the circumstances surrounding the ticket issue.
Getting a valet parking ticket on a rental car
Getting a citation from a valet service provider on a rental car sounds like double jeopardy. This is because of the complexity of the situation. In such cases, the ticket is usually sent to the rental company which then notifies you of the infraction. It is up to you to contact the valet service to report the scenario and demand your reimbursement.
Bear in mind that most rental companies charge a percentage service fee for paying the fine on your behalf. If you have contacted the rental service and have credible reasons to believe your infraction was cited in error, you can go ahead and discuss your plans to contest the ticket with your rental company. Here are some of the top rental companies in the US:
Should I Pay or Contest My Citation?
Part of the dilemma that comes with getting a ticket is the decision to appeal or pay the fine. To help with that decision, here is an easy guide for you to use when deciding if you should pay or if you are better off contesting your ticket:
Pay your citation if...
Contest your citation if...

You believe you are guilty

You are convinced that the citation has been issued in error

You are unable to figure out a credible defense for your appeal

You are able to gather all credible evidence to prove

You have no trouble spending some extra money on fines

You have spotted errors in the ticket that nullifies the claim

You need help preparing an appeal

, but don't seen to find any one

You have already prepared

a reasonably solid appeal defense

You simply can't afford to pay another fine
I Want to Pay the Citation Instead
Parking citations have deadlines - a failure to clear them may result in additional fines as an immediate consequence. Regardless of the circumstances surrounding your ticket issue, it is always a good practice to pay them on time.
If your ticket has been issued by the state or county traffic board, you can look up their website to see how you can pay. Usually you have the option of in person payment, payment by mail, and online.
For private company-issued tickets, you should look up the company name to learn of its legitimacy and the process of paying the fine or contesting it.
Suing a Non-Compliant Valet Service
A valet parking service is expected to comply if they have been the cause of your ticket. In the event that they fail to do so, you can sue them in small claims court for compensation. This is also a service can help you with.
Win Your Citation Contest Using DoNotPay
DoNotPay takes care of all the legal requirements giving you a credible defense in minutes. DoNotPay is the world's first robot lawyer committed to solving hundreds of parking tickets on a daily basis. In 2016, when DoNotPay launched, it had a record 250,000+ parking tickets contested and achieved over 160,000+ wins in all contests.
helps hundreds of people daily to contest their citation in a fast and easy way. Here's the process to follow if you would like to use DoNotPay:
Go to

and create an account

Go to the Parking Tickets product and upload a photo of your ticket
Answer a few important questions regarding your appeal and explain why it was wrongfully issued
Tell us the state it was issued in
That's it! You'll receive a drafted appeal according to your state's traffic laws. You can also have DoNotPay mail the letter for you. Just wait for the outcome of your appeal after two weeks!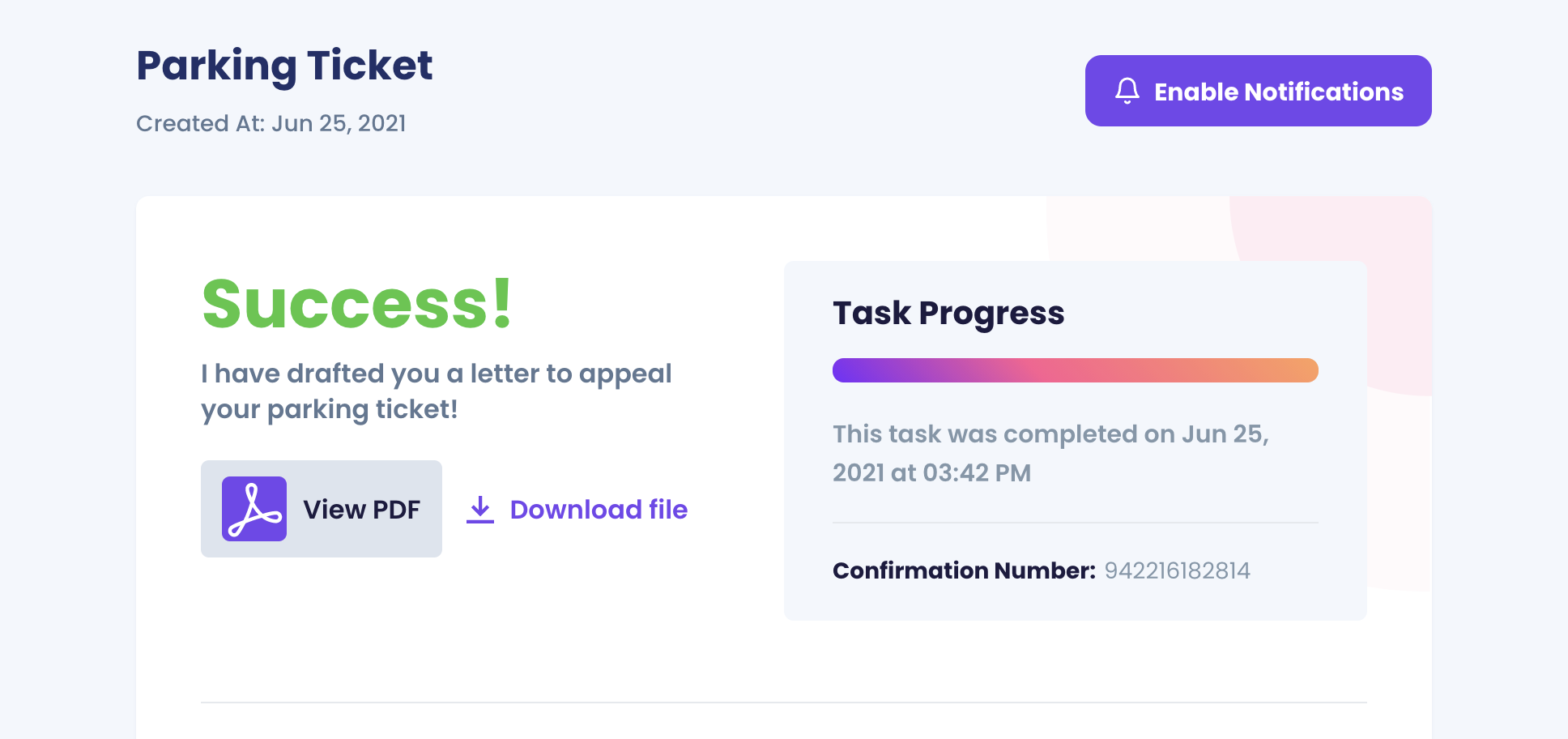 DoNotPay Does More!
Do you need help with anything else? Check out some other products: