How to Dispute UTK Parking Tickets
Most universities in the U.S maintain campus transport facilities through ticket fines and fees. The University of Tennessee Knoxville is no exception. It can be tough to pay for a university issued parking ticket, especially if you're a student trying to get through school on a budget.
This article will help you with tips on how to avoid getting a UTK ticket and how you can easily appeal if you got one.
Parking at University of Tennessee Knoxville
If you are a student or visitor of the campus, review these parking rules set by the university before driving:
Ensure you update your vehicle registration before getting a parking permit.

Avoid parking in reserved or unauthorized lots.

Fake, mutilated, or stolen permits are prohibited.

Avoid parking close to a fire hydrant, a street entrance, a walkway or in obstruction of a dumpster or the entrance to a building.

Avoid parking beyond the allotted time.

Disability parking spots are reserved for those with permits.

Avoid parking opposite the direction of traffic in a one-way street.

Abandoned cars will be impounded.

Getting over 6 citations in an academic year will forfeit your permit validity for the rest of the year.

Using more than one parking allotment is prohibited.
If you happen to receive a ticket by parking without a permit or in an unauthorized area, you can opt to donate toiletries or food items to the Smokey's pantry, a welfare assistance organization affiliated with the university, to excuse fines less than $36. Here's how you can utilize the program:
Request for dismissal of the citation within 13 days it was issued.

Bring at least 5 items to the Parking and Transit office located at

2121 Stephenson Dr

Show your citation to staff and begin the process if approved

Place the items in the donation bin
Purchasing a UTK Parking Permit
Depending on whether you are a student, a visitor, or a staff member, there are different permits available to you. Here are some of the common permits offered:
Special permits
This type of permit allows you to park in any unreserved area around the campus and is suitable for persons who require frequent movement. It can only be issued through a specialized process.
Sales and service permits
This is $170 per year or $5 per day. This permit is ideal for all sales and service representatives on campus.
Temporary permits
Temporary permits cost $5 per day for both students and staff and can be used in the event that you forget your permit at home.
Orange dot permits
These permits are created by departments and faculties during periods of occasion to allow students and visitors to gain access to parking lots around the school.
Parking Fines at UTK
Here are some of the common fines issued by the Parking and Transit department:
Parking offense
fine

Failure to

properly register your vehicle

$32

Fake or falsified registration

$250

Disability parking offense

$200

Fire lane obstruction

$42 + compulsory community service

Other parking violations

$24
Tackling your UTK Citation
In the event that you get served a ticket, you can choose to pay your fine or file an appeal.
If paying the fine is an option for you, then you have to do so early. Failure to pay your UTK fine can prevent you from registering for a new semester (if you are a student).

Not paying will prevent you from registering your vehicle or purchasing a permit.

A high number of unpaid citations can give reason for your dismissal.
Sometimes, a violation can be issued incorrectly. Should you choose to appeal, you'll have two weeks from the date of issuance to do so. You will incur an additional 50% penalty charge if you ignore the citation and do not pay it within the specified timeframe.
How to Appeal Your UTK Parking Ticket
UTK has a two-step appeal process. The first appeal process entails writing or calling the authorities to schedule an appeal. Afterwards, an in-person or call-in meeting will be scheduled for you to explain your case. This usually takes place at 2121 Stephenson Drive for all appealing offenders.
If your first appeal was denied and you want to continue, you can contact 865-974-6031 for further instructions.
Let DoNotPay Appeal Your Ticket for You
The biggest reason most people tend to shy away from appealing their ticket is the lack of information. Luckily, DoNotPay completes the entire process for you! Here's how DoNotPay works:
Create a

account and go to the Parking Ticket service.
Upload a photo of your citation and select the reason for your appeal.
Provide additional evidence and choose how you would like the appeal handled.
That's it! An appeal letter containing the relevant state traffic law will be generated for you in seconds. If you choose to have DoNotPay send it for you, the letter will be delivered within 10 days!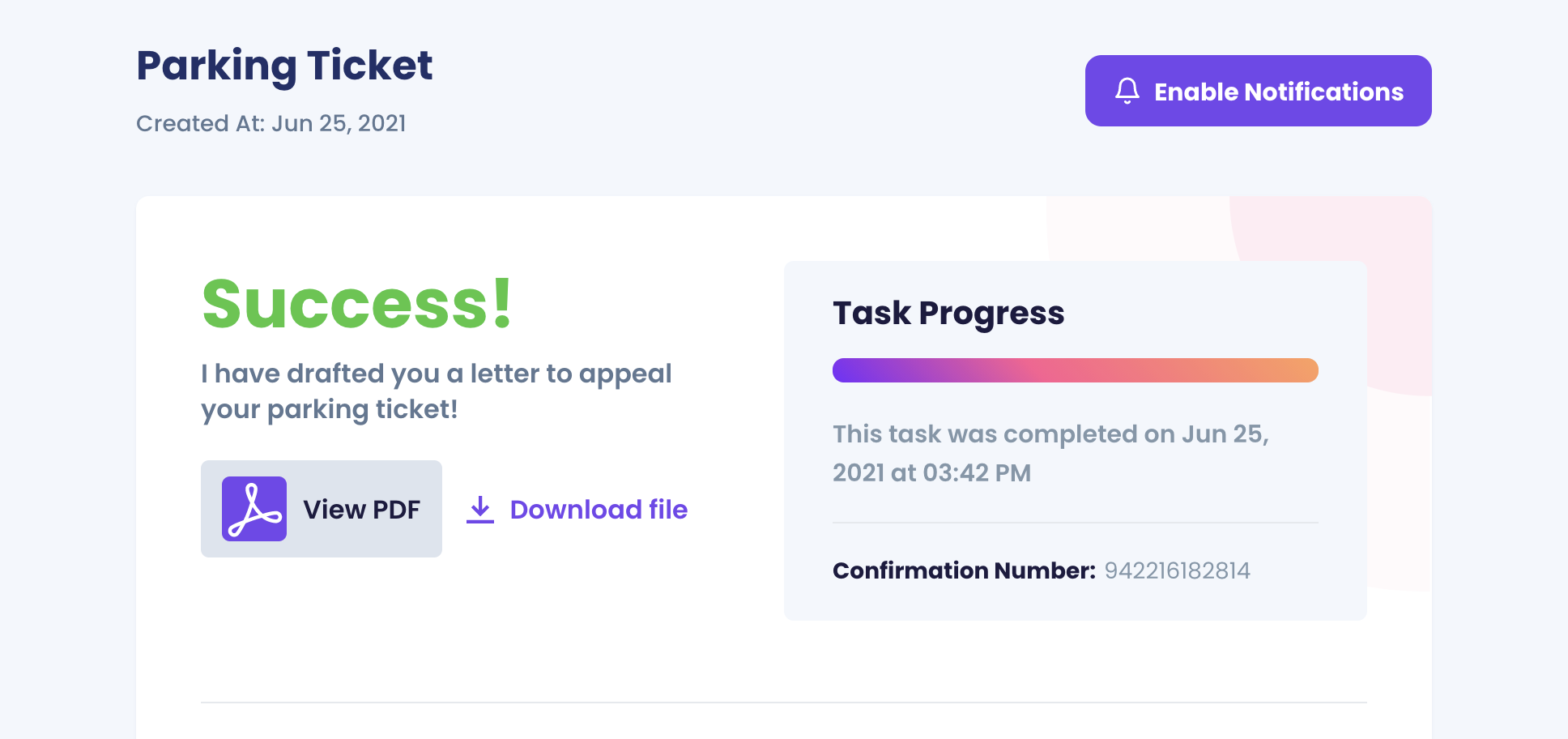 What Else Can DoNotPay Help Me With?
DoNotPay is your personal assistant and lawyer in one app! Have another legal issue? DoNotPay can help you with: