Disputing a UNLV Parking Ticket in 2 Minutes

The University of Nevada, Las Vegas's Parking and Transportation Services oversees the campus's transportation systems including parking. They research solutions to ensure safe and efficient parking systems. In this article, we will inform you how to settle a UNLV parking ticket and how to contest a citation quickly and easily.
How Much Are Parking Fines at the UNLV?
Vehicles that violate the parking regulations will be issued citations. These violations may include parking in a manner that is prohibited or declared to be in violation of the rules and regulations of stopping, waiting, or parking. Vehicles that are considered a nuisance may be subject to impounding by the parking and transportation services. The vehicles can only be claimed by the owner if payment of the citation fees and towing and storage charges are settled. The schedule of parking fines at the UNLV is as follows:
| | |
| --- | --- |
| Type of Violation | Fine |
| Improper Display of Permit | $10 |
| Meter Violation | $20 |
| Parked in Improper Zone | $20 |
| Timed Zone | $20 |
| Line Straddling | $20 |
| Double Parking | $20 |
| Blocking Sidewalk | $50 |
| Parked on Sidewalk w/o Permit | $50 |
| Parked on Lawn or Planted Area | $50 |
| Red Zone | $60 |
| Obstructing Traffic | $50 |
| Misuse of Permit | $50 |
| Designated No-Parking Area | $50 |
| Non-designated No-Parking Area | $20 |
| Reserved Parking | $60 |
| Lack of Permit | $50 |
| Possession of Stolen/Lost Permit | $200 |
| Towing | $75 |
| Privileges Suspended | $50 |
| Fire Hydrant/Fire Lane | $100 |
| Handicapped | $250 |
| Counterfeiting or Copying Permit | $500 |
| Boot Tampering Fee | $200 |
| Boot Fee | $60 |
| EPA Parking | $20 |
| Faculty Parking | $20 |
| Student Parking | $20 |
| Motorcycle Parking | $20 |
| Patient Parking | $20 |
| Preschool Parking | $20 |
| Resident Reserved Parking | $60 |
| Thomas and Mack VIP Parking | $20 |
| Vendor Parking | $20 |
Here are some parking tips the Parking Department provides for students, faculty, and visitors.
How to Pay for UNLV Parking Tickets?
You have 30 days to pay for a parking violation ticket. Any ticket fees that are not paid within the deadline are considered delinquent and will be subjected to double the fee. The different ways to pay for a parking ticket are as follows:
By using a credit card to pay for the citation

online

.

By visiting the Parking and Transportation Services office and paying in person by cash, check, or credit card.

By mailing the pre-addressed envelope on the ticket with a check payable to the Board of Regents and including the citation number on your check.
How to Appeal a UNLV Citation?
As long as the citation remains not delinquent, it can be appealed in writing by filling out an official arbitration form. To start the appeals process, here are what you need to do:
Go to the

Parking and Transportation Services

to fill out the form.

Pay the deposit equal to the citation fee so your appeal can be presented for arbitration.

The deposit will be refunded if the appeal is accepted.

The deposit will be used to pay the fee if the appeal is rejected.

Failing to file an appeal before 30 days from the citation date means forfeiting your right to appeal.

Delinquent tickets cannot be accepted for appeal.
Failure to Pay a Ticket Leads To...
Take note that there are penalties for unpaid fines. If you fail to pay the fine before the deadline, the fine doubles, and when the parking fees accumulate to $50, there are different scenarios on what could happen:
Students who have failed to pay the fines will be placed on hold and they will be prohibited from registering for classes or their grades and/or transcripts will not be released.

A red warning sticker will be placed on your vehicle's side window, which if still disregarded and the vehicle is parked on the compass, the vehicle will be impounded and the driver's privileges revoked.

If the boot is ignored, the vehicle will be towed without prior notice and the owner takes care of towing and storage fees.
If your car has been booted, call the Parking and Transportation Services office. To remove the boot on the vehicle, all outstanding fees must be settled by paying cash or credit card. The same applies to a towed vehicle, but fees need to be paid to the towing company instead.
Contest Parking Tickets in UNLV with your Robot Lawyer
Fighting a parking ticket on your own requires an investment of time and effort. You should expect to spend a few hours in court and in preparing for trial. You may also need to go through some amount of stress when you prepare the documents and evidence needed for the in-person hearing. Another option is to hire a parking ticket attorney but this also comes with excessively high attorney fees. That is where can help. Our AI lawyer has been helping users contest citations without stress and headache. We have a success rate of 60% challenging and winning the tickets. Here's how to use DoNotPay to appeal your UNLV parking ticket:
Create an account on

Head over to the Parking Tickets product
Provide a photo of your ticket
Tell us why you believe the ticket should be appealed
Decide whether you want DoNotPay to send the appeal for you
That's it. Once you're done, all you have to do is wait for a response from UNLV!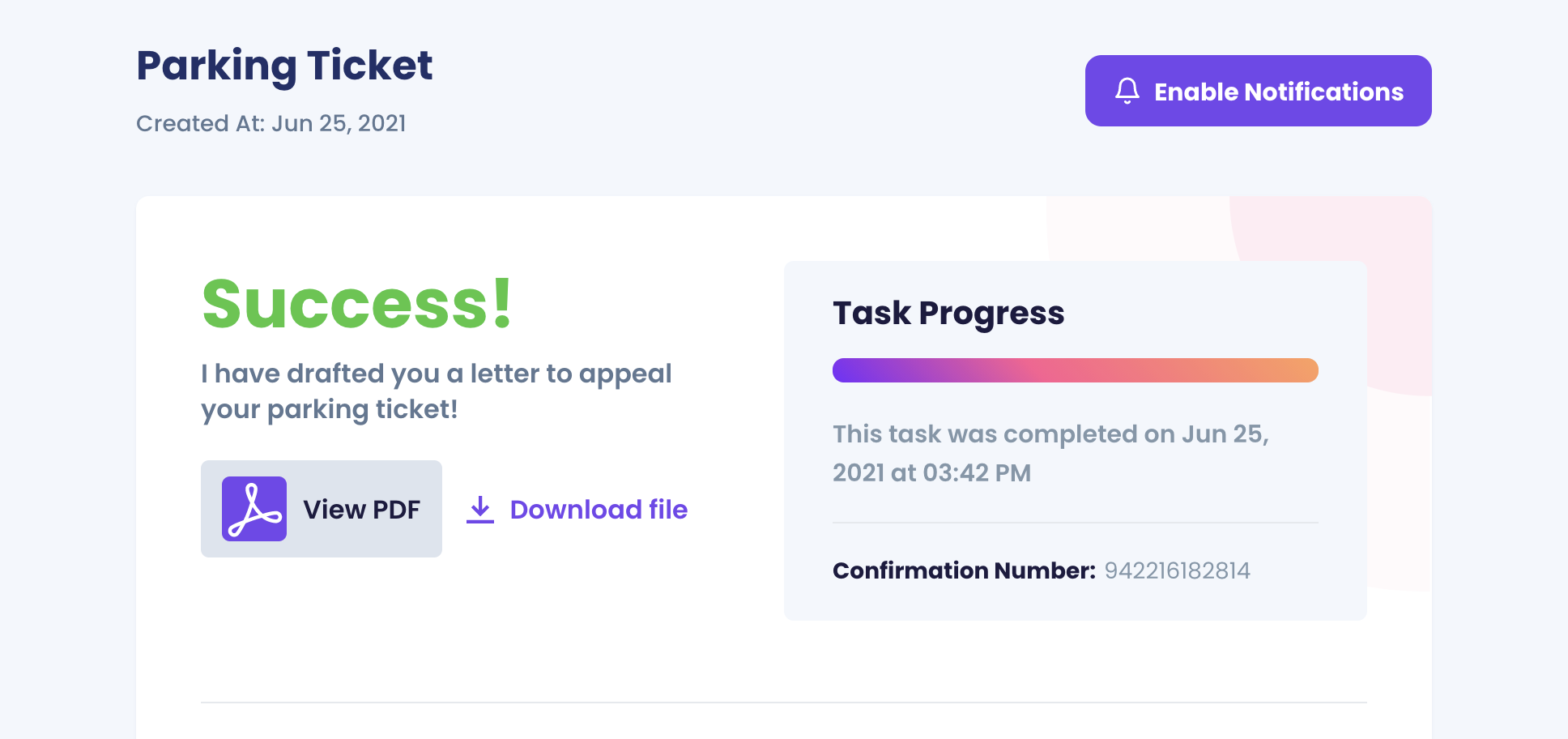 DoNotPay Has Got it All