I Got a UNL Parking Ticket - Now What?

The University of Nebraska - Lincoln (UNL) Parking & Transit Services is the governing body for vehicle registration, parking, and enforcement for students, faculty, staff and guests at UNL. The office is tasked with ensuring that campus parking and transit is safe and efficient. In this article, we will provide a guide on what to do with parking tickets issued at UNL and how much you can expect to pay if you violate a parking rule.
Schedule of Parking Violation Fees
You can be issued a citation when you violate rules, regulations, or parking use agreements. To avoid tickets, make sure to take note of guidelines and avoid parking in prohibited spots. These spots could include areas where there is a 'No Parking' sign posted, curb zones in red, yellow, or blur, pedestrian crosswalks, construction sites, barricaded areas, or broken meters. Here are some of the parking fines that could be levied upon you when you violate UNL's rules:
| | |
| --- | --- |
| Violation | Fee |
| Overtime | $10.00 |
| Expired meter | $15.00 |
| No valid permit displayed | $40.00 |
| Improper Display of Permit | $30.00 |
| Unauthorized parking by a registered UNL vehicle (student, staff/faculty, or vendor/contractor) in a visitor's lot | $30.00 |
| Parking in an unauthorized area | $40.00 |
| No Parking Area | $35.00 |
| No Parking Area Meter; Fail, Dead, or Out of Order | $30.00 |
| Improper Parking | $30.00 |
| Unauthorized parking in a fire lane | $100.00 |
| Failure to provide notice of registration change | $10.00 |
| Failure of faculty/staff or student to register vehicles parking on campus | $50.00 |
| Falsifying permit application | $100.00 |
| Displaying Counterfeit Permit | $200.00 |
| Displaying Stolen Permit | $200.00 |
| Unauthorized parking in a space or access aisle reserved for the handicapped - First offense | $150.00 |
| Unauthorized parking in a space or access aisle reserved for the handicapped - Second offense within 12 months | $300.00 |
| Unauthorized parking in a space or access aisle reserved for the handicapped - Third/subsequent offense within 12 months | $500.00 |
| Filing a false lost/stolen permit report | $100.00 |
| Tamper/Remove Immobilization Device | $200.00 |
| Failure to Pay on Exit | $30.00 |
| Misuse of Permit | $50.00 |
| Illegal Entry/Exit | $35.00 |
| Damage to Property | $100.00 |
Towing and Immobilization Policies at UNL
If you repeatedly violate these rules or commit more severe violations, your vehicle may be subjected to immobilizations. These violations may include the following: 
Nuisance vehicles that receive five citations within a 30-day period.

Vehicles that do not display a VIN number will be issued a citation and towed immediately.

Vehicles that have any unpaid citations or after 30 days or after 14 days from the Parking Appeals Committee decision.

Vehicles that are improperly parked in a way that blocks traffic, the use of parking facilities, the operation of emergency facilities, or the provision of services.

Vehicles illegally parking on reserved stalls or any space not intended for vehicles.

Any vehicle using a counterfeit parking permit.

Vehicles parked in tow zones.

Vehicles released from impoundment without due authorization.

Vehicles banned from the campus or not authorized by UNL Parking and Transit Services.
How to Pay a UNL Citation
If you receive a UNL ticket, you are required to pay the fine in a timely manner. Take note that you may not be able to apply for the issuance of transcripts, diploma, and registration, and/or renewal of vehicle permit if you have unpaid citations. There are different ways to pay as follows:
By paying

online

 

By making a check payable to the University of Nebraska - Lincoln and mailing the payment to: 

Parking and Transit Services,

UNL, Stadium Drive Parking Garage, 625 Stadium Drive, Ste. A, Lincoln, NE, 68588
How to Appeal a UNL Ticket
If you believe that the citation is not in accordance with the UNL Parking Rules and Regulations, you may appeal the citation at the Parking Appeals Committees. Take note that disputing a ticket is not an avenue for criticisms, complaints, or debates. For your appeal not to be invalidated, make sure to provide substantial evidence that will prove that the violation was not committed or that the instances were out of the driver's control. The appeals process is as follows:
Complete the appeal form and submit it within 14 days of the citation date. You may submit it

online

or mail an appeal letter to the Parking and Transit Services office.

The Parking and Transit Services office will review the appeal form and make a decision based on the evidence provided.

If the appeal meets the established requirements, it will be escalated to the Parking Appeals Committee for consideration. Otherwise, it will be reverted to the appellant for payment.

The UNL Parking Appeals Committee will set a hearing date. In the hearing, the Appeals Committee may uphold, dismiss, or alter the violation. 

Attend the hearing. If you are unable to do so, inform the Parking and Transit Services before 12 NN of the hearing date. No show will result in automatic denial of your request.

If the appeal is granted, any prior payment will be refunded.
Contest Parking Tickets in UNL in Minutes
If you dispute a citation by yourself, be prepared to invest time and money into the process. There will be lengthy documents to draft and hearing arguments to prepare. Hiring a legal expert can make the process painless. Or you can choose DoNotPay to help you. Our AI lawyer can help users appeal a ticket without the stress or the high costs:
Log-in to

DoNotPay

and select the Parking Ticket service
Tell us which state the ticket was issued in
Upload a photo of your ticket
Provide details on why you don't deserve the ticket
Have DoNotPay mail the appeal or choose to send it in yourself
After your request is submitted, an appeal letter will be written for you! You'll just have to wait for a response from UNL!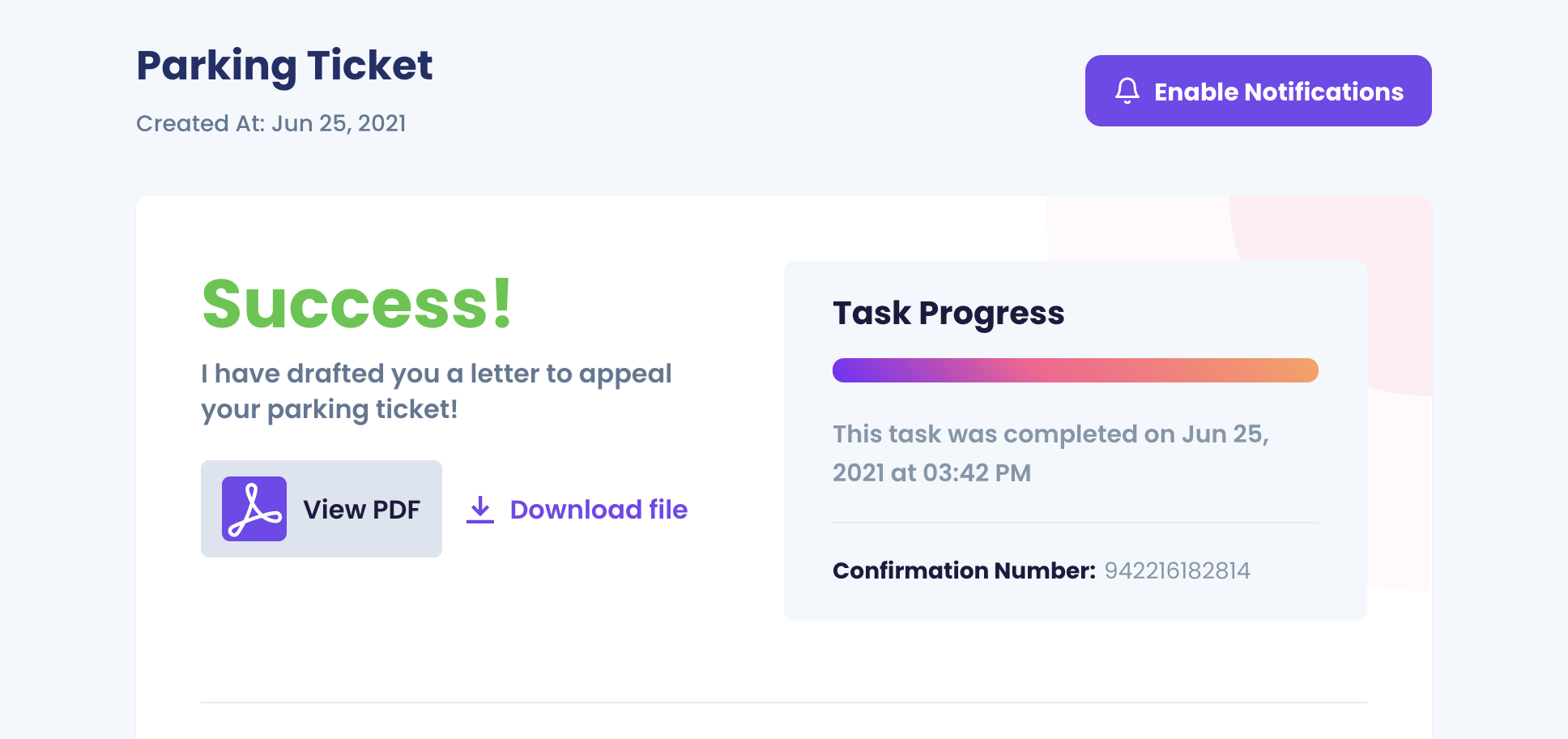 DoNotPay Can Help With More!
DoNotPay doesn't stop at helping you write cease and desist letters. The AI-powered robot lawyer can help you with day-to-day issues such as cancelling subscriptions, creating passport photos, appealing parking tickets, and so much more! Here's what else we offer: