Unclaimed Money in Maryland—Everything You Need To Know
Each U.S. state returns six-figure sums to its citizens annually within the unclaimed property program.
Maryland is no exception. Still, these amounts are significantly smaller than those still held by the state and awaiting their rightful owners. The Comptroller's Office in Baltimore currently holds nearly $980 million in unclaimed money waiting to be collected.
We have created this guide that explains everything you want to know about unclaimed funds. We will also give you some valuable tips for finding and claiming your long-lost money according to the Maryland rules if you are (or you were) a resident of this state.
What Is Unclaimed Money?
Unclaimed money represents the funds that weren't collected by their legal owners and ended up as the property of the state.
Holders—institutions such as banks, insurance companies, and other organizations in Maryland—must report all the funds that weren't claimed by their rightful owners within a specified time frame called the dormancy period. This property is taken over by the state of Maryland until a person who is entitled to it claims it.
One of the great sides of programs like these is that there are no time limits. If you are the legal owner, you can claim your property at any time, regardless of how many years have passed.
Types of Unclaimed Funds and Their Dormancy Periods
Unclaimed funds include any amount of money under your name you might have forgotten about. This involves numerous examples, and you can see some of them in the table below, along with their dormancy periods:
Unclaimed Funds
Dormancy Period

Gift certificates

Utility deposits

Estate proceeds

Unclaimed refunds

Official bank checks

Uncashed payroll checks

Unclaimed pension checks

Items from safe deposit boxes

Three years

15 years

60 days
Why Is There So Much Unclaimed Money in Maryland?
According to the info on the Comptroller's Office website, this state makes sure to advertise its unclaimed property program.
This is a rare case as other states usually leave it to the owners to search for their property without any reminders. The advertising system has been functioning but without any significant results.
The funds usually become unclaimed when the owners:
Don't collect requested refunds

Forget to pick up paychecks from their previous workplaces

Open a new account in a different bank without withdrawing the money from the previous one

Change their physical address, which makes it impossible for the companies who owe them money to locate them
Among other reasons, there's also a feeling of insecurity because of the seemingly complicated claim process. Many people believe that they don't have a right to claim the funds or are suspicious about scams. This is why the following lines will explain the claim procedure in detail and help you obtain your funds quickly and safely.
How To Track Down and Get Your Unclaimed Money in MD on Your Own
Before you file a claim, you need to check whether you are entitled to any unclaimed funds. You can do it by searching the Comptroller's Office website.
How To Track Down Your Unclaimed Money via the Comptroller's Office Website
Here are the steps you need to follow if you want to search for your funds via the official website:
Go to the

Homepage

Find the

Unclaimed Property

section and click on it

Click on

Find Your Unclaimed Property

Enter your first and last name and tap on

Search

Write down the claim number
How To File a Claim and Get Your Unclaimed Funds in Maryland
Once you obtain the claim number, you can file a claim on the Comptroller's office website. Here's what you should do:
Go to the

Unclaimed Property

page and click on the

Claim it!

hyperlink

Click on

Submit Your Claim

and download the form

Print out the form and complete it, disclosing all the necessary supporting documents

Mail your claim to:
Comptroller of Maryland—Unclaimed Property Unit
301 West Preston Street, Room 310
Baltimore, MD 21201-2385
In case you have more than one claim number, you need to print a form for each of them, but you can send them in a single envelope.
What Documents Do I Need To File a Claim?
The purpose of supporting documents is to prove your ownership and help you obtain unclaimed property under your name.
To make your claim complete, you need to disclose a copy of any personal identity document containing your Social Security number, as well as one of the following:
An insurance policy or statement

A certified or traveler's check

A bank statement or canceled check

A stock certificate if claiming inactive stocks

Proof of employment or previous employment

Proof of affiliation with a specific company if claiming dividends
How To Find and Claim Your Funds in Maryland With DoNotPay
What if we tell you that we can make this whole procedure much simpler? With DoNotPay, you can find unclaimed money and file a claim in a few minutes, without having to print forms or go to the post office to mail them.
Another amazing perk you get with our app is the possibility of tracking unclaimed property in other states you lived in.
Here are the instructions you need to follow to find and claim your funds using our app:
Open DoNotPay in your

Choose the

Missing Money

option

Input your first and last name, as well as your current and previous address(es)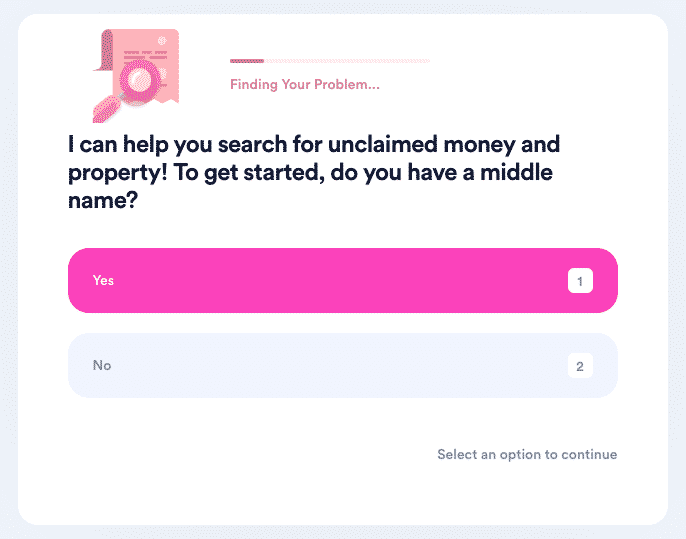 Once you review the results and confirm you have some unclaimed funds, you can choose the Claim My Property feature, and we will file a claim on your behalf.
More Money Issues? Let DoNotPay Take Care of Them
Our advanced search tool will help you track down unclaimed properties in other states as well, including Ohio, Alaska, Nevada, Montana, and Kentucky.
Apart from teaching you how to claim what's yours, we also share amazing tips for saving your hard-earned money by lowering your cable, water, electric, or heating bills and canceling the services you don't need anymore.
Has any company wronged you and failed to provide a good service to you? Use our AI-powered system to demand a refund from anyone, including Apple, Google Pay, Western Union, and many more.
These aren't the only features DoNotPay offers—make sure you check out the full list of assets we have in store. You can do it by accessing our app from your and let us assist you with:
Disputing traffic tickets the easy way

Fighting speeding tickets efficiently