The Ins and Outs of
Unclaimed Money in PA
If there are billions of dollars waiting for their rightful owners to show up and claim them, why is it hard to believe that some of that cash is yours? You can find out if there's a match for you in Pennsylvania easily with DoNotPay's help!
What Is Regarded as
Unclaimed Money in PA?
If assets have been left without any contact for a few years, the state will consider it unclaimed money. One out of ten people in Pennsylvania has abandoned assets waiting for them. The State Treasury in PA is in charge of keeping the money safe until someone who has the right to claim it shows up.
There are more than three billion dollars in the Keystone State that should be distributed among the rightful owners. You can find out if you are among them easily by using DoNotPay!
DoNotPay Can Help You Find
Unclaimed Money in Pennsylvania

Do you want to find out whether any of the unclaimed money in Pennsylvania belongs to you? Look no further than DoNotPay! We have all the necessary tools to perform an efficient search in a few clicks. Heed these instructions:
Access DoNotPay from any

web browser

Navigate to and choose the

Missing Money

feature

Type in your personal info, including any previous addresses
DoNotPay's useful services don't stop there. Once we perform the search and find a match, we will submit the claim in your stead. You only need to choose to do so using our Claim My Property feature.
The more information you include, the better the chances of finding money under your name are. You can add your middle name—for example—to narrow down the search.
If you want to find out how the search by Social Security number for unclaimed money is performed, you can turn to DoNotPay for help. We have all the details about unclaimed money from deceased relatives and insurance policies as well.
We can also tell you how to find pension money.
Pennsylvania Unclaimed Money
—How To Find It on Your Own

In case you decide to look for abandoned funds in PA on your own, you can do so online. These are the steps you'll need to follow:
Visit the Pennsylvania Office of the State Treasurer website

Enter your last name

Complete the optional fields for a better search

Click on the

Search

button
Once you perform these steps, you'll see rows in three colors:
Green

—You'll need to get in touch with the office to determine eligibility

Gray

—They show joint owner property records

White

—They show single-owner property records
Since the process is more complicated than the DoNotPay one, you'll probably have to contact someone for help. You can do so by calling 1(800) 222 2046 or sending an email to tupmail@patreasury.gov.
What Are the Types of
Unclaimed Money
According to the
PA State Treasury
?
Unclaimed assets come in various forms. This table covers everything the State Treasury in PA considers unclaimed money:
Is It a Type of Unclaimed Property in PA?
Yes
No

Commissions

Certificates of deposit

Vendor payments

Checking accounts

Utility deposits

Tangible property

Dividends

Accounts payable

Escrow accounts

Gift certificates

Mineral proceeds

Lay-a-way deposits

Fiduciaries

Life insurance

Official bank checks

Refunds and rebates

Safe deposit box contents

Money orders

Savings accounts

Securities

Traveler's checks

Utility refunds

Wages

Boats and cars

Land

Taxes
DoNotPay can help you find abandoned assets no matter the type!
How Do Assets Become Unclaimed in Pennsylvania?
It is not difficult for people to lose their property in any state, including Pennsylvania. Here are some of the most common examples:
Quitting a job without claiming the final paycheck

Not processing refunds properly

Not knowing about a bank account in your name

Changing residence without informing anyone about it
Sometimes, it is the owner's fault. Other times, a bank could make a mistake. It's enough to misspell a name for the owner to lose contact with the money. 
Is There a Way To Prevent Money From Becoming Unclaimed?
Now that you've found unclaimed money under your name, how can you prevent any of your assets from becoming missing ever again? No one can promise you complete safety because mistakes are a part of life, but there are some ways to lower the chances. You can do so by:
Monitoring your bank accounts and utility deposits

Taking money from your bank accounts yearly

Letting adequate people know any about address changes

Cashing your checks frequently

Maintaining contact with financial institutions regularly

Not ignoring the emails you receive from banks
How To Avoid Unclaimed Money Scams in PA
There are many scammers out there, and even with unclaimed funds, you need to be careful who you trust. Take a look at the list below to see the most common examples that can help you recognize a fraud. The scammer will usually:
Send a letter that says they work for a government institution even though there is no actual proof

Claim the info you received is confidential

Present the unclaimed money as a prize

State there is some

problem with your account, so you have to verify your information

Ask you to speed up the process of claiming the money, even though you don't have a time limit to do so

Request you send money to be able to claim money
DoNotPay Is the Champion of Customer Advocacy

If you've never experienced an issue with a purchased item, you should consider yourself extremely lucky. When shopping goes wrong, you usually have to brace yourself for unpleasant and annoying exchanges with customer support centers. 
DoNotPay is here to make exercising your consumer rights easy. Long holds when calling customer service reps and incessant marketing spam emails can stay in the past. We will help you avoid irritating text messages from online retailers by teaching you how to bypass phone verification when signing up. 
Ask for refunds, claim warranties, fix credit card issues, or sue retailers in small claims court—these are just some of the services our platform provides. 
With DoNotPay, you can start free trials for new services risk-free. If you want to get out existing subscriptions, canceling them has never been easier!
Wait, There's More!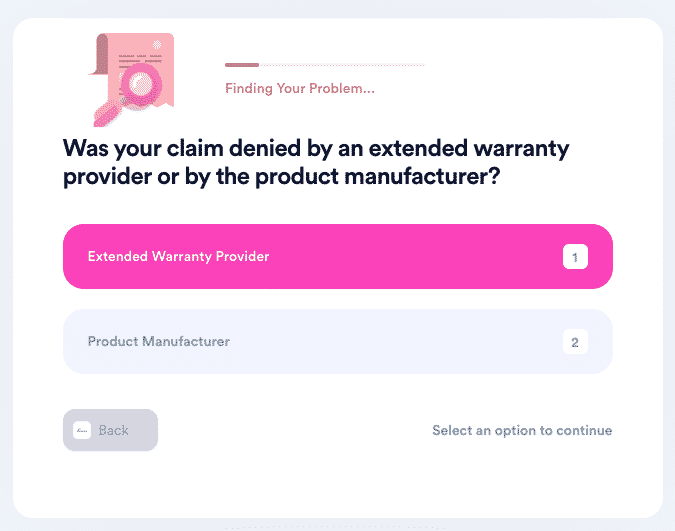 Our full portfolio includes features as diverse as contacting inmates and requesting college application fee waivers for students from low-income families. 
If you have a problem with bureaucracy, the chances are DoNotPay knows how to fix it with your minimal involvement. 
Leave the grunt work and unnecessary expenses behind. We will help you pass various government tests with flying colors, find unclaimed money in all states, or get out of parking tickets before you know it!