Contest UMD Parking Tickets Easily
The University of Maryland is situated in the city of College Park and is home to more than 40,700 students and 14,000 staff members. Because the university is located in a suburban area, driving and parking is accessible and convenient.
Parking regulations are administered by the university's Department of Transportation Services (DOTS). The department issues parking permits and citations; it also handles appeals and transit schedules.
This article will go over the parking regulations implemented by the university, permits offered for sale, and the correct process for contesting citations. At the end, learn how can help appeal your ticket with little effort!
Parking Violations at UMD
The Transportation Department enlists the use of a fees and fines structure based on the type of violation.
Violations considered a "nuisance" can cost you anywhere from $15-$45

Violations considered an "inconvenience" will be $85

Safety violations cost $300

Violations associated with fraud will cost a hefty $300-$500
Staff, visitors, and students are responsible for following the parking schedule set by the university. Here is a table of violations and the fine that comes with each:
| | |
| --- | --- |
| Violation | Fine |
| Risking public safety | $100 |
| Parked outside of marked lines | $15 |
| Expired meter/pay station | $45 |
| Illegally parked in a Courier/Service-only spot | $85 |
| Parked in an undesignated area/restricted lot | $85 |
| Illegally parked based on DOTS signs | $85 |
| Illegally parked in fire lane | $150 |
| More than one vehicle/registrant parked on campus concurrently | $170/ vehicle |
| Fraudulent use of registration/documents | $300 |
| Illegal use of state issued disability permit | $500 |
The full list can be found on page 39 of this document.
Parking Permits Available at UMD
Permits are different for students, faculty, and contractors. We'll go over student permits in this article, but you can find all of the permits offered by the university here.
A parking permit is necessary if you want to leave your vehicle on campus. Here are the 2021 prices of student permits based on term and vehicle type:
| | | | |
| --- | --- | --- | --- |
| Academic Term | Student resident | Commuter | Moped/Motorcycle |
| Annual | $650 | $336 | $168 |
| Fall Only | $390 | $202 | $101 |
| Spring Only | $325 | $168 | $84 |
| Summer Only | $325 | $168 | $84 |
Students can park in areas assigned to them only.
Daily parking without the need of a permit is also available on designated lots and payment can be done through meters and pay stations.
I Got a Parking Ticket at UMD
Did you end up getting a parking ticket on campus? You have three options - pay for it, appeal it, or ignore it. We do not advise leaving your ticket unpaid, as it can hurt your chances of receiving a diploma (if you're a student) and mark a dent on your credit. We'll go over how to pay or contest the citation on your own.
How to pay
If you believe you're in the wrong, you can go ahead and pay the fine. You have 15 days from the date the ticket was issued to pay for it. Pay by:
Going

online

Mail - send in a check or money order to Department of Transportation Services, University of Maryland, 8056 Regents Drive College Park, MD 20742

Going in person to

Regents Drive Garage
How to appeal
If you have reason to believe the citation was wrongly issued, you have the option to appeal it! You have 15 days from the date the ticket was issued to do so. Some ways to appeal are:
Complete an

online form

By mail or in-person

Real-time video (Zoom) - schedule an appointment by emailing

transportation@umd.edu
DoNotPay Can Appeal Your Ticket!
Let the world's first robot lawyer handle your appeal for you. DoNotPay contested over 160,000 tickets successfully, so let's work on yours next! Here's how:
Log-in to

and click on the Parking Ticket service
Upload a photo of your ticket
Explain what's wrong with the ticket

We'll generate an appeal letter that contains an appropriate state law! DoNotPay can mail it for you or you can send it in yourself. How easy was that?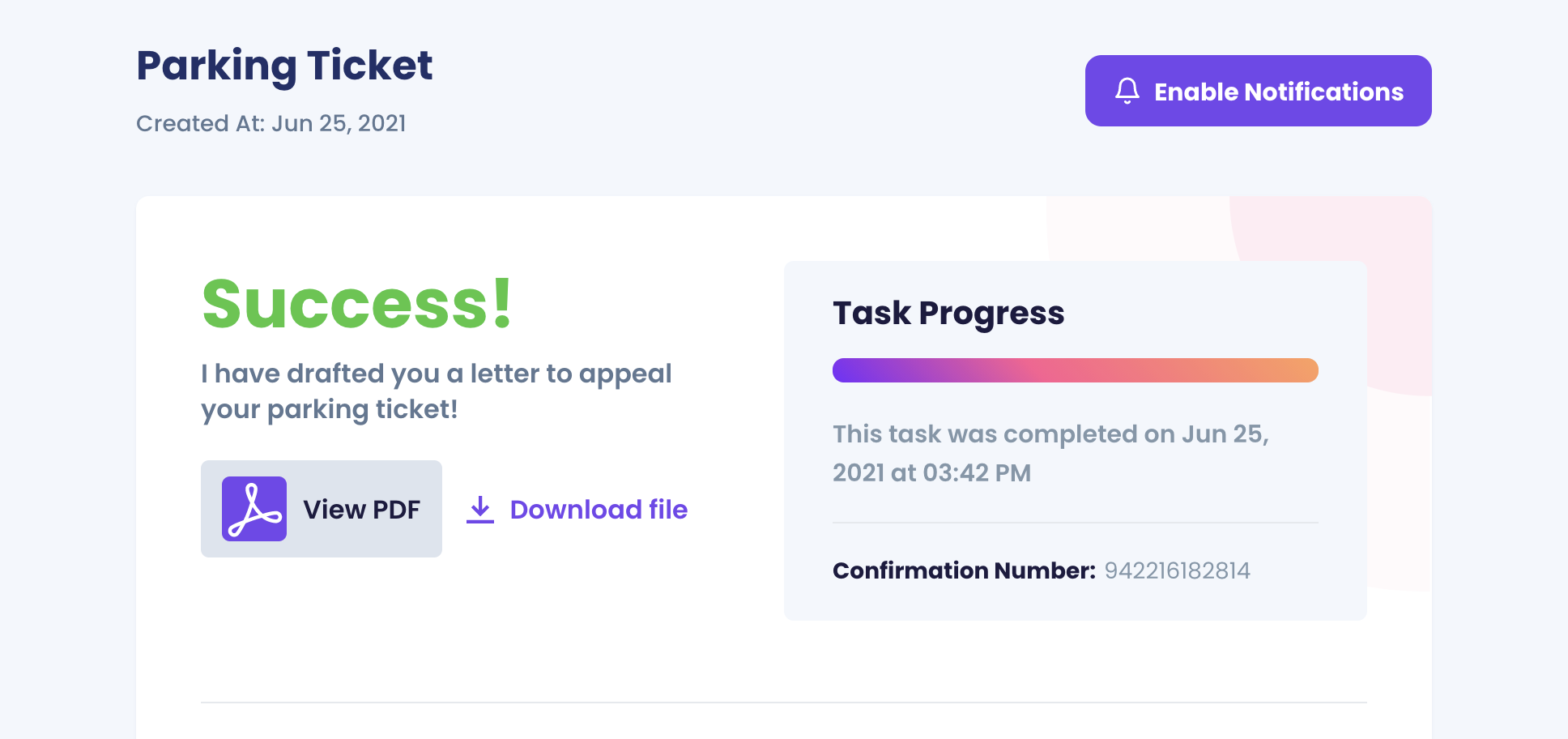 DoNotPay Does More
DoNotPay is your personal assistant and lawyer in one! Have another legal issue? DoNotPay can help you with: