Waive Sun Country Baggage Fees With the Help of DoNotPay
Since it commenced operations in 1983, Sun Country Airlines has been known for its ultra-low flight prices. Today, the Minnesota-based airline offers service to more than 50 destinations across the United States, Mexico, Central America, and the Caribbean. Sun Country baggage fees are one of the primary ways this airline can offer such low fares.
Sun Country Airlines charges for almost all luggage (including standard carry-ons), so you shouldn't expect to have any free checked bags or even a standard carry-on included with your fare. You'll need to pay for each bag you want to check and bring aboard the plane, except for a small personal item or medically necessary gear.
To help you plan your trip better and save you money, we'll explain the  policy and how you can waive or appeal your baggage fees with DoNotPay.
What Are Sun Country Airlines Baggage Fees?
 are applied for each bag, per person, and are priced each way. The baggage fees also depend on when and how you purchase your baggage. For example, baggage fees are more expensive after you've made your reservation and even more expensive at the airport. Adding a bag option at the ticket counter is the most expensive option compared to adding one when making a reservation or during online check-in.
Here's what you can expect:
Sun Country Airlines Personal Items
Sun Country's aircraft fleet is not equipped with closets or other areas for stowing items. So items that cannot be stowed in the cabin must be checked or not carried. 

All Sun Country flights allow passengers to take one personal item that can fit under a seat for free. This may be a purse, backpack, duffel bag, or another item if it fits under the seat in front of you. You can take a stroller or baby car seat onboard free of charge, but it will be counted as your carry-on luggage.

According to Sun Country Airlines policy, this item cannot be larger than 17 x 13 x 9 inches. You can bring your backpack as a personal item as long as it can fit under the seat and complies with the stipulated dimensions.

Sun Country Carry-On Luggage Fees
While most airlines offer at least one free standard-sized carry-on luggage, Sun Country Airlines charges for all carry-on baggage. Carry-on items intended for the overhead bin cannot be larger than 24 x 16 x 11 inches (including handles, wheels, or any other protruding items) and no more than 35 pounds. Basically, it must fit inside the sizer box, which is conveniently at the ticket counter or the gate. If it's larger than these measurements, then the check-in agent has the right to check your bag, and you'll pay additional charges of up to $45.

The price to add a standard carry-on bag can vary depending on when you pay for it. For example:

At the time of booking online: Up to $30 (it depends on the route you fly)
At the time of booking via the contact center: $35
Online post-booking or during online check-in: $40
Post-booking via the contact center: $38
At the airport: $40

Sun Country Airlines Checked Baggage Fees
Sun Country Airlines charges for all checked bags. Individual checked bags may not exceed the maximum linear dimensions of 62 inches, including handles and wheels, and the maximum weight for checked bags is 50 pounds. Overweight checked bags are subject to additional charges. Specific fees for checked bags will vary depending on how many bags you need to check and when you choose to pay for them. Keep these costs in mind:

During online booking: Up to $30 for the first bag and $40 for the second and third bag
After online booking or during online checking: $35 for the first bag, $45 for the second, and $50 for the third bag
At the time of booking at the contact center: $35 for the first bag, $45 for the second, and $50 for the third bag
Post-booking at the contact center: $40 for the first bag, $50 for the second, and $60 for the third bag
At the airport: $40 for the first bag, $50 for the second, and $60 for the third bag

 Sun Country Airlines Excess Baggage Fees
Checked bags weighing 100 pounds or more are not accepted on any Sun Country flight. Additionally, checked bags weighing 70 pounds or more are not accepted on flights to or from Jamaica and Puerto Rico. Here are Sun Country baggage fees for oversized and overweight bags: 

51-60 pounds: +$20
61-100 pounds: +$60
63+ linear inches: $100
Special sporting equipment: $100 (includes scuba-diving and windsurfing equipment, bicycles, surfboard, wakeboard, and kiteboards)
How to Waive Sun Country Baggage Fees
While Sun Country Airlines doesn't have the most generous baggage policies in the industry, there are some ways you can avoid Sun Country baggage fees: 
Use your military ID: Sun Country Airlines allows active-duty US military personnel to bring two free checked bags and one free carry-on bag. If the checked bags are overweight or oversized, those fees will be waived for up to two checked bags.
Join Sun Country Rewards: If you do a lot of flying with Sun Country Airlines, you may want to consider becoming a member of their rewards program. Sun Country Rewards members who book a qualifying vacation may also be eligible for additional baggage allowances, such as a free checked bag or a discount on carry-on luggage.
Buy a first-class ticket: Passengers who hold full-fare First Class tickets when checking baggage and ticketed passengers who purchase upgrades to First Class through Sun Country Reservations or at the airport are allowed to check two bags free of charge.
Sign up for the Sun Country Visa Signature Card: You get 50% off the first bag purchased online via the contact center.
DoNotPay Can Help You Waive Sun Country Baggage Fees
Here's how you can use DoNotPay to waive Sun Country baggage fees:
1. Search "appeal fees" on DoNotPay, choose the Fight and Waive Fees product, and select the type of fee you want to appeal.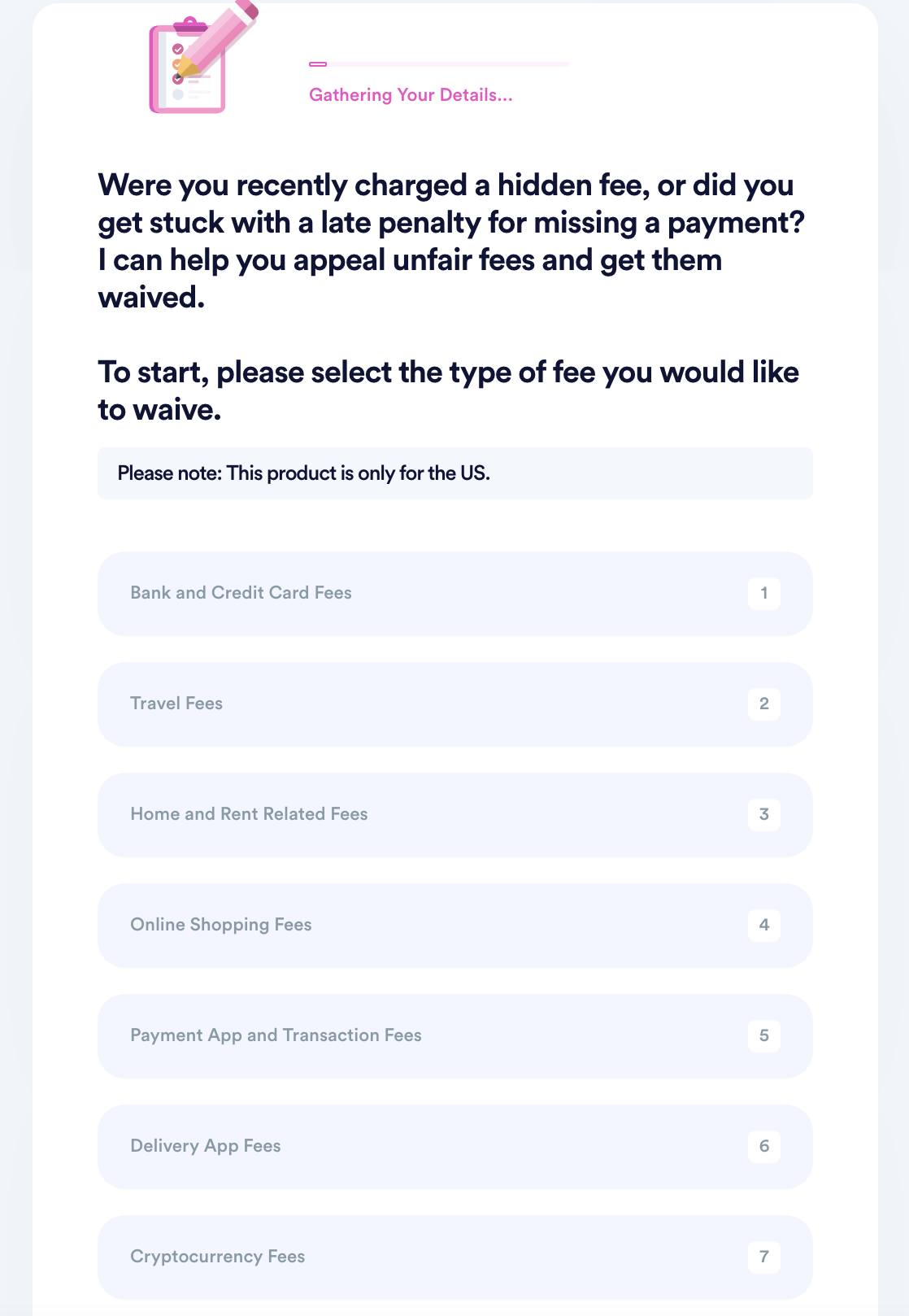 2. Select the merchant you want to appeal fees for and enter the details of your transaction, including an associated account if you have one.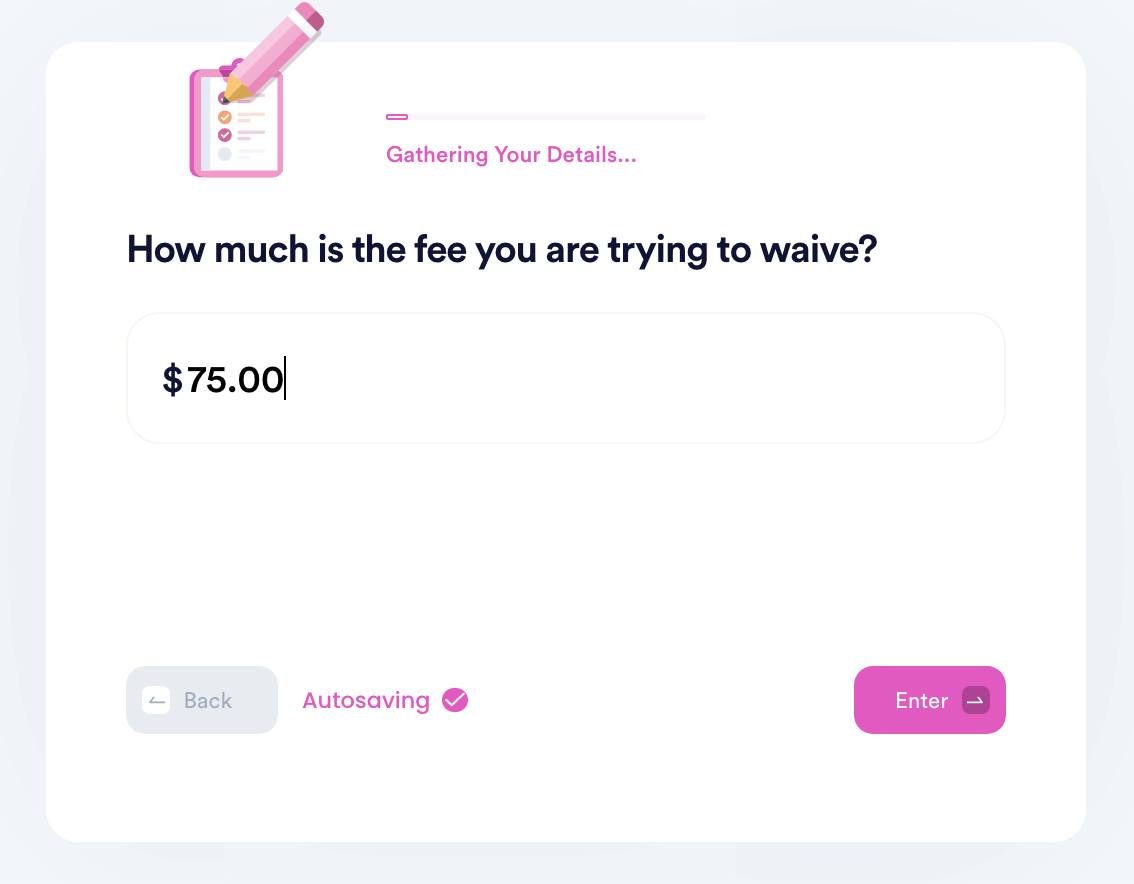 3. Submit your case! DoNotPay will generate the best argument for your case and make sure your fee waiver request gets sent to the merchant for processing.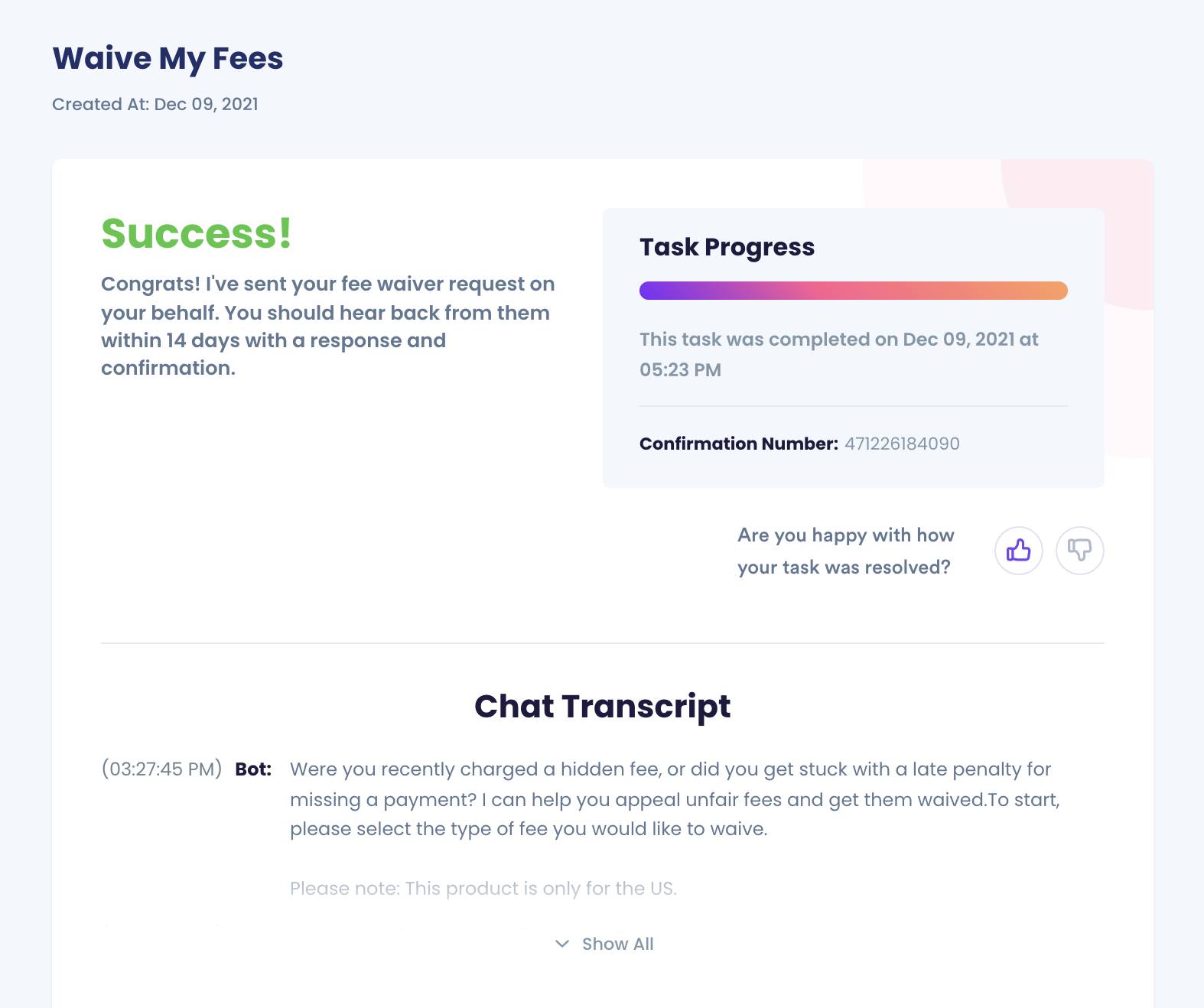 Why Use DoNotPay to Waive Sun Country Baggage Fees? 
DoNotPay is the most efficient way of avoiding Sun Country baggage fees. All you have to do is fill out your transaction details, and we'll send out the waiver request to Sun Country airlines on your behalf.
DoNotPay can help ff you need help waiving or appealing other fees such as:
What Else Can DoNotPay Do?
Through DoNotPay's "Airline Services" product, you can also make changes to your reservation, demand refunds, and find lost bags! DoNot Pay can also help you:
Saving money on flights involves more than just the airline ticket itself. You also have to factor in extra costs like baggage fees, as they can add up quickly. With DoNotPay, you can  and save money on your trip with the click of a button!