How to Dispute State College Parking Tickets

We can help you appeal your parking tickets from State College Borough, home to Penn State University, and make the process even more efficient!
Check out detailed instructions on how to pay your ticket from State College or Penn State, how to appeal your ticket, and how can help you appeal it in record time.
Our robot lawyer is here to revolutionize everyday tasks and help you beat bureaucracy. We believe everyone deserves equal access to legal help, whether that be for parking tickets or getting compensation from companies! We've also got a renowned track record: check out more than 160,000 tickets that we've already helped overturn! Scroll down and learn more to make yours the next!
Do I Have to Pay My State College Parking Ticket?
State College: Yes, and the parking department of State College can enforce the penalties listed below.
Penn State: While you might be tempted to ignore your ticket, most state schools have real police on campus, and thus parking citations and tickets go to the local police department. This means you can face all of the penalties that you would if you received a regular citation and did not pay it, such as:
Your fine increasing as your payment becomes more and more late (

most common, can happen after 14-30 days

)

Money being taken out of your tax return check

Your credit score decreasing

Getting your car booted, subjecting you to pay to have it removed

Getting your car towed, subjecting you to pay to retrieve it

Your car being taken and sold by the state

Your registration being blocked

Your case being sent to a collections agency
It's in your best interest to pay your ticket as soon as possible. Fines for Penn State will increase after 30 days, and if you're a permit holder, it will be deducted from your account automatically.
How to Pay or Dispute your State College Parking Ticket
While most parking departments have several ways to pay, State College only takes payments through their website. You can access it here, and will need your violation number or your license plate number.
You can also dispute your ticket through that portal, for easy access to all services.
For Penn State:
Online [via credit card]
https://psu.t2hosted.com/cmn/auth_ext.aspx
Transport Services Office [via credit card, cash, cheque, LionCash+, or money order]
Transportation Services

The Pennsylvania State University 1 Eisenhower Parking Deck University Park, PA 16802-2116

By Mail [check or money order]

DO NOT MAIL CASH

Transportation Services

The Pennsylvania State University 1 Eisenhower Parking Deck University Park, PA 16802-2116
Some ticket types are not eligible for appeal. These include:
Expired parking at a meter

Fraudulent or unauthorized permit

Illegal occupation of handicapped space by car or bike (fine amount differs)
Appeals must be filed within 20 days of ticket issuance.
If decisions are made in favor of parking services, the fine will be paid (for faculty and staff) out of payroll automatically.
Can DoNotPay Help Dispute Tickets from Private Companies?
Absolutely. Whether you get a ticket from Impark, SP+ Services, ACE lots, or any other private company, we're here to help you with your appeal!
We've set out all of our easy steps below to help you dispute your tickets (even speeding tickets, if you scroll down!) for free with DoNotPay.
Appeal your State College Parking Ticket in Less Than 5 Minutes
Dispute your parking tickets in record time! Skip the prep and get free help with your appeal and your hearing, if necessary. Follow our easy steps below.
Log-in to

and create an account

Upload a photo of your ticket and type in the citation number

Provide a statement on why the ticket should be overturned

Tell us which state you got the ticket in

Choose whether you want DoNotPay to mail the letter for you
will put together a letter on your behalf detailing your case and mail it for you!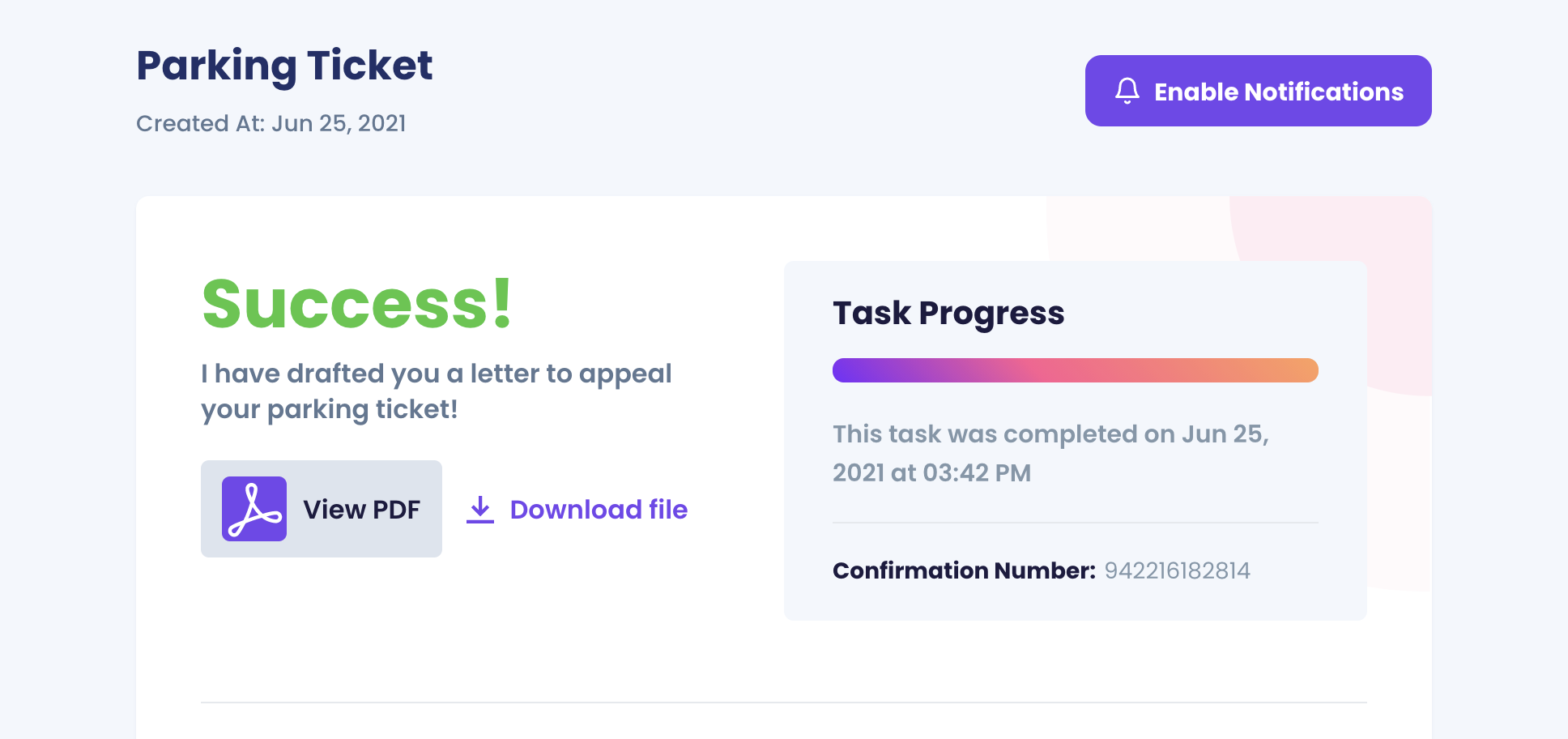 That's it! It's that easy, and as always, 100% free. We have a range of services to help you get your everyday tasks done as soon as possible, in the most efficient and effective way. Check them out below, and bookmark our or download our app to deal with any of your future parking citations, speeding tickets, or even to jump the phone queue and get you in contact once we've reached a real human on your behalf.
Other Things DoNotPay Can Do
Sign-up for free trials and don't get charged

Plus more!