Appeal Your St Paul Parking Ticket

Getting a parking ticket can be an unpleasant surprise, and figuring out what to actually do about it can be frustrating and time consuming. But what if you don't actually deserve the ticket? If you're wondering whether there's a way to contest a parking ticket quickly and effectively, then the answer is yes! can help you.
This article will explain everything you need to know about contesting a parking ticket in the city of St Paul. No more paying for attorney's or giving in to hefty fines, find out how to win now!
Beating a Parking Ticket Has Never Been Easier
You might be wondering if trying to beat a ticket without some sort of legal counsel is a smart idea, and you might even have your doubts about how an online service could manage it.
Well, you don't just have to take our word for it, DoNotPay has beaten hundreds of thousands of parking tickets with its automated bot system!

Just check out this article by Engadget on how our AI-lawyers have successfully overturned

160,0000 parking tickets

in London and New York City in less than 2 years.
Can DoNotPay Help You Fight Parking Tickets From Private Companies?
Yes! can help you fight parking tickets that have been issued by the government and private companies. This means that if your ticket was issued by a private parking company, our AI-lawyers can also help you contest them.
Here is a list of some of the top parking companies that you might encounter when it comes to parking tickets:
Towne Park

Lanier Parking

Laz Parking

Ace Parking

SP+ (also known as Standard Parking)
Do I Need a Lawyer to Dispute a Parking Ticket in St Paul?
You'll be happy to know that an attorney isn't necessary for disputing a parking ticket. If you're curious about exploring potential lawyers near you, here is a basic list of what it would take to actually hire an attorney:
Search online for a firm that offers "traffic violations" as a service.

Make sure that the firm operates within your state so that they are familiar with the necessary laws and court procedures.

You can check the reviews from previous clients to help you assess the quality of attorneys and services.

Contact the firm directly either through a phone call or email, explain your situation, and set up an appointment either in-person or online.
It's important to note that the hassle of finding a lawyer to help contest your parking ticket can be more than you bargained for. An average attorney could charge you anywhere from $100 to $1000 for an hour of their services.
Luckily, DoNoPay is the world's first ever robot lawyer- and unlike a human attorney it can spare you both the hassle and the financial strain of paying unnecessary amounts for legal expertise.
How Much Time Does DoNotPay Save You?
Contesting a parking ticket on your own can end up taking an entire work day, and the inconvenience can end up disrupting your schedule.

It would require visiting

Minnesota's Judicial Branch website

and filling out the necessary forms.

In the end, contesting your parking ticket through

will not only spare you the hassle of spending an entire day trying to do the process on your own, but it can also save you a lot of money.
Summary:
| | |
| --- | --- |
| Does appealing a parking ticket take too much effort? | By using DoNotPay's service, you can contest a parking ticket quickly and efficiently, with hardly any effort. |
| Is it worth paying a lawyer to help me? | No, appealing the ticket can be done without a lawyer. |
| How much would an attorney cost me if I wanted to hire one? | Anywhere between $100 and $1000 per hour. If you complete the process with DoNotPay, you'll be sparing yourself the heavy fees. |
| Can DoNotPay's service work for private companies? | Yes! It can contest parking tickets from cities as well as private companies. |
Contest Parking Tickets in St Paul with DoNotPay
If you want DoNotPay to help you contest a parking ticket quickly and effectively, follow these easy steps and you'll be on your way to beating your parking ticket faster than ever:
Create an account on

Make your way to the Parking Tickets icon
Answer the questions asked in the chat. The answers will help us decide what your letter needs to contain.
Tell us if you would like to have the appeal mailed.
That's it! The app will generate a formal letter contesting the ticket and mail it to the appropriate office. can send the letter directly after it is done, which helps speed up the process and saves you the trouble.
You may be required to provide things like, the original parking ticket that was issued, a photo evidence, and a statement, so be sure to have these things on hand.
Stay alert for any communication from the Minnesota Judicial Branch. They handle contested parking tickets and will inform you of the outcome.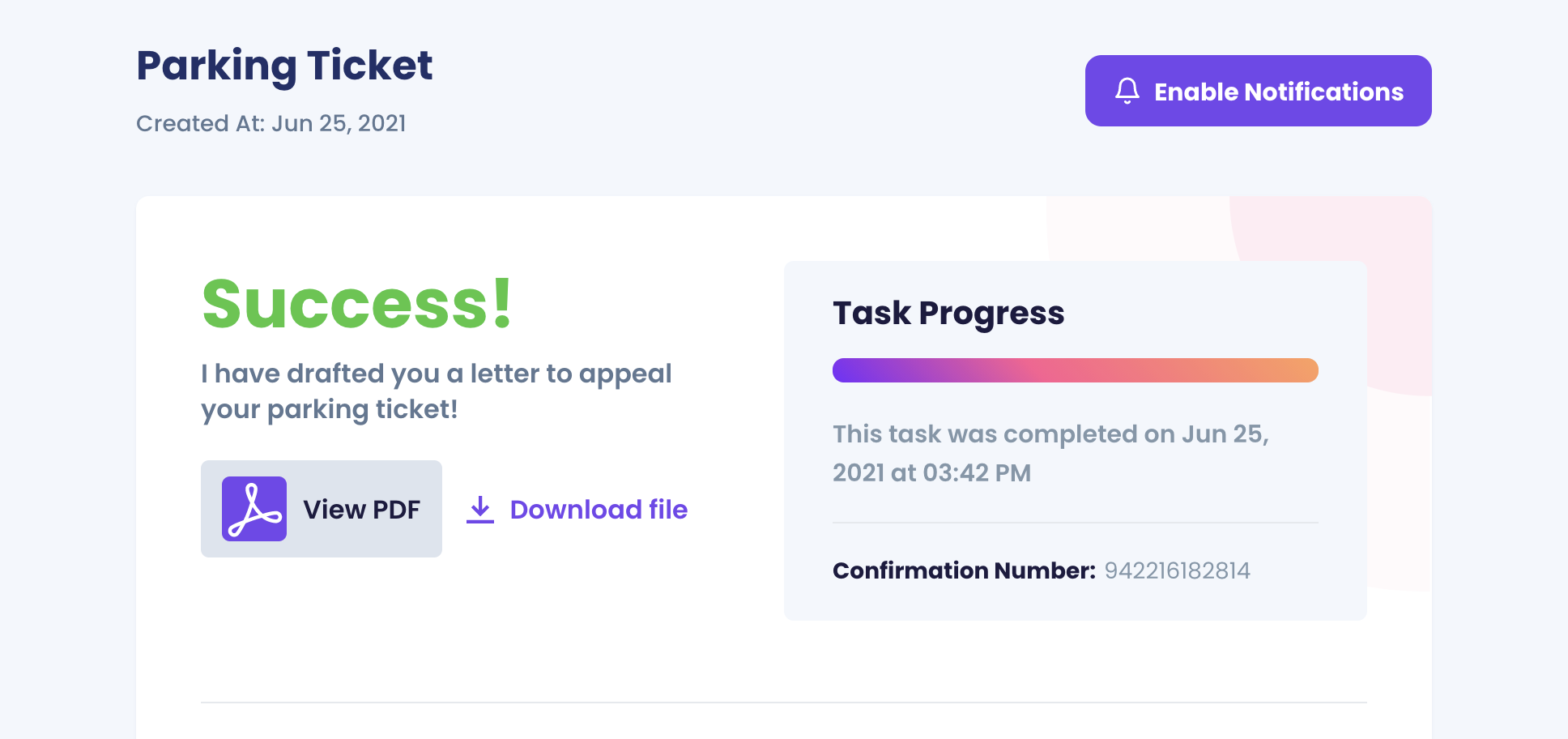 I Want DoNotPay's Help On…