Parking Ticket Dodger Crossword Clue
You were in the middle of a crossword puzzle and you came upon a clue for an eight-letter word for parking ticket dodger. The answer to the parking ticket dodger crossword is 'scofflaw'. Take note that the word scofflaw can also describe one who habitually ignores the law and does not answer court summonses. Alternative words are fine skipper, ticket ignorer, flouter of government rules and many others. In this article, we will explain what constitutes a scofflaw and introduce some of the famous scofflaws in real life.
What Is a Scofflaw?
A scofflaw is a person who flouts the law or who fails to pay parking tickets issued within 18 months. Although the statutory deadline varies by city and state, the consequences may be similar. In most cases, the DMV will ban a vehicle from registering unless a Registration Clearance Notice is issued. The said clearance requires the vehicle owner to clear all outstanding fines before it can be issued. Payment can be made by:
Cash

Certified check

Money order
Parking Ticket Dodgers Who Made the News
Most of the time, scofflaws are a product of inconvenience and ignorance. Some of the reasons for failing to collect ticket fines can range from the offender residing out of state to the transportation department failing to use license plate recognition technology to catch repeat offenders.
Most cities and states have a Scofflaw Program where the names of the parking offenders are published online. The purpose is not to name and shame the scofflaws but to compel them to pay the tickets and have their names removed from the list. Here are some of the scofflaws who have made headlines:
| | |
| --- | --- |
| Name | Description |
| Simon Gluck of Montreal, Canada | Owes the City of New York $118,878 for 870 unpaid parking tickets; could not be found at the address listed in city records. |
| John Duffy of Onancock, Virginia | Has $91,235 for 411 unpaid fines dating to 2010; could not be found at the address listed in city records. |
| Charles Rhodes of Brooklyn, New York | Owes $66,995 for 499 unpaid parking tickets; driver's license is registered to a non-existent address in Trenton, New Jersey. |
Contest Parking Tickets in Less Than 120 Seconds
If you find yourself at the receiving end of a parking ticket, know that paying is not the only option available to you. If you believe the citation was made with no appropriate grounds, or you have been ticketed for an invalid reason, you can also contest a citation.
If you decide to dispute by yourself, be prepared to invest some time and resources into the process. This is because appeals hearing can be time-consuming and you need to prepare documents and fill up forms for the hearing.
You may also hire a legal expert to appeal the citation on your behalf. However, this may come with prohibitively expensive fees. can help you through this predicament. Our robot lawyer can facilitate the appeals process without you having to pay thousands of dollars or worrying about legal technicalities.
Go to

and look for the Parking Ticket product
Upload a photo of your ticket
Tell us what is wrong with your ticket
Upload photo evidence to back your claim
Choose how you would like your appeal handled
That's it! The letter will include all the necessary information to appeal your ticket. Find out the final decision by contacting your traffic ticket issuer!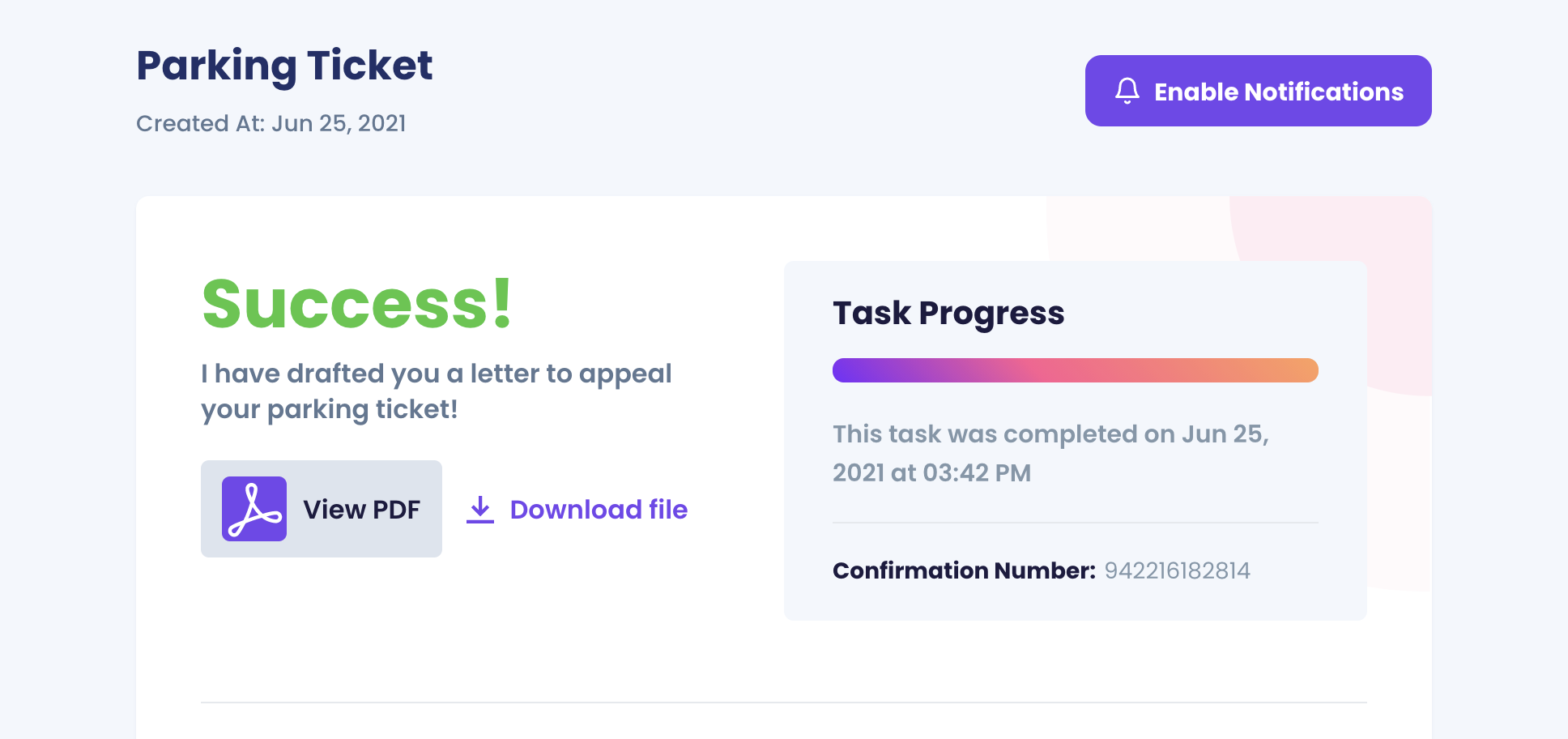 DoNotPay Can Fight Parking Tickets From Private Companies
DoNotPay can help appeal tickets from private parking companies as well. These include citations from the following:
SP+ Parking Services – One of the largest providers of professional parking management services throughout North America.

Towne Park – A parking solutions provider that caters mostly to premier hotels and healthcare companies across the US.

Laz Parking – A parking services company that offers convenient, cheap parking garages throughout the US.

Imperial Parking – Now known as Impark, the company operates around 4,600 parking facilities with 16,000 employees in more than 400 cities in the US and Canada.

Lanier Parking – Now part of the REEF Network, Lanier is a leader in Branded Parking Services, with 3 brands, 7,000 associates and 1,100 locations.

ACE Parking – A privately held and family-owned company, it is the parking company behind Park for Pink, generating funds for the fight against cancer.

Douglas Parking – Established in 1930, the company prides itself in its hands-on approach to parking services.

ABM Parking Services – The parking services provider that offers a wide range of off-street and on-street parking facilities across 2,000 client locations.

And many others!
What Else Can DoNotPay Help You With?
Here are some of DoNotPay's other services: