Appeal Your Redondo Beach Parking Ticket and Win

Whether you're driving through the streets of Flagler, Carnegie, Inglewood, or El Nido, one thing you'd quickly notice about Redondo Beach is how its people are quite carefree.
Of course, being carefree can be exciting unless it comes with an awkward consequence like a fine for a parking violation. But with , getting a ticket no longer gets to spoil your fun and leave you several dollars short. The world's first robot lawyer has upturned over 160,000+ tickets and is looking to help you with your citation! Continue to read on!
What counts as a parking violation in Redondo Beach?
While you look out for signs when parking, you should also know these common laws of Redondo Beach to avoid getting a ticket. When driving in Redondo Beach, avoid parking:
On the left side of the road

Against the direction of traffic

Significantly outside the designated curb line

Within a parkway

In front of a police station or fire station

Long or heavy vehicles parked for extended periods

Within 25 feet of a bus stop or traffic sign

Too close to a rail crossing

In a very narrow street

Over 15 minutes in a busy green parking zone

In a space designated as blue handicapped spot

In an alley

On a spot for over 3 days at a stretch

Overnight on a street, specifically within the hours of 2:00 am to 5:30 am.
For most of these violations, you may be liable to pay a fine within the range of $40 to $250, depending on the severity of your offense according to the laws of Redondo.
Plausible Defenses for Parking Tickets in Redondo Beach
You may have been issued a ticket in Redondo Beach but something just feels off about it. Here are common loopholes to confirm your feeling and contest your infraction:
You can spot plausible errors such as a wrong description or lack of expiry date on the ticket.

You have evidence to show you had parked in reaction to an emergency

You cannot find any visible or legible signs around the area that warn of the offense you have been issued a ticket for

You had a car breakdown before you got the ticket

You have been served the same ticket before in the last three hours

Your vehicle is unregistered, was sold off or gifted
How to Pay a Redondo Beach Parking Ticket
It is always advisable to take all your chances and explore the opportunity to avoid extra spending. However, if you prefer paying your fine, then here are the steps for you to follow:
1

Gather your ticket, the stipulated fine, and your license or vehicle registration as a means of identification

2

Proceed to the Redondo Beach office at:

City of Redondo Beach, C/O Citation Processing Center, PO BOX 10479 Newport Beach CA 92658-0475

3

Pay your fee at the office and obtain a receipt.
Because of COVID-19, it may be most suitable to avoid a trip down to the office. You can also opt to pay:
You will need to call the numbers 800-989-2058 if you intend to pay for your ticket if outside the US.
If you ever get a ticket for parking, Redondo Beach gives you 5 weeks to contest them or risk an additional fine. Failure to do so may also affect your insurance in the long run, or qualify your vehicle for impoundment.
What If I Do Nothing About My Citation?
Whether you think your ticket has been issued erroneously or not, it is never a good idea to do nothing about it. Redondo Beach gives a grace period of five weeks to pay or contest your citation, after which you are liable for an additional fine. If you default for an extended period, then any of the following may happen:
You may have your details forwarded to the

California Department of Motor Vehicles (DMV

), which will blacklist you from re-registering your vehicle until your debts are cleared

A further delay and your details will also be forwarded to the

California Franchise Tax Board

to place a lien on your taxes

You would also have your details forwarded to a credit collection agency

If you get booked five consecutive times and cannot pay up, you risk your vehicle being marked for towing or impoundment according to the California state laws.
How Can DoNotPay Appeal My Tickets?
is the world's first robot lawyer and an excellent help to beat parking infractions in the city of Redondo Beach.
DoNotPay helps you prepare a defense and send them to the parking office department in Redondo Beach on your behalf. This process takes less than two minutes after you follow the steps below:
Go to the

and create an account

Head over to the Parking Tickets product and start by uploading a photo of your ticket

Provide a statement and add up to three files of photo proof

Tell us which state you received the ticket in (in this case, California)
Request DoNotPay to deliver your letter
That's it! DoNotPay will compose a fool-proof appeal letter for you and mail it to the ticket issuer on your behalf. How easy was that?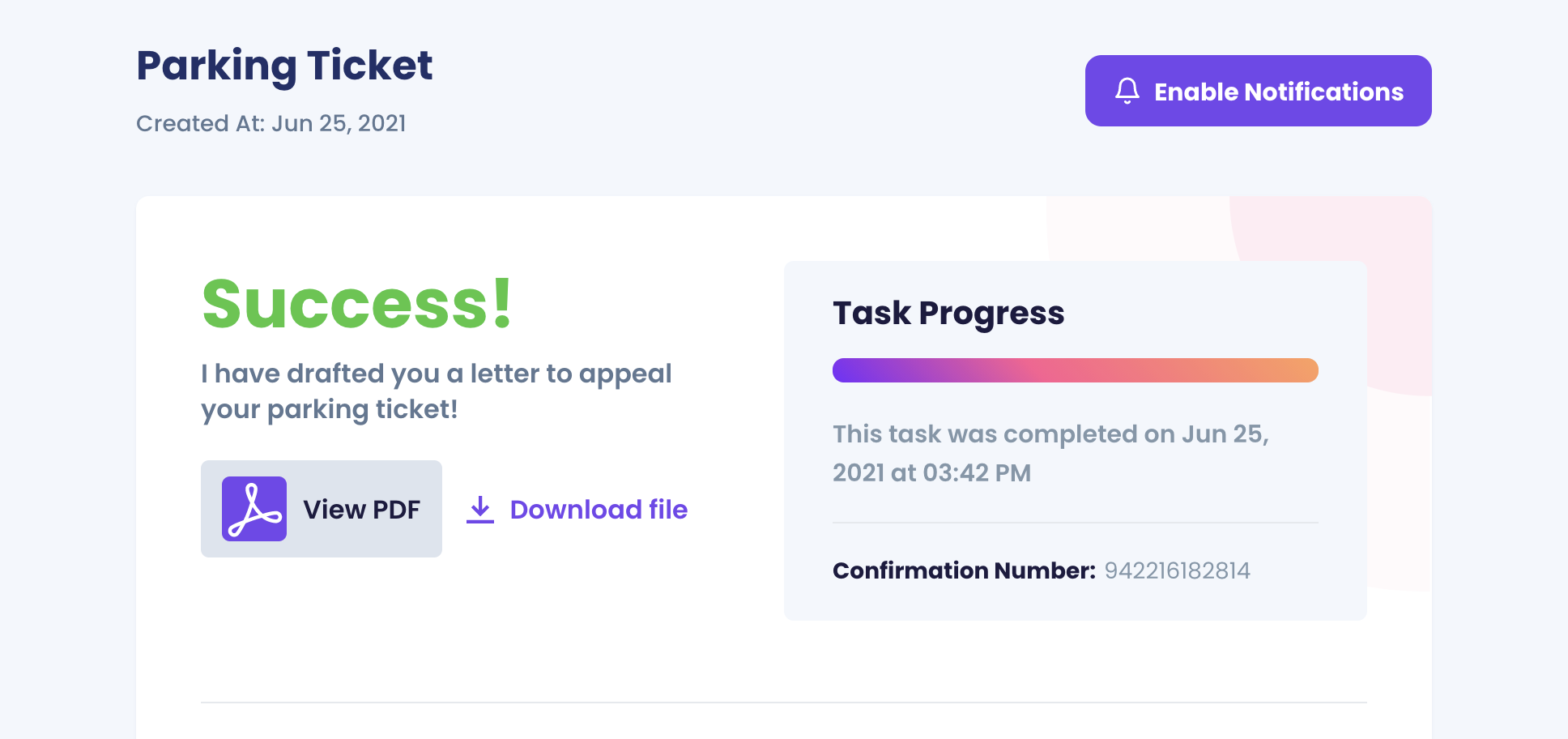 More Ways to Win on DoNotPay