How to Fight a Raleigh Parking Ticket

Getting a parking ticket can be an unexpected and unpleasant experience, but the most frustrating part can be dealing with the fine that comes afterwards. If you've ever wondered what the best course of action might be after receiving your citation, the answer is easy- appeal!
has helped overturn hundreds of thousands of parking tickets, and in less than two minutes you can beat yours too!
If you live in the city of Raleigh, North Carolina, this article will help you understand how to deal with your parking ticket and how DoNotPay can help you in the process.
Can I Get a Ticket While I'm Inside the Car?
Yes! You can get a ticket while you are in the car. Make sure you aren't parked in the wrong location or parked incorrectly.
Arguing with the officer who fines you won't help, and it's better to receive the ticket graciously and then quickly figure out your next move - if you contest the ticket quickly after the incident, the faster it will take to receive the decision.
Parking Tickets Acquired While Out of State
Whether you get a ticket in your home state or while you're out visiting a different state, the same rules apply.
You definitely need to pay for an out of state ticket. The main difference is that you will probably need to access the official website for whichever city or town you were in at the time.
How to Pay For a Parking Ticket In The City of Raleigh
Paying for your parking ticket doesn't have to be complicated, in fact by following these easy steps you can get it over and one with quickly and effectively:
Go to the city of

Raleigh's official government website.

Under popular services click the option that reads "

Making Payments: Water, Parking, Licenses and others"

Click on "Parking citations and passport parking". You should be redirected to a new page. Select the option that says "Pay your parking ticket"

You can now select "online payment" and you will be redirected to Raleigh's new parking system.

Provide your payment (using a valid US credit card)

You will receive a confirmation of payment within 2-3 business days

That's it! Your payment has been completed.
Alternative Methods of Payment
If you can't pay your ticket online, here are some other valid methods of payment which you can employ.
In Person Payment
All in person payments have to take place in the Raleigh Parking Office. You can find them at the following address: 310 W. Martin Street, Suite 109, Raleigh, NC

The work hours for the payment offices are 8:30 am to 5:00 pm

You can pay through cash, check, money order, visa and mastercard

If your vehicle was booted for leaving your parking ticket unpaid then you have to pay in person.
Mail Payments
All payments done by mail can be sent to the following address:

City of Raleigh Processing Center, PO Box 2068, Tarrytown, NY, 10591-9068
Please Note: The city of Raleigh recently began implementing a new parking management system so if you have any trouble completing your payment or any questions, you can contact them for assistance using this phone number: 919-996-3996.
Is It Worth Fighting Your Ticket?
We know how annoying it can be to have a parking ticket on the back of your mind and fighting the citation can help you end the stress once and for all. Not only this, but it can spare you a hefty fine!

By using

, contesting your ticket might lead to a reduction of your fine or even better, the fine going away!

It's absolutely worth appealing your ticket if you can spare 5 minutes.
Contesting Your Parking Ticket Through DoNotPay
Contesting your parking ticket is easier than ever with ! All you'll need is your smartphone or a computer and just 2 minutes of your time. Just follow these steps:
Open

and log-in

Upload a photo of your ticket
Answer the questions asked with as much detail as you can
Tell us which state you received the ticket in
The letter will directly be sent on your behalf, or you can request to read the letter prior to having it sent. Now all you have to do is sit back and wait for the response! That's how easy it is to contest a parking ticket with .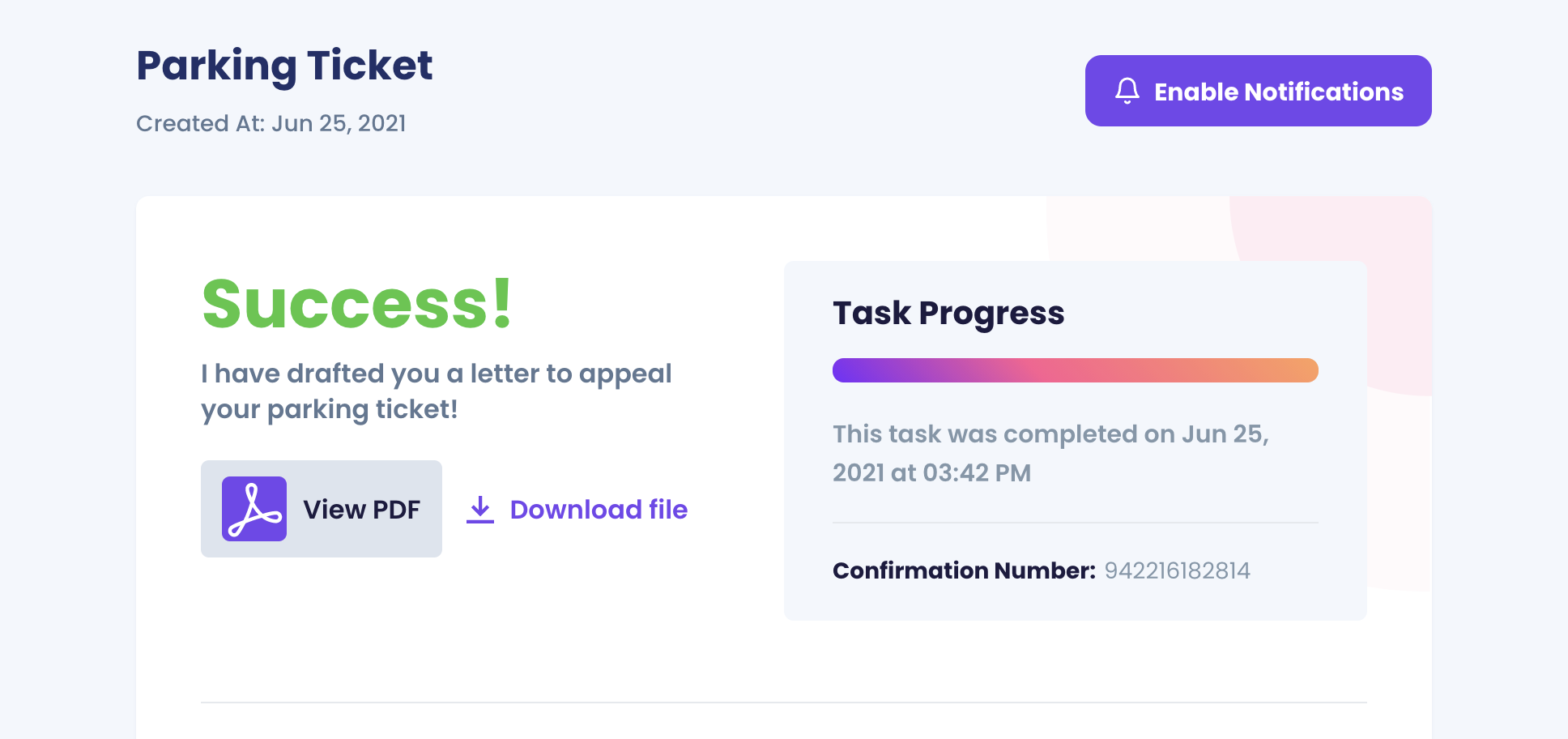 To Summarize
| | |
| --- | --- |
| Is it possible to contest a parking ticket? | Yes |
| Do I need a lawyer to beat my parking ticket? | No |
| Is contesting the citation worth the hassle? | Yes |
| Will my insurance be affected | Not if you pay the ticket on time |
| Can I pay the ticket online | Yes |
DoNotPay Does More For You