How To Contest A Private Parking Ticket

Finding a parking ticket on your car can be incredibly frustrating, but things can seem even more confusing when the parking ticket comes from a private parking company. If you're worried about how to deal with such a ticket, then look no further than to ! Our robot-lawyer is an expert at contesting all kinds of parking tickets and has helped overturn hundreds of thousands of them.
If you want to discover how DoNotPay can help you make your private company parking ticket disappear in a flash, then keep on reading!
Can You Actually Contest a Private Parking Ticket?
Contesting a parking ticket is not exclusive to city issued tickets - you are absolutely allowed to dispute a parking citation from a private company.
can help you get in contest parking citations from many of the biggest private parking companies in the US, here is a list of some of them to give you an idea:
Ace Parking
ABM Parking (formerly known as Ampco Parking)
SP+ (also known as Standard Parking)
Imperial Parking
Laz Parking
Douglas Parking
Towne Park
Lanier Parking
Is Contesting A Private Parking Ticket Worth The Hassle?
Although contesting a parking ticket might seem intimidating, contesting is totally worth your time! It saves you from spending your money on an unnecessary fine, and getting the ticket off your back means you no longer have to worry about being late on a payment.
What Happens If I Don't Pay A Private Company Ticket?
Not paying your parking citation can lead to a lot of trouble and stress, here are some of the issues you could encounter if you forget to pay your private ticket on time:
If you are late on your payment you could be charged a late percentage fee. This could increase the fine to double or triple the original amount.

Your vehicle could end up being booted, which is when one of your tires has a device placed on it to prevent the car from moving.

Your vehicle could end up getting towed, and it would not be released until your entire fine was paid off.

In bad scenarios, the private parking company would refer your case to the courts so that they can apply further measures, such as summoning you to a hearing or revoking your license altogether.
How Much Time Would I Save By Using DoNotPay?
If you're generally busy during the week, then finding the time to contest your own parking ticket can be a struggle.

You might even find yourself endlessly postponing the task. Luckily,

can save you an entire day's worth of work!

Our robot lawyer has been designed to contest your parking ticket in just minutes, creating the perfect appeal letter and sending it to the appropriate office on your behalf. With just a few taps on your smartphone and by answering a few simple questions, you can have your parking citation overturned today.
Will My Private Parking Ticket Somehow Affect My Car Insurance?
The good news is that there's no need to worry about your insurance increasing.

Parking tickets are technically non-moving violations, which means that ultimately they have no effect on your specific status as a driver and therefore

can't alter your insurance.

The only loophole regarding your insurance being affected would be in the case of leaving a parking ticket unpaid for long periods of time, which could result in damage to your credit score and eventually raise your car's insurance.
This is why sorting out your ticket on time is incredibly important, don't waste any time and contest your ticket using !
How To Contest A Private Parking Ticket in Minutes
It's never been easier to contest a parking ticket from a private company, just follow these easy steps and you'll be done in only minutes:
Log-in to

and head over to the Parking Tickets icon
Answer a couple of easy questions (for example, provide your citation number etc.)

Upload photo evidence to back your claims

Choose whether you want

to mail the letter for you or not

Provide the address of the traffic ticket issuer
That's it! DoNotPay will generate an appeal letter backing your claims with the relevant state laws. Wait a couple weeks to find out if your appeal has been successful!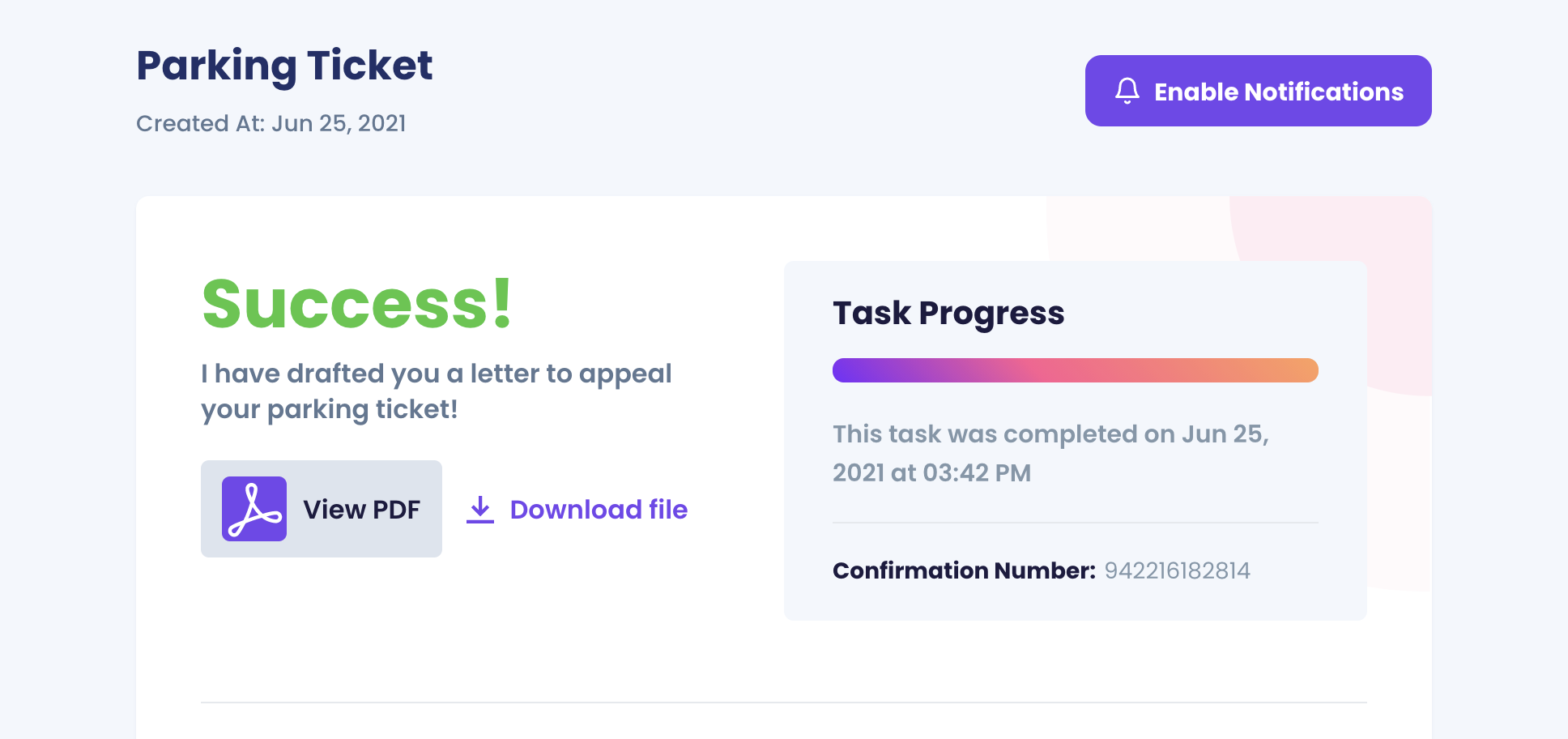 To Summarize
| | |
| --- | --- |
| Can you contest a parking ticket if it was issued by a private parking company? | Yes you can! Both federal and private citations have a right to be contested. |
| Is the trouble of contesting worth it? | Yes. Contesting spares you the heavy fee, and with DoNotPay, the effort is minimum. |
| Are there consequences for leaving a private parking citation unpaid? | Yes! It's better to deal with the ticket quickly after receiving it. |
| How much time would DoNotPay actually save you? | About 1 full work day. |
| Can your ticket affect your car insurance | Not if you pay or contest on time. |
| Can DoNotPay successfully dispute your parking ticket? | Absolutely, we've contested and won hundreds of thousands of parking tickets before! |
DoNotPay Supports You!