PG County Parking Tickets [Prince George]

This article will explain all you need to know about a parking citation in Prince George County, and how you can fight it! We'll also go over , the world's first robot lawyer and assistant that can help create an appeal for any type of ticket!
Parking Citation Penalties in PG County
There are numerous parking violations that are recognized in Prince George County, each one with a fine that you must pay if you commit the violation. The following table is an overview of each violation, and it's fine:
Violation

Fine

Parking for longer than 72 hours

Parking of unregistered motor vehicles

Parking of unregistered trailers

Blocking a public driveway

Blocking a sidewalk that is not for parking

Parking within 15 feet of a fire hydrant

Parking 20 feet of a crosswalk at between an intersection

Stopping, standing or parking within 30 feet on the approach to any flashing signal, stop sign or traffic control signal located at the side of a roadway

Stopping, standing or parking in a direction opposite to the flow of traffic

Stopping, standing or parking on an unpaved area of a residential lot that is less than 1 acre in size

Abandoning a vehicle that has remained on the property for more than 48 hours

$50

Parking in an area designated as a fire land

$200

A commercial vehicle (over 10,000 lbs.) parked on a public street (if not in the course of a commercial purpose)

$500
How Do I Pay PG County Issued Tickets?
You have a few options to pay a parking fine in PG county. The table below goes over all the available options you have to pay your fine:
Pay Online

Pay parking citations in PG County at the payment portal

here

.

Acceptable Payment Methods: Credit or Debit Card

Note that: there is a $3 fee associated with every transaction made by the phone

Pay By Mail

Mail your payment to:

The Revenue Authority 3540 Crain Highway Suite 182 Bowie, MD 20716

Pay in Person

Pay at the Revenue Authority Office located on:

1300 Mercantile Lane Suite 108 Largo, MD 20774

Acceptable Payment options: debit/credit card, check, or money order

Note: As of March 16, 2020, cash payments are no longer accepted.

Pay By Phone

Call 855-743-2090

Acceptable Payment Methods: Credit or Debit Card

Note that: there is a $3 fee associated with every transaction made by the phone
What Happens If I Don't Pay My Ticket?
Ignoring parking citations and leaving fines unpaid can lead to numerous consequences, including:
Increased fines: Late fees are added to unpaid parking tickets, which could increase your fine to $1000

Court appearance: You may be asked by a local court to appear in front of a judge if a long enough time passes without paying the fee.

Bench warrants: Continuing not to pay even after a court appearance can result in a bench warrant for your arrest. This means that if a police officer spots your vehicle on the street, you will be stopped and could face jail time.

Car booting or towing: Releasing a booted or towed vehicle costs around $400 in most states, which is more expensive than the original fine!

Suspension of driver's license: Accumulating a large amount of unpaid fines will result in the suspension of your driver's license, which goes on your permanent record.

Damage to credit score: A parking ticket is a debt, and collection agencies are informed of their issuance. Failure to pay the fines will damage your credit score.

Inability to renew your registration: Having a large amount of unpaid fines might cause companies to reject renewing your registration.
PG County Parking Tickets are Easy to Beat!
helps people appeal parking tickets using AI - artificial intelligence. According to Business Insider, DoNotPay has helped over 160,000 people contest their parking tickets and has quickly overturned more than $4 million in fines.
Contest PG County Parking Tickets with DoNotPay!
If you follow these four simple steps, then you can dispute a parking ticket in less than two minutes. All you have to do is:
Go to

and create an account

Answer a few questions such as:

What is your ticket number?

What is wrong with the ticket?

Is this your first time receiving a ticket?

What state did you receive your ticket in?

Upload photo evidence to boost your claim

Choose whether you want DoNotPay to send the letter for you
will automatically generate a script written specifically for Maryland in accordance with the state's laws and regulations. Just wait a few weeks once the appeal is submitted and hear back from the traffic ticket issuer! How easy was that?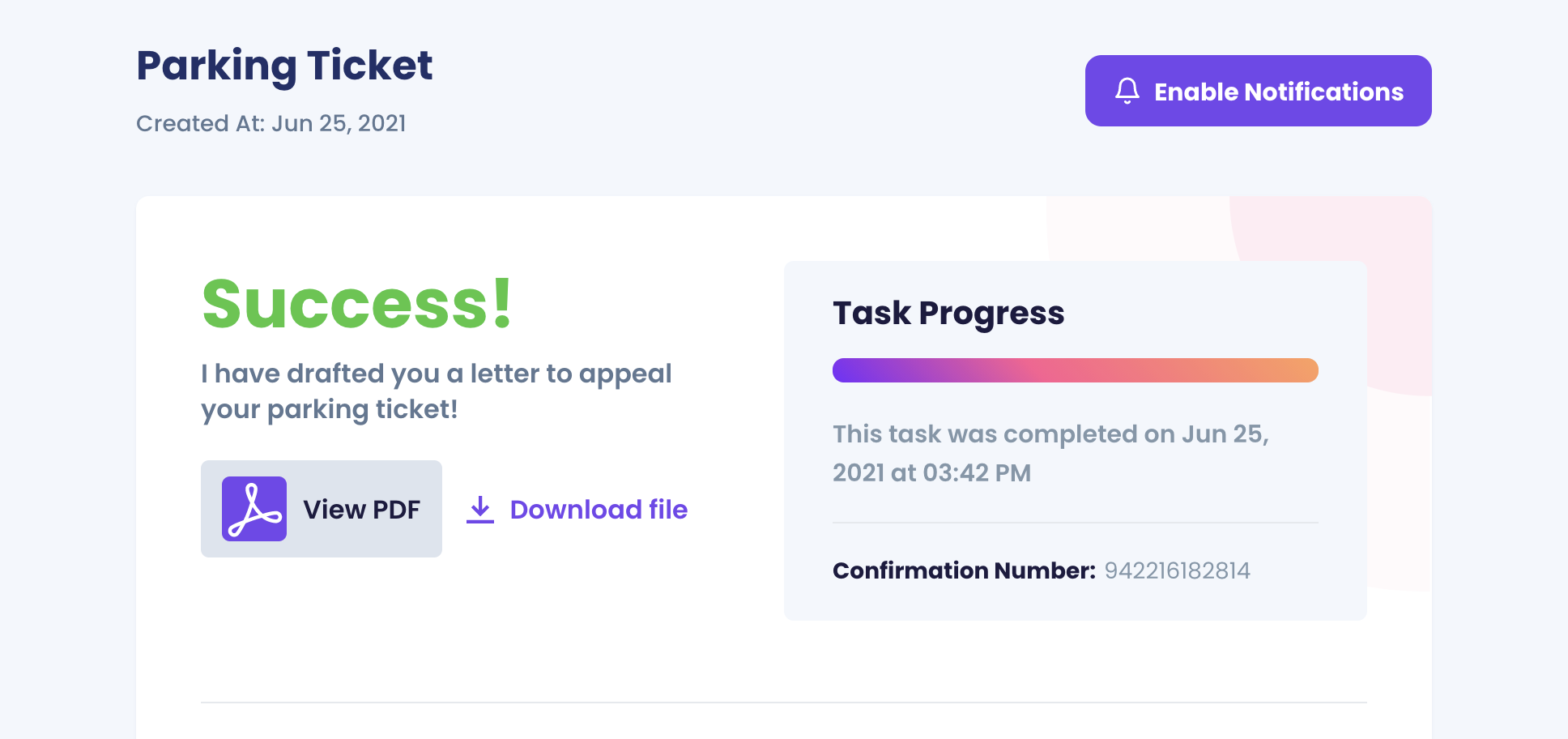 DoNotPay Helps You With…