A Guide to Parking Tickets Templates
There are a lot of parking ticket templates available online. When looking for one, it's important to make sure that they include all the important information. In this article, we will discuss what parking tickets are, what instances they are usually issued, and what amount of fees you can expect.
What Is a Parking Ticket?
A ticket is issued to a driver who parked a vehicle illegally or in a prohibited area. Also known as a parking violation ticket, it is a piece of paper issued by police officers or parking enforcers. The ticket includes information such as:
Ticket information

Issuing officer

Parking violation

Parking location

Amount of fine

Car information

Plate number

Car make and model

Car color
Most Common Parking Violations
Most parking violations happen when a driver parks at restricted areas. Although most instances are a result of the driver's ignorance, some are committed out of intent or inconvenience. Here are some of the most common parking citations:
Double parking – This occurs when a vehicle parks parallel with another vehicle that is parked against a curb. Double parking results in interfering with the flow of traffic especially in cases of emergencies.

Parking in handicap spots – Vehicles that have handicapped riders have special permits and tickets that allow them to park in handicap spots. Illegally parking in sports reserved for people with disability will result in hefty fines.

Parking in one spot for over 24 hours – Parking in one spot for more than 24 hours requires a special parking permit. Parking spots in and around airports or sea ports have longer parking time so it is more suitable to park there instead.

Parking without a permit – Residential areas require a parking permit and when you park in zoned areas without a permit, you could be fined.

Unpaid parking meter – Metered parking allows for parking in a spot only for a limited amount of time. If an inspector discovers your car parked in an expired meter, you can be cited for it.

Parking on a sidewalk – Sidewalks are intended for pedestrians and cyclists. Parking on a sidewalk presents a safety issue for pedestrians.

Parking within 20 meters of an intersection – Parking at or near an intersection makes it difficult for drivers to access the intersection especially in cases of emergency.

Unauthorized parking – Some parking lots require authorization before you can park. Be wary of coned-off parking spaces as these are reserved. Unauthorized parking could result in fines or towing away.

Parking in a fire lane – Spots with yellow slashed lines and signs are fire lanes. Look out for fire hydrants or painted curbs as you are not supposed to park within ten feet of these.
Most Expensive Parking Tickets Across the US
Each city and state in the US has their own set of parking rules and fees. The severity of fines also varies across states. Be wary when driving and parking in larger cities as these have the most hefty fines. Here are some of the most expensive cities when it comes to parking tickets:
City
Parking Fines

New York

Parking at no-parking spots: $115

Parking at an angle to the curb: $65

Parking facing a pedestrian ramp: $165

San Francisco

Parking in handicap spots: $866

Use of a falsified placard: $866

Double parking: $110

Parking in a bus zone: $288

Parking in a wheelchair's access ramp: $288

Chicago

Parking or standing in a bicycle zone: $150

Parking in handicap spots: $200

Collection fee of unpaid tickets: additional 22% of the amount
How to Dispute a Citation
If you ever find yourself at the receiving end of a citation, know that paying is not the only option available to you. If you believe that the ticket was issued by mistake or there is erroneous information on the ticket, you can also contest a citation.To dispute a parking ticket, you can do the following:
Gather as much evidence as you can by taking pictures of your vehicle, how it is parked, and the scenario around it including the parking meter, relevant signs, markings on the curb or anything that you know will invalidate the ticket.

Don't assume liability by paying the fine. This also makes it more difficult to reverse the payment later on. Wait until the court order to pay any fines if required.

Most tickets can be appealed online or by writing a letter and dropping it off at the appropriate parking agencies. Normally, the ticket will indicate instructions on how to appeal a citation. Be sure to take note of statutory deadlines for appealing citations which can vary by city and state.

Any evidence that you gather you should include in your appeal letter. This is not limited to photos but may also include witness testimonies, vehicle repair receipts, towing service receipts, and many more. When sending your letter, sign up for an option to track your letter and keep the return receipt.

If you don't get a response from the parking enforcement agency, call to follow up or confirm receipt. Use the tracking information and ask the agency when you can expect a response.

If a hearing is needed, show up on time and conduct yourself professionally. Make sure to bring copies of the evidence that you have sent out with the appeal letter.
Contest Parking Tickets in Any US City With DoNotPay
Appealing a ticket is more effective if the appellant possesses some legal knowledge. If not, you may also hire a lawyer to dispute the ticket on your behalf. However, be prepared to shell out thousands of dollars in legal fees. can provide a more cost-efficient way to contest tickets. Our robot lawyer lets you dispute citations in a few clicks:
Log-in to

and select the Parking Ticket product
Upload a photo of your citation
Choose the reason that best describes what is wrong with the ticket
Provide photo evidence if you have any
Have DoNotPay mail the appeal for you or choose to send it in yourself
A parking ticket appeal letter will be ready to go! How easy was that?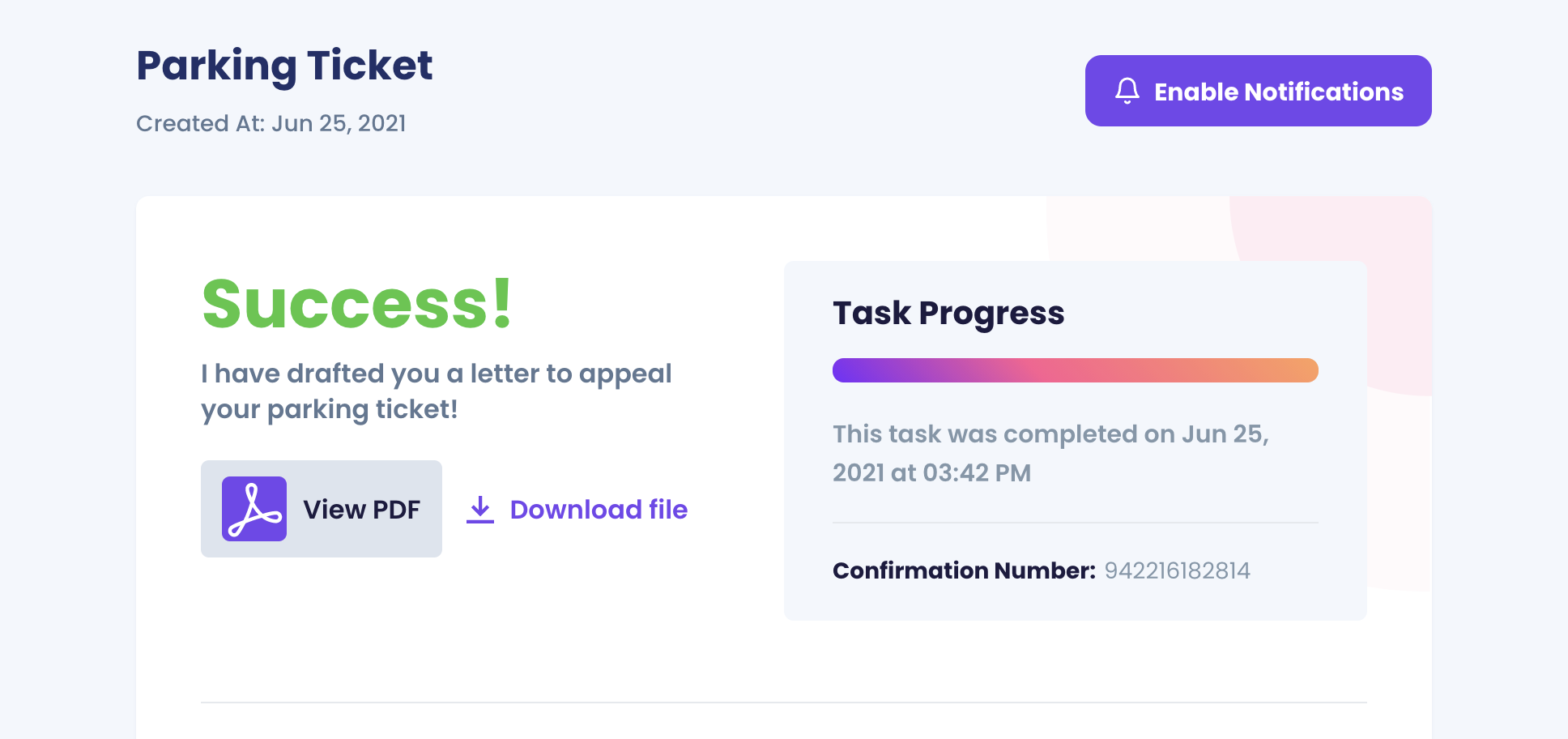 A Robot Lawyer and Assistant in One!
Here's a list of legal-related matters DoNotPay assists with:
Scan legal documents for hidden clauses

And more!
Here's a list of service-related things DoNotPay can help you with: