Use Your Parking Ticket Number To Contest Your Citation!

There's nothing worse than coming back to your car and finding a parking ticket waiting for you. Luckily, with it doesn't have to be all doom and gloom. You can now fight a parking citation quickly and effectively just by giving our robot-lawyer your parking ticket number and answering a couple of simple questions!
Keep on reading to find out everything you need to know about fighting a ticket using your ticket number.
What Exactly Is Your Parking Ticket Number?
The first step to understanding how to deal with a ticket is to understand what your ticket number is and what you can do with it:
Your parking ticket number is usually marked clearly on the piece of paper that the police leave on your car (often in the top right corner of the paper, but this can vary between states.)

This number can also be marked as your "citation number" - both names mean the same thing.
Your parking ticket number will help your local office identify how much you owe when you pay the citation.
If you choose to contest the ticket, you will also be required to submit this number. Be sure to have the ticket number on you.
Beating A Parking Ticket Has Never Been Faster!
Thanks to , contesting a parking ticket doesn't have to be intimidating or complicated! You can download the DoNotPay app directly onto your phone and with just a few taps, our robot-lawyer can help contest your citation formally.
Check out this article by Business Insider, "Joshua Browder Bot Overturns 160000 parking tickets", to see how successful our robot lawyer has been with ticket disputes!
How Much Time Will DoNotPay Actually Save Me?
By handing off your parking ticket citation number to DoNotPay instead of dealing with it yourself, you'll be saving yourself the work of having to formally dispute the ticket. If you've never contested a parking citation before, then it could potentially take you an entire day's work to figure out all the formalities and submit a successful contestation.
By using DoNotPay, you could have a state-specific appeal letter submitted in just minutes, without the hassle of research or hours of work.
What Consequences Could You Face If You Leave A Parking Ticket Unpaid?
Leaving a parking ticket unpaid can be more trouble than it's worth, which is why it's important to contest or pay your ticket early on. Here are some of the problems you could encounter if you don't deal with your parking citation:
The Courts could issue a bench warrant
against you
In some states, courts are authorized to issue a bench warrant for your arrest as a worse case scenario, this allows the police to stop your vehicle if they see you out on the road and to potentially arrest you.
Having your vehicle booted
Leaving your ticket unpaid could result in having your car booted, and only released once your payment has been processed or contested.
Your fines could increase significantly
Unpaid fines can accumulate interest, if you leave them for too long they can end up becoming double or triple the original amount.
Your driver's license could end up revoked
One of the worst case scenarios when it comes to leaving several parking tickets unpaid for a significant amount of time, is that you could lose your driver's license through a court order.
How To Contest Your Parking Ticket with DoNotPay
Ready to appeal your ticket? Use DoNotPay to get it done in minutes! Here's all you need to do:
Log-in to

and go to the parking tickets icon
Upload a photo of your ticket and provide your ticket number
Tell us why the ticket should be overturned
Have DoNotPay send it for you or mail it in yourself
That's it! Depending on your answer, will mail the appeal letter to the relevant traffic ticket issuer. The appeal will contain all of your information and be backed up with the appropriate state law.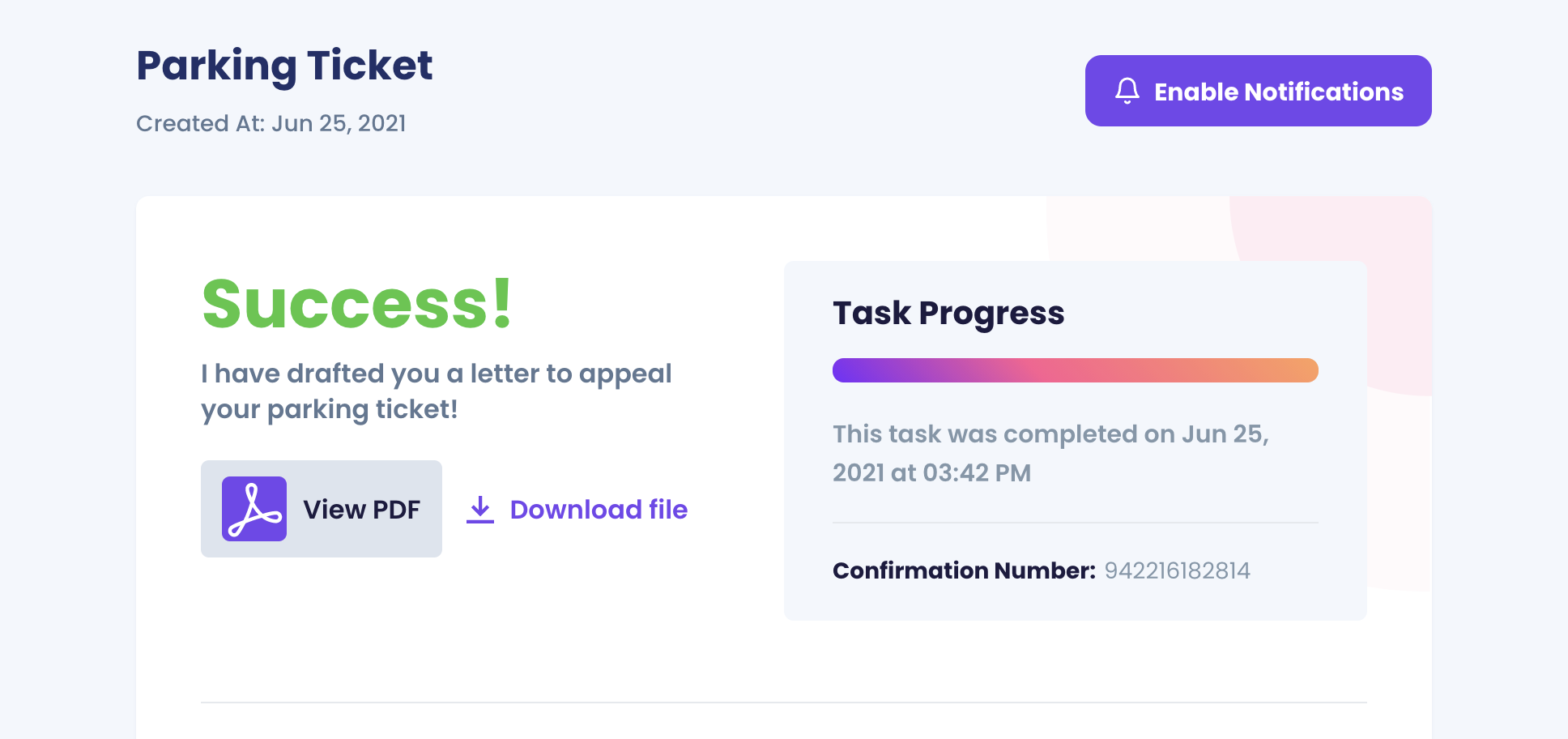 To Summarize
| | |
| --- | --- |
| You can choose whether to pay or contest your parking ticket. | Yes. The important thing when it comes to receiving a parking ticket is that you act quickly after finding out so that you don't deal with any consequences. |
| You can face serious consequences for leaving a parking ticket unpaid. | Leaving your ticket unpaid can result in having your vehicle booted, towed, your fines being increased and even losing your license. |
| An attorney is not necessary when it comes to contesting a citation. | Paying an attorney can be expensive, by using DoNotPay you can contest your ticket on your own easily. |
| Contesting your citation is worth the hassle. | Absolutely. It will save you from having to pay an unnecessary fine and you won't have to worry about the ticket accumulating a late fee. |
| DoNotPay disputes your ticket for you from the comfort of your smartphone. | Our robot-lawyer has helped contest hundreds of thousands of tickets successfully, download our app and contest your ticket in just minutes. |
DoNotPay Helps You With…