The Best NYC Parking Tickets Payment Plan

If you've gotten a parking ticket before you might know how stressful it can be, just thinking about the fee and the hassle of figuring out how to pay can be enough to ruin your day. Well, lucky for you there's now an easier and faster solution.
By choosing to contest your parking ticket you can have the fine overturned, and go on about your day without fuss. has helped hundreds of thousands of people successfully dispute their parking tickets! This article will give you everything you need to know about NYC parking ticket payment plans and more, from disputing the citation to paying.
Does New York City Offer Payment Plans?
Parking ticket payment plans are available for those who need it. If you are unable to pay your ticket immediately, a payment plan is an option to prevent your vehicle from being otherwise booted or towed. The city of New York's Department of Finance offers three types of payment plans: Standard, Moderate-Income, and Hardship payment plans. Let's go over each one in detail!
Standard Parking Ticket Payment Plan
To be eligible for the standard parking ticket payment plan, you must be the registered owner of the vehicle, a court-ordered agent, or a lessee of the vehicle who is responsible for the ticket. You must also pay 20% or more of the ticket to enter. Tickets under $350 must enter a 60 day plan and tickets over $350 are limited to a 24 month plan. You won't be able to dispute a ticket once you enter a payment plan.
Moderate-Income Payment Plan
New York offers a plan for driver's who make under $86,400. The minimum down payment to enter this plan is 15% of the debt. In order to apply, you must submit an application to the Department of Finance's Collections Division. You can reach them here.
Hardship Payment Plan
This plan is for those who are unemployed, had a recent death of a family member, or have become homeless due to a natural disaster. The minimum down payment required is 5% of the total cost of money owed. The application must also be approved by the DoF's Collections Division through this portal.
Do I Need To Hire A Lawyer If I Want To Dispute My Ticket?
Attorneys are not at all necessary when it comes to appealing your parking ticket, it's absolutely possible to do it on your own and win. Hiring an attorney for the procedure can actually be incredibly costly, on average you could be charged anywhere from $100 to $1000 per hour.
The Best Way To Pay Your Parking Ticket in NYC Quickly
If you decide you want to pay the parking citation, it's important that you do so quickly so that you don't accumulate any late fees. Here is what you need to know about paying any parking ticket you get in New York City:
You can go to New York City's

official website for government services

. Click on the "Pay" icon and enter your payment details.

You will need to provide them with your violation numbers, the license plate of your car and the state in which your vehicle has been registered.

On average, paying the ticket will take about 10 minutes, and you will be able to see that your ticket has been paid 3-4 business days after the transaction has been made.

You have a 30 day window after receiving the citation before you begin accumulating late fees.
Alternative Payment Methods
If you wish to pay your ticket by mail it's important to know that only cheques are accepted, cash will not work.

You will have to send the required amount to the following address:

NYC Department of Finance, Church Street Station, P.O. Box 3640, New York, NY 10008-3640

Do not include correspondence or the original parking ticket, it isn't necessary.

If you are interested in paying in person, just visit any of NYC's finance business centers and you can pay there.
How You Can Use DoNotPay to Appeal Your Ticket
Appealing your parking ticket doesn't have to be confusing or time consuming, just by following these easy steps you can wave goodbye to your fine in no time at all:
Sign-in to

and go to the Parking Tickets product

Upload a photo of your citation and enter the citation #
Choose the reason the ticket is incorrect
Provide a statement and tell us which state the ticket is from
Have DoNotPay mail it or send it yourself
After you have appealed your parking ticket, you may have to wait a couple of weeks for a response.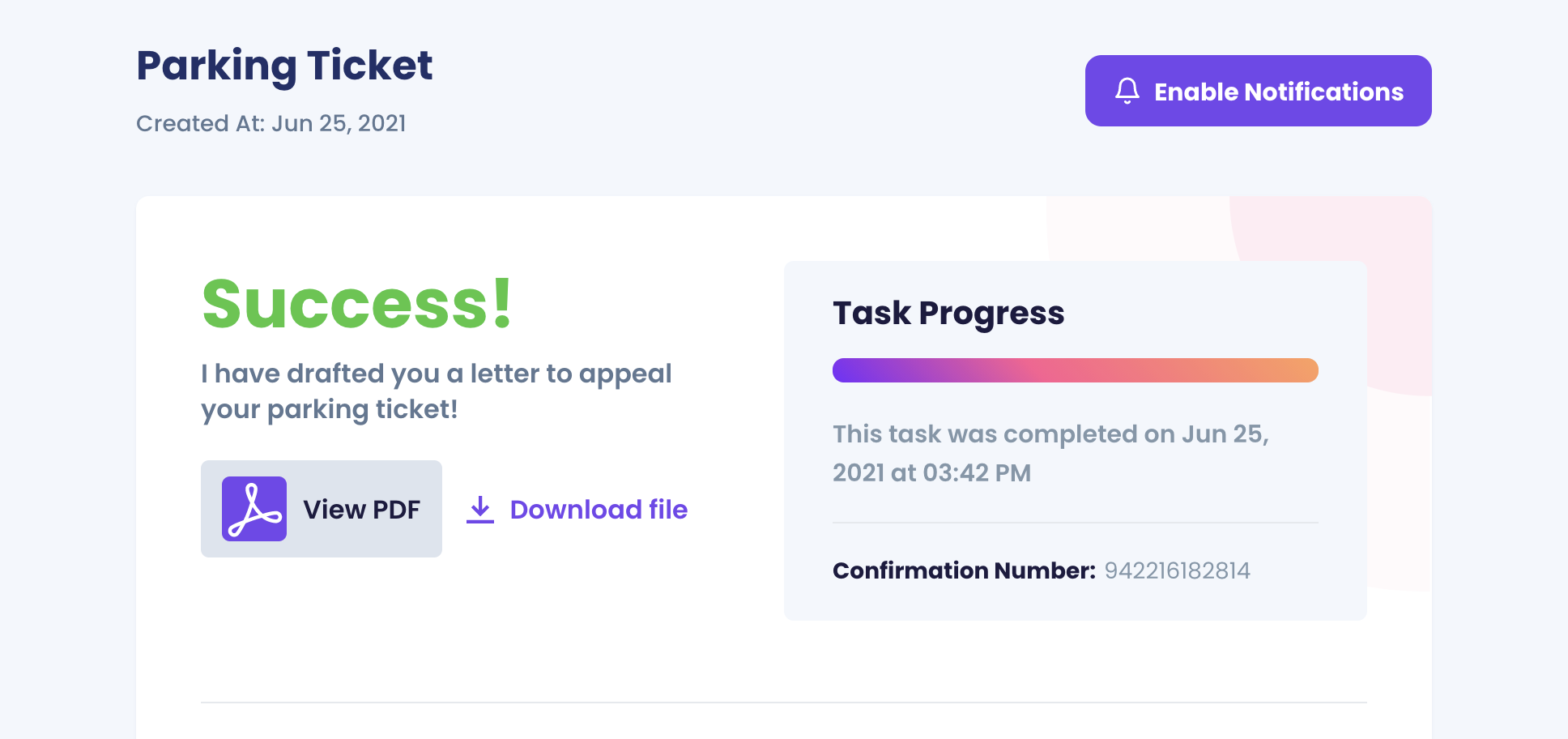 Summary
| | |
| --- | --- |
| Can you appeal a parking ticket? | Yes |
| Do you need an attorney to help you contest your parking ticket? | No |
| Can DoNotPay Help you contest the ticket in less than 2 minutes? | Yes. |
| Do I have to pay for out of state tickets? | Yes. |
| Will the ticket affect my insurance? | Not if you pay on time |
| How long do I have to dispute/ pay my ticket | 30 days |
DoNotPay is Here for You