NYC Parking Ticket Cost - Explained

It's already hard enough to have a car in New York City, and parking tickets don't make it any easier! Let us help you out and get your fine reduced, appealed, and resolved as soon as possible. Our 'Robot Lawyer' was created for busy people who do not have the time or money to deal with arbitrary parking tickets, as an alternative to costly lawyers!
We've appealed hundreds of thousands of parking tickets, and yours could be the next. Check out how much a parking ticket from NYC costs if you leave it unpaid and learn how to appeal them with !
Do You Need a Lawyer to Appeal Tickets?
Lawyers can be costly, and parking citations are often not worth the cost of legal aid to dispute. The process of contacting, finding, and paying a lawyer may be more trouble than it's worth, especially when can help you dispute your citation.
It's not worth hiring legal assistance for a task you can do on your own.
How to Pay or Appeal a Parking Ticket in New York City
New York City's Department of Finance offers a lot of ways to pay or appeal your ticket. NYC also offers payment plans based on your situation or income level. The sections below will take you through the options, whether you want to pay or dispute your ticket.
Ask Nicely, and Get Your Fine Reduced
New York's Department of Finance allows you to forgo the continuation of your appeal if you decide to pay the fine at a lower cost. This is an option when your case gets escalated and receives a court hearing date. You can choose to accept a reduced fine if you think you don't have a chance in court. Apply for it here. The Department of Finance gives you 30 days to pay a parking citation. Here's a table below explaining how to pay:
Method of Payment

Address

Method of Payment Accepted

Paying Your Parking Ticket Online

https://www1.nyc.gov/site/finance/pay-now/pay.page

Credit or Debit

Paying or Disputing your Parking Ticket by Mail

NYC Department of Finance

P.O. Box 680

Newark, NJ 07101-0680

Cash Not Accepted

Paying or Disputing your Parking Ticket in Person

Manhattan Business Center

66 John Street, 2nd Floor

New York, NY 10038

Bronx Business Center

3030 Third Avenue, 2nd Floor Bronx, NY 10455

Brooklyn Business Center

Brooklyn Municipal Building

210 Joralemon Street

Brooklyn, NY 11201

Queens Business Center

144-06 94th Avenue

Jamaica, NY 11435

Staten Island

Business Center

350 St. Marks Place

Staten Island, NY 10301

Paying or Disputing your Parking Ticket by App

[Hearings can be scheduled from here]

Download "NYC P-Ticket Pay or Dispute"

Accepts credit card, PayPal, Venmo, and Apple Pay.
Check out the city provided guide on how to appeal your ticket here.
Do I Need to Pay Parking Tickets from Out of State?
While it may seem easier to duck out and ignore parking tickets you receive out of state, it's not worth ruining your vacation. Penalties for out of state parking tickets can multiply just like normal ones, and it's not worth the potential for your car, your credit score, having your car impounded, or even ending up in court. Most states will send your case to a collections agency since they have your vehicle information on file.
Can I Get a Ticket While I'm Sitting in the Car?
Contrary to popular myth, you can actually get ticketed while you're in the car. Regardless of what's happening in the car, if your car is in an illegal spot, you can be legally ticketed. Most cops will use their discretion, and will likely give you the benefit of the doubt, all tickets you get, regardless of if you're waiting in the car, will be legally sound.
Can DoNotPay Help Fight Parking Tickets From Private Companies?
Yes. There's no limit to what DoNotPay can help you with, and our robot lawyer is ready and able to dispute parking tickets from any and all private companies, such as Impark, ACE parking, SP+ Services, Diamond Lots, and many more...
Appeal Parking Citations in NYC Fast
Constructing your appeals argument, jumping through all of the bureaucratic hoops, and having to contact a lawyer are all steps that take too long for the average busy person.
DoNotPay compresses all these steps into an easy, two minute process:
Log-in to

and go to the Parking Tickets product
Upload a snapshot of the ticket and tell us which state you got it in
Provide additional information and evidence to back your claim
Choose to have DoNotPay send it for you
That's it! Your appeal letter will be ready for you in seconds. If we mail it for you, wait 2 weeks for it to process and send! Hold on to the app for your future parking tickets, speeding tickets, or other driving citations.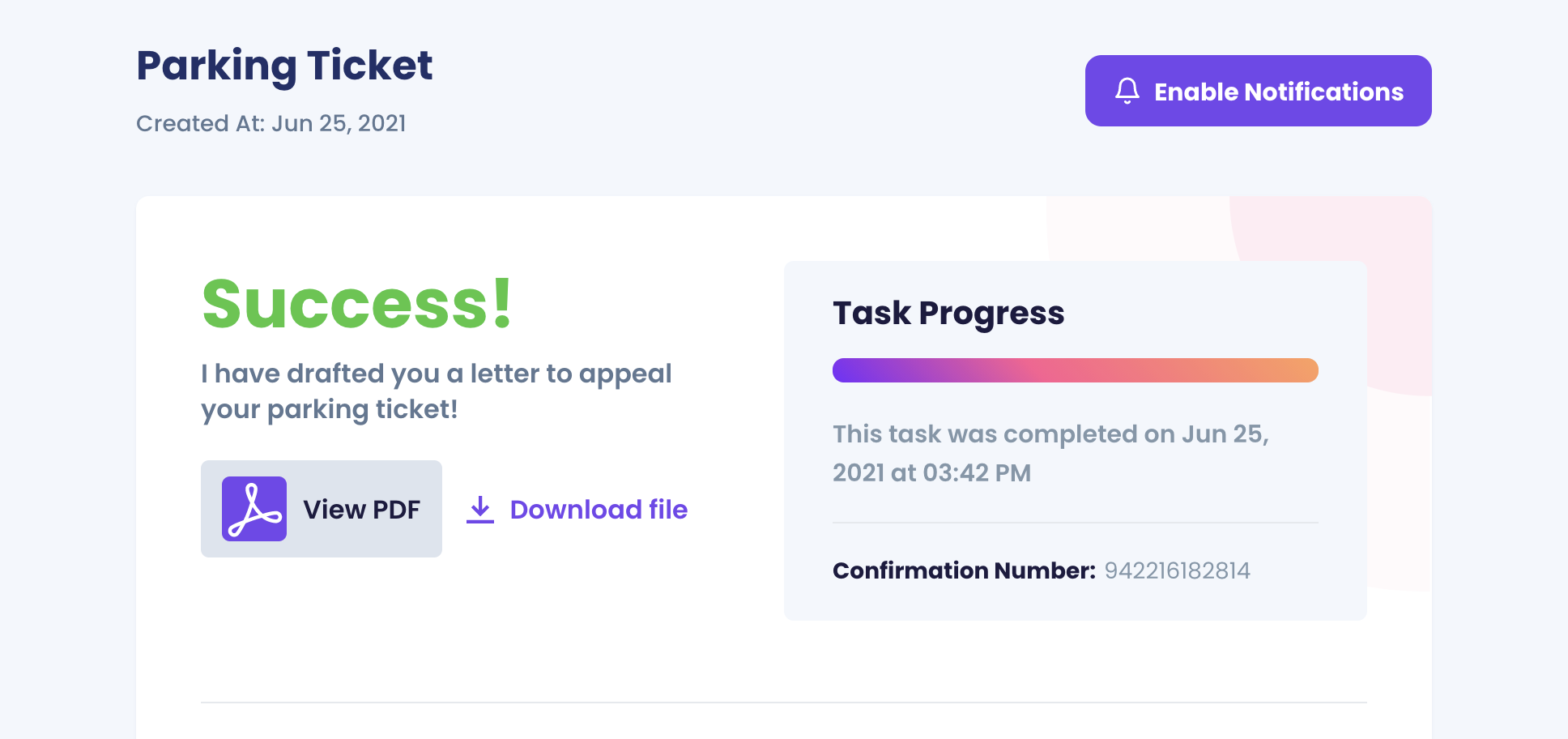 DoNotPay Helps You With…
Still not convinced? Here's more: