Where to look for grants to help pay bills? DoNotPay knows the answer
According to CBS News, 70% of Americans say that they are struggling financially. Monthly statements are among their major concerns, as many don't earn enough to cover these expenses regularly. To be more precise, nearly half of consumers pay their bills late. When they find themselves in such a situation, many people start thinking about applying for grants to pay what they owe.
Are you, too, considering this option? If so, DoNotPay can point you to some of the best options out there. In fact, we can do even more—our app can help you deal with all the accumulated bills that are giving you a headache.
DoNotPay can help if you're struggling with your bills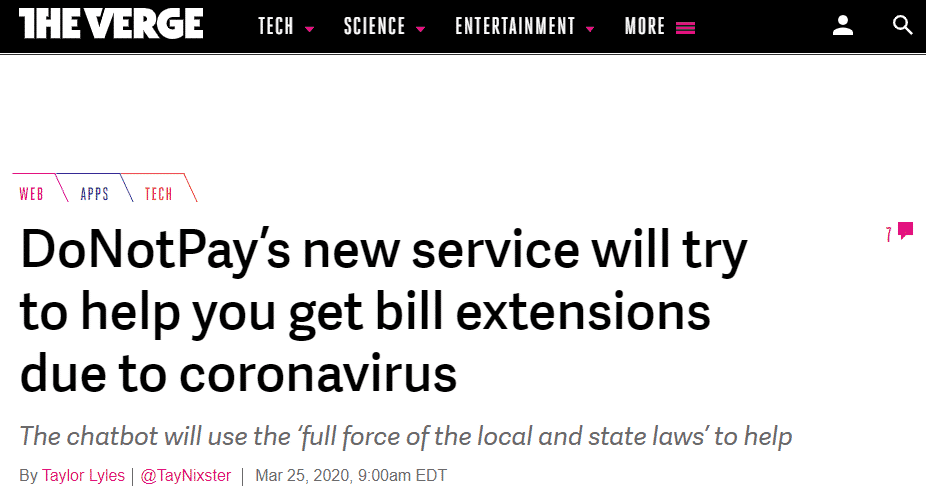 While there are several options to deal with piled-up bills and low income insufficient to cover them, the most efficient way to go about it is to use our app. By efficient, we mean both financially and timewise. When you rely on DoNotPay, you only need to take four simple steps:
Log in to your DoNotPay account via a

Tell us which bills specifically you're struggling with

Give us your personal information (name, email, and home address)

Provide a short explanation so we understand your problem and what kind of help you're looking for
When we have all the necessary information, the rest of the job is on us. You can relax and just wait up to two days for the entire process to be completed. Our app will inform you as soon as everything is finished.
What grants to help pay bills are there?
There are many different grants that you may apply for depending on your situation and the reason why you're having difficulties paying bills. Some are intended only for those coming from low-income families, while others cover several groups of people in need. Here are a few of the best options to consider if you want to apply for grants for assistance with home bills:
Operation Round-Up

Net Wish

The Low Income Home Energy Assistance Program (LIHEAP)

Supplemental Security Income (SSI)

The Child Care and Development Fund
Operation Round-Up
This charitable program is offered by many utility and electric companies around the country. Your utility company may have a different name for it, but the way it works is the same in all states.
As the name itself suggests, the idea of this volunteer program is that people who are financially stable agree to have their bills rounded up to the next dollar amount. Even though that usually amounts to 50 cents a month, it eventually adds up, allowing the program to help out numerous families in need. Since the funds raised only from customers are not always enough to cover those in need, many utility companies, and local businesses make their contribution. Eventually, tens of thousands of people benefit from Operation Round-Up every year.
Net Wish
Net Wish is a non-profit organization offering free grants to help those struggling with their bills, basic everyday expenses, and emergency expenses. Families with children and the elderly are their top priority. Other vulnerable people facing financial problems can also be eligible for the cash grants this organization provides.
You should know that they don't give the grant directly to the applicants who are eligible. They pay the money to the medical provider, utility company, or whomever the applicant in question owes the money for unpaid bills. Since the funds for free grants are limited, they offer a maximum of $200 per request.
The Low Income Home Energy Assistance Program (LIHEAP)
This grant program is designed to help low-income families who can't afford to cover heating and cooling energy costs. The Department of Health and Human Services funds the LIHEAP grants by states. Each state has specific eligibility requirements that applicants need to meet. This means that the income level considered low enough to allow the grant may also differ from state to state. On average, these are annual household income limits:
| | |
| --- | --- |
| Members per household | Maximum annual income level |
| 1 | $18,375 |
| 2 | $25,365 |
| 3 | $31,995 |
| 4 | $38,625 |
| 5 | $45,255 |
| 6 | $51,885 |
| 7 | $58,515 |
| 8 | $65,145 |
Supplemental Security Income (SSI)
Supplemental Security Income program provides cash grants for the disabled for paying bills. It is designed to help the elderly with low income, limited resources, and limited or no ability to work. Applicants younger than 65 and those with short-term disabilities are not eligible for SSI.
SSI is primarily set up to provide help with food, shelter, and clothing. Even though the program is not designed specifically to provide help with utilities and other monthly expenses, those who get the grant are allowed to spend the money on anything they need.
The Child Care and Development Fund
The Child Care and Development Fund provides help for low-income families so their children can have access to child care. That way, the program helps parents who need to go to work or attend school.
To be eligible for the grant, you need to be a parent of a child younger than 13, or 19 if incapable of self-care. Primary caregivers, too, are eligible if they meet the rest of the conditions. The grants are income-based, so it's necessary to provide proof of low income as another eligibility requirement. Applicants have to be either employed or enrolled in an education or training program.
Should I apply for personal government grants?
Personal government grants are primarily intended for a specific purpose. Most people use them when they need to purchase a new house or a vehicle or repair their existing house. Other reasons why people also use them include the following:
Mortgage payments

Rent

Credit card bills and debt

Real estate taxes

services

Education

Insurance

Holiday travel
You can apply for a personal grant to pay utility and medical bills, too, although this is a less common scenario. The previously listed programs are more suitable when you're struggling with your monthly expenses.
What else can I do if I need help paying bills?

If you don't qualify for any grants, there's no need to start panicking. You may get the grant the next time you apply (if need be). In the meantime, there are many other things you can do to find help paying bills, including the following:
Applying for a payment plan

Asking for a discount

Looking for organizations that provide financial aid for bills
Apply for a payment plan
If your income doesn't allow you to cover the full amount of a bill, you might be able to pay smaller installments one at a time. In case this sounds manageable, you should talk to your service provider and ask if they offer some kind of a payment plan. Look into details and ask about requirements to check whether you meet their criteria.
Ask for a discount
Another option you have is to ask for a discount. Not all service providers will be able to offer you one, but it doesn't hurt to ask. For instance, some phone companies offer discounts for family members. Do not hesitate to contact the service provider in question (depending on what bills you're struggling with) and ask for any discount schemes that you may qualify for.
Look for organizations that provide financial aid for bills
You might also want to consider asking for financial assistance for your monthly bills. There are numerous non-profit organizations and charities that help those in dire need of financial aid for their basic expenses. These organizations usually have limited funding, so you need to meet certain requirements to be eligible for the help they offer. Here are some of the best organizations to turn to:
| | |
| --- | --- |
| Organizations offering financial aid | How they can help you |
| | To qualify for the limited funds that this organization offers, you need to have proof that you're going through financial hardship. Not only can the Salvation Army help you with monthly bills, but it can also offer assistance with other basic needs, such as food and shelter. Their family emergency services include counseling, too. |
| | This national non-profit charity offers financial assistance for paying bills, as well as housing, food, and medical expenses. It covers people coming from low-income families and the elderly. |
| | Those struggling to cover huge medical costs should turn to Medicaid. This organization helps mostly families with limited income and resources. Other eligible groups include the elderly, people with disabilities, and foster care children. |
Is using my credit card to pay bills a good idea?
While using a credit card to pay bills is quite common, you shouldn't go for this option without a second thought. This form of payment may be convenient for several reasons, but there is one drawback that you need to be aware of. When you use credit cards to pay accumulated bills, or you use them too frequently, you can easily damage your credit score as a result. That's why it's better to try with some other options first.
Should I apply for a loan to pay the bills?
Loans to help pay bills should be the last option to take into consideration. You need to look at the big picture here. While applying for a loan to help pay bills might sound tempting at the moment, this option can only cause you more trouble in the long run.
Don't forget to check for the most common errors
Quite a few people out there are paying bills without even realizing what exactly they're giving their money for. They're not reading their billing statements carefully enough to spot potential errors, so they might as well pay someone else's bill without realizing so. To avoid this, you need to pay attention to every single thing listed, starting with billing information (name, address, billing date, etc).
Another potential scenario is that there are duplicate items. If just a single service is charged twice, that's enough to make your bill suspiciously high.
Speaking of services, you should also check if you've actually used everything you're being charged for. There might be a service you've never received that's making you feel dizzy looking at the total amount.
DoNotPay can send an extension letter on your behalf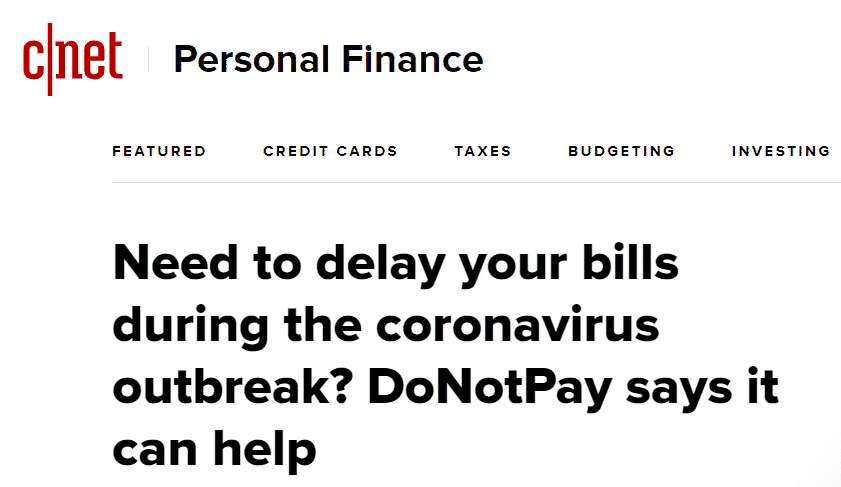 If your income cannot cover your monthly bills, one of the easiest things to do is to ask for an extension date. Many people do this, and many providers approve such requests when there's a valid reason. If this will solve your issue, too, here's what you can do to ask for an extension:
Contact customer service

Ask for an extension in person

Send a letter
If you're thinking about sending an extension, but you're not sure how to compose it, there's nothing to worry about—DoNotPay is here to write an extension letter for you. We will need just a little bit of your help. You should provide your personal information and tell us who your service provider is. Since they will want to know on what grounds you're asking for an extension, we will also need you to tell us a bit more about your situation. Then our app takes over. DoNotPay can send an extension letter on your behalf, too.
Rely on DoNotPay to ask for a waiver on late fees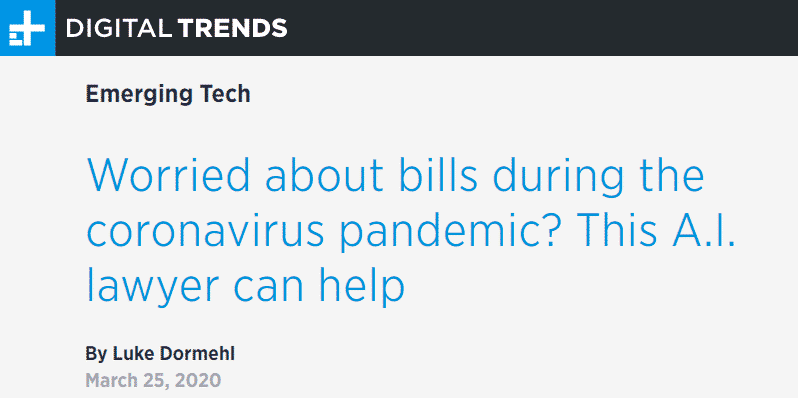 Another convenient option if you're struggling with your bills is to ask for all late fees to be waived. If you choose this solution, you can do the following:
Go to your service provider in person

Contact customer support

Turn to a lawyer or financial advisor for help

Send a waiver letter
Many would jump to the conclusion that asking for professional assistance is the most reliable option. While experts are the most reliable, they are usually quite expensive, too. This doesn't bode well for you now that your income is not sufficient to cover bills, let alone some additional expenses. What if you could get legal assistance for free? You can when you use our app. DoNotPay is the world's first robot lawyer, and you can get the help you need free of charge. Our app can generate a letter asking for all late fees for your bills to be waived and then send it on your behalf.
What is going to happen if I don't pay my bills?
Depending on the bills, different things can happen if you fail to pay them. In some cases, your service provider will just temporarily disconnect you, while in others, you might be even taken to small claims court. Some providers will leave it to a collection agency to handle the situation. Should something like this happen, you need to be prepared and act accordingly. Here's what you should do when going up against a collection agency.
Find out more about collection agencies and how they operate

Keep a record so collectors cannot wrong you

Offer to pay a part of your debt for a start
Find out more about collection agencies and how they operate
Even though it is their job to do anything they can to make you settle the debt, there are still certain things that collection agencies are not allowed to do. Make sure you do some research, so you know what they are allowed to demand in your situation. The most important question to answer is whether they can take you to court. This is possible if you have an unpaid phone bill, for instance.
Keep a record so collectors cannot wrong you
When dealing with a debt collection agency, the safest way to protect yourself is to have a paper trail of everything. The only way to rest assured that they don't wrong you is to record every step of your debt progress. How can they ask for more money if you have proof of how much has already been paid, right?
Offer to pay a part of your debt for a start
Even if you can't possibly pay off the entire debt at once, there still might be some room for negotiation. Talk to the debt collectors about the possibility of paying off a part of your debt for a start. You never know—they might accept your offer regardless of the amount you're able to pay at the moment.
DoNotPay Protects Your Privacy and Finances
Sharing your credit card details online comes with certain risks, and it's getting more difficult to tell good and bad websites apart. With DoNotPay's virtual credit card generator, you will be able to protect your identity and bank account from cyber scammers.
Whenever you run into a suspicious email or website, generate a virtual credit card and proceed without worries. Our virtual cards also work like a charm if you want to avoid automatic payments after free trials.
Can I use DoNotPay for something else?
You can rely on DoNotPay to help you with many other issues. Our app is here to make any bureaucratic procedure a breeze. We believe that you don't have to trouble with these by yourself, and we want to get you the justice you deserve. In addition to the previously mentioned, DoNotPay can also help you do the following:
Fight traffic tickets

Fight speeding tickets