Beating a NCSU Parking Ticket Easily!

How To Contest A Ticket From North Carolina State University
Maybe you were late to class and parked your car in the first spot you could find, or maybe you were visiting NCSU and didn't know you weren't allowed to park at a certain time - next thing you know you found a ticket on your car. Whatever the case, there's no need to panic, with just a tap on your phone can help you beat your citation in minutes.
This article will help you with everything you need to know about NCSU parking tickets, from payments, to consequences and disputing the citation.
Are There Any Consequences For Leaving A Ticket Unpaid?
Parking citations are meant to be paid within 30 days of having been received. Depending on your association with the university the consequences can affect you differently. Here are some important things to know:
If You Are a Student at NCSU
Leaving your parket ticket unpaid for longer than 30 days will lead to your student account being placed on hold, this will prevent you from enrolling into classes or making adjustments to your schedule.

You must pay the due amount directly to the NCSU Transportation Department in order for this to be reverted.
Faculty or Staff
If you work within the university, the fee will end up being deducted from your next salary if it is not paid within the first 30 days.

If you are a temporary employee, these parking citations may go on your employee record.
Individuals Not Associated With NCSU
If you are neither a student nor an employee of the university, then your ticket can be paid within 60 days of being fined.

Taking longer than this will result in being charged a monthly interest of 8% and additional interest charges.

If you take longer than 90 days then the interest rate will increase to 10% and your citation will be passed on to a collection agency.
Anyone With More Than 6 Citations
Will have their vehicle booted or towed according to NCSU's parking regulations.

You will need to pay the towing company for the release of your car.
How Can I Pay My NCSU Parking Ticket?
You can pay your parking citation online, in person, by money order, check or credit/debit card. Students can even use their all-campus card to complete the payment. All you have to do is go to NCSU Parking Violations and Fines website and submit your payment details.
If you decide to pay by mail, you can send your fee and your parking ticket to the following mailing address: NC State University Transportation, C/O Appeals Officer, Campus Box 7221, Raleigh, NC 27695-7221
If you wish to conduct your payment in person you can visit the NCSU Transportation Office:
Administrative Services I, 2721 Sullivan Dr, Raleigh, NC 27607
How Much Would A Parking Ticket Cost Me In NCSU?
NCSU parking violations can cost you anywhere from $10 to $250, here is a brief list of the most common violations you might be charged with on campus:
Not showing your permit - $50

Parking against traffic flow - $10

Parking outside of permitted zones - $40

Overtime parking - $20

Parking in restricted areas - $100

Boot Removal - $50 (1st occasion) and $150 (second occasion)

Parking in an accessibility area / restricting an accessibility zone - $250
For further information on the fees related to parking violations you can click here.
Beating A Parking Ticket Has Never Been Faster
DoNotPay's robot-lawyer has helped to beat hundreds of thousands of tickets, just check out this article by Newsweek "Robot Lawyer Overturns $4 Million in Parking Tickets." The process is fast and effective, and only requires a few basic steps:
Head over to

and log-in

Press the parking ticket icon and upload a photo of your ticket
Tell us what you think is wrong with the ticket

Provide the state you got your ticket

Choose whether or not you want DoNotPay to mail the appeal for you
That's it! How simple and easy was that?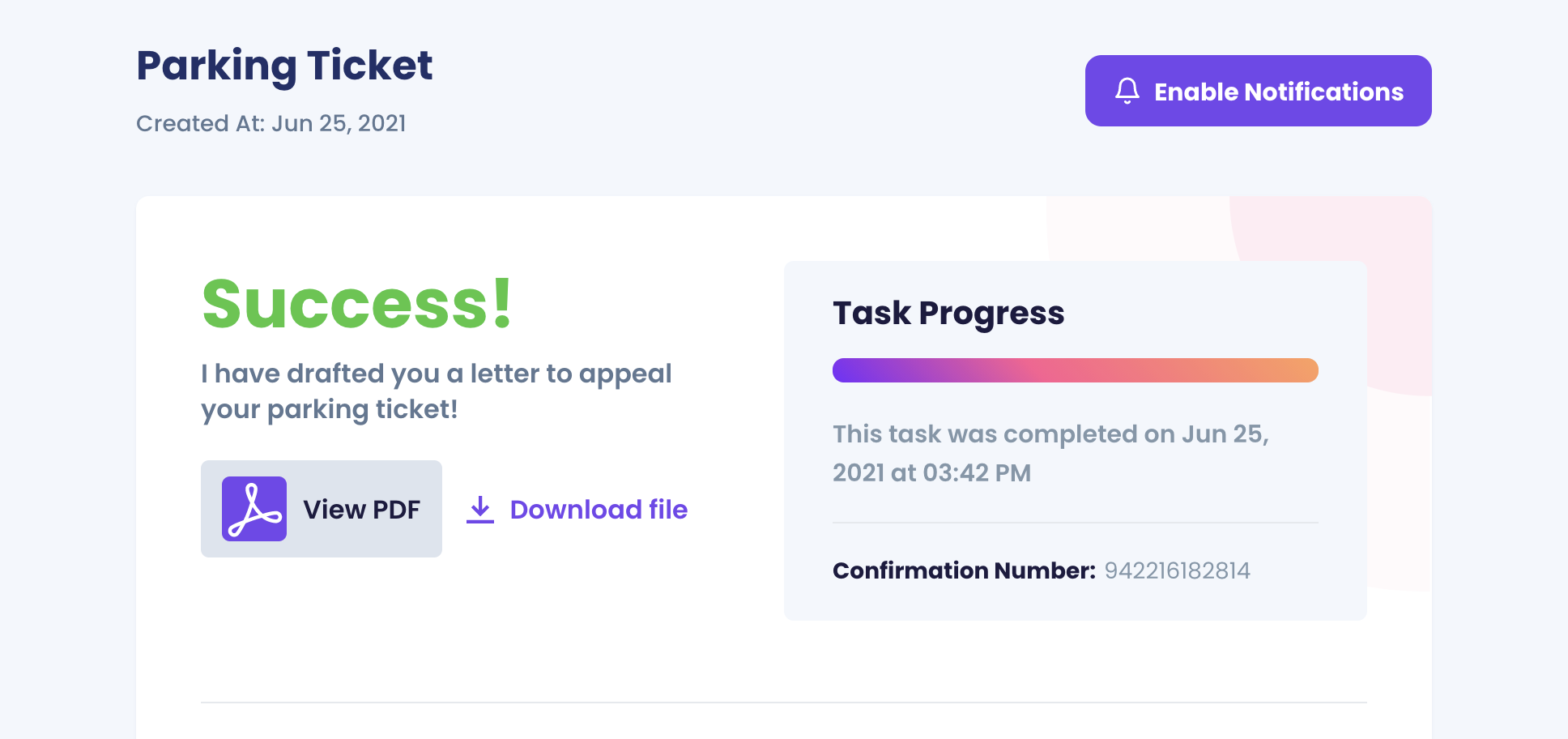 Summary
| | |
| --- | --- |
| Can I fight a parking ticket? | YES |
| How much will a parking citation cost in NCSU? | Anywhere from $10 to $250 |
| Could there be consequences for not paying/ contesting on time? | YES |
| What methods of payment can I use? | Cash, credit card, mailing your payment or money order. |
| Is DoNotPay qualified to help me fight a parking ticket? | YES |
| Is contesting my ticket worth the hassle? | YES |
DoNotPay Does It All!