Appeal and Win Marlin Parking Tickets

If you've ever received a parking ticket before, you know how stressful and frustrating it can be. But what you may not know is that there is a way to contest your parking ticket so that you don't have to pay a fine.
If you live in the city of Marlin, Texas, this article will teach you how to contest your parking ticket in less than 2 minutes with !
It's Never Been Easier To Beat A Parking Ticket!
Although you might be intimidated by a parking ticket, there's no need to despair, has helped overturn hundreds of thousands of parking tickets before. Just check out this article by the BBC on DoNotPay's success, "Robot Lawyer Fights Parking Tickets."
Do You Need A Lawyer To Dispute a Parking Ticket?
Although an attorney could technically help you contest a parking ticket, it is absolutely not necessary to hire one.

The average attorney charges by the hour, and it could charge you anywhere from $100 to $1000 for their services.

With DoNotPay, you can spare yourself the hassle of hiring and paying for a lawyer (and it would certainly speed up the process).
Paying For Your Parking Ticket In Marlin, Texas
If you don't intend on disputing your parking citation then it's important to pay the fine as soon as possible. If you delay payment it can result in accumulating late-fees and worsening your credit score. Follow these easy steps to pay for the parking ticket online:
Go to the city of

Marlin's official website

.

Select the payment icon.

Click on the option "Pay Traffic Ticket".

You should see a "Pay Online Now" option.

Click and you will be redirected to a secure online payment provider.

If the payment is successful you will be redirected to a receipt.
You will need a valid US credit card in order to pay. Foreign issued cards will not work.
Consequences for not Paying a Parking Ticket
Leaving a parking ticket unpaid can be a serious issue in the long run. Although it's not grave enough to land you in jail, here are some of the issues it could cause you:
Refusing to pay could increase your penalty by almost double the original amount.

In Texas, your local court can issue a notice asking you to pay the amount you owe and even ask that you present yourself at court. If you do not attend the hearing they can issue a bench warrant for your arrest (meaning that you can be stopped by the police if they see you driving.)

Sometimes your vehicle can be booted - a device will be attached to your tires to prevent you from driving. The device will only be lifted once they can confirm your ticket has been paid.

If you accumulate several parking tickets and they all go unpaid for long periods of time, your license can eventually end up being suspended. This would stop you from driving altogether.
The best way to avoid all of these issues is to simply pay your parking ticket, or choose to dispute it to avoid the fees altogether.
Should I Really Go Through The Hassle of Contesting a Parking Citation?
The simple answer is yes! In fact, with DoNotPay, disputing a parking ticket no longer has to be a hassle at all. And by beating the ticket you will actually spare yourself from paying an unnecessary fine.
Successfully Contest a Parking Ticket in Less Than 120 Seconds
If you want to dispute a parking citation in the city of Marlin, DoNotPay can help you just by following these easy steps:
Log-in to

and head to the Traffic Disputes category

Select the relevant ticket you received

Upload a photo of your ticket and answer the questions

Tell us which state you got your ticket from (in this case, Texas)
Select whether you want DoNotPay to mail the appeal for you
With all of the information you provide, will generate a formal letter written specifically for the laws and regulations of your state. All you have to do is submit the appeal (if we haven't already) to see the outcome of your dispute!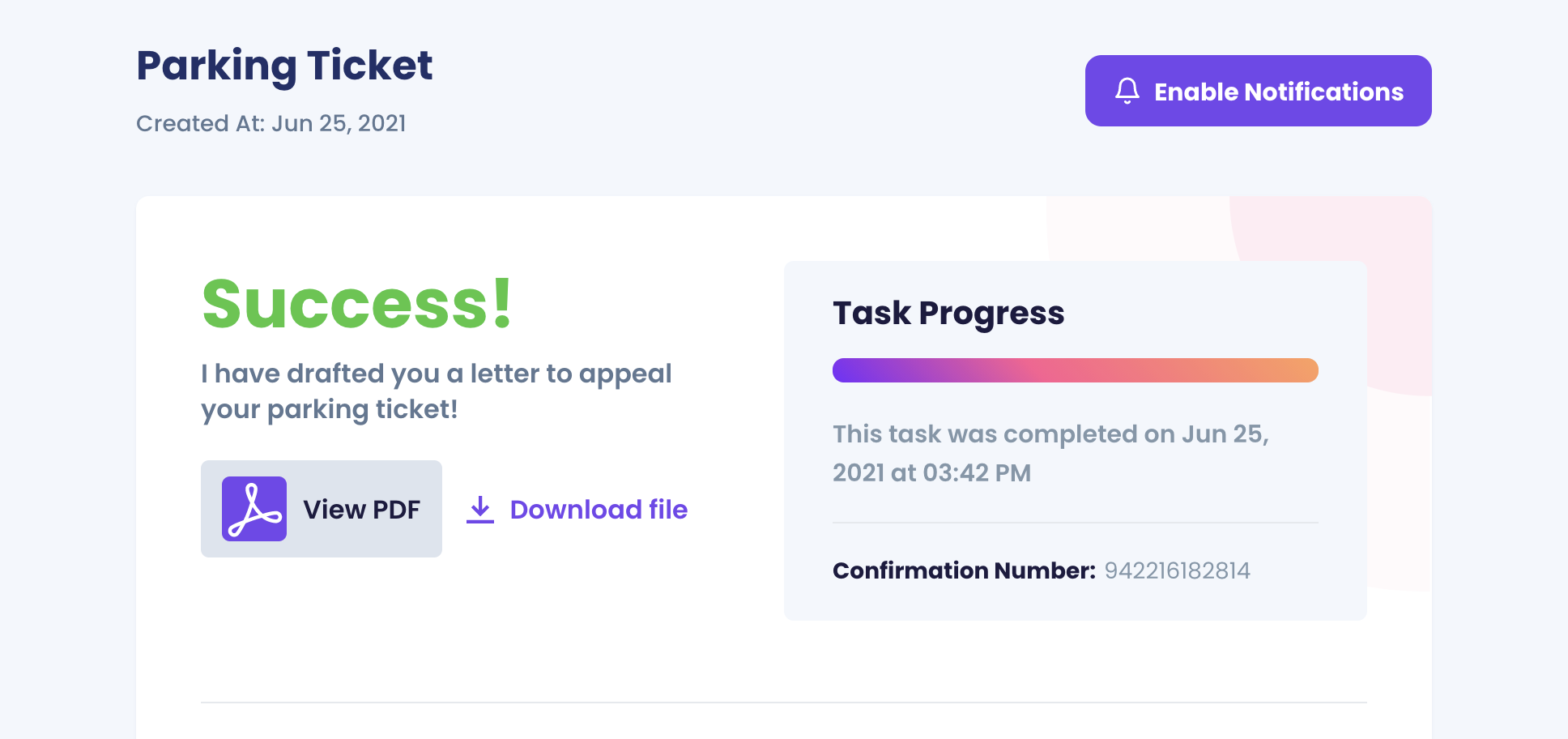 Summary
The Key Facts

Explanation

Contesting your parking ticket is definitely worth it

Not only will it save you from paying a fine, you will no longer have to worry about any of the consequences of unpaid tickets.

Lawyers aren't necessary to dispute a ticket

Lawyers can be costly and it can be time consuming to hire one, so we definitely recommend you either do it by yourself or with

.

There are consequences to leaving your ticket unpaid

Yes. Increased fines, having your vehicle booted and license revoked are some consequences. The price for not paying your ticket can be more than just a small fee.

DoNotPay can help you dispute a parking citation faster and more effectively than ever

With hundred of thousands of cases under its belt, DoNotPay's AI-lawyer can help you contest your ticket successfully.
Get Help From DoNotPay!