Smart Hacks That'll Get Your Lufthansa Baggage Fees Waived
If you've ever traveled by air, you know how expensive baggage can be. Lufthansa, for example, will let you check a strictly limited amount of luggage for free. But, after that, additional baggage costs a lot. That's the bad news. The good news is DoNotPay knows how to fight and even .
Cities Served by Lufthansa
Based in Cologne, Germany, Lufthansa Airlines services passengers in numerous destinations across Europe, Asia, Africa, and the Americas. US cities served by Lufthansa include but are not limited to:
Atlanta (ATL)
Austin (ABIA)
Boston (BOS)
Charlotte (CLT)
Chicago (ORD)
Dallas-Fort Worth (DFW)
Denver (DEN)
Detroit (DTW)
Los Angeles (LAX)
Miami (MIA)
Newark (EWR)
New York City (JFK)
Orlando (MCO)
Philadelphia (PHL)
Portland (PDX)
San Diego (SAN)
San Francisco (SFO)
Tampa (TPA)
Washington DC (IAD)
Flyers can incur multiple  depending on their destination, amount of luggage, and luggage weight. But you don't have to let that cast a shadow on your travel plans.
Rising Baggage Fees Explained
Well-seasoned travelers may recall a time when airlines did not charge additional fees for legroom, pillows, in-flight snacks, checked baggage, or food. Amenities were bundled together in the ticket price, and there were no surprises at check-in. That all changed in the first decade of the 21st century, as explained by Quartz magazine.
As deregulation increased, so did airline consumers' ability to comparison shop. Ultimately, ticket prices went down as airlines started charging more for everything else, including baggage.
Lufthansa Baggage Fees
According to Lufthansa, the carrier accepts baggage with a combined maximum width + height + depth of 62 inches or 158 centimeters. Individual baggage items that are larger than the approved dimensions may be checked for a flat fee. Consider these guidelines:
Economy Class passengers may check one bag up to 23 kg for free.
Economy Class Frequent Travelers may check two bags up to 23 kg for free.
Business Class passengers may check two bags weighing up to 32 kg, each for free.
Business Class Star Alliance Gold passengers may check three bags up to 32 kg each for free.
First Class passengers may check three bags up to 23 kg each for free.
First Class Star Alliance Gold fliers may check four bags up to 32 kg each for free.
Additional Lufthansa Baggage Fees
Consider these additional fees for extra luggage:
| | |
| --- | --- |
| Extra Luggage on Domestic and European Flights | One extra bag that weighs no more than 23 kg costs $80 within Germany. Take that extra bag on a flight outside Germany but still in Europe, and you will pay an additional $92. |
| Extra Luggage for Long International Flights | The same extra bag flown to North Africa, Central Asia, or the Mediterranean coast will run you an additional $115. First Class passengers who check one extra bag that weighs up to 32 kg on a Lufthansa flight to or from Japan will have to shell out a whopping additional $500. So, you can see how Lufthansa baggage fees really do add up in a hurry. |
DIY Guide to Getting Lufthansa Baggage Fees Waived
If you think you can easily get a , good luck with that. The company website offers a couple of ways to ask for fare refunds, but finding a place to request a waiver of baggage fees may be less successful for the average traveler.
If you pre-paid baggage fees and now want your money back, check into your Lufthansa account and navigate to My Bookings, then select Flight Details. You can request a manually processed refund there. Alternatively, you can try talking with the Lufthansa chatbot.
Bear in mind that Lufthansa may not refund all of your money due to taxes and non-refundable fees. Also, be sure to ask for a fee waiver or ticket refund on a computer, because so far, there is not a decent phone app for that.
If this all sounds like a mighty frustrating task, it is. But DoNotPay is standing by, ready to fight and waive Lufthansa baggage fees for you.
An Easier Way to Fight and Waive Lufthansa Baggage Fees
Where baggage fees and refunds are concerned, going it alone can be more than difficult. That's one reason DoNotPay exists. We offer a much easier way to get Lufthansa baggage fees waived. It only takes a minute or two. Here's how:
1. Search "appeal fees" on DoNotPay, choose the Fight and Waive Fees product, and select the type of fee you want to appeal.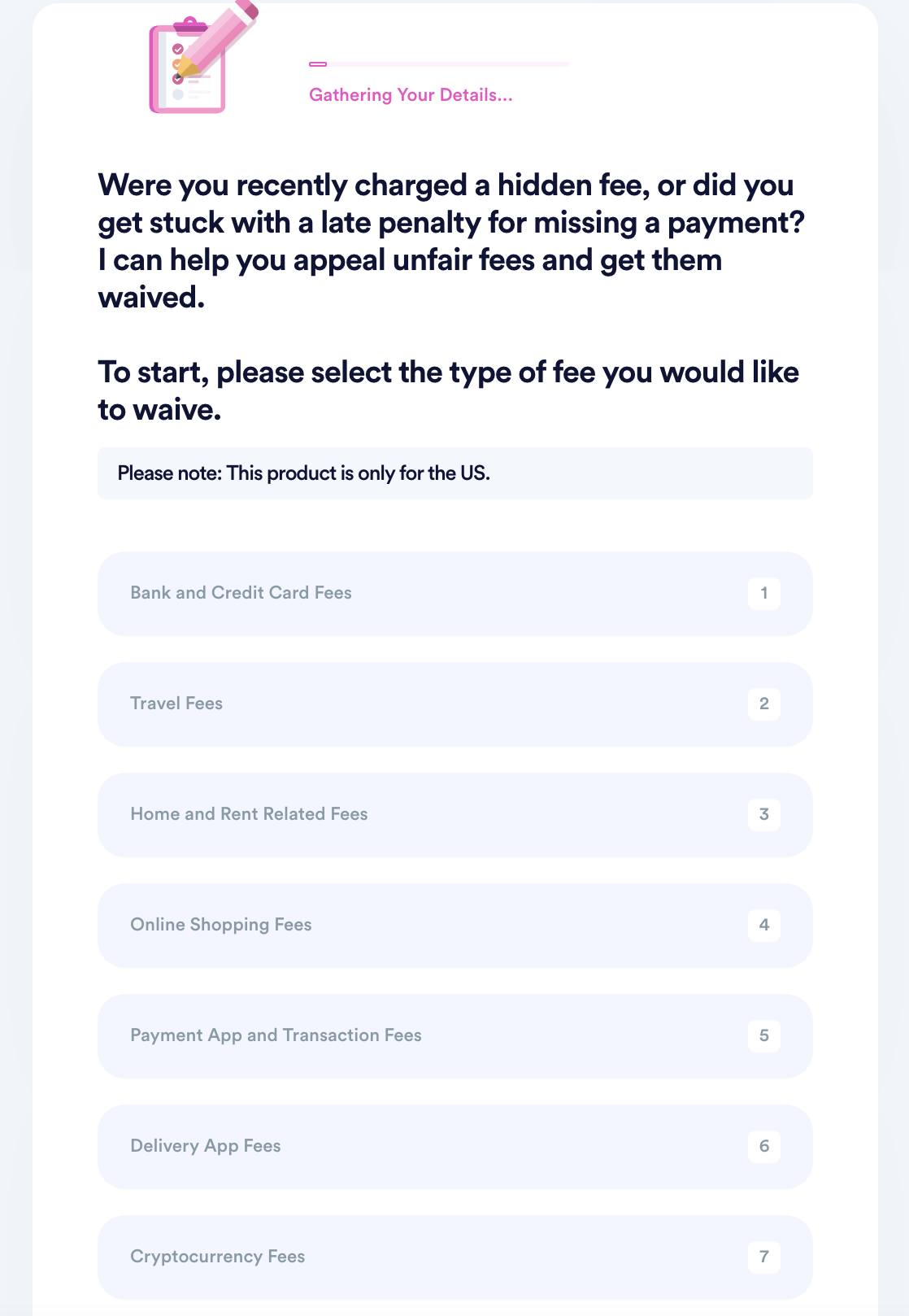 2. Select the merchant you want to appeal fees for and enter the details of your transaction, including an associated account if you have one.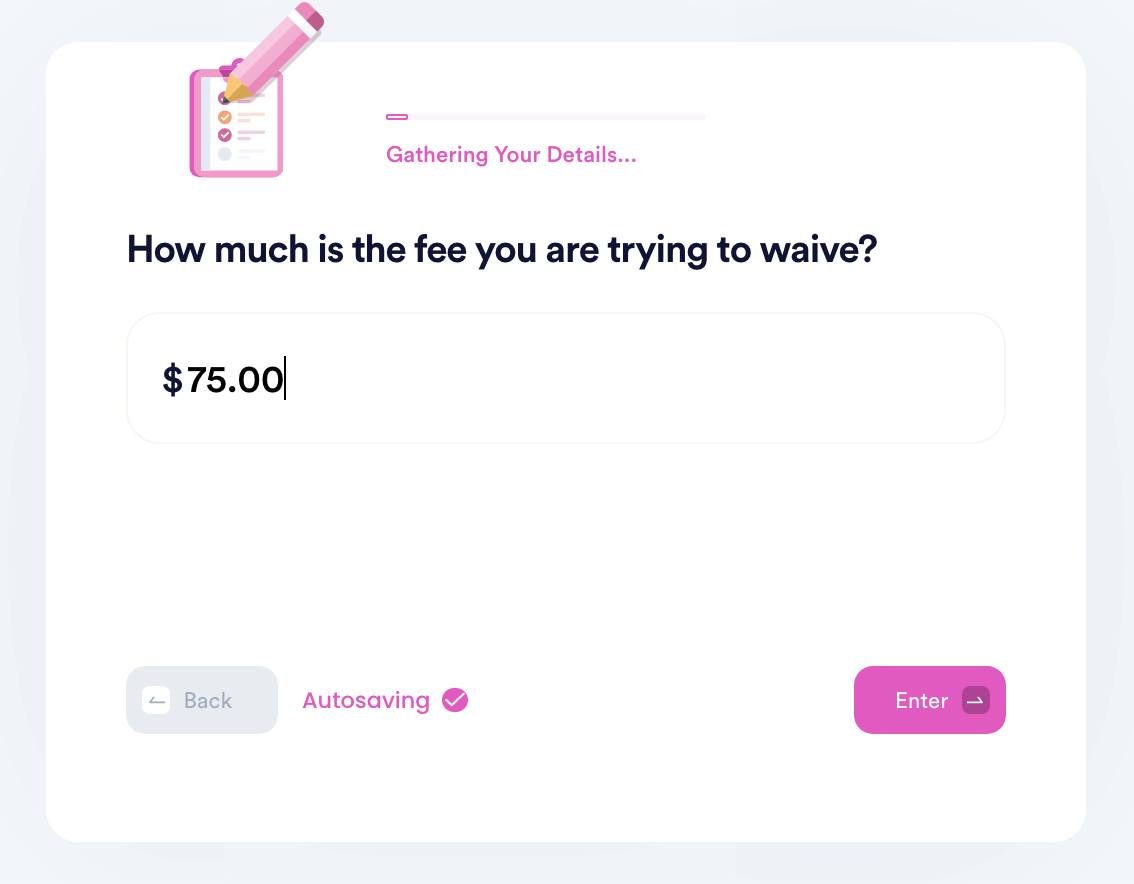 3. Submit your case! DoNotPay will generate the best argument for your case and make sure your fee waiver request gets sent to the merchant for processing.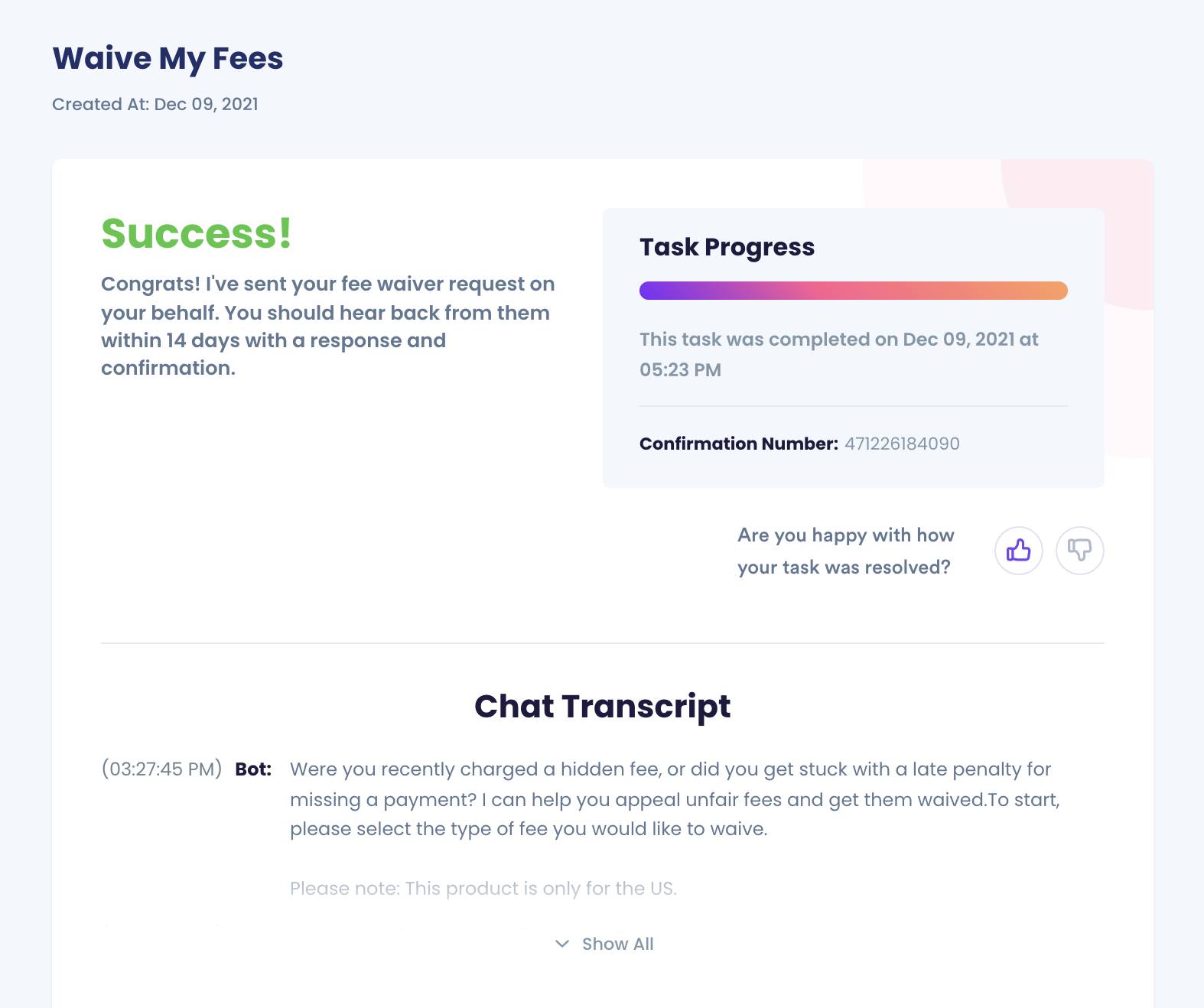 That's all there is to it!
DNP Simplifies Life in So Many Ways
DoNotPay started out as a way to help people fight parking tickets. Today, our artificial intelligence online attorney handles all sorts of refunds, cancellations, and waivers. In addition to Lufthansa baggage fees, Spirit Airlines baggage fees, and American Airlines baggage fees, DNP can help you:
Waive Robinhood fees

Waive Shopify fees
DoNotPay Is Standing By and Ready to Assist
If you are ready for DoNotPay to  or practically anything else, without hesitation!