A Lancaster Parking Ticket is Easy to Beat!

Parking tickets are costly, but are completely avoidable. helps people dispute parking tickets in less than 3 minutes. Don't believe us? Read this article published by the Guardian! We've handled more than 160,000 parking tickets, and yours could be next!
This article will explain all you need to know about receiving a parking ticket in Lancaster, California and how you can dispute it! We'll also go over and how its "Parking Tickets" service works!
Parking Penalties in Lancaster
The city of Lancaster recognizes 26 parking violations with fines. The following table is an overview of all violations, and the fine you must pay if you commit one:
| | |
| --- | --- |
| Violation | Fine |
| Overtime Parking, no meter | $20 |
| Parking at a loading zone | $20 |
| Meter Violation | $20 |
| Parking at a street cleaning | $25 |
| Parking at a snow removal street or near a snow emergency | $30 |
| Parking on the wrong side | $20 |
| Parking greater than 12 inches from the curb | $20 |
| Parking at a bus stop | $20 |
| Parking during prohibited times | $25 |
| Parking where no parking or stopping is permitted | $20 |
| Expired registration | $20 |
| Parking incorrectly in back-in angle parking spots | $20 |
| Parking less than 20 feet from an intersection or crosswalk | $30 |
| Parking 30 feet from traffic signal or stop sign | $30 |
| Parking within 15 feet from fire hydrant | $75 |
| Double parking blocking traffic lanes | $75 |
| Parking in a fire lane | $75 |
| Parking in a handicap zone | $200 |
| Parking in front of a handicapped curb ramp | $75 |
| Parking in an oversized vehicles area | $200 |
| Overtime parking in a residential parking permit area without a meter | $25 |
| Parking in neighborhood parking permit area without a permit | $25 |
| Parking on a sidewalk, or blocking a sidewalk | $75 |
| Parking blocking a driveway or garage | $75 |
| Parking blocking emergency driveways, garages, or ingress, egress and regress therefrom (such as police, ambulance, fire, hospital emergency driveway) | $200 |
Can I Really Dispute a Ticket?
Yes, disputing a ticket is an option for Lancaster issued tickets. If you are at fault, then you will not be successful in disputing the ticket, however the fine may be reduced. If any of the following applies to your parking ticket, then you can successfully dispute the citation:
You can dispute a ticket if it is illegible

The color of the car is either not specified, or wrong

The plate number is wrong

The model year of the vehicle state in the ticket is wrong

The type of vehicle is incorrect

The plate type is wrong

The car manufacturer is either not included, or is incorrect

The ticket does not specify the exact location in which the car was parked in, or whether you were parked in "front" or "opposite" of the address specified

You have proof that the meter was not

functioning correctly

.
Do I Need a Lawyer to Dispute My Ticket?
A lawyer is definitely not needed to dispute a parking citation. A parking ticket lawyer will likely cost more than the ticket itself. Lawyers can charge anywhere within the range of $100 and $1000. Lawyers are not affordable, nor are they necessary. can offer you the same exact services for free!
How Can DoNotPay Help?
If you wish to dispute your parking ticket on your own, your appeal must be filed within the deadline that is set up by your city, county, or state. You can choose to dispute the citation online or by mail. It is recommended to file and submit the appeal online along with your supporting documents, such as a copy of your permits, your registration and repair bills, and the receipt of the meter.
Online hearing: a faster way to dispute citations from the comfort of your own home. It may take time to gather all the documentation you require, however DoNotPay will inform you of what you need and the documents you must compile.

In-person hearings: if you want to dispute the ticket in person, you must bring your driver's license, your vehicle registration and evidence that proves a valid reason for disputing your ticket. In most cities, the hearing operates on a first come-first serve basis, so you may have to wait in line for a long time.
Drafting the letter for the appeal and gathering the proper documentation is a time-consuming process if you decide to do so on your own. will automatically generate the letter you need to dispute the citation using artificial intelligence. With , you can skip the wait times and the long hours of research and dispute any parking ticket in less than 2 minutes!
How to Contest Parking Tickets with DoNotPay
You can contest any parking ticket for free and in seconds if you follow these five procedures:
Sign-in to

and go to the Ticket Disputes section
Upload a snapshot of your ticket

Tell us what's wrong with the ticket and provide a statement

Have DoNotPay mail the appeal or do it yourself
That's it! Once you've finished, you will receive a downloadable copy of your parking ticket appeal letter. It will be formal and contain the state law that best fits your argument. We will send it for you depending on your answer in the chatbot.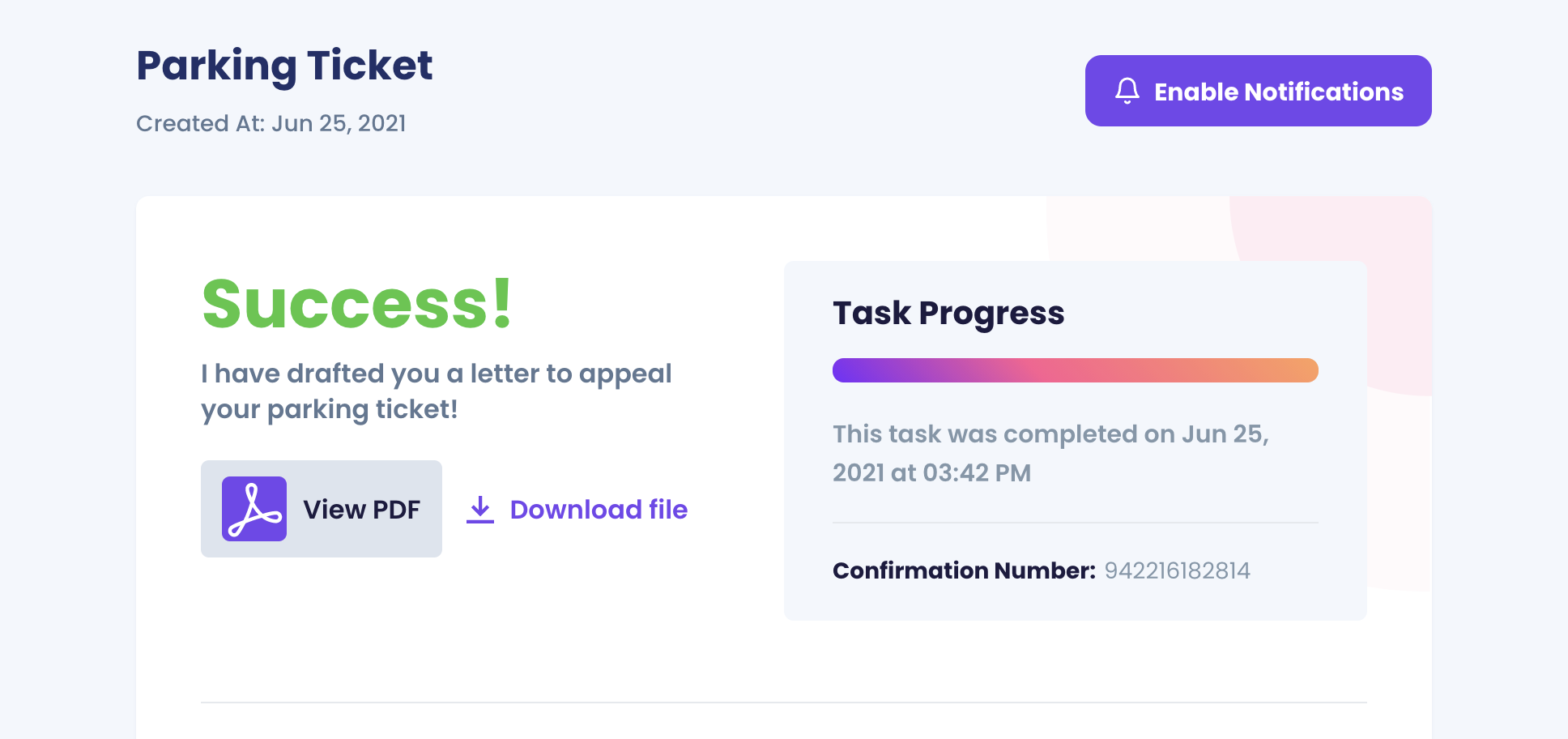 DoNotPay Can Do More