Appeal Your Indiana University Parking Ticket

Got a parking ticket at Indiana University? Want to overturn it but don't quite have the time? Let DoNotPay add yours to a list of more than 160,000 parking tickets that we've overturned.
Our software is designed to make everyday tasks easier, and we're here to beat bureaucracy and make it as simple as possible for you to fight parking tickets. Scroll down to learn how to pay or appeal your Indiana parking ticket and learn how can help in three easy steps.
How Much Do Tickets Cost at Indiana University?
| | |
| --- | --- |
| Bicycle not in bike rack | $20 |
| Parked in visitor only space | $25 |
| Overnight garage parking fee | $30 |
| Parked opposite of traffic | $30 |
| Game day no parking | $40 |
| Parked in construction area, in a bike rack or near a bike rack, a delivery zone, or unauthorized entry into a restricted area | $40 |
| Parked on landscape, over stall marker, on hash marks, in wrong area, in loading/unloading area, in no parking zone, in reserved spaces, or 24 hour zones | $50 |
| Parked on a yellow curb, on a crosswalk or sidewalk, or in a fire lane or too close to a hydrant | $65 |
| Parked in numbered reserved spot | $100 |
| Parked in a disabled/handicap space | $125 |
Do I Have to Pay Indiana University Parking Tickets?
While you might be able to ignore your Indiana University parking ticket for a while, you might be bringing upon yourself some unintended consequences that can end up being worse than the original ticket amount.
Other consequences can include:
Your ticket being added to your student account e-bill (if you are an IU student)

Payment taken out of your tax return

Your credit score decreasing

Getting your car booted and being responsible for its removal

Your car being towed, and having to pay for its return

Your registration being blocked

Having your debt sent to collections
We heavily advise that you do not ignore your parking tickets! Instead, check out our chart below to see how you can either pay or appeal your parking ticket.
How To Appeal or Pay an Indiana Parking Ticket
All appeals must be submitted within 14 days of the ticket's issue date.
By Email

parking@indiana.edu

By Mail

IU Parking Operations

Henderson Parking Garage 310 S. Fess Avenue Bloomington, IN 47401

Online

https://parkingiu.t2hosted.com/Account/Portal
Things you need for your appeal:
Full name

Email address

University ID number (for students and employees)

Reason for your Appeal

Citation number and issuance date

License plate number + state vehicle was registered in
Even if you do not win, the parking hearing committee can decide to reduce your fine anyways. If your appeal is denied, the amount must be paid within 7 days of the denial.
Do I Have to Pay Tickets I Get in a Rental Car?
Yes, you do. Tickets received in a rental car are even more urgent to pay, as the rental company will pay them automatically on your behalf, often adding their own administrative fee. Therefore, if you wish to keep your fine as low as possible, we suggest you pay or appeal your fine as soon as you receive it. Make sure to send the company the receipt of the payment so they don't automatically charge your card.
How to Rental Companies Pay for Your Ticket
Company

On Your Behalf

Alamo

Your card will be charged automatically.

Want to use a different card? You can fill out a form on the website or mail your payment and citation number to

Alamo Rent-a-Car Citations PO Box 4033289 Atlanta, GA 30384-3328

Enterprise

Your card will be charged automatically.

Want to use a different card? Follow this link and fill out the form.

To Pay By Phone (Credit card only): Call 1 (800) 935-0112 (US toll free)

To Pay By Mail: Enterprise Citations PO Box 4033289 Atlanta, GA 30384-3328

Hertz

Your card will be charged automatically.

You will be charged for the parking fine automatically upon receipt of notification of a fine, with an added administration fee.
Dispute Your Ticket in Three Easy Steps
is designed to help you appeal your parking tickets in as few steps as possible. Our 'Robot Lawyer' will put together your appeal with all of the appropriate legislation for your area, and let you skip all of the time consuming steps of coming up with your argument.
Go to

and create an account. Go to the Parking Tickets product
Answer a few easy questions about your citation and attach a picture of the ticket
Choose whether you want DoNotPay to mail the appeal on your behalf
After that, an automatic letter will be generated for you! We'll also mail it for you if you prefer that. If you end up attending a live hearing or other court proceeding, you can also use this information as a script to defend yourself. It's as easy as 1, 2, 3!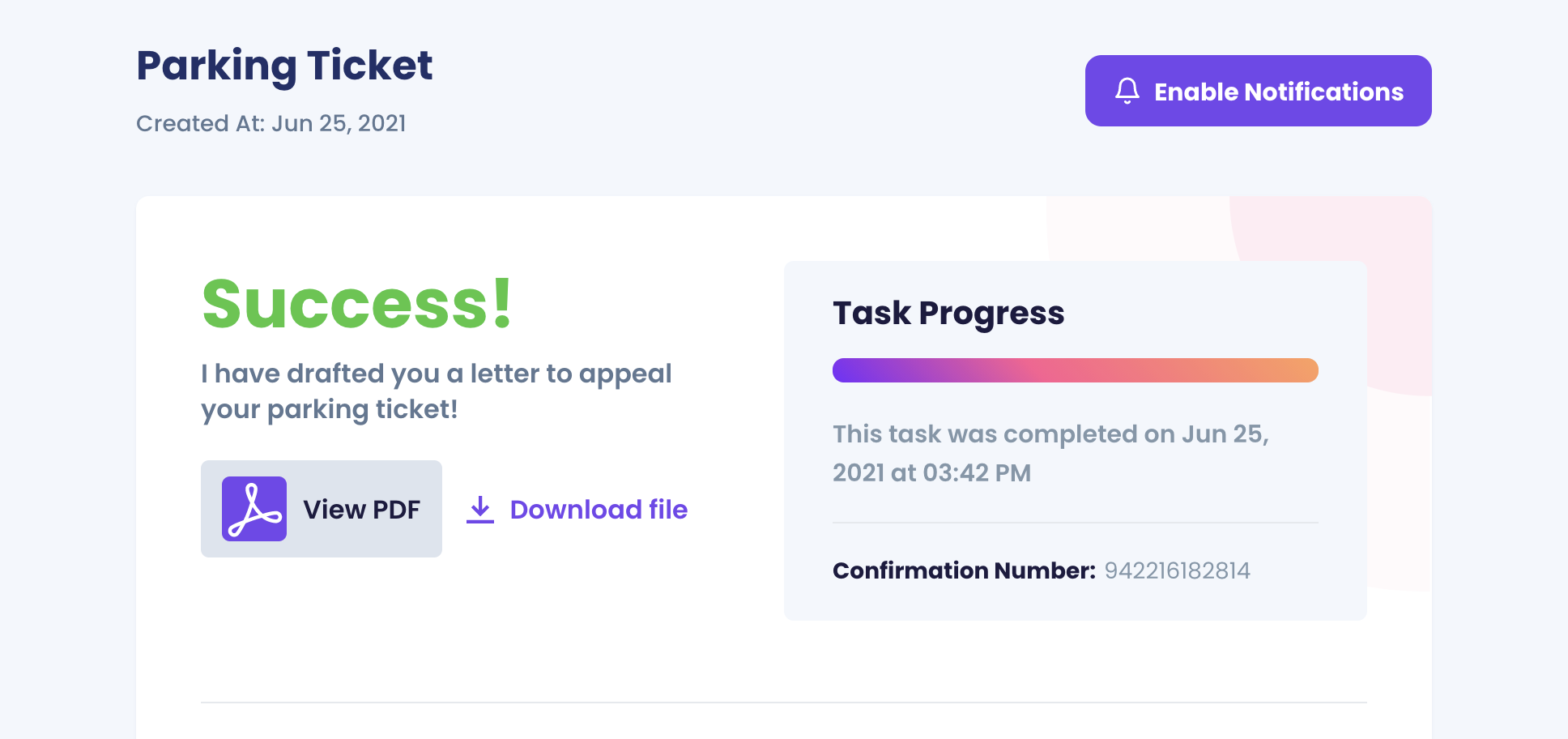 What Else Can DoNotPay Do?
Check out the range of other tasks that DoNotPay can help you with, and simplify your life! There's no longer any need to waste your valuable time or have to pay for legal aid. Everyone deserves the right to be able to access their own defense. Check out our other services: