Contest Ithaca Parking Tickets
The city of Ithaca is home to Cornell University and a population of over 30,000. Ithaca attracts 840,000 visitors each year and offers great tourism sites such as the I.M Pei designed Museum of Art.
Parking regulations are managed by the city and enforced by the Ithaca Police Department. This article will go over the city's general parking regulations and the process for paying/appealing tickets. At the end, learn how you can use to contest your parking citation!
Ithaca Street Parking
Street parking is available for residents and visitors who are visiting downtown Ithaca and Collegetown. You can pay for parking with a debit or credit card, coins, or cash at a pay station near the parking spot. Here are the official hourly rates:
Monday - Friday

9:00AM - 6:00PM

$1.50/hour

(Free between 6:00PM - 9:00AM)

Weekends

All day

FREE

Holidays

All day

FREE
Please note that parking is limited to 2 hour slots only. Your car must be moved after 2 hours.
If you wish to pay through your mobile phone, you can download the Park Mobile app. There is an extra charge of $.35 for paying through the app.
Residential street parking
If you're a resident of Ithaca and need to park in the streets of your neighborhood, use this residential parking permit eligibility map to see if your property qualifies. If it does, you can apply for one through this form.
The city clerk will review your application and contact you for a $45 payment. You can also mail the application with a check or money order payable to the "City of Ithaca" - City Clerk's Office, 108 E. Green Street, Ithaca, NY 14850.
Ithaca Parking Citations and Fines
The table below shows the city's parking violations and fee schedule:
Violation

Fee

Overtime meter/zone

$15

Parking overnight without permit

$25

Parked 12" away from curb

$25

School zone violation

$30

Fire hydrant/lane

$50

Parking on private property

$30

Double parking

$30

Abandoned vehicle

$25

Handicap parking violation

$100/$150/$200

(subsequent violation fee increase)

Obstruction of lane/alley

$50

Wrong direction

$15
A comprehensive list can be found here.
How to Deal With a Parking Ticket
If you received a parking ticket from the city, don't panic! Make sure to take photos of the scene if you believe you were wrongly issued a ticket. If it was your fault, you can pay for the citation by:
Going

online

Mail -

City of Ithaca Traffic Violations Bureau, 108 East Green St, Ithaca, NY 14850
If you would like to appeal the ticket, you can fill out the downloadable pre-trial review form and mail it to: City of Ithaca Chamberlain's Office, 1st Floor 108 E. Green St, Ithaca, NY 14850. Your citation will be placed on hold while it is being reviewed. You should receive a response within 4-6 weeks.
All citations must be paid or appealed within 20 days, otherwise, a $15 penalty will be added.
Let DoNotPay Contest Your Ticket
has experience in overturning over $4 million in parking tickets, and yours could be next! The process is simple and easy - all you need is a mobile phone, tablet, or computer. Here's what you need to do:
Sign-up for a

account

Click on the Parking Ticket service
Upload a copy of your ticket and provide the state it was issued in
Tell us what's wrong with the ticket
Have DoNotPay mail the appeal letter for you or send it in yourself
That's it! The appeal letter will include an appropriate state law that best backs your claim.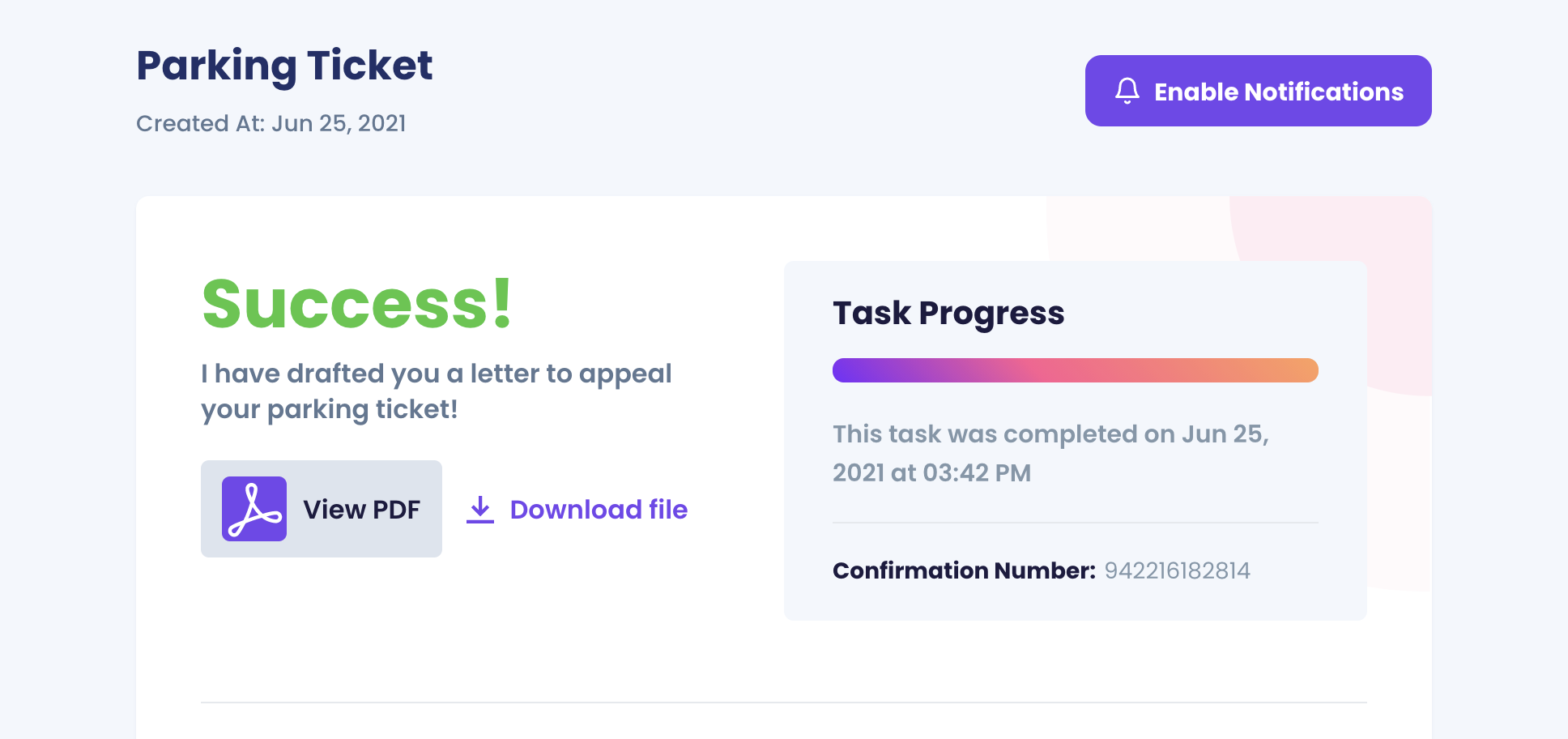 A Robot Lawyer and Assistant in One!
Here's a list of legal-related matters DoNotPay assists with:
Scan legal documents for hidden clauses

And more!
Here's a list of service-related things DoNotPay can help you with: