Report IRS Spam Emails & Get Compensation
The Internal Revenue Service (IRS) takes care of the collection of taxes and the execution of tax laws. On the official website, the IRS declared that they never contact taxpayers via text messages, robocalls, emails, or social media platforms. If you do get contacted by the IRS, that will happen through the U.S. Mail only.
All of the emails you receive from senders who claim to be the IRS, asking you for your credit card info and social security number, are scams. You shouldn't respond or open any of the attached files or links.
How to Report IRS Spam Emails and Fight Scams with DoNotPay

Reporting spam and phishing emails is always important, especially in cases of serious felonies (such as tax scams).
When you receive a mail allegedly sent by the IRS, you should report it with DoNotPay's help and avoid being scammed. Here's how you can report and block IRS scam emails:
Log into your DoNotPay account from a

web browser

Click the "Spam Collector" option on the left side of your dashboard

Type in your email address 

Forward the next IRS spam email to

spam@donotpay.com

 

You'll be unsubscribed 
DoNotPay is the most convenient way to report IRS email fraud as the entire process only takes a couple of seconds. Considering that IRS scam emails can be frequent, there's a chance that class-actions against the senders already exist.
Once you send your IRS phishing email report to DoNotPay, you will be notified if there are active class-action lawsuits against that sender. Then you can decide if you want to join them.
If you do join them and the class-action settlement is reached, DoNotPay will notify you again, and you'll be able to collect your compensation.
How to Report IRS Spam Email on Your Own
Even though IRS email fraud reporting with DoNotPay is hassle-free and faster, you can also do it manually by reporting emails:
Directly to the IRS
From your email service interface (Gmail, Yahoo, Outlook, etc.)
If you report scam emails directly to the IRS, they will try to identify the scammer. By reporting a phishing email to Gmail, Outlook, or Yahoo, the only thing that will happen is that you'll stop receiving the emails from that sender. Also, that email address could be blacklisted if the email abuse team identifies it as a threat.
Report Phishing Emails to IRS
When reporting fake IRS emails to the IRS, you will need to include the entire email content. You can forward the scam message to phishing@irs.gov, or you can do the following:
Download the email 

Save it as a file on Desktop

Compose a new email 

Attach the file of the saved email 

Send it to

phishing@irs.gov
If you prefer sending the email header, you can see how to find, select, and copy the header here (the process is different for each email client). Then you can paste the entire header and send it as an email to the IRS.
Another possibility is to copy the link of the scam website without opening it and to send it to phishing@irs.gov.
Report Fake IRS Email on Gmail
You can report phishing emails to Google, and they will make sure to blacklist the sender so that no one else can receive scam emails from that address.
Access your Gmail account

Open the phishing email

Click on the three dots "Menu" button

Select "Report phishing"

Click "Report phishing message"
As soon as you report the email, Gmail's email abuse team will be notified and will review your report right away.
Report IRS Scam Email on Outlook
Outlook users can also report phishing emails and notify their email abuse team about scammers. After you open the suspicious IRS email, click on the "Junk" and select "Phishing" to report it.
IRS Fraud Email Reporting on Yahoo
Yahoo used to have an option that allowed the users to report phishing emails in a few clicks. Now it's possible to report scams only by contacting Yahoo's customer support.
| | | | | | |
| --- | --- | --- | --- | --- | --- |
| Reporting IRS Spam Emails  | Effective | Fast | User-Friendly | Profitable | Overall  |
| With DoNotPay | ★★★★★ | ★★★★★ | ★★★★★ | ★★★★★ | ★★★★★ |
| Directly to the IRS | ★★★★★ | ★★★★☆ | ★★★☆☆ | ☆☆☆☆☆ | ★★★☆☆ |
| On Gmail | ★★★★★ | ★★★★☆ | ★★★★★ | ☆☆☆☆☆ | ★★★★☆ |
| On Yahoo | ★★★☆☆ | ★★☆☆☆ | ★★☆☆☆ | ☆☆☆☆☆ | ★★☆☆☆ |
| On Outlook | ★★★★☆ | ★★★★☆ | ★★★★☆ | ☆☆☆☆☆ | ★★★☆☆ |
Fight IRS Robocall Scams with DoNotPay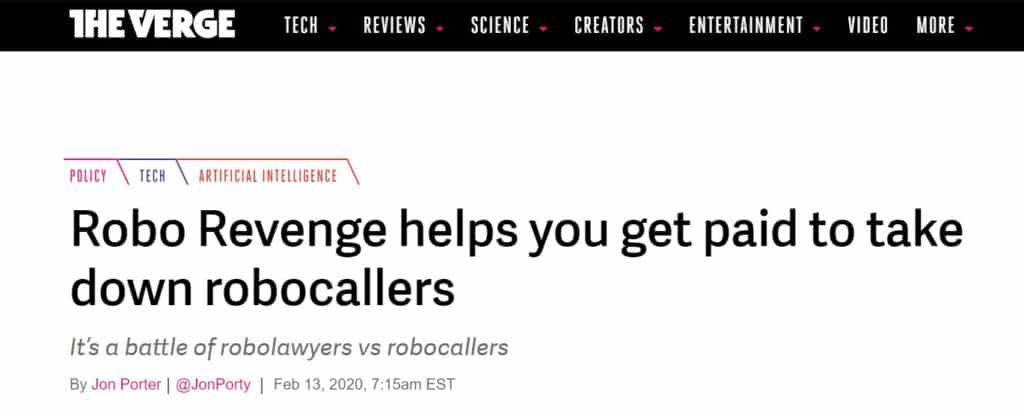 Scammers that represent themselves as the IRS might try to contact you in some other way. Robocall scams are one of the frequent issues. 
Don't forget—the real IRS will never contact you through email, social media channels, or by calling you. That's why you can be certain that those robocalls are frauds.
DoNotPay can help you get not only spam email revenge but also robocall revenge. 
The next time the "IRS" calls you, do the following:
Click on "Robo Revenge" on DoNotPay

DoNotPay will generate a random,

virtual credit card

number 

Share the details of the virtual credit card with the caller

DoNotPay will track them down thanks to the transaction details
After that, we will help you write a dispute letter and collect all of the necessary documents to file a claim against the caller. 
Keep your Email Inbox Tidy—DoNotPay Helps You Block Unwanted Emails

Not every email problem is as serious as receiving phishing emails, but it's true that spam emails of any kind can be annoying. 
DoNotPay will help you block all of the emails you find unnecessary. Count on our help if you want to know how to:
DoNotPay Helps You Keep Your Mailbox Physical Junk Mail-Free

Do you wish you could stop receiving physical junk mail that clutters your mailbox and makes the important letters and bills less visible? DoNotPay is there to help.
We understand the importance of reducing everyone's carbon footprint and taking care of the environment as well as enabling you to have a complete control over your mailbox. 
If you're sick of finding an enormous pile of brochures every day, send us a photo of physical junk mail, and DoNotPay will unsubscribe you.
Are you receiving the advertisement junk mail without your permission? DoNotPay will send a notification if there are existing class-action lawsuits that you could join. Once you join and the settlement has been reached, you'll have the opportunity to claim the money.
DoNotPay Has Got Your Back with Other Pesky Issues Too
If you need help solving other everyday issues, DoNotPay gladly offers its assistance. Access your DoNotPay account from a web browser, and you'll be able to solve any problem hassle-free. DoNotPay is there to guide you through each process.  
Count on DoNotPays efficient help when you need to:
Dispute traffic tickets

Fight speeding tickets