How to Get Impound Fees Waived in 3 Steps
Have you ever had your car impounded? It can be a real hassle and very expensive. But, what if I told you that you could fight the impound fees?
Here are the fees you can expect in an impound situation:
Tow fees
Impound fees
Vehicle storage fees
Did you know that you can waive or fight a wide variety of fees that you are told that you have to pay? How can you get out of paying fees for products and services or get a refund for money already paid? Learn .
Here's the answer:
DoNotPay has a product that can help you fight or waive the fees.
Simply answer a few questions and discover how easy it is to appeal any fee.
DoNotPay has successfully helped thousands of people eliminate disputed fees.
Did you know that the  can be very expensive? The good news is that you can avoid paying for these outrageous expenses. Take a minute to see for yourself how much you could end up paying.
| | |
| --- | --- |
| Towing and Transportation Fees | usually $300 or more |
| Impound Lot Release | can be as low as $75 but is typically much higher and can even be over $300 |
| Storage Fees | generally more than $100 per day. |
No one wants to pay these high prices, and you don't have to.
Waive Fees for Any Account
DoNotPay has a product specifically designed to fight and waive fees.  There are a variety of other services that you may use this product for. Don't feel pressured anymore to pay ridiculous fees. Just look at some of the other accounts that this product can assist you with:
Cryptocurrency companies: Bitcoin, Coinbase fees, etc.
Stocks and trading:

Robinhood fees

, E*Trade, etc.
Home Owner's Association (HOA fees)
We can handle any account fees on your behalf. Our successful product helps you hold on to your money. Let us  for you.
Travel Expenses
If you travel a lot, you have likely incurred some unexpected expenses. Some can be rather steep; others are just annoying. Either way, this product from DoNotPay can help.
Rental car (or other transportation) fees
Hotel & Resort fees
Towing & Impound fees
Passport & Visa fees
So, if you travel often, this is a great service that can assist you whenever you need it. Don't get stuck paying extra.
Buying and Selling Online
Many people enjoy buying and selling products online. However, there are a number of fees that can emerge associated with these accounts.  Have you been a victim of these charges?
It seems as though companies are creating new fees all the time to drain money from customers. Don't worry; help is available. Don't lose any more of your hard-earned money.
If so, rest assured that you can appeal to them or get a refund. Let us handle the process for you.
How to Fight and Waive Fees
Our user-friendly product consists of a few simple steps, and the money that has been unfairly taken can be recovered through the appeals process. It takes only minutes to complete.
How it works:
1. Search "appeal fees" on DoNotPay, choose the Fight and Waive Fees product, and select the type of fee you want to appeal.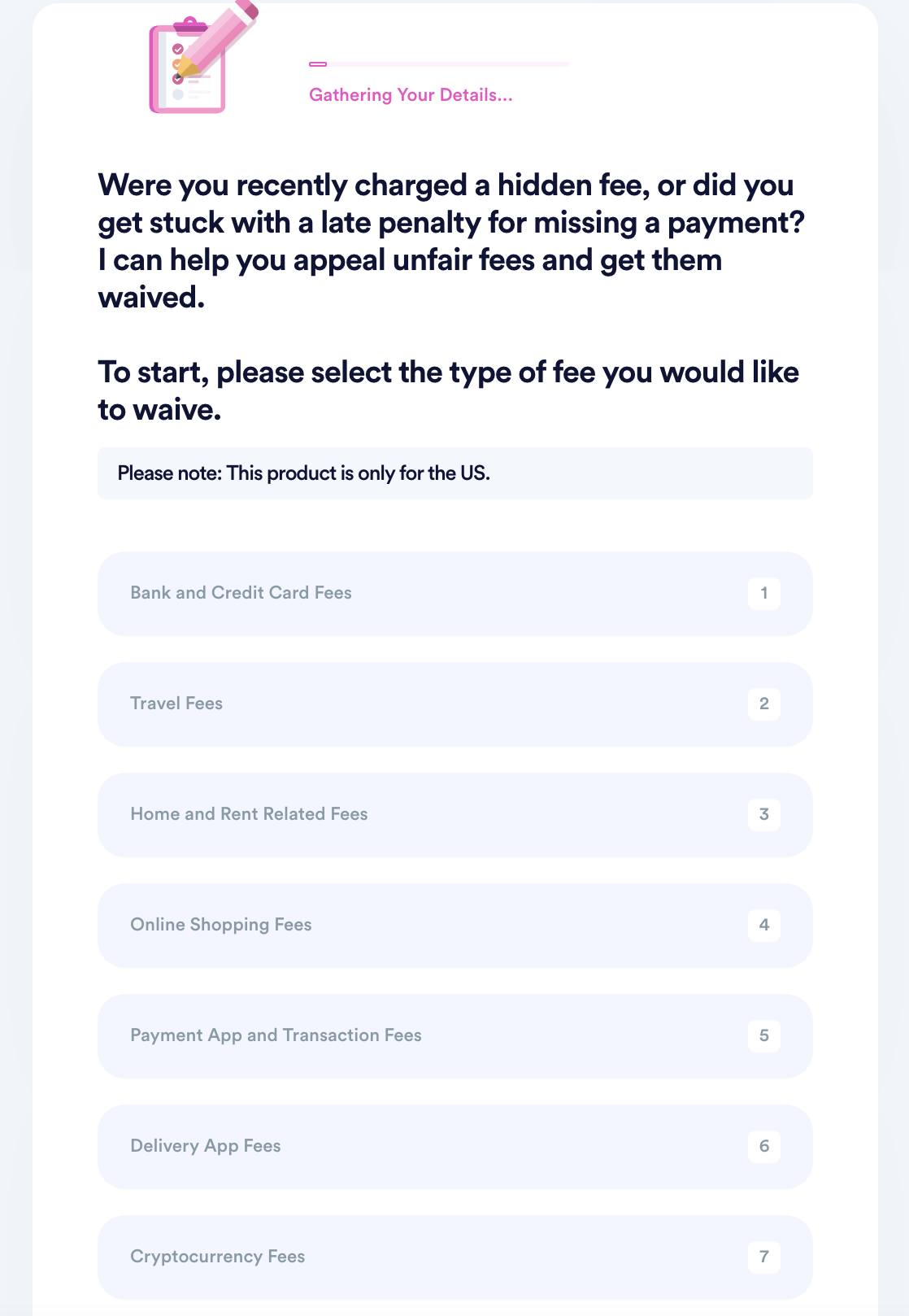 2. Select the merchant you want to appeal fees for and enter the details of your transaction, including an associated account if you have one.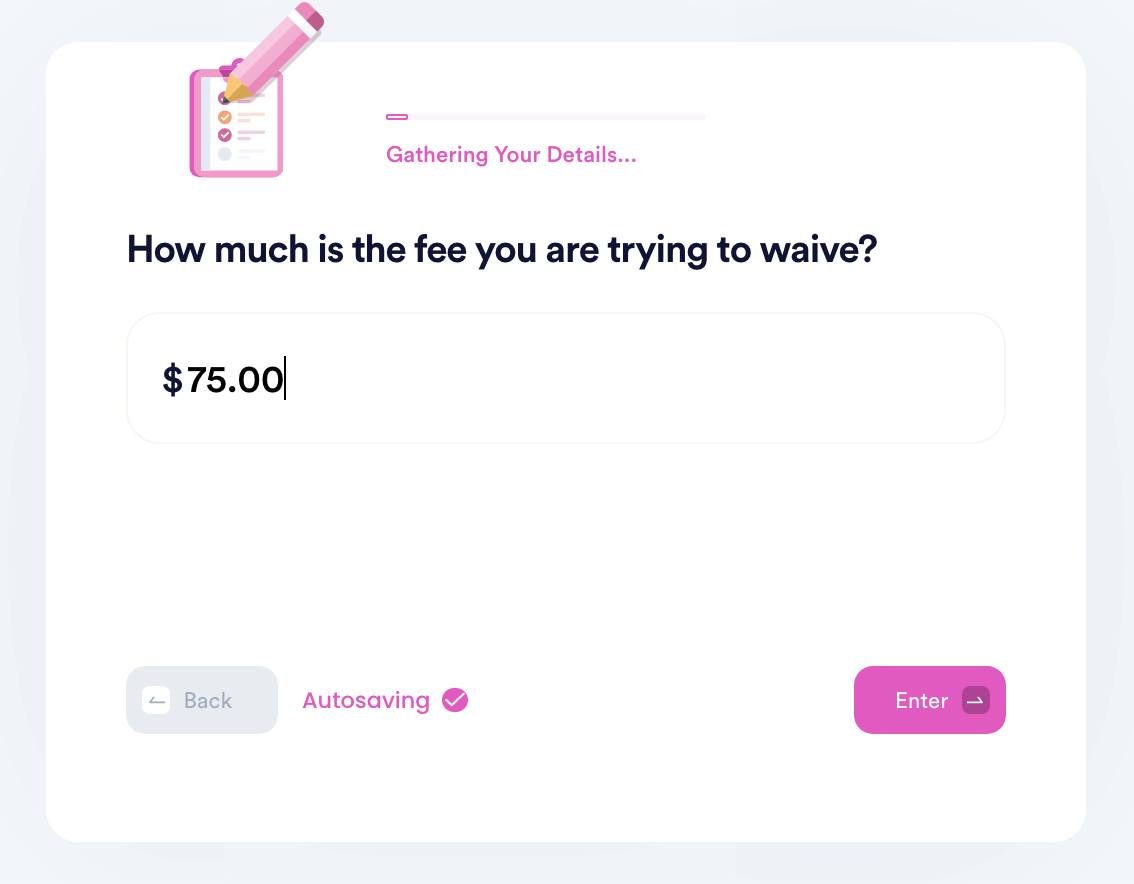 3. Submit your case! DoNotPay will generate the best argument for your case and make sure your fee waiver request gets sent to the merchant for processing.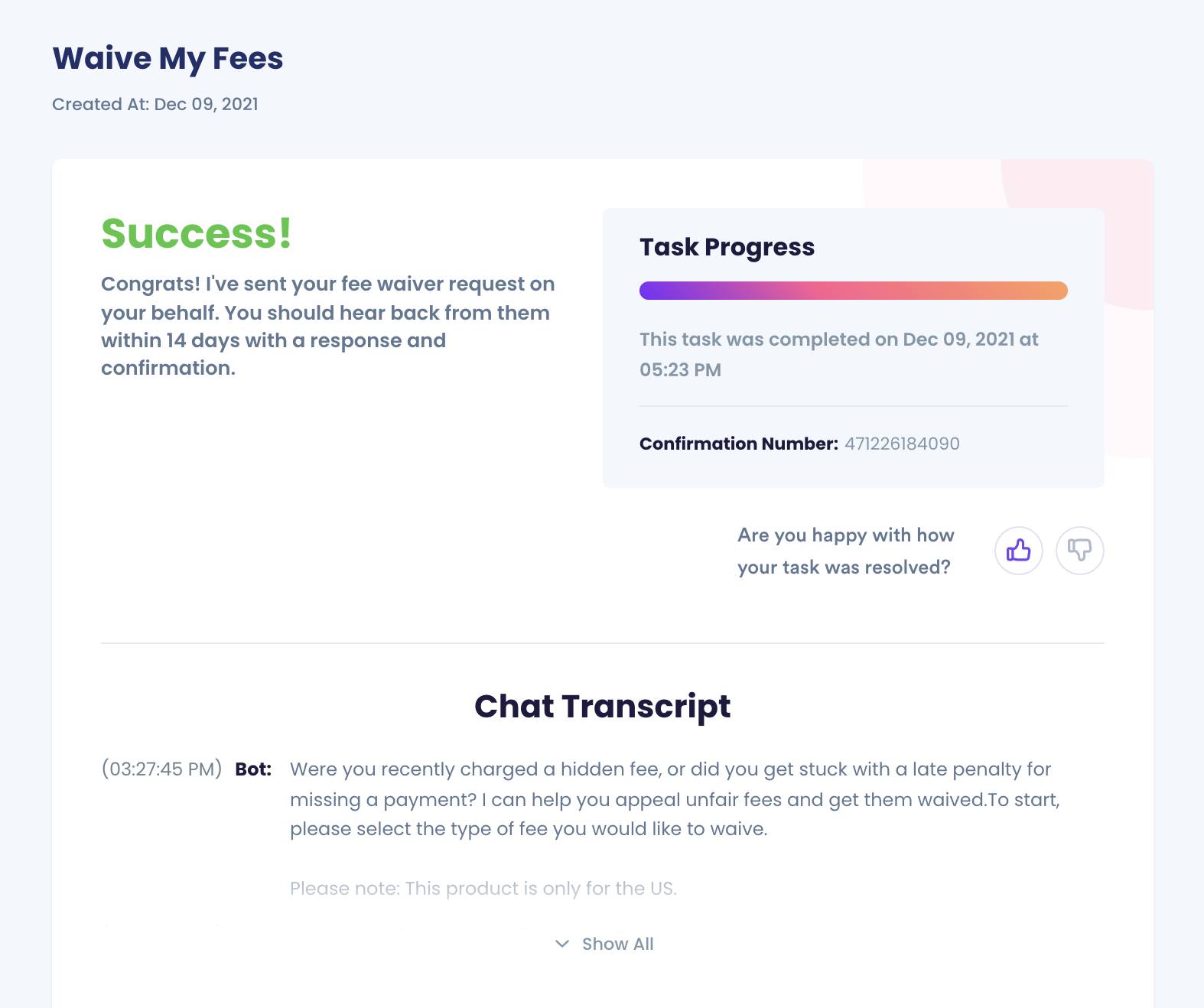 Yes, it is that simple. There has never been such an easy, fast, hassle-free way to appeal various fees. Go ahead, try it.
Appeal or Waive Your Fees Now
There are so many hidden or extra charges that companies try to get customers to pay. Don't fall for the scare tactics or explanations; appeal to them. It's your money-keep it.
Transaction fees
Late fees
Form fees
Termination fees
Activation fees
Membership fees
DoNotPay's fee waiving product can go to work to assist you in removing these expenses. We have the experience to make sure that your appeal process is done correctly. Trust us to get the job done for you.
This product can also help with:
Work (such as self-employed related situations)
Travel expenses
Emergency situations
Banking issues
Buying and selling online
Money transfers
Cryptocurrency
Communication service charges
Extra shipping fees
Insurance
Medical related fees
Transportation
We have been successfully helping people with their customer service related problems for years. Go ahead, try our fast, easy-to-use product and  for the everyday products and services that you need.