Contesting Your Alternate Side Parking Ticket
For most New York residents, alternate side parking rules can be a struggle to keep up with. Sadly, forgetfulness is not a plausible excuse in court and that's why most people go ahead and pay their fines to avoid a misdemeanor record.
If you have reason to believe your parking citation was wrongfully issued and alternate side parking had something to do with it, continue reading this article! At the end, learn how can help you appeal your citation.
What Is Alternate Side Parking (ASP)?
Every week in most residential and commercial streets in New York, there are days set aside for street sweepers to clean the streets. Most streets will have a "No Parking" sign posted at a strategic location and a list of scheduled cleaning days and hours. You are expected to move your vehicle from the side of the road throughout the period of sweeping, which typically lasts anywhere from thirty minutes to four hours. Failure to do so will get you a ticket.
Here in New York, an ASP ticket is now likely to attract a fine of $65. You can contest your ticket if you feel you have a plausible explanation to give.
Top Ten Defense for an ASP ticket
If you are planning to make an appeal by yourself, here are some key arguments that may apply:
| | |
| --- | --- |
| Erroneous ticket | A false statement of your car details, violation code or description of an offense is an automatic let-off for an ASP ticket |
| Grace period | According to New York law, you have a five minute grace period to get your car out of the way. If you get a ticket within that period, you can successfully defend it. |
| Overruling order | An overruling order is an order from a police officer or any government personnel on the ground requiring you to act in a way contrary to the signage instructions. Their command typically overrides that of the law and you can use to defend an ASP ticket issued to you. |
| Offloading action | While you are required to move out of your vehicle, you can get away with a ticket if you were engaged in an unloading/offloading action during the period. |
| Holiday defense | There are approximately 30 legal holidays for which the issuance of alternate side parking tickets is suspended. Getting a ticket on any of these days is pretty easy to appeal and win. |
| Sign issues | An unclear, illegible, or poorly positioned sign is a plausible reason to pursue an appeal action against your citation. |
| Medical emergency | You are also exempt from paying a parking infraction fine if you have a medical emergency. This does not include routine checkups or scheduled appointments. |
| Stolen or sold vehicle | If your vehicle or its license plates have been sold or stolen, you have a good reason to argue your case and win an appeal. You would need to have already reported the incident to the vehicle registration authority. |
| Overarching authority | People who work with the government may also possess overarching permits that grant them the right to violate street parking rules without getting booked. |
| Vehicle breakdown | Tickets issued to such vehicles can be easily appealed and won. |
Typically, an appeals process will require you to:
Write

a comprehensive letter

covering your reason for a "not guilty plea"

Attach plausible evidence and mail the appeal to the appropriate authorities

Wait for a response
How to Contest an ASP Ticket Fast
Most people surrender and pay the infractions simply because they do not know how to create a convincing argument. DoNotPay can do that for you and mail your appeal for you. Here is how to use DoNotPay:
Sign-up for a

account and go to the Parking Ticket service
Upload a photo of the ticket and provide the citation number
Choose a reason for the appeal
Provide a statement and other additional evidence
Have DoNotPay mail the appeal or send it in yourself
The finished letter will include the relevant state law to back your case. DoNotPay has worked on over 300,000 tickets - get yours appealed today!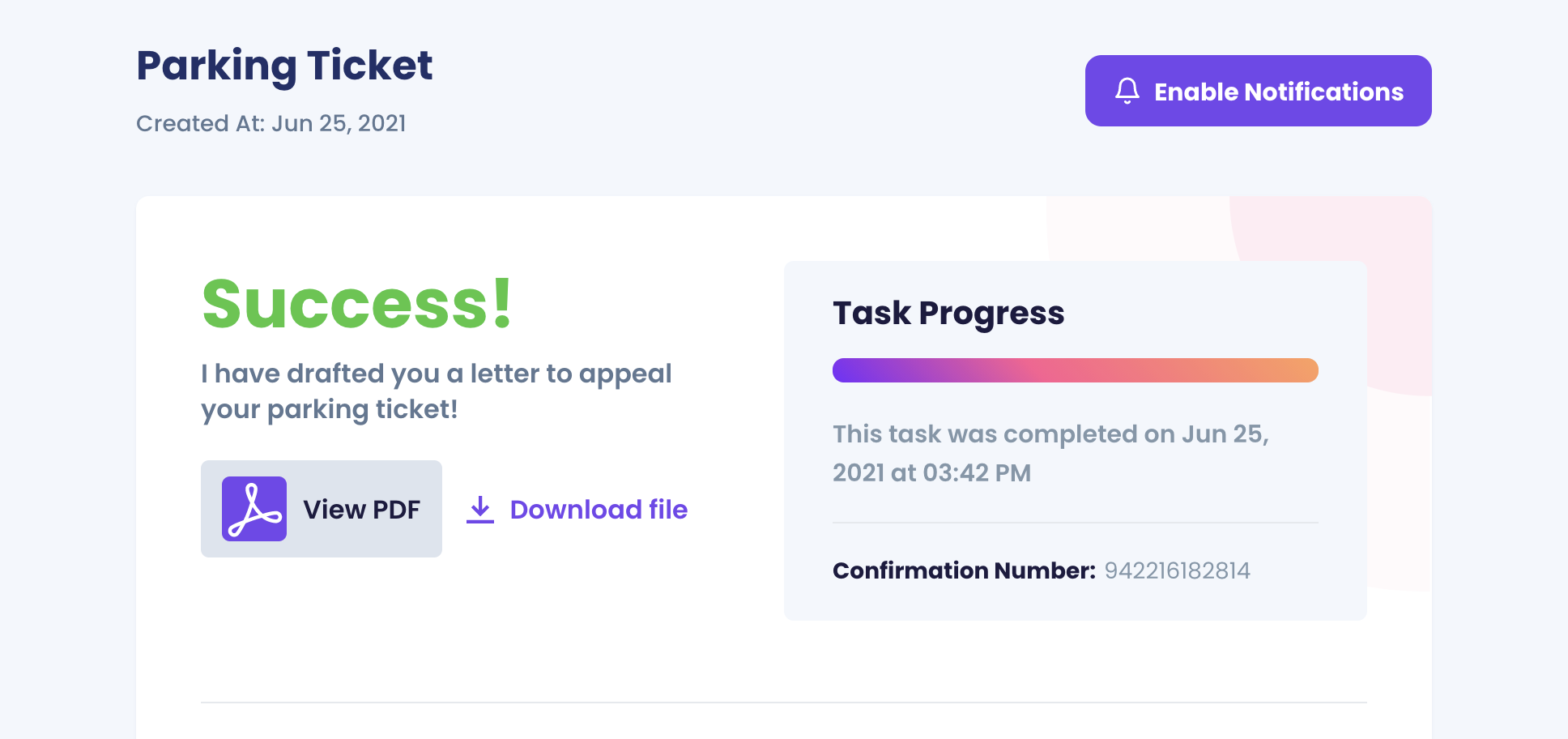 A Robot Lawyer and Assistant in One!
Here's a list of legal-related matters DoNotPay assists with:
Here's a list of service-related things DoNotPay can help you with: