Handling Hoboken Parking Tickets Easily

Getting a parking citation can be an annoying and frustrating experience, and it's important that you deal with it as quickly as possible so that the fines don't increase. With you can dispute a parking ticket in less than two minutes to eventually not pay the fine altogether.
DoNotPay's robot-lawyer has helped overturn hundreds of thousands of parking tickets, just checkout this Business Insider article on how effective our service is: "A 19-year-old created a free robot lawyer that has beaten 160,000 parking tickets".
How To Pay A Parking Ticket in The City of Hoboken
All the information you need on parking tickets and payments is on Hoboken's official website. Once you're on the website, you can follow these easy steps to pay the parking ticket quickly:
Go to the "department overviews" section of the website

Click on "Parking and transportation"

Scroll down and find the

"pay a parking ticket"

option and click it

Select "Pay Ticket" and you will immediately be redirected to a payment website

You will need to enter your credit card details and provide them with an email through which they can contact you

Once the payment goes through you should eventually receive an email confirming your payment with the receipt
What If I Don't Have a Credit Card?
You can also pay in cash, but you will need to mail the required amount to the Hoboken City Hall and send a letter explaining your payment. You will need to provide them with your parking ticket, your license plate number, and a copy of your identification (driver's license would be ideal).
Here are the all the contact details for Hoboken's City Hall:
Address: Hoboken City Hall, 94 Washington St,Hoboken, NJ 07030
Phone number:

(201) 420-2000

Fax Number:

(201) 420-2096
Consequences for an Unpaid Parking Ticket
It's definitely not a good idea to leave your parking ticket and forget about it. It's important to choose early on if you want to contest or pay the ticket so that you don't encounter the following issues:
Having your vehicle booted, preventing you from driving

Fines increasing incrementally

Getting your driver's license revoked altogether

Receiving a warning from the court

Having the court issue a bench warrant for your arrest (which can be applied if you are caught driving and the fine still isn't paid
How to Avoid a Parking Ticket in Hoboken Next Time
The city of Hoboken states on their website that there are three main ways to get a parking ticket. These include:
Expired meter

Endangering the public

Missing permits or proper displays (license, vehicle registration, etc)
They also state that they would be happy to not issue a ticket if you follow these rules. Remember this for next time!
How Much Time can DoNotPay Save You?
On average, disputing a parking ticket can take you an entire day. By using to contest a parking ticket, you can save your day and spare yourself the hassle of figuring out how to do everything right. Not only this, but you can also save a considerable amount of money by avoiding the use of attorneys to assist you.
How DoNotPay Can Contest Your Ticket In Just Minutes
Log-in to

and go to the Parking Tickets card

Provide a snapshot of your citation and give us the citation number
Let us know what is wrong with the ticket

Provide the state your ticket was issued

Decide whether you want DoNotPay to send the appeal letter for you
can send the letter for you or you can review it and send it yourself! Once the appeal has been submitted, wait a few weeks for a reply from the traffic department!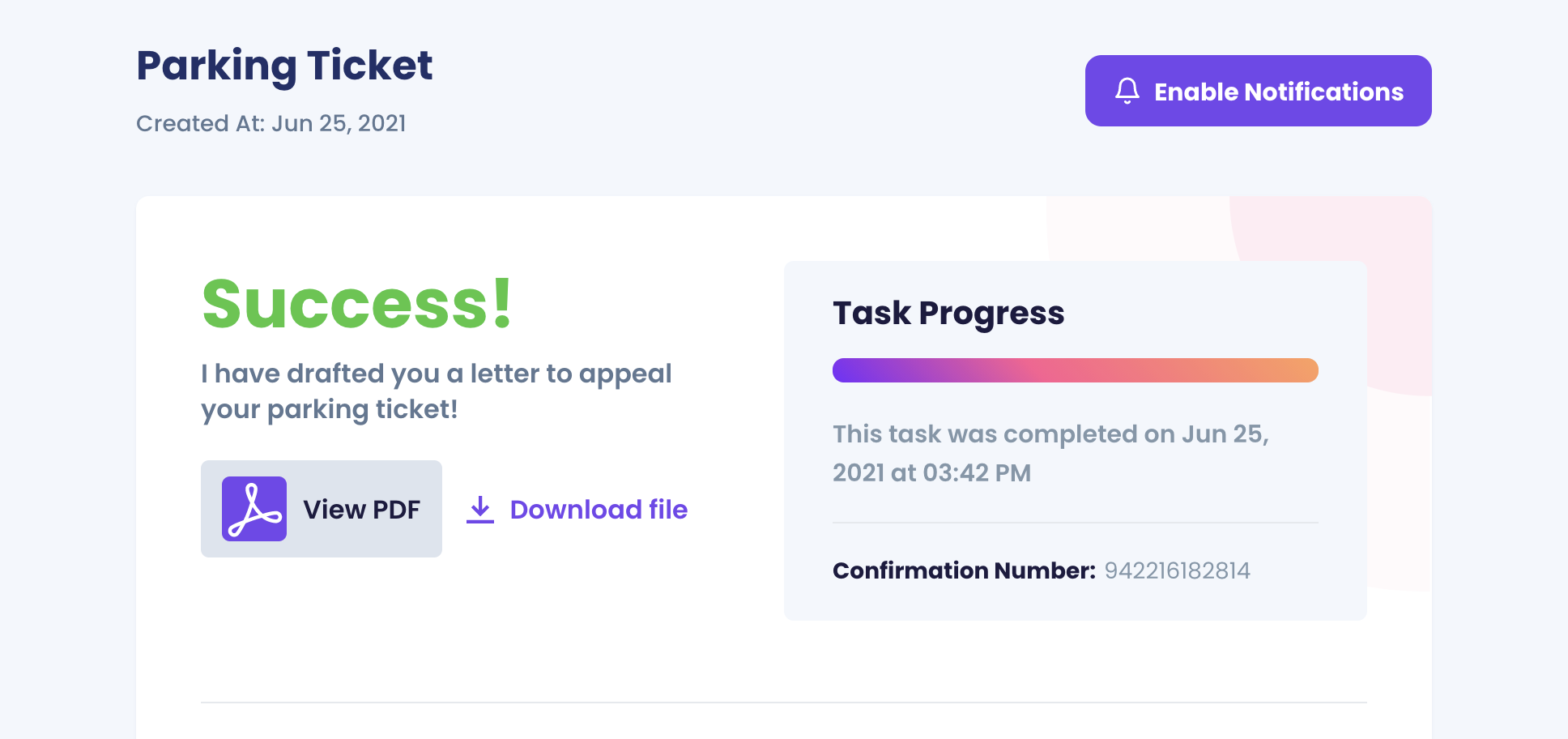 Summary
Is appealing a parking ticket worth the hassle?

Yes

Am I required to pay a parking ticket I acquired using a rental car?

Yes

How quickly can DoNotPay help me appeal my ticket?

In a manner of minutes,

can help you dispute your parking ticket.

Is it necessary to hire a lawyer for the dispute?

No, a lawyer isn't necessary when it comes to contesting a parking ticket.

Will DoNotPay know how to appeal a parking ticket specific to the city of Hoboken?

Yes, DoNotPay can appeal a parking ticket in any city. Using the details you provide, our robot-lawyer will know which laws and regulations are relevant for your case.

Are there consequences to leaving your parking tickets unpaid?

Yes. Depending on the amount of times you leave the ticket unpaid, the consequences can be more severe.

Can I pay the ticket myself?

Yes, you can pay the parking ticket if you choose. All you need to do is

go to this website.
What Else Can DoNotPay Do?